The painful demise of late-night comedy
Strike Force Five reminds us just how unfunny and out of touch Stephen Colbert and Co have become.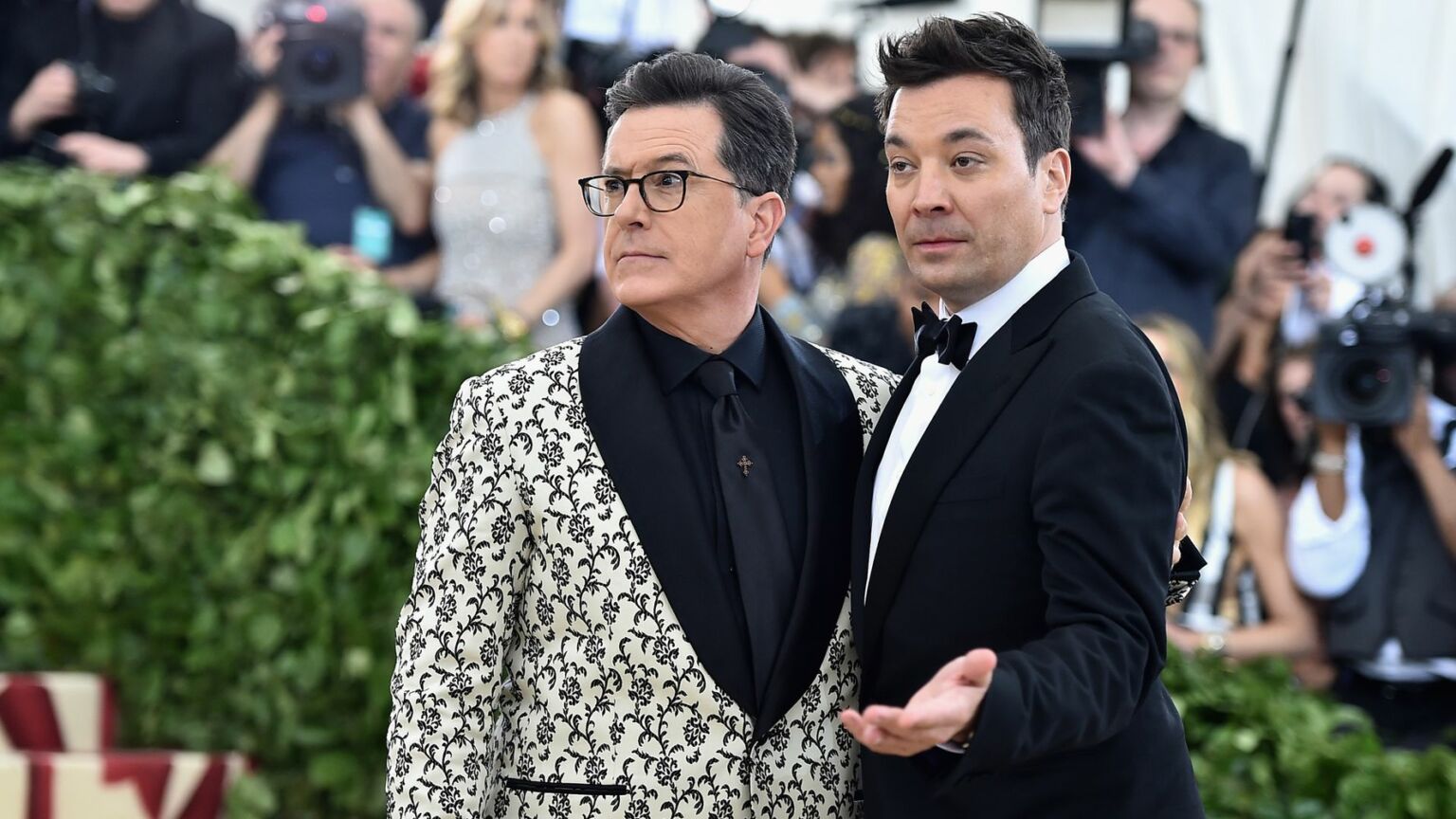 I'm old enough to remember the golden age of American late-night comedy. No, not the Johnny Carson days, but during the years of the George W Bush administration. The patently misconceived 2003 Iraq War and the inept speaking style of Dubya were great fodder for hosts like Jon Stewart and his sidekick, Stephen Colbert. They did hilarious skits on The Daily Show poking fun at the pompous, self-serious media establishment, while cleverly pointing to the obvious lies of the government.
Now those late-night hosts have themselves become the pompous, self-serious media establishment – and they serve the designs of government. I used to feel like Stewart and Colbert were on my side, and I delighted in watching them. Nowadays you couldn't pay me to sit through their shows.
Back in 2002, Stephen Colbert did a sketch on The Daily Show called 'So You're Living in a Police State'. It was in response to the passing of the Patriot Act – a draconian, post-9/11 anti-terror law, which trampled over civil liberties. In the sketch, talking to himself, he says: 'But Stephen!… Doesn't all this government spying on citizens mean losing our basic freedoms? Of course not! It means gaining limits on those freedoms – something Uncle Sam likes to call… Freedom Plus.'
Funny! Satire! Irony!
Fast forward a decade, and Colbert is on stage with people dressed as needles, all doing a happy dance, repeatedly reinforcing the Biden administration's mandatory-vaccination policies and referring approvingly to government 'safety measures', such as lockdowns and mask mandates. According to Colbert, only 'the lunatic fringe' could object to such attacks on civil liberties. How quickly the American comedy elite forgot that the Patriot Act was also sold to the public as a 'safety measure'. How quickly the once edgy comedians switched from objecting to the government forcing phone companies to hand over citizens' private information to literally singing the praises of government coercion.
Not funny! Creepy! Condescending!
In this zero-laughs landscape, my expectations for a new podcast called Strike Force Five – featuring Colbert and fellow late-night hosts Jimmy Fallon, Seth Meyers, Jimmy Kimmel and John Oliver – were low. And those low expectations were proven correct when the first episode came out this week.
To be fair, the comedian stars undertook the project to support their striking underlings, the studio writers who have been on the picket lines for months now. The Writers Guild of America (WGA) downed tools in May, halting production on television and film projects. As a way to help the men and women whose witty words make them look good (at least in theory), the five hosts have teamed up for a limited-edition podcast, with all proceeds going to their out-of-work writers.
That's nice and all. But, as the hosts themselves point out, their writers are the folks who make them funny, so Strike Force Five is a real slog. And without the sets, the band, the audience and the guests, the comedy falls even flatter.
In the first episode, the comedians make an embarrassing attempt at being relatable, when they each recount how many times they have been deposed due to lawsuits against their rich and powerful employers – not exactly a common-man problem, even in a litigious society like the US. And there are a few mildly cute stories about celebs they know – including the stunning revelation that when you are an extremely famous Hollywood actor, women give you their phone numbers, even if you are old.
While I applaud the hosts' attempts to help the people who work for them, I can't help but wonder if these were the same writers who wrote this 'joke' for Jimmy Kimmel: 'Vaccinated person having a heart attack? Yes, come right on in. We'll take care of you. Unvaccinated guy who gobbled horse goo? Rest in peace, wheezy.' Maybe I'm just a bit crabby, but if you feel zero sympathy for someone who might die because they were refused medical care, then it is hard to feel sympathy for your cause. I'm no working-class hero, but I do believe that's how solidarity works.
Fundamentally, though, the problem with the media goes beyond the horrors of its support for Covid authoritarianism. The media as a whole – even those who are not big stars – have become profoundly isolated from regular people. They are no longer able to gauge the national mood, because they only know how to speak to each other. And I hate to break it to you, but the rest of us don't find you funny anymore.
It's interesting that these five TV stars chose a podcast as their format to reach an audience. The media landscape has changed, and the old behemoths – Hollywood studios, the big networks, and the news companies – are struggling to come to terms with the fact that DIY upstarts in the podcasting and YouTube space can command such huge audiences without the blessing, permission or tutelage from the big dogs.
The mainstream media, fundamentally, is an industry run by gatekeepers, where people who control access to the decision-makers hold huge sway. But the biggest and best podcasters of today – people like Joe Rogan – built their success without the appropriate prestige background. Someone like Rogan did not come through the system, yet can conduct agenda-changing, probing, hours-long interviews. For those behind the castle walls, this is just terrible. How dare people who have not kissed the requisite asses, from Manhattan to Los Angeles, be so successful?
For comedy to be funny, it needs to connect with people at their most unguarded. Unfortunately, the comedy writers of today and the stars that speak their words are the opposite of unguarded: they are too busy trying to virtue-signal and posture. And it shows – both in their sour content and in their dwindling audiences.
Jenny Holland is a former newspaper reporter and speechwriter. Visit her Substack here.
To enquire about republishing spiked's content, a right to reply or to request a correction, please contact the managing editor, Viv Regan.