Enough of the Covid fear-mongering
No, we don't need mask mandates to cope with every new variant.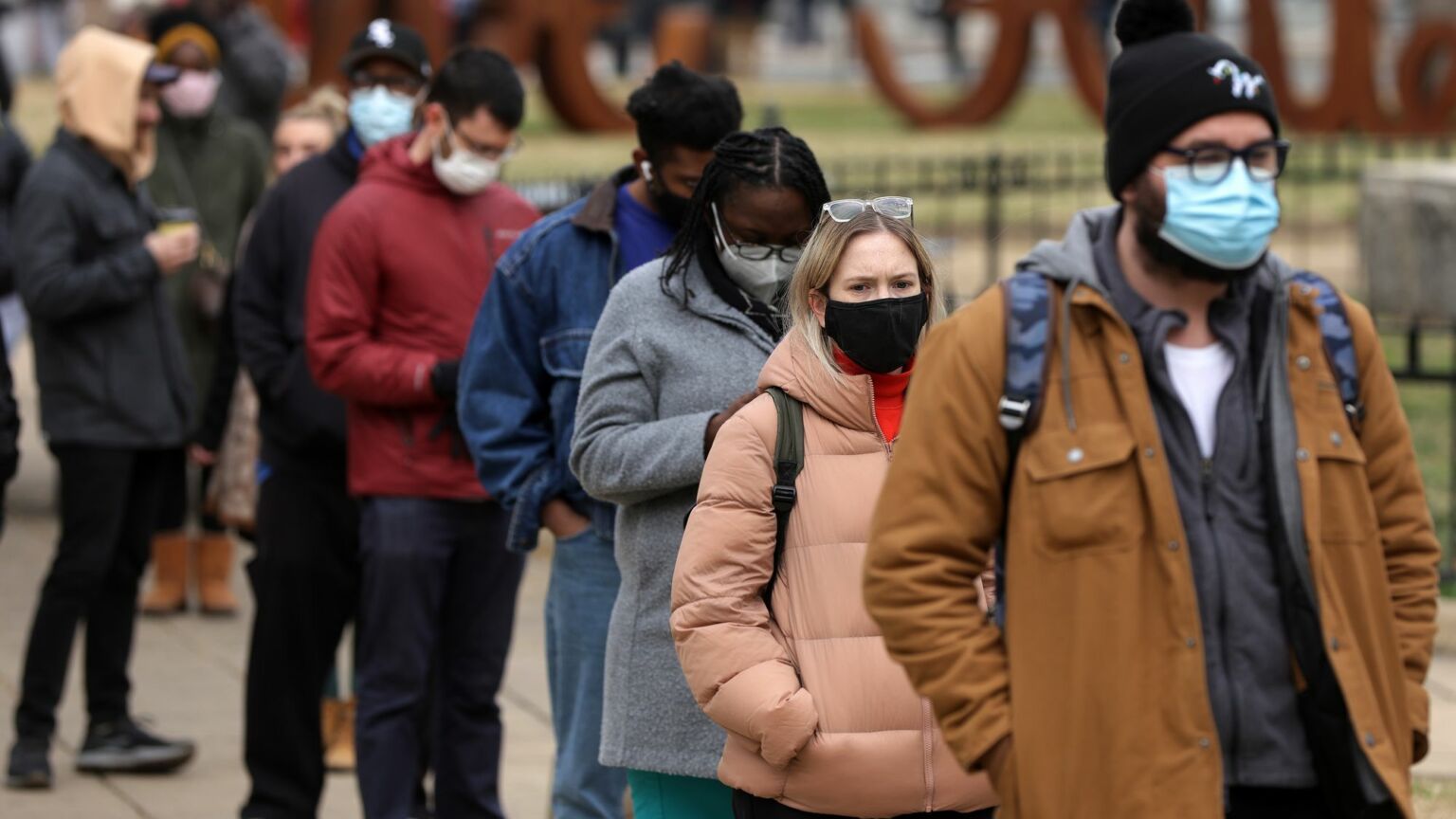 Back at the start of 2023, the media warned of a new and scarily named strain of Covid called 'Kraken' or XBB.1.5. The World Health Organisation (WHO) informed us that this was the 'most transmissible variant yet'. Yet since Kraken had already been proliferating in Singapore since the preceding October without catastrophe, it was a fair bet that it wouldn't cause disaster in the UK, where the population has already developed considerable immunity to Covid-19. And so it proved. Kraken faded from the headlines, and Armageddon never arrived. If you google 'Kraken' now, the top hits are for a cryptocurrency exchange and a mythical man-eating octopus.
But it seems the fear-mongers in the media, aided and abetted by the WHO, never learn. Right now, the newspapers are full of warnings about another new SARS-CoV-2 variant, 'Eris', monikered after the Greek goddess of chaos and discord. Like Kraken, Eris is a subvariant of the Omicron variant. It is spreading globally and accounts for 15 per cent of an expanding number of Covid cases in the UK. The WHO tells us once again that Eris is 'the most transmissible variant yet' and is a 'variant of interest', though not yet a 'variant of concern'.
Once again it is a good bet that Eris, like Kraken before it, is not worth worrying about. It shares the same symptoms as every other SARS-CoV-2 variant. It has already been circulating in Australia for four winter months without causing a significant number of deaths. It's likely that Eris will be forgotten about in the weeks to come. No doubt, by Christmas, the media will be scare-mongering about another variant, even more transmissible than Eris.
Indeed, the Daily Express and the Daily Mail are already highlighting Omicron BA.6, which has an as-yet-undetermined origin. It has an unusually large number of mutations and might even be awarded a new Greek letter to itself. Ryan Hisner, a former rural schoolteacher from Indiana 'lauded' for his 'uncanny ability to spot concerning mutants', tweeted last week that this one is 'the real deal'. Trisha Greenhalgh, Independent SAGE member and a professor of primary healthcare at Oxford, has called on us all to 'mask up', despite there being no good evidence that masks are effective. There is no data on BA.6's transmissibility yet, either, let alone on its virulence.
What we are witnessing with these variants is nothing to worry about – it is merely the evolution of Covid in action. Look at the figure below, illustrating the proportion of UK Covid cases attributable to different variants over time.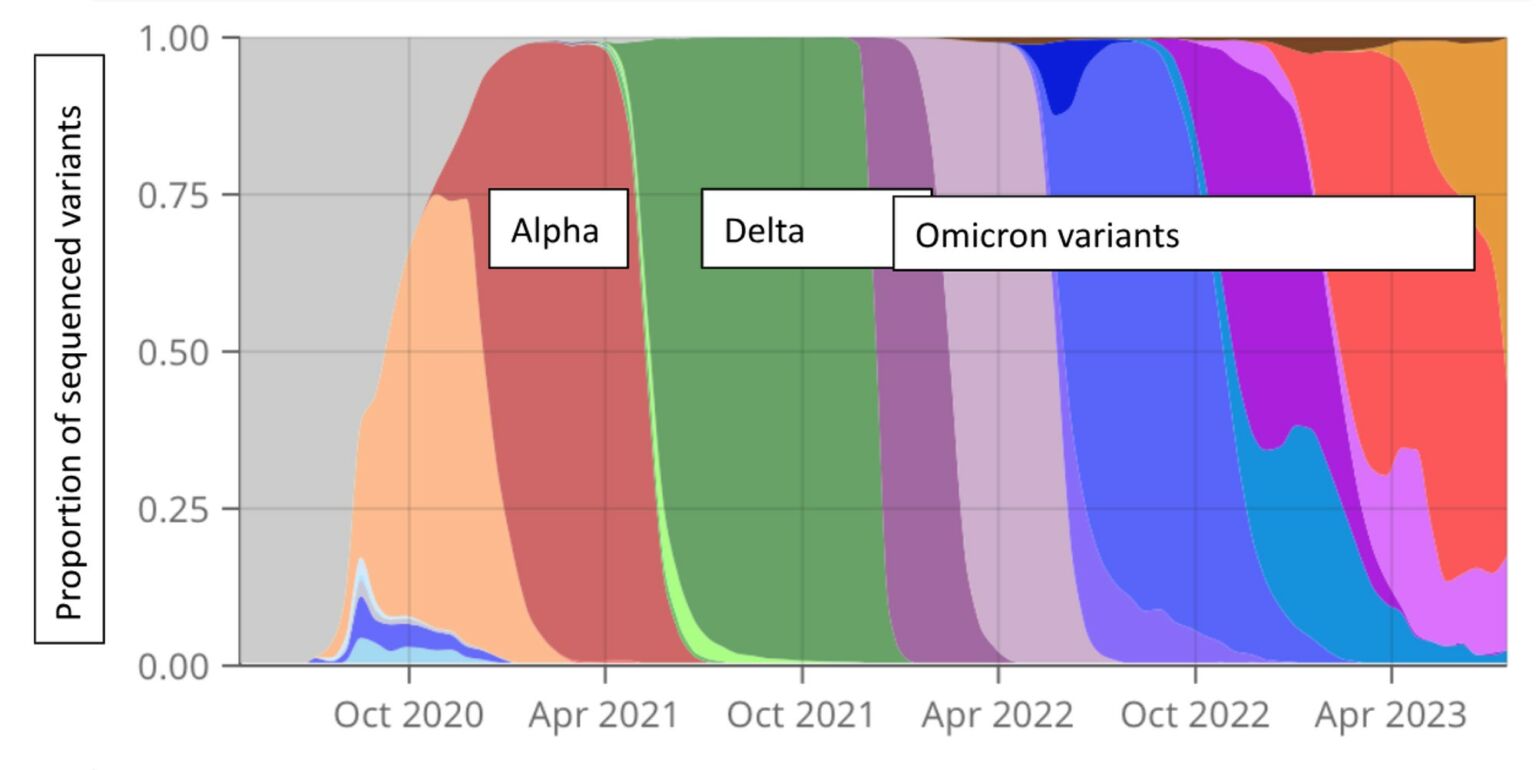 Source: covariants.org
Brick red, to the left, is the Alpha (or Kent) strain, which emerged and dominated through winter 2020-21. It was succeeded by Delta – dark green. Delta first proliferated in India, then went global. Everything after Delta, starting with the two mauve bands, is an Omicron variant. The orange segment, to the far right, is Kraken. The figure awaits updating for Eris, but the pattern is clear. One variant after another emerges, rises to dominance, then is succeeded by a new variant – like the dynasties of ancient Egypt.
We don't really know why some variants succeed dramatically where others don't. Maybe fewer viral particles need to be inhaled to establish infection? Maybe symptoms are milder, so one case infects more contacts than if they retreated to bed? Maybe the variant better evades our immune system?
It's possible that vaccines have accelerated this evolution. Since they generate antibodies solely to the spike protein, they perhaps advantage mutants featuring changes to the spike protein. Infection-induced immunity is harder to evade because the body makes antibodies to multiple viral proteins. That's one reason why vaccination should perhaps have been reserved for the old and vulnerable, as the UK's vaccine task-force chair, Kate Bingham, originally planned.
Questions such as these should interest virologists and evolutionary biologists. I've spent a lifetime working on bacterial antibiotic resistance and the evolutionary patterns are familiar, even if the pace is swifter. Variants also need to be tracked by vaccine developers.
But, from a public-health perspective, there is little cause for concern. There is certainly no evidence nor likelihood that the variants now emerging will cause the death spikes we endured in 2020 and early 2021. Those occurred in populations that had never been exposed to Covid before. Nowadays, almost all of us have been infected at least once, which provides a foundation of immunity. We develop a similar form of immunity to common-cold viruses that we've experienced from childhood. At worst, we'll have a bad cold, but that'll be the end of it. Other respiratory viruses no doubt change as steadily as SARS-CoV-2, but we sequence them less, meaning that we don't notice or care about them.
It is past time the WHO and other public-health agencies left SARS-CoV-2 variants to the academics. There's much else they could and should be concentrating on, from a lessons-learnt assessment of lockdowns to an analysis of the excess deaths that continue across the developed world. The persistent obsession with Covid helps no one. It just stirs up unnecessary fear and distracts us from the public-health issues that really deserve our attention.
David Livermore is a retired professor of medical microbiology.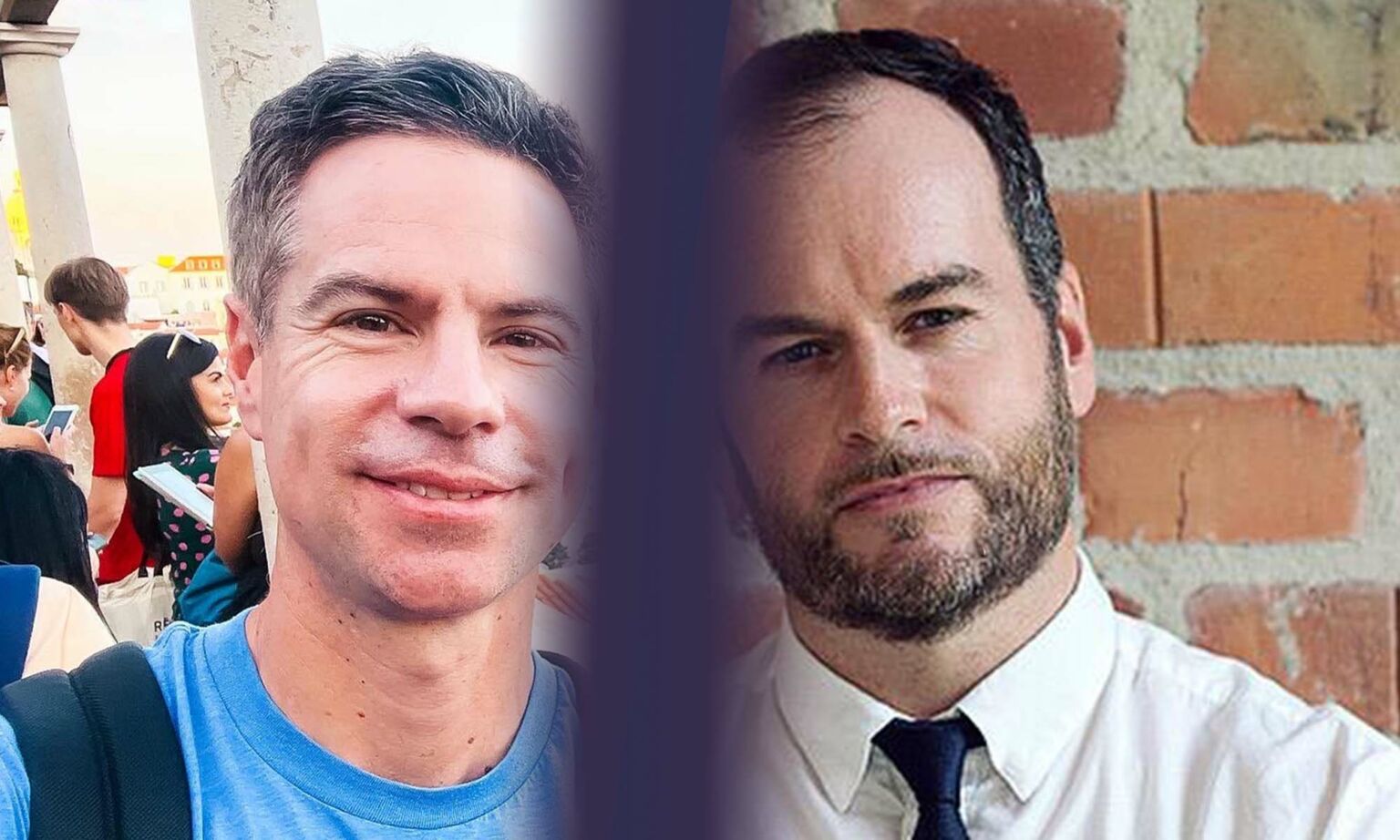 Michael Shellenberger and Brendan O'Neill – live and in conversation
ZOOM EVENT
Tuesday 29 August – 7pm to 8pm BST
This is a free event, exclusively for spiked supporters.
To enquire about republishing spiked's content, a right to reply or to request a correction, please contact the managing editor, Viv Regan.