The grim truth about Low Traffic Neighbourhoods
These green traffic schemes are making life miserable for ordinary people.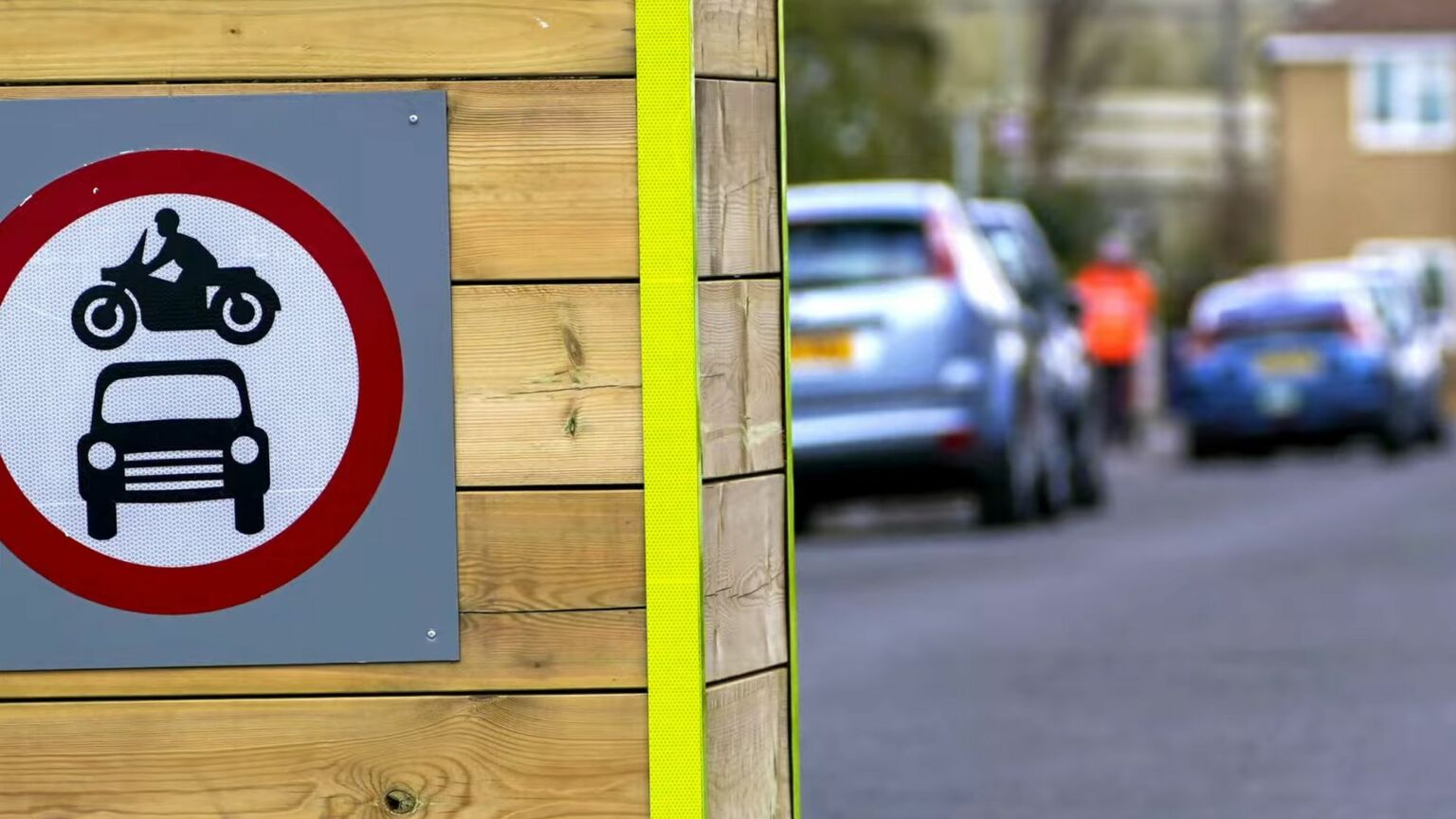 Could this finally be the end of the Low Traffic Neighbourhood? Over the past three years, so-called LTNs, which are designed to decrease traffic on residential streets, have sprung up across the UK. Prime minister Rishi Sunak announced a review into LTNs over the weekend, while speaking to the Sunday Telegraph. Sunak's comments followed transport secretary Mark Harper's announcement that central government would no longer fund new LTNs in England.
LTNs use a variety of measures, from barriers and bollards to planters and number-plate-recognition cameras, to reduce car usage and block traffic on certain roads. Although they are mainly aimed at deterring drivers, the end of these schemes would be good news for motorists and non-motorists alike.
The truth is that LTNs have simply not lived up to the sales pitch. Councils claim that they create 'liveable streets' that are more pedestrian-friendly. Former Labour councillor Jon Burke, who claims to have 'delivered the largest number of LTNs in the UK', boasts that they can 'halve road injuries, eliminate rat-running, reduce pollution… and reduce street crime'. Meanwhile, commentator Ian Dunt has waxed lyrical about how his local LTN has created 'mini-meadows' where a road once was. 'Children play on it. Dogs walk off-leash. You can hear the church bells over the traffic', he claimed on Twitter at the weekend.
But the reality for most people stuck in the vicinity of an LTN is far from idyllic. Most LTNs are simply roads that have been blocked off by physical barriers, while cameras are used to fine people who accidentally enter these restricted neighbourhoods. Where anti-car commentators see LTNs as a form of liberation, ordinary members of the public end up feeling trapped when their street is cut off from a main road. Worse still, most LTNs have been imposed on local residents by councils without any consultation or democratic input.
LTNs were first introduced in 2020, during the Covid lockdowns, when most people were stuck indoors. During the pandemic, nearly 200 LTNs were installed across the UK. The most extensive of these schemes have been in Oxford, Bristol, Birmingham and London. But within just two years, 28 per cent of those LTNs were scrapped in response to public fury.
Unfortunately, many local councils are indifferent to residents' concerns. Take the London Fields LTN in the London borough of Hackney. Introduced in September 2020, this scheme has proved overwhelmingly unpopular with locals. According to a survey from Hackney Council, 64 per cent of residents are opposed to it. A common complaint is that the LTN has actually increased congestion and pollution on main roads, as traffic has simply been displaced. This extra traffic on adjacent roads has also made bus journeys slower, has led to more accidents and even to an increase in crime. In other words, the LTN has achieved the precise opposite of what its proponents said it would. Yet despite all this, Hackney Council made the LTN permanent in 2022.
It's a similar story in Oxford, where the imposition of LTNs has been met with fierce local opposition. As in London, the LTNs have created more congestion, not less. Even emergency vehicles, which in theory are supposed to be able to travel freely through traffic-restricted zones, are being delayed across the city. Meanwhile, many business owners complain that they are losing customers, as people who might once have visited from further afield are put off by sitting in all the extra traffic.
Just like in Hackney, Oxfordshire County Council doesn't care what residents think. One councillor has even said as much, telling the people of Oxford that more traffic restrictions will be coming down the pipeline, in the form of 'traffic filters', whether locals like it or not.
Our green elites are indifferent to the plight of motorists. They hope that by making driving more difficult, LTNs and other green schemes will prompt drivers to give up their cars and use alternative methods of transport. They forget that for vast numbers of people cars are not a luxury, but a necessity. People with disabilities and families with young children are disproportionately affected by LTNs and other restrictions on cars. And not every journey can be made on public transport.
Guardianistas have dubbed the green war on the car a 'niche concern' that affects 'a very small percentage of the population'. That simply isn't true. There are roughly 40million motorists nationwide. Nearly 90 per cent of all journeys in the UK are taken by car. And judging by the results of the Uxbridge by-election earlier this month, which was essentially a referendum on Sadiq Khan's anti-car ULEZ scheme, voters are deeply unhappy with all the new restrictions on driving.
The rise of LTNs has made a mockery of democracy. These schemes were imposed without the public's say, and hundreds still remain despite growing public frustration. The sooner they are scrapped, the better.
Lauren Smith is an editorial assistant at spiked.
To enquire about republishing spiked's content, a right to reply or to request a correction, please contact the managing editor, Viv Regan.