How Kevin Spacey beat the #MeToo witch hunt
The evidence in his favour was overwhelming.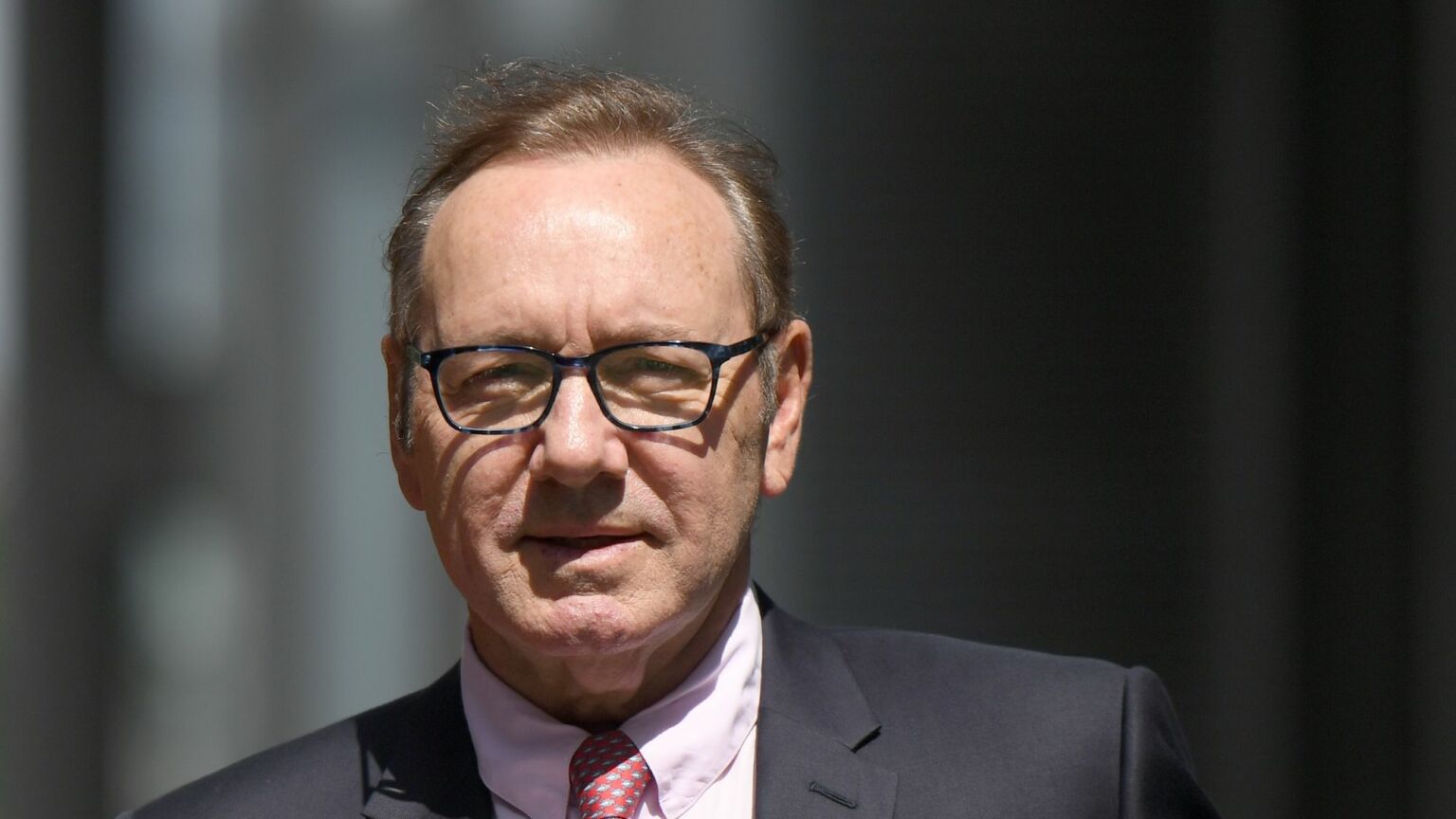 Kevin Spacey has once again walked free from a court of law. In New York in 2022, the Hollywood actor was cleared of any wrongdoing in relation to actor Anthony Rapp. And now, in London, he has been found not guilty of nine offences against four men, ranging from grabbing crotches to 'causing a person to engage in sexual activity without consent'.
We sat through the four-week trial in London. And as we did so, it soon became clear why Spacey was fully acquitted again.
Firstly, juries are not composed of members of our liberal elite. They are therefore far more sceptical of the #MeToo demand that we should always 'believe the victim'. After all, Kevin Spacey was one of the highest-profile scalps of the #MeToo phenomenon. Indeed, the first article alleging Kevin Spacey sexually assaulted someone appeared on Buzzfeed in October 2017, when #MeToo was at its height.
At the time, powerful men were being brought down almost daily. While many genuine wrongdoers and criminals were exposed, such as film producer Harvey Weinstein, the #MeToo movement very quickly seemed to develop into a moral panic. Men were being put on lists of abusers over bad dates and 'creepy lunches'. We were told to 'believe' all accusations without considering their credibility. As a result, prosecutors in the US and the UK found themselves under increasing pressure to bring charges to court.
As Spacey's UK trial progressed, it became clear that some of the charges made against him would not have made it to court before the #MeToo movement threw due process aside.
At times, the proceedings were farcical. Complainants became increasingly desperate as they tried to explain how their stories matched up with contradictory facts.
One complainant denied ever contacting Spacey after their encounter, but phone bills and a phone from 2003 proved otherwise. As he floundered in the witness box, he was left suggesting a rather bizarre scenario in which Spacey had somehow installed malware on the complainant's phone to make it look like he had sent text messages to Spacey. Not surprisingly, the jury rejected the idea that Spacey was an evil tech-savvy predator and accepted his claim that their relationship was romantic, friendly and consensual.
Another reason for Spacey's exoneration was the role played by Elton John in the trial. Right now, John has the status of a national treasure. So calling him as a witness for the defence was a masterstroke. As one legal source put it: 'In the UK, having Elton John testify in your defence is like the Queen Mother declaring you're innocent.' Even the prosecutor admitted to the jury that she was 'starstruck' by his presence.
However, far more important than Elton John's character reference was the exonerating evidence he brought with him. His testimony was crucial in demolishing the most serious allegations of complainant No1, who claimed Spacey assaulted him on the way to one of John's famous 'White Tie and Tiara' balls, either in 2004 or 2005. The complainant claimed that Spacey's assault nearly caused a car crash. It was, he dramatically told the jury, a turning point in his life. He decided he could no longer cope with the ongoing assaults by Spacey and he walked away from working for the actor.
However, John and his husband, David Furnish, testified that while Spacey had appeared at their ball in 2001, he had not attended at the time of the alleged assault.
The complainant also said he had provided security and been a driver for John. The pop star and his husband both vigorously denied this, allowing Spacey's defence team to characterise the complainant as an exaggerator and fantasist.
Kevin Spacey also helped his own defence a great deal during the trial, mainly because he's a hoarder. Most of the UK charges were from the early 2000s. For an average person, it would be almost impossible to find physical evidence that would allow them to fight allegations from that long ago. This was a time before camera phones, widespread texting, Facebook, Twitter or Instagram. And any paperwork from the era would be long gone.
But not in Spacey's case. He has an 11,000 square-foot storage warehouse in Baltimore, Maryland, which holds hundreds of cardboard boxes packed with every letter, envelope, photograph, playbill, contract and document that has ever passed through his hands. This was a treasure trove for his defence, and left many of his accusers having to answer difficult questions when their version of events clashed with hard documentation saying otherwise.
For example, very deep in those boxes was a UK phone from 2003. Not many of us would keep a phone from 20 years ago in another country. But Spacey did. And it was that phone and the phone bills that allowed Spacey to prove he had been in touch with the complainant, despite the complainant's claims otherwise. It was this treasure trove of evidence that led to the desperate and ludicrous claims that Spacey had installed malware on the complainant's phone.
A problem for the prosecution throughout was the complainants did not come across as the hero-victims of #MeToo mythology. Quite the opposite. Several of the complainants had approached journalists about their allegations. Three out of the four complainants had serious financial issues, and had initially inquired about taking civil action against Spacey, in search of massive monetary damages.
There is nothing wrong or illegal about suing someone who you claim has sexually assaulted you, of course. But it did allow Spacey's defence team to characterise the criminal allegations as part of a cash grab rather than a quest for justice.
One of the complainants did not help his case by writing directly to Spacey, offering to withdraw from the court case in 'exchange for a settlement'. Another complainant was told by a lawyer that he could possibly make $10million from the lawsuit. Another complainant who was suing for almost half a million pounds admitted to having a gambling problem.
Kevin Spacey's ordeal, stretching right back to October 2017, shows just how cruel and unforgiving the #MeToo movement has been. We have seen the emails and text messages that passed between his team when he was first asked to comment on Anthony Rapp's allegations. Rapp claimed that Spacey made an unwanted sexual advance towards him in 1986, when Rapp was 14 and Spacey was 26. Despite Spacey saying that he had no memory of ever treating Rapp in the way Rapp claimed, Spacey's PR team told him he could 'not push back' against the allegations. That's how crazy things were at the height of the #MeToo movement – if an allegation was made, you were not allowed to say it did not happen, even if it genuinely didn't happen. One publicist drafted a statement in which Spacey was to express 'Admiration [for the victim], horror, apology, no recollection'.
That's right, Spacey was expected to express admiration for his accuser, horror at what had happened, and to apologise. Only then would he be allowed to state that he actually had no memory of doing anything that was being alleged. That was the world of October 2017.
It was this advice that led Spacey to issue a quasi-apology statement that effectively ended his career. This was then used as evidence against him in court and perhaps encouraged more 'victims' to come forward.
But when Spacey took the stand this time, in 2023, there were no quasi-apologies. He called one allegation 'absolute bollocks'. Another, he said, was a 'stab in the back'. And the jury believed him.
Six years after Kevin Spacey's career was brought to an end, he now stands exonerated in numerous courts across several jurisdictions. Nevertheless, in a post-#MeToo world where we are supposed to believe all accusers, it remains to be seen whether Hollywood will welcome him back, even though he clearly deserves to have his life back. The 'believe the victim' mantra has rarely seemed so unjust.
Phelim McAleer and Ann McElhinney narrate The Trial of Kevin Spacey Unfiltered, a nine-episode podcast about Spacey's various legal cases.
To enquire about republishing spiked's content, a right to reply or to request a correction, please contact the managing editor, Viv Regan.