Why the Hunter Biden scandal matters
The collapse of Hunter's sweetheart plea deal has revealed the rottenness of the Biden administration.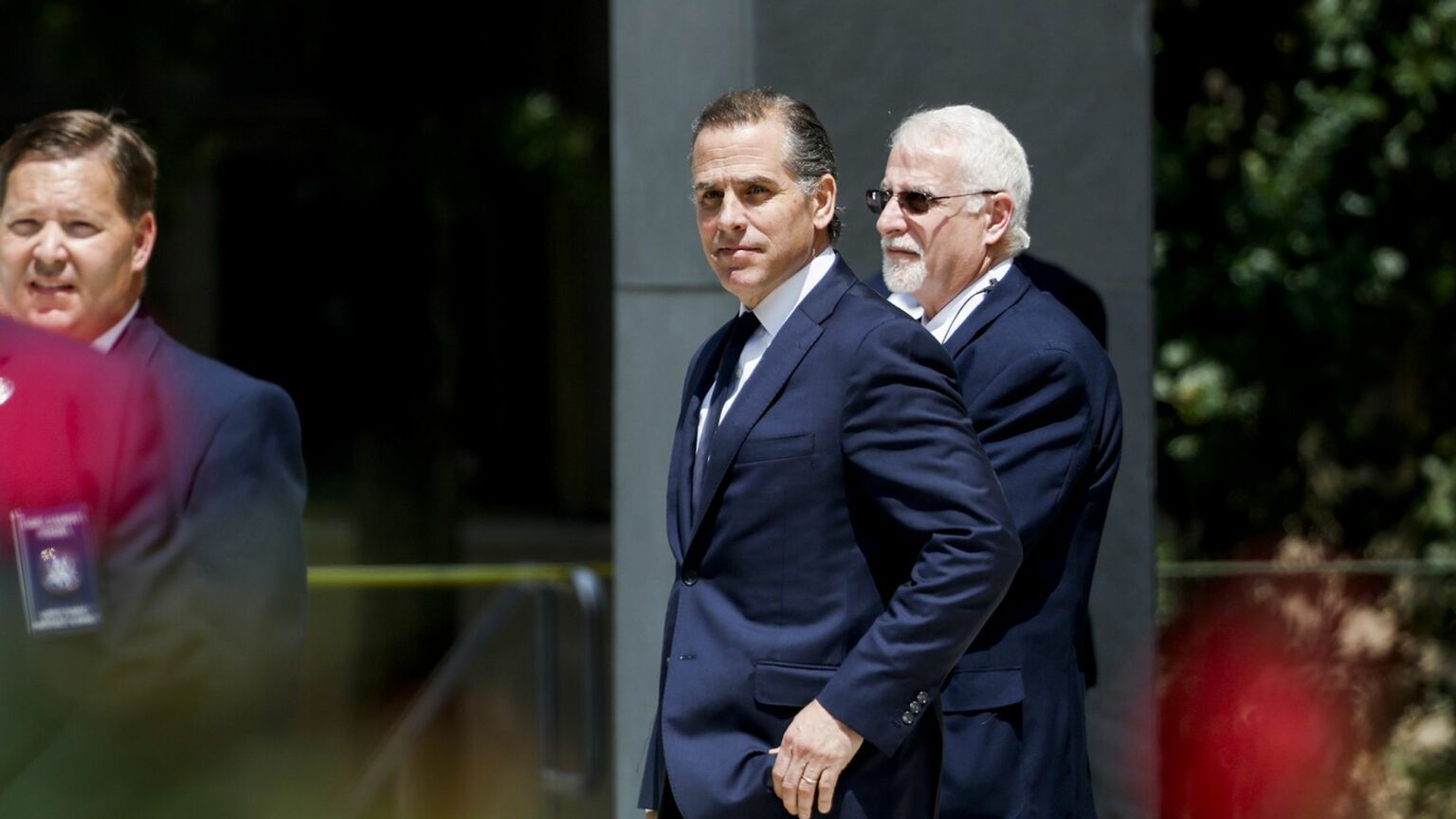 All it took was for a judge to ask a few simple questions, and Hunter Biden's cushy plea deal with the US government blew up right in the middle of a courtroom.
On Wednesday, Judge Maryellen Noreika refused to accept an agreement worked out between the US Department of Justice (DoJ) and lawyers for Hunter Biden, President Joe Biden's troubled 53-year-old son. Normally, judicial approvals for plea deals are perfunctory, but Judge Noreika smelled a rat. She variously described the deal as 'not standard, not what I normally see', possibly 'unconstitutional', without legal precedent and potentially 'not worth the paper it is printed on'.
The last-minute halt by Judge Noreika was just the latest twist in a politically charged DoJ investigation, which began in 2018, into Hunter's finances, business dealings and notorious drug and alcohol addiction (for years, photos of a naked Hunter taking drugs, brandishing guns and lying about with prostitutes have been splayed across the media).
When the DoJ first announced the plea agreement in June, Republicans and other critics slammed it as a 'sweetheart' deal. Hunter would have pleaded guilty to two tax misdemeanours (rather than felonies), and would have avoided gun-related charges by enrolling in a two-year 'diversion' programme for nonviolent offenders. But the deal's terms, as disclosed in the courtroom this week, were in fact much more favourable to Biden than they initially seemed – outrageously so.
As Judge Noreika pointed out, a paragraph hidden away in the diversion part of the agreement gave Biden broad immunity from prosecution, in perpetuity, for a range of potential crimes. That included illegal foreign lobbying, which the DoJ had claimed it was still investigating.
It was truly an unprecedented agreement. 'Have you ever seen a diversion agreement that is so broad that it encompasses crimes in another case?', asked Noreika. 'No, your honour', admitted Leo Wise, the DoJ's lead prosecutor.
Once the judge had publicly exposed this backdoor attempt to give Hunter blanket immunity, the DoJ's Wise changed his tune. The deal didn't preclude prosecuting Biden for other potential crimes, including violations of the Foreign Agents Registration Act, he then tried to say – even though the terms of the deal, as written, did not allow the DoJ to try him for such crimes. In a chaotic scene, Hunter's defence attorney, Chris Clark, exploded, saying the deal was 'null and void'. After hours of further grilling and negotiations, Judge Noreika didn't reject the deal entirely, but told the prosecutors and defence attorneys to clarify the terms and return to court within 30 days.
The Biden administration's handling of the Hunter affair is coming under increasing scrutiny elsewhere, too. Last week, House Republicans held congressional hearings to investigate the federal government's response. According to Democrats, there is nothing to see here. They say the Republicans' focus on Hunter is simply partisan mudslinging. Apparently, Republicans are just hoping that publicising salacious stories about the president's son will embarrass and eventually tarnish his father. Nancy Pelosi, the former Democrat leader in the House of Representatives, called the Republicans' recent hearings 'a clown show'.
If Hunter's activities have had nothing to do with his father, Joe, then it would be true that they are not worthy of serious political debate. But more and more, it appears that Joe is connected to Hunter's dealings, and there is now enough evidence to merit deeper investigations.
For a start, there is a strong possibility that Hunter has received preferential treatment thanks to his father. The plea agreement put before the courts this week is a prime example of suspicious favouritism. With the sneaky insertion of blanket immunity, it certainly looks like the DoJ was working together with the Biden defence team, and trying to pull a fast one on the judge. After all, the head of the DoJ, attorney general Merrick Garland, works at the direction of the president.
Furthermore, in recent testimony before Congress, two Internal Revenue Service (IRS) whistleblowers, Gary Shapley and Joseph Ziegler, accused the president's appointees of undermining their investigations into Hunter. Under oath, the two agents provided compelling evidence of special treatment accorded to the president's son. They said that critical information was withheld from them and the investigation was 'slow-walked' to run out the clock on the statute of limitations on certain crimes. The whistleblowers also claimed that Hunter's lawyers were tipped off about searches before they happened and that agents were forbidden from exploring Joe's potential involvement in detail.
Even more potentially damaging for the president are recent indications that he may have actively played a role in his son's business deals, and helped to secure payments for himself and his family members from foreign sources. For years, there were reports of an unexplained email from a Biden business partner who said that 10 per cent of a deal with a Chinese company would be 'held by H for the big guy' ('H' is suspected to refer to Hunter and 'the big guy' to Joe). More recently, IRS agent Ziegler claimed the Biden family earned as much as $17million from foreign sources, including during the years when Joe Biden was vice president to Barack Obama. And last week, Republican senator Chuck Grassley released an FBI document that contains allegations from the founder of the Ukrainian company Burisma, Mykola Zlochevsky, that he was coerced into paying Joe and Hunter $5million each as bribes.
The White House is certainly feeling the heat from all this. Last week, press secretary Karine Jean-Pierre said, 'the president was never in business with his son'. But that line itself is a tell. Before that, Biden and his staff claimed he had never had any knowledge at all of his son's overseas business dealings. The change in phrasing follows reports that the president joined his son on dozens of telephone calls with foreign business partners.
Democrats were hoping that Hunter Biden's plea agreement would be the final word on the matter. With help from their friends in the media, they were pushing a message that it was time to 'move on' from the 'obsession' with Hunter. But Judge Noreika said not so fast to the plea deal, and now the Republicans in Congress are even more emboldened to pursue the links between Joe and Hunter. Kevin McCarthy, the Republican speaker of the House, is now talking about a possible impeachment inquiry against the president. And now with the plea bargain falling apart so dramatically, it will be harder for the mainstream media to relegate the corruption allegations against the Bidens to the back pages.
Worse still for the Bidens, polls show that most Americans believe that Hunter has received special protection from the DoJ and FBI. And if it's eventually proven that Joe lied about his involvement with Hunter and the millions paid to his family, all bets are off. Such revelations could even be enough to force the Democrats to dump Biden and find another candidate for the 2024 election.
Don't let anyone tell you this scandal doesn't matter.
Sean Collins is a writer based in New York. Visit his blog, The American Situation.
To enquire about republishing spiked's content, a right to reply or to request a correction, please contact the managing editor, Viv Regan.