Sinéad O'Connor: a true rebel
Her strength of mind, independence of spirit and sheer talent will be deeply missed.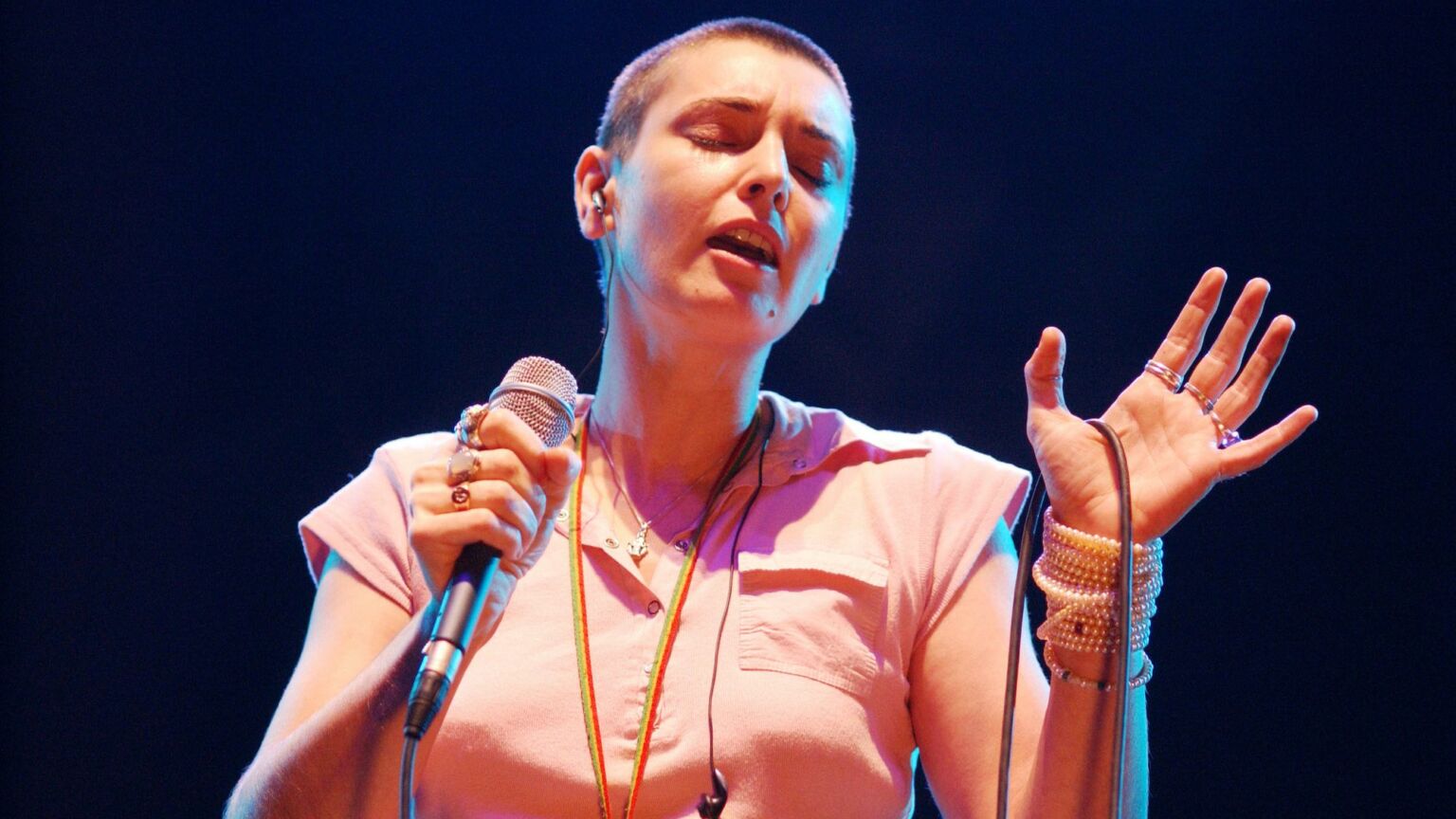 In my day, teens stuck Athena posters of pop idols on their bedroom walls. Nowadays, most young people are too busy basking in the blue light of tablets and phones to get the Blu Tack out. But if today's young people are searching for someone new on YouTube to 'share', 'like' and 'follow', they could do worse than Sinéad O'Connor.
The enfant terrible of 1990s pop, who passed away this week aged 56, was not herself prone to hagiography, mimicry or any kind of hero worship. O'Connor stood apart from her pop peers precisely because she did things her way – to hell with what other people thought. Above all, Sinéad O'Connor was a singer-songwriter. Almost uniquely, in an iconic music career that spanned nearly 40 years, she put principles above the celeb superficialities of adulation and being liked. She was not afraid to be 'cancelled', to be an imperfect human being, or to change her mind.
Sinéad Marie Bernadette O'Connor was born on 8 December 1966 in Glenageary, County Dublin. Growing up, she didn't have it easy. Her parents' marriage broke down, and her siblings were scattered. O'Connor lived with her mother whom she said physically and emotionally abused her, even encouraging her to shoplift. As a teen she was sent to An Grianan Training Centre, once one of the notorious Magdalene laundries for 'fallen women'. It was here, however, that a nun spotted her talent, bought her a guitar, and got her started with music lessons. This would be the seed of O'Connor's musical career.
Right from the get-go, Sinéad O'Connor was different. Given the music industry pressure to toe the line, her strength of mind and independence of spirit were nothing short of remarkable. In the epoch of the internet especially, Hollywood celebs and popstars tend to agonise about putting a foot wrong or saying the wrong thing online. But O'Connor never compromised. Self-censorship and courting public opinion were never her thing.
This was clearly demonstrated when her fame was at its height. In 1990, her haunting cover of Prince's song, 'Nothing Compares 2 U', catapulted her to the forefront of pop stardom. But the public love-in would be short lived. Just two years later, she promoted her third album during a live recording on the late-night comedy show, Saturday Night Live – a moment that would prove a turning point. She sang a rendition of Bob Marley's 'War', with later verses changed from a focus on racism to sexual abuse in the Catholic Church. O'Connor then held up a picture of Pope John Paul II to the camera as she sang the final word – 'evil'. She then ripped up the picture and said: 'Fight the real enemy.'
The response was overwhelming and negative. SNL producer Lorne Michaels ordered the studio audience applause sign not to be shown, and the reception was one of stoney silence. NBC subsequently received hundreds of viewer complaints. Even the 1990s glitterati piled on, including Queen of Pop Madonna, and infamously Joe Pesci (he said she deserved a good slap in the face for her antics). O'Connor was then banned from appearing on NBC for life.
Still, in a display of considerable personal fortitude, O'Connor didn't cower. Two weeks after her SNL appearance, she repeated the performance at Madison Square Gardens in NYC. Both before and afterward, she was greeted by several minutes of loud booing and heckling. Visibly upset as she exited the stage, her lifelong friend Kris Kristofferson embraced her. That night, he described her name as 'synonymous with courage and integrity'. He was right, and so was she. It would be another 10 years before the child-abuse scandal would rock the Catholic Church.
Like all celebrities, it is fair to say she enjoyed attention. But she didn't seek fame at any cost. Not for her, the staging of paparazzi shots. Instead, she shared personal anguish, including her mental-health problems, before it was fashionable to do so. This often resulted in public and press ridicule which, in truth, she never shook off.
Her pop-music ambition was curbed by her principles. In an era when young people, especially women, would do anything to fit in, including going under the knife, O'Connor strongly resisted being sexualised to drive record sales. When one music mogul asked her to appear more feminine, O'Connor decided instead to shave off her hair.
Not everyone understood what she was about. Miley Cyrus told Rolling Stone that she modelled her racy 2013 'Wrecking Ball' video on O'Connor's look in 'Nothing Compares 2 U'. But when asked for her own opinion about the homage, O'Connor was forthright. She addressed Cyrus directly, writing:
'I am extremely concerned that those around you have led you to believe… that it is in any way "cool" to be naked and licking sledgehammers in your videos. It is in fact the case that you will obscure your talent by allowing yourself to be pimped, whether it's the music business or yourself doing the pimping… [Y]ou have enough talent that you don't need to let the music business make a prostitute of you.'
If the message fell on deaf ears, there was surely truth to it. Manufactured within an inch of their lives, today's pop stars seem subservient to commercial imperatives. They're puppets to slick routines that someone else has choreographed, singing music and words someone else has written. Often scantily clad, cosmetically tweaked or simply autotuned, many of today's stars style themselves as 'artists'. Yet they're more accurately described as polished and digitally enhanced performers.
Here again, O'Connor was the exception to the rule. She often described herself as an 'artist', but for her the moniker was meaningful. Her art wasn't about keeping up with the kids on the treadmill of music marketing. Rather, she was a genuinely masterful interpreter of songs. She was also a cultural commentator and public performer who kept us watching and engaged – whether her topic was religion, politics, or her own descent into madness.
O'Connor wasn't perfect, but then she didn't pretend to be. Nor was she afraid to admit fallibility and change her mind. At the start of her career, she once professed support for the IRA, only to later admit: 'I was very, very young and I didn't know what I was talking about… [T]o talk like that was bollocks.'
Throughout her life, O'Connor searched for a faith that fit. In the late 1990s, she was ordained as a priest in the independent Irish Orthodox Catholic and Apostolic Church, not associated with the Catholic Church. In 2018, she converted to Islam describing it as 'the natural conclusion of any intelligent theologian's journey'. Memorably, she discussed her conversion in 2019 when she donned a rainbow-striped top with a hijab to appear on ITV's Good Morning Britain.
While you might have disagreed with her opinions, you couldn't deny her talent, her humble fragility, nor her wit. She once reassured her fans she wouldn't take her life because she didn't want Bono speaking at her funeral.
Sinéad O'Connor would no more want to be emulated in her life than in death. And that was just the point. She did her own thing. But if there is one verse that sums her up, we might do well to select a 19th-century hymn: 'Dare to be a Daniel; dare to stand alone; dare to make a purpose firm; dare to make it known.'
Charlotte Blease is a research affiliate in digital psychiatry at Harvard Medical School and Uppsala University, Sweden. Follow her on Twitter: @crblease
To enquire about republishing spiked's content, a right to reply or to request a correction, please contact the managing editor, Viv Regan.