Gender ideology has captured the state
The government's attempts to ban social transitioning in schools are being thwarted at every turn.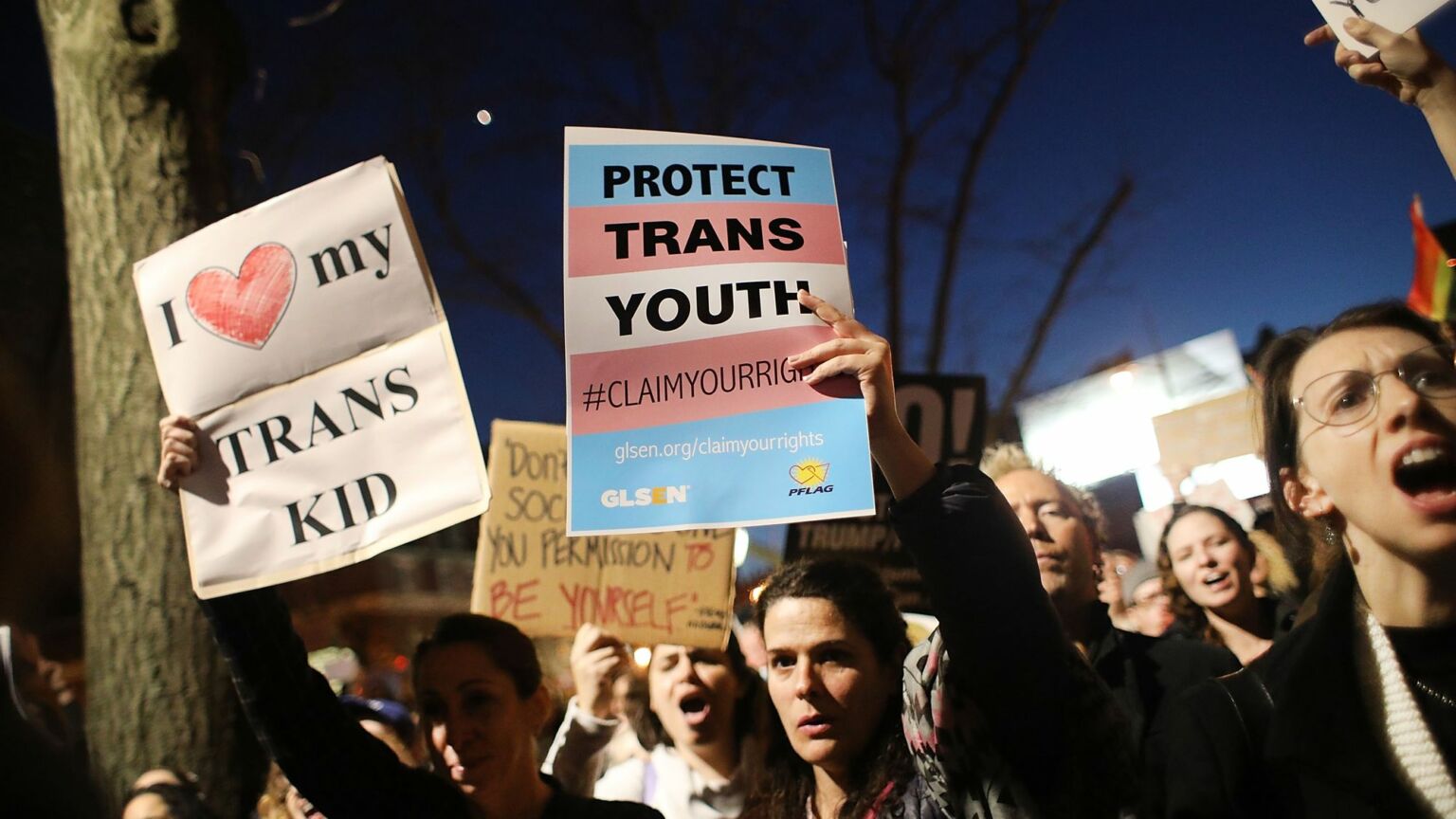 Rishi Sunak is late with his homework. This week, the UK prime minister was supposed to present schools with updated guidance on how to deal with the growing number of pupils questioning their gender identity. But, once again, its publication has been delayed. And Sunak already has his excuse prepared: government lawyers have warned that his plans could be illegal.
A first draft of the new guidance has already been widely discussed. It advises teachers to inform parents if their children want to change gender. It asks that pupils stick to the toilets and changing rooms meant for their sex. It also recommends that, rather than rushing children to transition, schools encourage a period of reflection first. None of these proposals is radical. What's truly shocking is that, as things currently stand, children can change their gender at school without their parents knowing.
According to The Times this week, both the prime minister and the women and equalities minister, Kemi Badenoch, want to go further than this. They want to ban children from socially transitioning at school entirely, regardless of parental consent.
This would be far from unreasonable. There is growing concern that children who have their new gender identities affirmed are more likely to seek puberty blockers and, later, surgery – the results of which are often irreversible and poorly understood. Meanwhile, in a classroom setting, social transition leads to ridiculous situations such as teachers being reprimanded for addressing female pupils as 'girls'.
It should be relatively uncontroversial to, at the very least, insist on parental consent before allowing children to socially transition at school. And yet, even this mild proposal prompted a hysterical backlash. In response, Labour MP Lloyd Russell-Moyle tweeted: 'Dobbing in often vulnerable children to parents who can be abusive is a dangerous strategy.' In a similar vein, Pink News described the proposal as 'chilling' and claimed that Badenoch wanted to 'force teachers to out trans kids to their parents'. This response reveals the anti-family sentiment at the heart of transgender ideology. Parents are viewed with suspicion, at best – and with contempt, at worst. Only teachers are considered able to keep children safe. In reality, we know that even incompetent parents are, in many cases, better at looking after their children than the state.
The best way to protect children from gender ideology would be to ban social transition altogether, as Sunak and Badenoch suggest. Yet the attorney general has warned that this would be 'unlawful'. This is because the Equality Act 2010 states that gender reassignment is a 'protected characteristic', regardless of age. The prime minister now faces a choice: issue a watered-down version of the guidance or introduce new legislation to prevent children socially transitioning at school.
The idea that discouraging kids from transitioning may potentially break the law should sound an alarm about the state of Britain today. Who is really in charge here – government ministers or lawyers and civil servants? And whose views are being reflected in the law and in policy – the views of citizens and voters, or those of a woke cultural elite?
The Equality Act has become a serious obstacle for ministers who want to implement change. Passed in 2010, the act identifies nine 'characteristics' such as age, disability, race and sex that receive additional legal protections. The Equality and Human Rights Commission describes it as 'a discrimination law that protects individuals from unfair treatment and promotes a fair and more equal society'. It might be more accurate to say that it protects only certain individuals, sometimes at the expense of others.
Both sex and 'gender reassignment' are characteristics protected under the Equality Act. Back in 2010, only a tiny number of people were transgender. Transition was widely understood to involve undergoing multiple surgeries and obtaining a Gender Recognition Certificate (GRC). Today, however, transitioning has come to be understood as a matter of self-identification – of simply declaring oneself to be the opposite sex. And while it is not possible to legally change sex via self-declaration alone, for the purposes of the Equality Act, you do not need a GRC to be protected under the 'gender reassignment' category. You can be a child who wants to go by a different name or wear the school uniform of the opposite sex.
As a result, the Equality Act is open to being exploited by transgender activists. They can use it to ensure that their right to legal protection trumps women's sex-based rights. And now, we see the act standing in the way of introducing guidance that would discourage children transitioning at school.
The government is in a mess. Parents are unhappy about children transitioning at school, especially when it happens without their knowledge. At the same time, teachers are unhappy about a lack of firm direction from the government when they are faced with growing numbers of gender-confused children. Guidance that has been watered down to meet the needs of the Equality Act seems woefully insubstantial when the safeguarding of children is concerned. Meanwhile, new legislation will likely meet opposition in parliament and will be time consuming to enact.
We also must not forget that this is a mess of the government's own making. The Equality Act was passed in the dying days of the last Labour government, but the Tories have made no efforts to overturn it in their 13 years in office. What's more, the government has largely sat back and watched as officials in the Department for Education, like so many other branches of the civil service, have been captured by gender ideology.
This is the bigger problem we now face. The government can issue all the guidance it likes. It can even seek legal changes to ban children from socially transitioning at school. None of this, however, gets to the heart of why growing numbers of children want to change gender in the first place. Schools lie at the heart of a culture that encourages children to question their gender and which celebrates those who want to transition.
Still, at least the prime minister recognises part of the problem. Whether he can do anything about it remains to be seen.
Joanna Williams is a spiked columnist and author of How Woke Won, which you can order here.
To enquire about republishing spiked's content, a right to reply or to request a correction, please contact the managing editor, Viv Regan.