The power and the glory of Bruce Springsteen
His Hyde Park gig was a transcendental experience.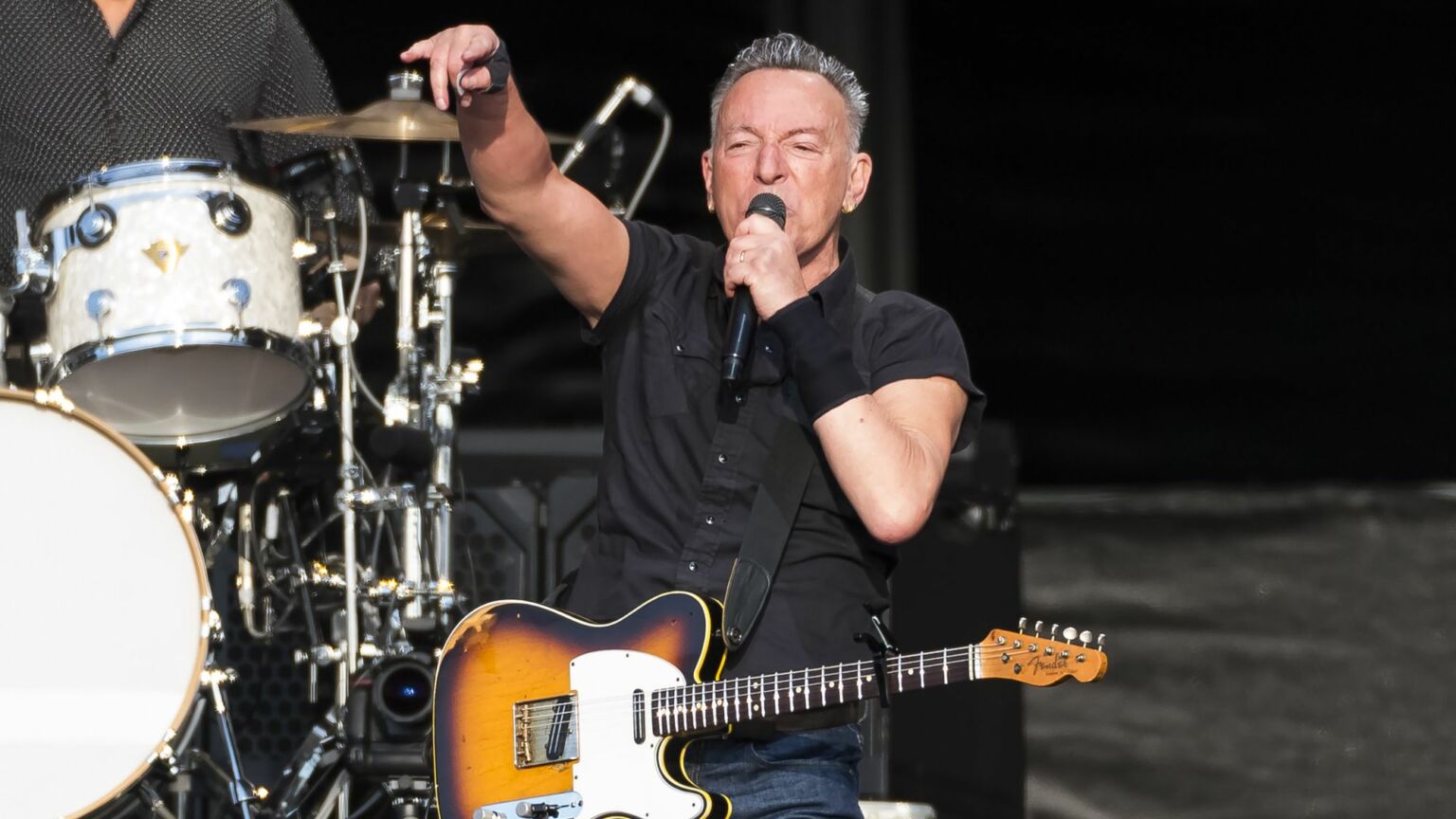 For those of us who don't follow a team or a god, our best chance to find affirmation and communion is at one of this summer's outdoor mega-gigs.
No one attends these vast open-air arenas expecting a sonic cathedral, or an intimate, touch-the-hem-of-his-garment moment with their favourite artiste. And for the price of a ticket, one could always buy a pair of Bluetooth headphones, a six pack of decent ale and a single-use beanbag and have an equally authentic musical experience in the back garden.
But with so many Rushmore-tier rock gods now entering their Dämmerung, it has never felt more important to be there in person. To be present. One more time. Not least as only a few years ago we weren't allowed to be there – and were worried we might never be again.
Really, it was the crowd that made watching Elton John at Glastonbury last month among the most moving moments of my musical year – even on my laptop. God knows his voice was verging on self-parody at times. But it didn't matter. My wife and son were there for real and their eyes in the photos are shining.
Nor was anyone bothered by the atrocious sound mix for Blur at Wembley Stadium earlier this month – at least not after the crowd stepped in to sing 'Parklife' at a volume that might easily have been heard over the gunfire at the Somme. It was as if both teams in the FA Cup final had somehow scored at once. Imagine… all the people… So many people… Well, here they were.
And then, there was 6 July, Hyde Park.
Forty-nine years ago, rock critic Jon Landau was fast approaching his 27th birthday and feeling it was over. Good records came and went, sure. But they no longer bit, no longer lit up his valves, no longer propelled him to the typewriter, crazy to share the good news. He was jaded and growing old.
Then, Landau went to see an up-and-coming rocker at the Harvard Square Theatre in Cambridge, Massachusetts – and the rest is rock'n'roll history. Or as he put it, in perhaps the single most significant review ever written: 'I saw rock'n'roll future and its name is Bruce Springsteen.'
On a night when Landau needed to feel young, Springsteen made him feel like he was 'hearing music for the very first time'. Miraculously, this is what Springsteen has been doing for millions of us ever since.
That review is widely held to have been the hinge on which everything turned for the 'rock'n'roll punk' and 'Latin street poet'. And who knows? Would Springsteen have broken through another way? It seems preposterous that a talent, an ambition and energy so Herculean might have depended on a rope of greasy newsprint to swing across the chasm between roadwork and fame, let alone to reach the god-like status he enjoys today. But the fact is, at the time, the record company was getting antsy, the hits weren't coming and Springsteen's wagon was running on fumes. History's ditches are littered with wrecks from the highway of what might have been.
Since that review in 1974, Springsteen has become a live act without parallel. He's the greatest entertainer of my lifetime and seriously, it's not even close. I have no idea how many people have seen him, though the internet tells me that he has played over 3,500 gigs, and the biggest – in East Germany in 1988 – was attended by 300,000 people. What I will say with some confidence is that the number who have left feeling disappointed, short changed, like the Boss was phoning it in, I would be able to entertain comfortably in my own home, and not need to order in extra chairs.
I have seen Bruce a perfectly sane, borderline meagre nine times now. The E Street Band reunion shows he played at Earls Court in 1999 were probably the greatest nights of my life.
Just over a week ago, at age 73, he played at full tilt for a solid three hours. The only bit he dispensed with, the only concession to circumstances, was the pretence of leaving the stage before the encore. He was simply incredible, as were the whole band. Max Weinberg and Roy Bittan remain men I'd entrust with my life, as indeed I have done for over 40 years. And if you think it's somewhat undignified for a 58-year-old man to be screaming 'Wanna change my clothes! My hair! My face!', then that's because for that brief moment, I wasn't. I was 19.
Of course, whatever anyone saw in Springsteen's blazing eyes in Hyde Park, it won't have been rock'n'roll future. It has been six years since his last tour ended, and in another six years' time he'll be 79. He closed the London show with 'I'll See You in My Dreams', his paean to departed friends and fallen brothers in arms. If that is Bruce's gentle way of hinting that maybe this is goodbye, then he surely judged it well.
But I hope he knows that, however strong his voice, his knees or his fingers on the neck of that Telecaster, five, six or 10 years from now… if he builds it, we will come. Just count us in – two!, three!, four! – and we'll do the rest. We will carry you as you have carried us. No one expects you to grow young again. But I sure would like to hear that music for the first and one last time.
So what about the rock'n'roll future now? When Dave Marsh wrote his biography of the Boss, he took as his epigraph the last line from The Wild Bunch (1969), Sam Peckinpah's elegy for the old West: 'Me and the boys got some work to do. You wanna come along? It ain't like the old days… But it'll do.' Marsh saw that spirit in Springsteen, in his refusal to accept that rock's glory days were behind it, back in 1973.
So what about 2023? Is that spirit dead yet? Maybe, just maybe, some new kid was at Hyde Park and will have felt it blow through him. Maybe he or she will pick up a guitar, and feel the force flow – and learn how to make it talk. I do hope so.
Because when we stand in front of Bruce – or Elton, or Damon or even young Lewis Capaldi, bless him – we are not just the crowd, watching a spectacle. We're also the congregation and the choir. We're there to be healed. Bellowing and belonging – this is what we come together for. And as long as Bruce can keep the faith, that's enough for us.
Simon Evans is a spiked columnist and stand-up comedian.
To enquire about republishing spiked's content, a right to reply or to request a correction, please contact the managing editor, Viv Regan.