No, asexuals are not oppressed
The proliferation of phoney 'LGBT+' identities makes a mockery of the fight for gay rights.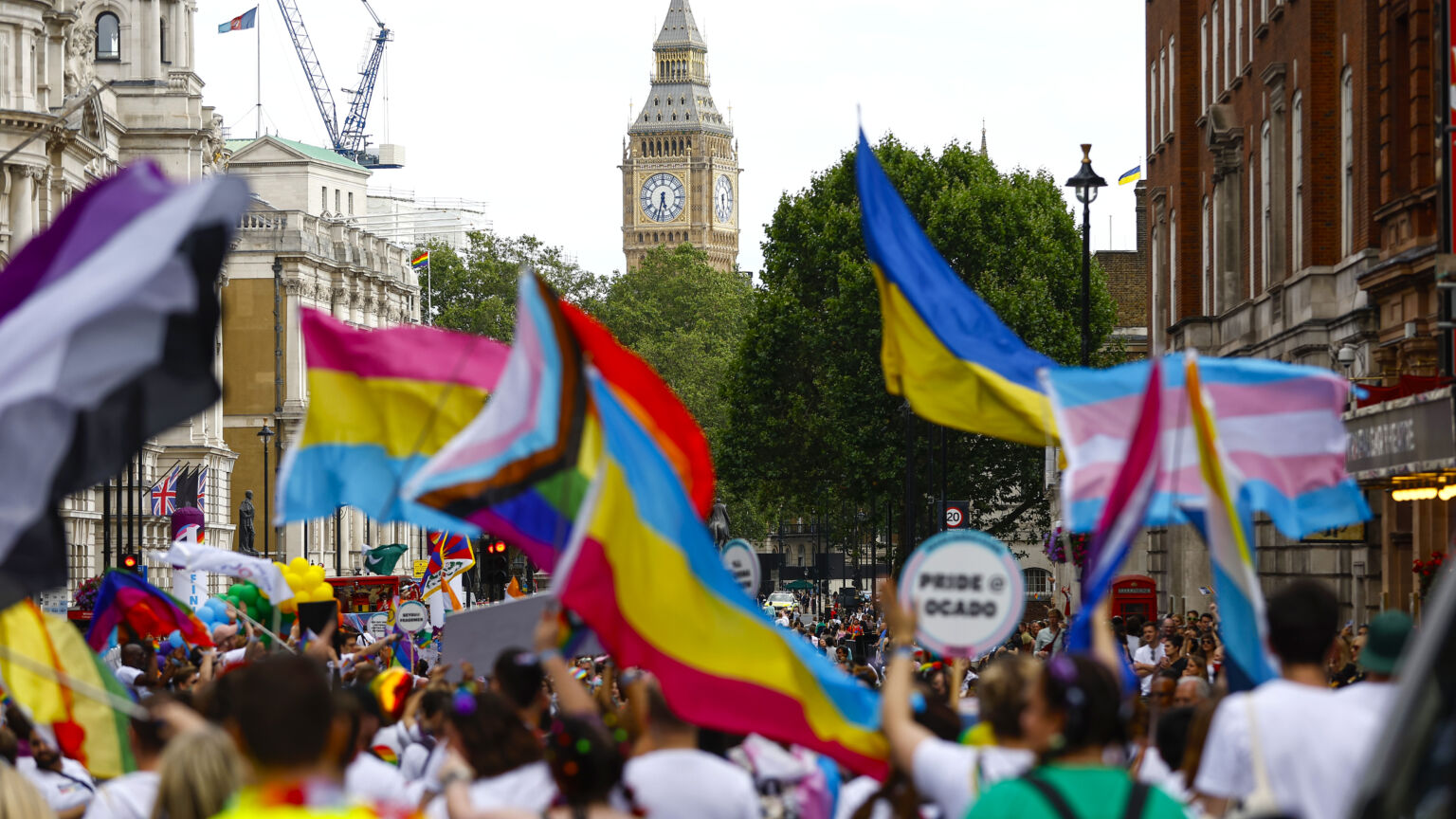 In today's climate, many people like to claim that they are part of a marginalised group. This can offer a shortcut to deferential treatment, endless attention and even media opportunities. But how can you portray yourself as oppressed when you don't really have much to gripe about? Adopting a trans identity could work. But transitioning seems like an awful lot of effort and commitment. And declaring yourself 'nonbinary' is a bit 2019.
This brings me to an individual named Yasmin Benoit. She describes herself on her Twitter profile as an 'award-winning asexual activist' and 'founder of the UK's first asexual-rights initiative'. Benoit marched at the London Pride parade last weekend. She then tweeted an image of herself waving the 'asexual pride' flag (yes, that's a real thing), while stating:
'Asexual people deserve equal rights. We deserve legal recognition. We deserve protection. Thank you Stonewall for allowing me to march with you again at Pride in London today and for helping me to bring about this change.'
This perplexing declaration was then shared by Stonewall, the largest LGBT rights organisation in Europe, to its near 260,000 Twitter followers.
The tweet raises a number of questions. For one, in what ways are asexual people being denied equal rights? Which legal protections are they lacking? What specific 'change' is Benoit attempting to bring about, other than an increase in her own profile?
According to Stonewall, 'somebody who is asexual does not experience sexual attraction to anyone'. That's about all there is to it, as far as I can tell. The last time I checked, those not having sex (voluntarily or otherwise) have exactly the same rights and legal protections as everyone else. And I highly doubt there is much appetite to change this.
The rise of the asexual activist speaks to the never-ending expansion of the LGBT acronym. We are currently somewhere around 'LGBTQIA2S+'. The 'A' for 'asexual' is currently sandwiched in between 'I' for 'intersex' (a medical condition) and '2S' for 'two-spirit' (a nonsense).
This mishmash of identities, ideologies and medical conditions has caused alarm to many lesbians, gays and bisexuals. Many are now looking closely at all the letters that immediately follow the 'B' – and are asking what the hell these have to do with them. Organisations such as the LGB Alliance have decided to draw the line at precisely where they understand their own interests to end.
So why has this happened? One reason is that LGBT groups like Stonewall appear to have fallen victim to their own success. Having largely won the battle for gay emancipation in the UK, they are now faced with the choice of retiring as champions or finding new 'injustices' to fight to justify their existence. This same desire for self-preservation also explains why the output on LGBT website Pink News is now primarily focussed on transgender issues.
These attempts to piggy-back on the success of gay rights will only harm gay rights in the long-run. All the lunacy that comes along with gender ideology, for instance, infuriates the general population. People are fed up with the trans lobby's attacks on free speech, its manipulation of language and its denial of biological reality. The transitioning of young children is a major red line for much of the public. But thanks to organisations like Stonewall – much to the consternation of many gay people – this ideology has now become inextricably and unfairly associated with gay rights.
This is not a trivial concern. While the overwhelming majority of Britons support gay rights, the struggle is by no means over. I marched at London Pride in 2019 with activists from the Ex-Muslim Council of Britain. They were there to raise awareness of the appalling treatment of gay people in the Islamic world. There are still 10 countries in the world where homosexuality is punishable by death – all of which are Islamic. At the time, I didn't think to ask my ex-Muslim pals how they felt about the oppression visited upon asexual Londoners.
There are also problems within British-Muslim communities. Polling data from 2016 found that over half of British Muslims think homosexuality should be illegal. A planned Islamist terror plot against London Pride was recently foiled, too.
It's clear, then, that the main source of violent homophobic hatred in 2023 appears to have an Islamist face – an uncomfortable truth that appears almost entirely absent from mainstream gay-rights discussions, campaigning and Pride marches. If progress needs to be made anywhere, surely this is where.
Yet, as the rise of asexual activism shows, the LGBT lobby is far more interested in tackling invented forms of oppression. It wants us to see prejudice and violations of rights where none exist, instead of confronting them where they do. The modern LGBT movement is making a mockery of the fight for gay rights.
Stephen Knight is host of the Godless Spellchecker podcast and the Knight Tube. Follow him on Twitter: @GSpellchecker
To enquire about republishing spiked's content, a right to reply or to request a correction, please contact the managing editor, Viv Regan.