Is it now a crime to be an offensive a***hole?
Free-speech fans should not celebrate this football supporter's conviction.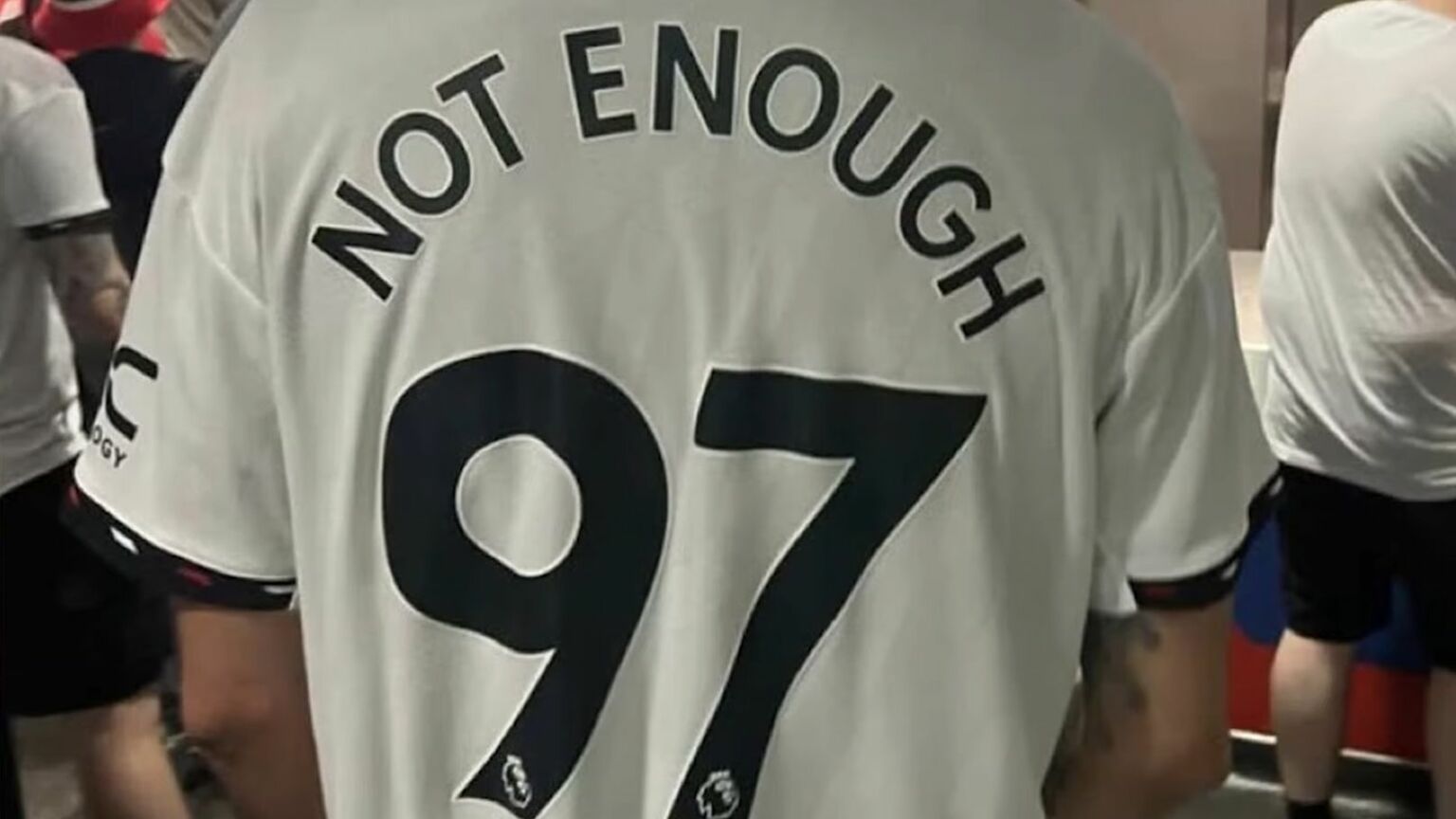 Should a Manchester United supporter wear a shirt to a match mocking the victims of the Hillsborough disaster, which left 97 Liverpool fans dead in 1989? As a United fan, I'd say (along with most of my fellow reds) no, of course not; that would make him an idiot and an arsehole.
But suppose an idiotic United fan (surprisingly, there are a few) does wear such a shirt to, say, the FA Cup final. Should he really be not only condemned but also arrested, taken to court, fined more than a grand and banned from all football matches for four years? As an ardent supporter of free speech, even for idiots and arseholes, I'd have to say no, of course not.
James White (33, so old enough to know better) became a social-media hate figure on 3 June, when a picture of him wearing an offensive replica United shirt at the FA Cup final at Wembley went viral. Above the number 97, where a player's name would normally go, was printed the message: 'Not Enough' – an obvious reference to the Hillsborough deaths. Several people who saw the image online contacted police to complain. The authorities moved with unusual speed to track White down among the crowd of 83,000. He was removed from the stadium, arrested and charged.
On Monday, White appeared at Willesden Magistrates' Court and pleaded guilty to the charge of 'displaying threatening or abusive writing likely to cause harassment, alarm or distress', an offence under the Public Order Act 1986, as amended by the Criminal Justice and Public Order Act 1994.
District judge Mark Jabbitt said the shirt's 'hateful expression' carried an 'abhorrent message' about the Hillsborough disaster, the impact of which was 'profound and distressing'. He banned White from attending matches for four years and fined him £1,000, plus a £400 surcharge and £85 in costs. Pleading guilty and expressing his 'deep regrets' might have saved White from a prison sentence.
Of course, it would be hard to feel any personal sympathy for White. With his offensive shirt and tattooed face, and media reports of how he 'smiled and chuckled' in the dock, he comes across like a Guardian cartoonist's caricature of a working-class football fan. Nor did he do himself any favours with his initial lame attempt to explain the shirt's message to police: 'My grandad died aged 97 and didn't have enough kids.'
However, you don't need to sympathise with an unattractive individual or support a single unpleasant word they say to be concerned about such cases. As always when words clash with the law, the big question is not did he cross a line, but who decides where the line should be? Should the police and courts have the power to control what words people can think, say or wear?
Section 5 of the Public Order Act is a constant threat to free speech in Britain. There is no doubt that the offence and upset caused by something like White's shirt is real. But with the best will in the world towards the victims, should displaying 'abusive' words deemed likely to cause emotional 'distress' really be enough to earn somebody a criminal record and potential prison sentence? It is not even necessary for anybody to complain that they felt distressed; the law potentially criminalises words which the courts decide are 'likely' to cause harassment, alarm or distress to a hypothetical victim.
But what if the shirt had caused an actual threat to public order, or been likely to incite violence? Contrary to what is often assumed today, the specific context in which words are used matters. If White had worn his offensive shirt to a match involving Liverpool, many might argue he deserved all he got for provoking trouble. But at an all-Manchester cup final where City beat United, no such reaction was likely or forthcoming.
Many fans of other clubs have always been on the side of Liverpool supporters over Hillsborough. At the time those fans were crushed to death at Sheffield's Hillsborough stadium in April 1989, I was the twentysomething editor of a left-wing newspaper called the next step. We rushed out a Hillsborough front cover with the headline 'Caged by police on Tory orders', to counter the lies being spread in parts of the media and argue that the deaths had been caused not only by police errors on the day, but also by a deliberate top-down national policy of treating Eighties football fans like animals.
Thirty-four years later, if we want to live in a democracy, people still have to argue for the truth, not impose it by legal diktat. That doesn't mean anybody should have wasted their time debating the merits of James White's replica shirt. It does mean that ignoring his attention-seeking, or telling him what he could do with it, would surely have been a better response than reporting him to the police.
So no, that 'joke' wasn't big and it certainly wasn't funny. But when two offensive words printed on one shirt can cause a national backlash and land its wearer in court, free-speech supporters might feel the writing is on the wall.
Mick Hume is a spiked columnist. The concise and abridged edition of his book, Trigger Warning: Is the Fear of Being Offensive Killing Free Speech?, is published by William Collins.
Picture by: YouTube / The Independent.
To enquire about republishing spiked's content, a right to reply or to request a correction, please contact the managing editor, Viv Regan.