What is the Wagner Group up to?
Are Yevgeny Prigozhin and his mercenaries with Putin or against him?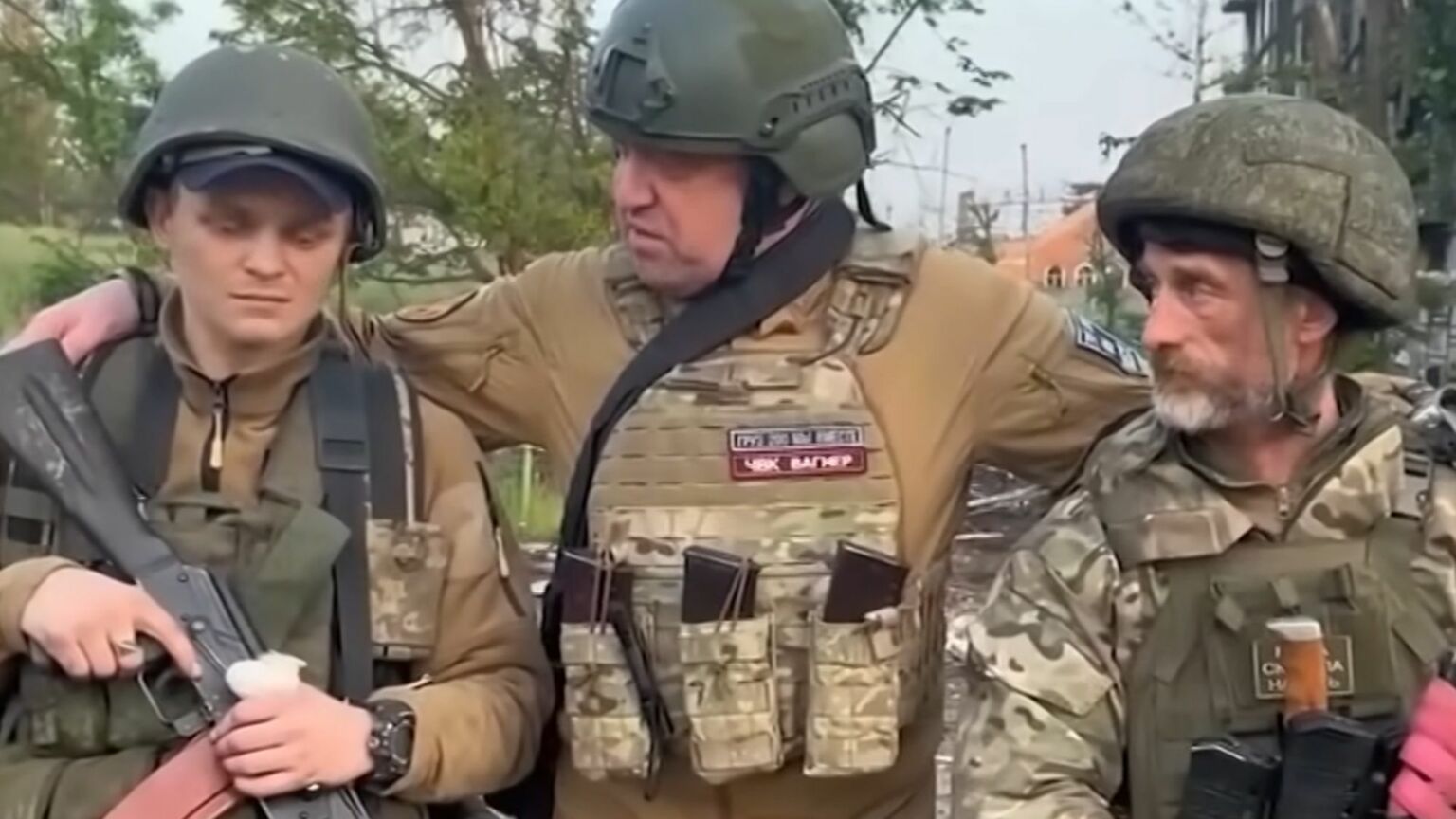 Russia's war in Ukraine has been complicated by a third party – the so-called Wagner Group, owned and led by a certain Yevgeny Prigozhin.
Ostensibly fighting on the Russian side, the mercenary group has entered and left the battlefield at key points. Meanwhile, Prigozhin has offered a running commentary on the war that has often been more scathing about Russia's war effort, its military commanders and its social elite, than it has been about Ukraine. The result is widespread bafflement about Prigozhin and his motives. The behaviour of Prigozhin and Wagner have raised an even more fundamental question – are they working for Russia's president, Vladimir Putin, or are they working against him?
One point should be cleared up in advance. The Wagner Group is commonly seen from outside Russia as a uniquely malign, Russian phenomenon. That is only partly so. Look back to the Iraq War in 2003 and recall the role played by companies like Halliburton and other private military contractors. When commercial companies supply military facilities and armed units on contract – in other words, mercenaries – their role and excesses, indeed very presence, can more easily be denied by the government waging the war.
Nor does Wagner operate only in Ukraine. Until recently, the group was better known for supplying hired guns in parts of Africa, including Mali (in 2021-22) and the Central African Republic (from 2018 onwards). It is widely seen as acting in the interests of the Kremlin, but exactly how direct the links are is hard to gauge.
Certainly, Yevgeny Prigozhin has himself had a long personal association with Putin, dating from his years as the entrepreneur behind a number of prominent restaurants in St Petersburg, where Putin hosted foreign and high-ranking visitors when he was working for the city administration in the 1990s. This is how he became known, dismissively, as 'Putin's chef', although he is also reported to have diversified into other services – including internet troll factories – before founding the Wagner Group.
Also unclear is how cohesive an operation Wagner really is. Some see it as a loose network of business and mercenary groups with links to the Russian military and intelligence agencies, which fluctuates according to changing demands. The US Council on Foreign Relations cites estimates that it has 5,000 or so members across Africa, including former Russian soldiers, convicts and Russian nationals. Wagner's forces in Ukraine since the 2022 invasion comprise a similar mix.
Its activities in Ukraine came to wider public notice during the protracted fighting for control of Bakhmut in eastern Ukraine, where Wagner units appear to have been entrusted with the worst of the fighting. They eventually prevailed last month, despite heavy losses, and then handed over control of the ruined city and its environs to regular Russian troops. Their forces were said to include prisoners, released to join Wagner and promised freedom – if they survived. The irregular status of the Wagner troops and their make-up leaves them largely outside internationally recognised laws of war, and they have gained a reputation accordingly.
In taking Bakhmut, albeit at great cost, Wagner undoubtedly did Putin and the regular Russian military an immense favour, compensating for earlier Russian failures and sparing professional Russian units for later battles. But relations between Wagner and the Kremlin have rarely been smooth. Not only has Prigozhin repeatedly criticised Russia's high command, even as the battle was raging, for not supplying his Wagner troops with sufficient arms and ammunition to do the job. But, subsequently, he has also launched expletive-ridden tirades against the officers and the Russian elite in whose name they were fighting.
He was particularly scathing after the drone attack on the elite Moscow suburb of Rublyovka last month, accusing Russia's Defence Ministry of doing nothing to respond to the attack and asking how the drones were able to reach the capital at all. He also described the privileged residents of this part of town as 'scum' and 'swine', who stood idly by while Moscow was under attack.
Wagner troops appear also to have been responsible for a bizarre incident in Ukraine, when they captured the commander of Russia's 72nd brigade, Roman Venevitin, and filmed him admitting to being drunk when he ordered his troops to fire on a Wagner convoy. While the video has not been definitively verified, that barely matters. The impression it creates – which Wagner knew it would create – is of bitter rivalry and recriminations between two groups of armed forces that are supposed to be fighting on the same side.
That Prigozhin and his mercenaries cannot only do and say what they do, but also disseminate their scorn for the Russian establishment on social media with apparent impunity, leaves many puzzled. Is Prigozhin essentially untouchable because Putin is dependent on his Wagner units to make up for the deficiencies of regular Russian troops in Ukraine? Or do his enraged critiques instead serve as a safety valve for the main strand of opposition to Putin – which comes not from those opposed to the war, but from those who blame the Kremlin for incompetence and / or reluctance to apply sufficient force? In other words, is Prigozhin with Putin or against him?
Some – mainly outside – observers of Kremlin dynamics extend the argument to suggest that Prigozhin has political ambitions of his own and may be building his own power base, ready for an attempt to seize power or perhaps contest the presidential election, which is due next year. Prigozhin's outpourings are thus seen as the start of the long-predicted power struggle in the Kremlin.
So far, however, I can detect no sign of any personal political ambition on Prigozhin's part. His actions seem more about money and glory. It is worth noting, too, that Putin himself has mostly been spared the rough edge of his tongue, although close Putin allies, such as defence minister Sergei Shoigu, have not. Putin has also awarded Prigozhin the title 'Hero of Russia'.
On the other hand, Prigozhin does seem to be developing something of a following, including at the grassroots. Reports say that some residents of the south-eastern Russia border regions that have suffered armed incursions and drone attacks from Ukraine have called on Prigozhin to defend them, in the absence of an effective Russian border force.
Wagner's operations in Ukraine, and its apparent extension into the border zone inside Russia, might also herald another unforeseen consequence of the war – the start of a proliferation of essentially private armies. Private military companies are banned under Russian law, but energy conglomerate Gazprom was recently allowed to set up its own security force, as some other energy and other concerns have also been allowed to do. As interpreted by Nikolai Petrov, a specialist at foreign-affairs think-tank Chatham House, 'This all means that the state's monopoly on legal violence is being decentralised'.
The spectre of a post-invasion and perhaps post-Putin Russia, in which armed militias prowl the land and contest territory, might seem remote right now. As does a replay of the civil war that followed the Bolshevik revolution – and was warned of, but mercifully avoided, after the Soviet Union's collapse. But the licence granted to Wagner, and the debt it might want the Kremlin to repay once the war is done, leaves this terrifying prospect hanging in the air.
Mary Dejevsky is a writer and broadcaster. She was Moscow correspondent for The Times between 1988 and 1992. She has also been a correspondent from Paris, Washington and China.
Picture by: YouTube / CNN.
To enquire about republishing spiked's content, a right to reply or to request a correction, please contact the managing editor, Viv Regan.