The Lib Dems: no party for real women
Ed Davey's idiotic remarks about women with penises are just the tip of the iceberg of Liberal Democrat lunacy.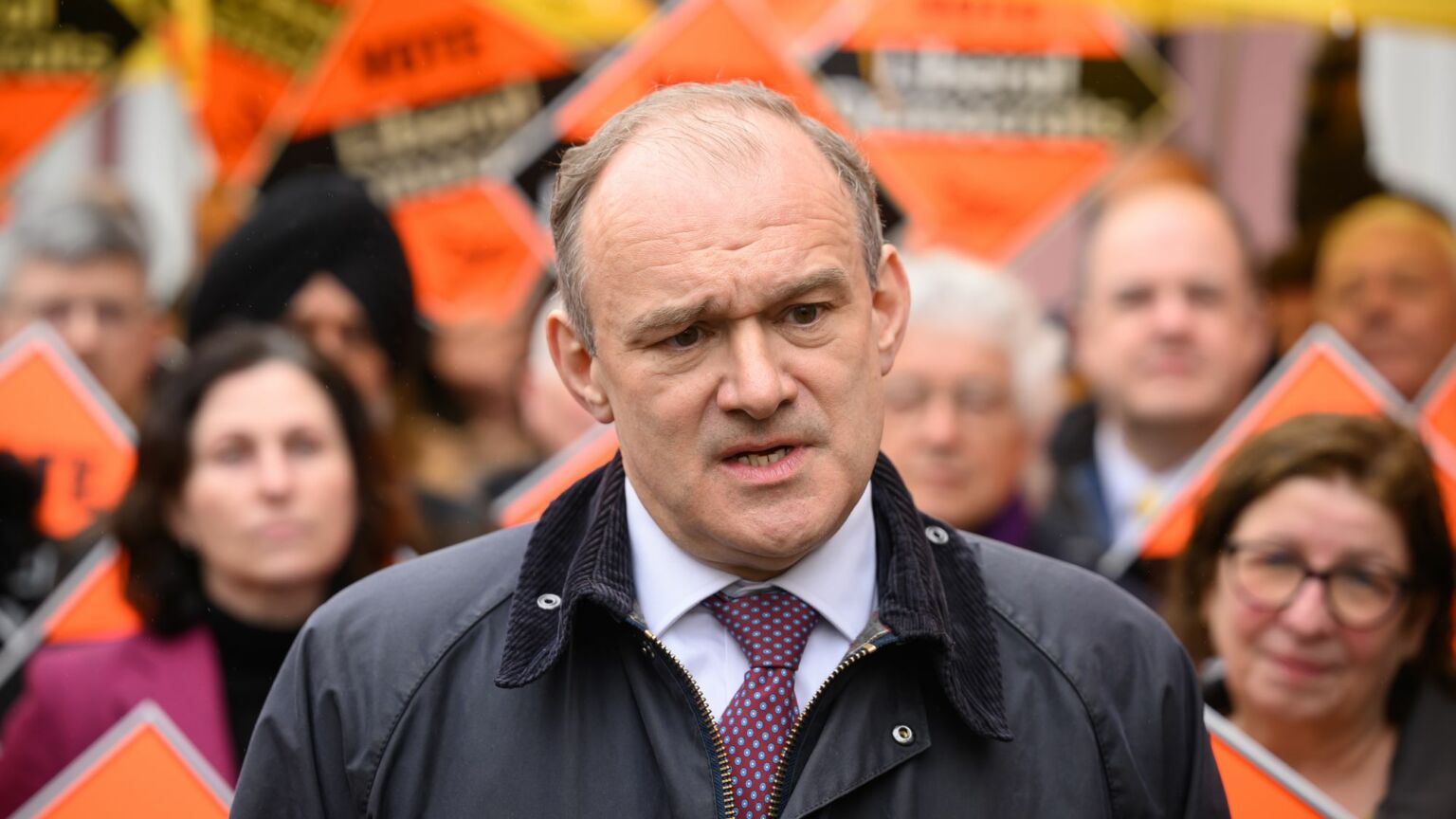 It's been a while since the Liberal Democrats have done anything worth reporting on. The heady days of Cleggmania are now a hazy memory from an era long before TikTok and Tinder. But earlier this week, British voters were reminded that a third party does exist. Except it wasn't a by-election victory or even a sleazy revelation about an MP's internet search history that hit the headlines this time. Instead, it was Lib Dem leader Sir Ed Davey's bold claim that 'quite clearly' some women have penises.
Davey tripped over the woman / willy question on Tuesday, when a caller on an LBC phone-in asked him 'on behalf of 51 per cent of the population' to explain 'what is a woman'. Sir Ed told the caller: 'The vast majority of people whose biological sex is a woman when they were [born], they feel they're women… But there's this very small number of people who don't feel like that.' Presenter Nick Ferrari then asked twice: 'Can a woman have a penis?' Eventually, the Lib Dem leader replied: 'Well, quite clearly.' With these few words, Davey surely shredded his reputation among rational human beings.
A spokesperson for Liberal Voice for Women, a Lib Dem group advocating for women who know that biological sex is a thing, told me that Davey seemed 'visibly irritated by being asked this question for the umpteenth time. He doesn't want to talk about it.' 'He wants to talk about the NHS, sewage and the cost of living', she said. 'But he needs to understand that people are going to keep asking him the question until he gives a rational answer.' Of course, being asked to define the word woman ought not to be a 'gotcha' question. The simple answer is 'adult human female'.
Davey's intellectually flaccid flapping over this question points to the war raging within the Liberal Democrats – between those pushing for a return to reality and the party's longstanding, vocal trans allies. These allies include self-described pansexual MP Layla Moran, who memorably claimed in parliament that she could see the gendered 'souls' of trans-identified people. Then there is Baroness Lynne Featherstone, who told 'those who believe they can… exclude trans women from women-only spaces' that their views 'are not welcome in the Liberal Democrats'. And there is Baroness Liz Barker, who pushed for the removal of the word 'mother' from a maternity-leave bill.
Despite being known as the party of softly spoken sandal wearers, the Lib Dem leadership has sent a hard message to members who deviate from the 'transwomen are women' line. At the Lib Dem conference earlier this year, Liberal Voice for Women claimed on Twitter that its attempts to debate a motion on 'women's representation on internal committees was prevented from being heard'. On the final day of the conference, party publication Lib Dem Voice produced an article headlined 'It's time for gender-critical people to leave', which proclaimed that 'there is no space for bigotry in this party'.
One woman member who knows that women can't have members is currently taking the Lib Dems to court. Natalie Bird, an outspoken survivor of domestic violence and advocate for women-only spaces, joined the Lib Dems in 2015 and quickly became a valued activist. She gained a place on a Lib Dem regional executive committee, was a judge on the panel for the Ashdown Prize for Radical Thought and she chaired the Radical Association pressure group. But in 2018, she was seen wearing a t-shirt saying 'Woman: Adult Human Female' in a Liberal Democrat meeting. Following an investigation, in 2019, she was suspended from the party for 10 years and barred from holding any party roles. She has launched a legal action to see whether, in ousting her for her views, the Lib Dems have breached either their internal party processes or the Equality Act.
After 13 years of a Conservative government, it is hard not to wonder whether even die-hard Tories are sick of the Tories. And Keir Starmer has proven to be an underwhelming fart of a Labour leader. Opposing the nonsense of transgender ideology might have put Davey and the Lib Dems on the side of the public and could have won them some much-needed support from a legion of disenfranchised women. But with his ignorant and dismissive reply to the woman question, Davey has consigned his already marginal party to irrelevance.
Jo Bartosch is a journalist campaigning for the rights of women and girls.
To enquire about republishing spiked's content, a right to reply or to request a correction, please contact the managing editor, Viv Regan.