The grand folly of self-driving cars
Autonomous vehicles are wreaking havoc. So why are our elites so committed to their rollout?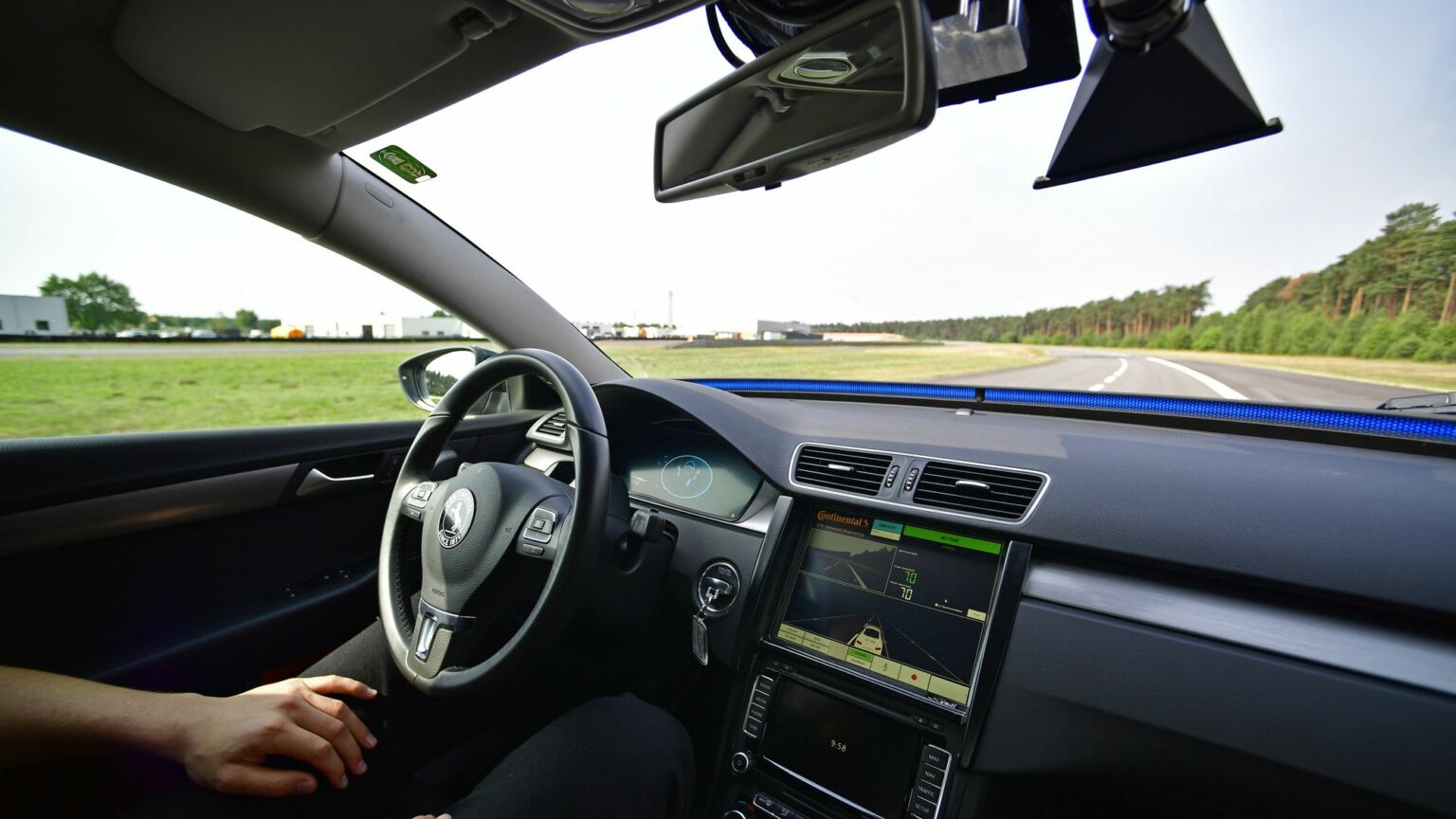 On Christmas Eve 1801, people in Camborne in Cornwall were treated to an extraordinary sight. Through the market town and up a hill rolled a carriage that was powered entirely by itself, for almost a mile. This was the first 'self-driving' vehicle, where the source of the propulsion was on board. No one had ever seen anything like it.
What happened next may come as a surprise. You may have expected Richard Trevithick's high-pressure engine to be the start of a goldrush. And yet for the next three decades, nothing happened.
What a contrast to today, when governments around the world are falling over themselves to show their support for the self-driving car or autonomous vehicle (AV). The old self-propelled steam vehicle was only seen at fairgrounds at first, where it became a popular novelty, with operators charging a ha'penny a ride. Back then, the UK government had no interest in funding the concept. There were no 'catapult' schemes for these new vehicles, nor did anyone set up a quango on their behalf. Nor even were the famously bold and risk-taking Victorian capitalists interested at first. 'Where are our self-driving carriages?', The Times of London did not ask, not even once. Nor did anyone else.
That's because there was still so much work to be done to make the technology viable – to make it safe, reliable and able to carry loads over distances. Only by the mid-to-late 1820s, over 25 years after Camborne, could investors be persuaded that the idea was worth backing. Eventually, this would lead to the horseless carriage and then the motorcar.
The relative indifference faced by steam engineers in the early 1800s was no hindrance to extraordinary technological progress. That indifference may well have accelerated it, in fact – perhaps it made the engineers work harder. By contrast, today, a chorus of policymakers, venture capitalists and enthusiasts has encouraged wild and improbable fantasies about what self-driving cars can achieve.
Autonomous vehicles have been creeping up on us for a while now. This week, self-driving buses appeared on the roads of Scotland. Self-driving taxis have been permitted on the streets of San Francisco for some weeks, with limited success. 'It's a nightmare', one resident told the Daily Mail, 'these things are causing havoc because they don't know what to do when something unpredictable happens'.
The self-driving features of Teslas in particular have elicited concerns. The Dawn Project, a campaign group, has shown that self-driving Teslas fail to recognise a clearly visible stationary child, even when driving at low speed. It cites data from the US road-safety agency, the National Highway Traffic Safety Administration (NHTSA), showing that Tesla's 'self-driving mode' has caused 19 fatalities.
Only belatedly has the NHTSA taken public safety more seriously. Late last year, it launched several probes into AV safety, after the crashes became too conspicuous to ignore. Hundreds of accidents involving Tesla and General Motors' self-driving vehicles have been reported. According to the Dawn Project, 'about every 36 minutes of city driving, safety defects in [Tesla's] Full Self-Driving software cause a malfunction in the steering, braking or throttle, which if not corrected by the driver would likely cause an accident'.
In February, Tesla recalled 362,000 vehicles because the self-driving software risked crashes. That wasn't in the script. Tesla CEO Elon Musk claimed in 2016 that autonomous driving had been 'basically solved'. In the same year, taxi app Lyft said most of its vehicles would be driven without intervention from humans by 2021.
'The hype cycle of driverless cars is on yet another depressing downswing', the Financial Times noted last year. 'Multiple media outlets have published stories mocking the sector for its failings after billions of dollars of investment.'
So where has autonomous driving gone wrong? Robot trains work well, such as on London's Docklands Light Railway, because the path has been cleared of hazards and is highly predictable. The vehicle is physically separated from other users of the space, such as pedestrians, dogs and Waitrose canvas tote bags. A human operator can safely monitor a large part of the network from a distance. An AV, on the other hand, must negotiate the space with all manner of moving and stationary objects.
Some of the self-driving car's problems cannot be solved by technological breakthroughs. For instance, since there is no human operator to blame, the liability for a car that causes an accident rests entirely with the decisions encoded into the hardware by the manufacturer. This has led to what the author and transport commentator Christian Wolmar calls the 'Holborn problem'. When pedestrians spill en masse on to the streets, as they do outside London's Holborn station at 5pm every Friday evening, this stops AVs in their tracks. Since the computer can't be programmed to drive towards a crowd of humans, without potentially bankrupting the manufacturer in a subsequent lawsuit, it simply halts. Traffic behind the vehicle also halts and very soon, the city is gridlocked.
The reluctance to regulate autonomous driving is also curious. The nanny state that is usually so keen to reformulate cereal recipes and micromanage our lives has completely vacated its responsibility for keeping pedestrians and other road users safe. Starstruck safety agencies have brushed concerns aside to indulge in the hype from Silicon Valley. Only last year, under increased public pressure, did the US NHTSA request camera data that would help explain if AV accidents were caused by human error or bad software.
The UK was warned several years ago by Thatcham Research, the insurer-funded research centre, that AV trials will endanger the public. According to Thatcham, 'the functionality of this technology and the regulations under which they will operate are limited. [AVs] cannot replicate what a competent and engaged human driver does.' Curiously, local authorities have been among the keenest of all to conduct live driverless-car experiments, with their residents as guinea pigs, simply for the bragging rights.
The driverless car is a fantasy that emerged for two main reasons. Firstly, because technology utopianism has become a bourgeois status symbol. And secondly, because 15 years of low interest rates made vast amounts of capital available for subprime ideas that were nowhere near ready for the market (and may never be).
Autonomous vehicles have burned brightly for so long because they are a gateway drug to other technocratic fantasies. In 'smart cities', for example, the routes taken by an AV could be managed by a town-hall clerk, who could divert the vehicle to avoid congestion. For others, the prospect of on-demand autonomous vehicles rolling up to our doors would signal the end of vehicle ownership. 'You will own nothing, and you will be happy', goes the maxim of the technocrats at the World Economic Forum.
In the 21st-century West, showing the world that one is abreast of the latest technological trends has become a marker of identity and prestige. It signals one's status in the same way religion or manners once did. 'I, a superior person, appreciate the power of artificial intelligence and the transformative potential of self-driving cars. You, an idiot, do not.' Technology offers the chatterati what Marx and Schumpeter once did – revolutions. A true 'visionary' can discern a fourth industrial revolution or perhaps even a fifth in the offing.
As a result, public and private funding for these 'innovations' is sprayed around indiscriminately. An army of influencers says which products to back. Everyone talks up a storm and, thanks to channels like TED and TEDx, and social media such as LinkedIn, anyone can be a self-certified future-gazer. This has left us in thrall to a new self-appointed vanguardista class.
Autonomous driving will still be pushed for a long time to come, mainly because there is now so much riding on it. But we're still waiting for it to work safely. And we may be waiting for a very long time.
To enquire about republishing spiked's content, a right to reply or to request a correction, please contact the managing editor, Viv Regan.