Could Kathleen Stock bring down the Oxford Union?
Intolerant students are willing to destroy a 200-year-old debating society, just to stop her from speaking.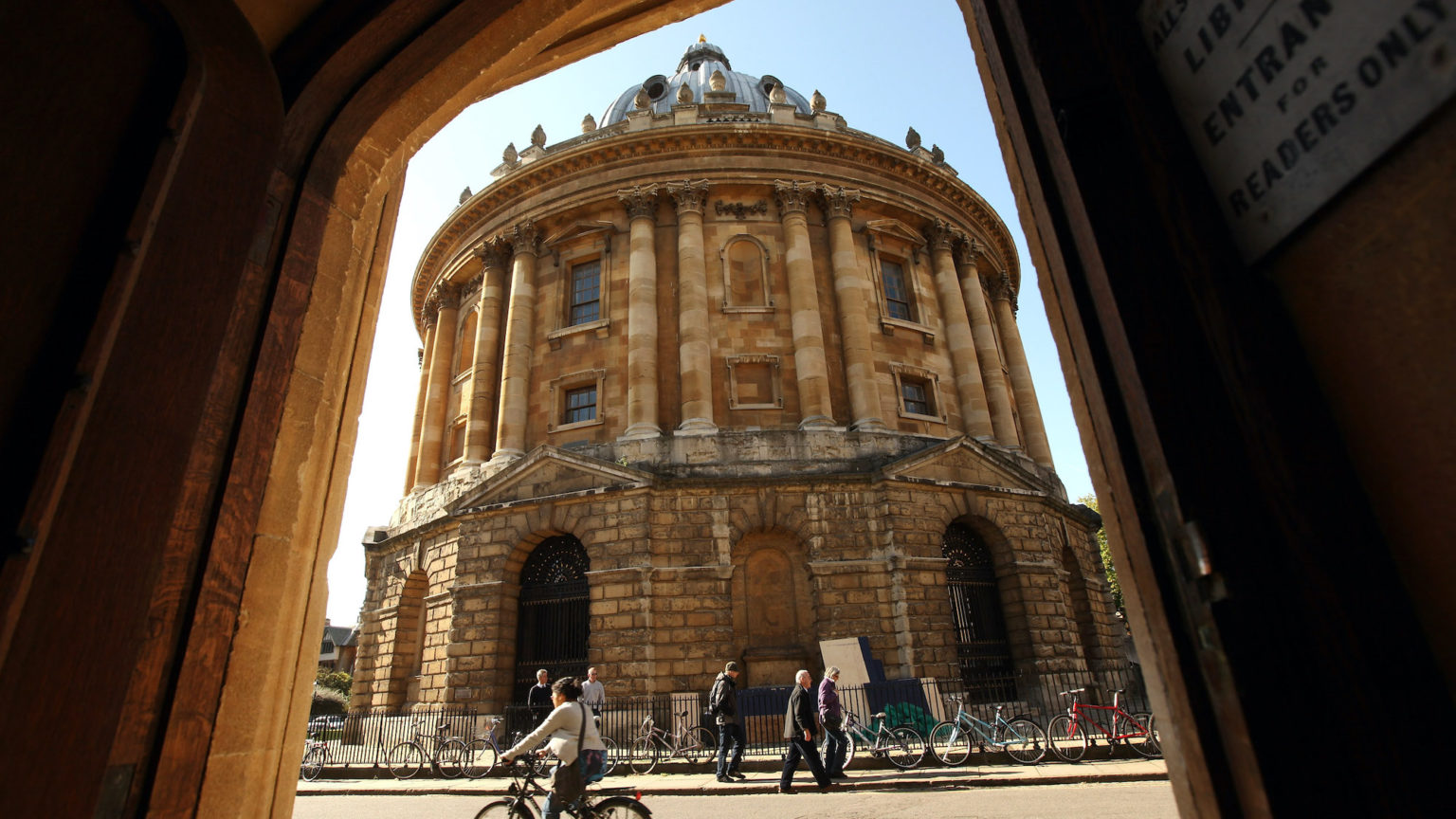 The sight of bright young students holding forth at the Oxford Union has always brought an involuntary, chippy sneer to my thinning lips. Mainly because my only achievements as a youth were getting thrown out of school and shot-gunning cans of cider. But envy aside, it must be acknowledged that these hard-working youngsters are a part of a proud institution. For 200 years, the Oxford Union debating society has existed as a bastion of free speech. But now a bawling band of petulant brats within the Oxford Students' Union (OSU) has put its future at risk.
This week, OSU members voted to sever ties with the Oxford Union following its decision to invite gender-critical academic and author Kathleen Stock to talk. They called her a 'notorious transphobe' and accused the Oxford Union of potentially being 'complicit… in spreading transphobic rhetoric'. As a result, the debating society has been banned from Oxford University's freshers' fair where new members are recruited, which will put a strain on finances and potentially risk its continued existence.
I know Kathleen a bit. She is a mild-mannered and eminently sensible middle-aged lesbian. Yet, for believing that biological sex is real and that it matters, she was hounded out of her job at the University of Sussex in 2021. And, as the Oxford students' actions show, she is still being hounded now.
Her view that human beings come in two broad types, male and female, is hardly marginal or esoteric. Indeed, it's less an opinion and more a straightforward observation. It's one that the vast majority of people share. Denying the reality of sex is a luxury only afforded to those young or privileged enough to have avoided clocking up ordinary life experience.
The Oxford Union has invited far more controversial speakers than Stock in the past, who have provoked nothing close to the current firestorm. In 1996, OJ Simpson apparently wowed the student audience just six months after he walked out of the LA courtroom. No warnings were offered to the easily offended about the attendance on campus of a man believed, despite his acquittal, to have murdered his wife. Yet Stock's forthcoming visit has been condemned in statements by five Oxford colleges. And the Oxford Union itself has reportedly offered 'resources' to support students who attend in case they feel hurt by her words.
In seeking to force the Oxford Union to rescind Stock's invitation, the authoritarians within the OSU have placed her in the same category as the likes of Holocaust denier David Irving and British National Party leader Nick Griffin, both of whom Oxford students tried to No Platform in 2007. Indeed, so demonised has Stock become that the university's LGBT society has planned a protest rally to coincide with her appearance.
It's hard not to look at these zealous, flag-waving bullies berating someone like Stock without seeing a hint of the Red Guards. These were the students mobilised by Mao Zedong during the Cultural Revolution (1966-76). Their bloody mission was to destroy the 'Four Olds' – old ideas, old customs, old habits and old culture. Thankfully, today's culture war has so far only cost livelihoods, not lives.
These student zealots are not as radical as they think. The trans-rights movement is far from anti-establishment. It has the backing of international funders and the full-throated support of pharmaceutical companies. And no wonder. In the US in 2021, cosmetic 'sex-reassignment' surgeries alone were valued at $1.9 billion, with a predicted compound annual growth rate of 11 per cent from 2022 to 2030.
It would be comforting to think that Oxford students, as super-smart people, might be well placed to question the assumptions of gender ideology. After all, that is what university debating societies are for – to allow bright, idealistic youngsters to voice, interrogate and challenge views and opinions. This process strengthens reasoning and helps untangle facts from feelings. Because of that, these societies have often proven useful training grounds for participation in democratic life. But it seems that many students today are all too happy to abandon the principle of free speech on which these societies were founded.
It would be easy to dismiss this debacle as petty student infighting. But it's far more important than that. The students now raging at the Oxford Union are threatening one of the few remaining beacons of intellectual freedom in the UK. In doing so, they threaten the liberty of us all.
Jo Bartosch is a journalist campaigning for the rights of women and girls.
To enquire about republishing spiked's content, a right to reply or to request a correction, please contact the managing editor, Viv Regan.