The glorious transgressions of Barry Humphries
The late comedic giant didn't care if he was punching up, down or sideways.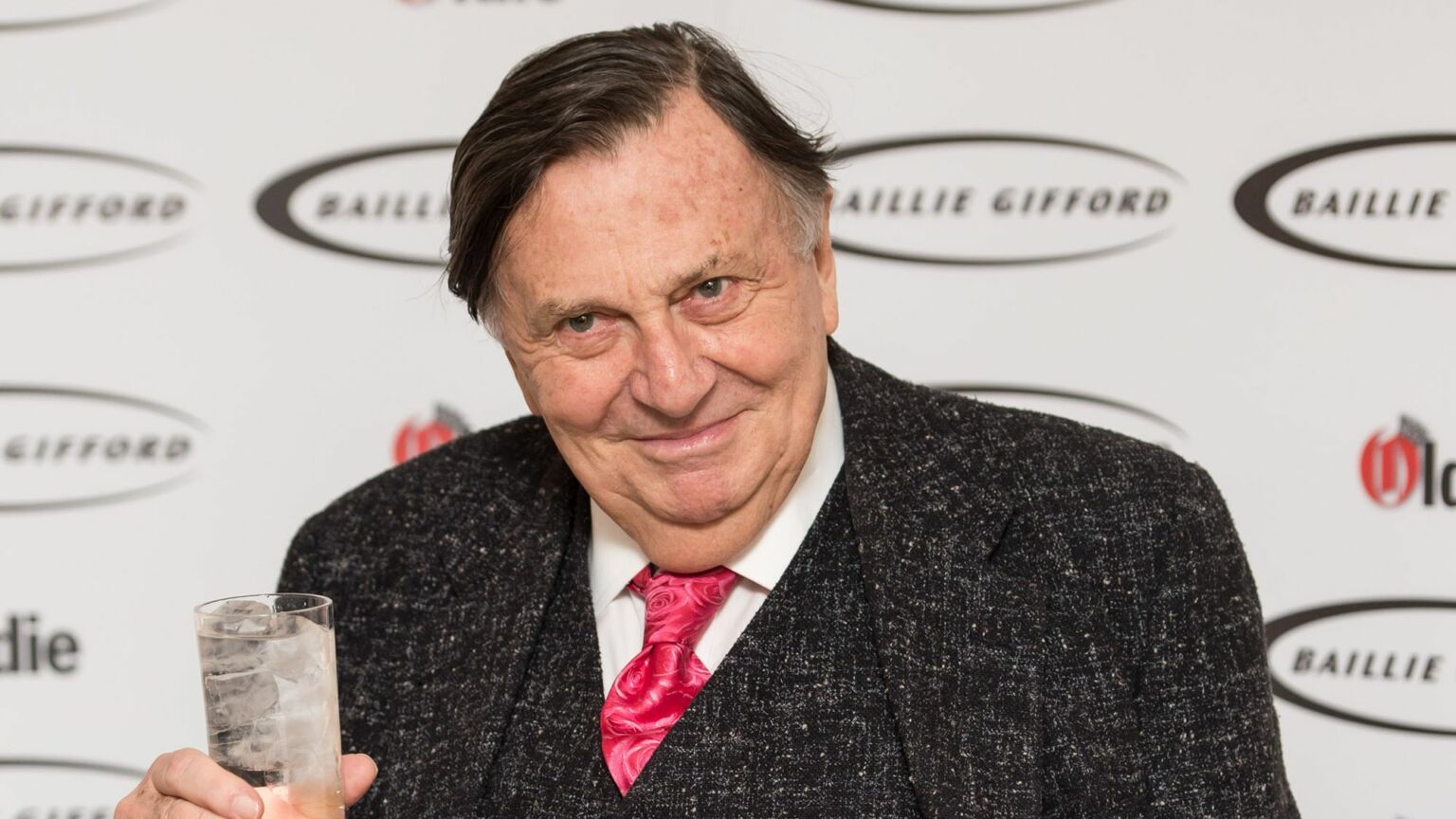 Australian comedian Barry Humphries died aged 89 on Saturday. Often, when a celebrity of his stature passes, the vultures flap down and try to tear off a piece of his flesh to claim for their own. But the grief felt over Humphries' passing has been almost universal. Indeed, his gift was his capacity to make the claim and counterclaim of the culture war seem absurd. His rejection of any team, let alone 'moral' or 'point' in his comedy, seemed integral to his mischief and his joy.
Humphries became world famous for his two most popular creations, Dame Edna Everage and Sir Les Patterson. Edna first appeared on stage in comedy clubs in the 1950s, before hosting several television shows, starring in multiple films, getting her own 'autobiography' in the 1990s and a 'damehood' in the 1970s.
Dame Edna was the act that eventually led Humphries to be counselled on, and then almost cancelled for, his views on the trans movement (much like JK Rowling has been monstered for her views on biological alchemy, several years after writing The Philosopher's Stone). Humphries was remarkably forthright on this question. Back in 2016, speaking as Dame Edna in an interview in the Telegraph, he said he regarded 'sex change' surgery as a form of 'self-mutilation'. This surprised and disappointed a few who thought he was an ally because he wore a dress. But besides not being all that surprising coming from a man in his eighties, who had thought for himself for pretty much that entire span, this view was also entirely in keeping with his work and his career.
Dame Edna was not herself, by any stretch, 'trans' or even a drag act. She was not in 'womanface'. She was a clown, a mask, like something out of Commedia dell'arte, albeit with a concealed weapon. In her mauve hairdo and bright red lipstick, she was there to ridicule all human folly and pretence.
Whatever else she was, Dame Edna was, for many years and in many people's view, simply the funniest thing on legs. Throughout the 1980s and 1990s, on TV and on stage, she seemed to bridge, or perhaps render redundant, the generation gap that was particularly pronounced in comedy at that time. This really mattered.
It's easy when looking back at that era to slip into the BBC Four documentary fallacy of thinking that all comedy was either descended from The Good Life or The Young Ones. But still, comedy had begun to divide more than unite. This gap seemed to demand that barricades be manned. Lines were drawn, between the old – the pale, male and stale – and the new – still pale, male and stale, by and large, but now with more shouting, badges and frying pans.
Three things Dame Edna was definitely not were pale, male or stale, even though Humphries himself was all three, having been born in the 1930s in the palest of Melbourne's suburbs. Regardless, Edna seemed to operate on a different axis, an entirely different plane altogether.
Humphries' wit and transgression managed to straddle the satirical style of Round the Horne from the 1960s and the kind of trolling techniques as yet undreamt of by the subtlest shitposters of the social-media era. Yet we all laughed together at Dame Edna, from the Prince of Wales down, without anyone feeling they had compromised one bit.
Edna had initially been an almost Betjeman- or Bennett-esque satire on a particular kind of woman Humphries had grown up around in that Melbourne suburb. Specifically, according to his second volume of memoirs, the family's housekeeper, Mrs Shores. Shores (as she was invariably known, suggesting an almost Wodehousian grandiosity on his mother's part, with regard to the Humphries household being able to afford staff) was a talker – she talked 'non-stop, frequently when my mother was out of the room'.
What she did not do, it seems, was much housekeeping. But when Humphries' mother found a harder-working replacement, she 'had not the heart to dismiss Shores, so both women formed a garrulous duet, to my mother's deepest amusement'. This was surely to be one of the best investments Mrs Humphries ever made.
Anyone who has written comedy or enjoyed the best sitcoms knows that this sort of closely observed domestic reality is a proven seam of humour – far more reliable than theoretical class struggles or modish social critiques. It's almost always the stuff that lasts.
Gradually, Edna's low status and witless banality, and her cheerful obliviousness to that condition, revealed its potential to Humphries as a weapon for puncturing the bubbles of the famous and elevated. This was when Dame Edna became a true phenomenon.
The British have long enjoyed seeing celebrities get a bit of good-natured banter and teasing. The Morecambe and Wise Christmas Shows were perhaps the most popular examples. But Dame Edna, as she evolved into her final Gladioli-enriched form, offered another level of dismemberment entirely. Star after A-list star sat on her couch to be eviscerated by her jewel-handled scalpel. And they gave every impression of relishing it – as indeed they had to, if they were to survive.
Edna was thus transformed from a satire on boring, mildly bigoted housewives to a satire on the kind of people who are happy to cultivate such an audience while openly despising them. This was spin worthy of his countryman, Shane Warne. But it would be a mistake to think Humphries was making a conscious decision to switch from 'punching down' to 'punching up' – to think he had decided to mock only the celebrities. He was punching down and up, and at the median, too. He saw that all these figures, from the cheap seats to the highest throne, were worthy of bottomless mockery and pastiche. For Humphries, the common groundlings were as empty and bloviating as the most pampered celebrity. Having said that, it's a shame he never had Jolyon Maugham on.
Audiences at home and in theatres watched open-mouthed with scandalised delight as he delivered night after night, working on the sharpest of knife edges, relying on the devastating comeback that simply couldn't be scripted. His grimaces, the curl of his lipsticked mouth into expressions of undiluted disgust and horror at the willingness of these people to expose their vulgarity, was hilarious in itself and could give him a moment to think. But that would not have been enough if the telling line had not eventually been found. As it was, he set a benchmark for off-the-cuff remarks that has been very rarely glimpsed let alone matched. Every ironic, unreliable interviewer, from Mrs Merton to the Kumars to Ali G and beyond, owed a debt to his genius, which they have all been quick to acknowledge. Those were Humphries' golden years.
As to the culture wars, in 2019, the Melbourne International Comedy Festival removed his name from its prestigious Barry Award for his offences against the cult of trans. In particular, he drew the ire of Barry Award winner Hannah Gadsby, who took aim at Humpries when she accepted her award in 2017. A year later, she slammed Humphries as an 'irrelevant and inhumane dickbiscuit of the highest order'.
Was the Melbourne festival right to drop Humphries? I'll leave that for whoever writes the obituary for the festival, or perhaps for Hannah Gadsby's, when her time comes. It seemed to me a singularly mean-spirited and ungrateful act of treachery, but it's really none of my business. It's a domestic dispute.
Still, I know whose award I'd rather receive. I also know who I'll be watching for many more years to come, and whose contribution to the gaiety of nations stands tall. I also know who is already looking rather diminished by the comparison she invited with the inimitable Humphries.
RIP.
Simon Evans is a spiked columnist and stand-up comedian.
To enquire about republishing spiked's content, a right to reply or to request a correction, please contact the managing editor, Viv Regan.