The deadly stupidity of the smart motorway
Why did the experts back this dangerous scheme?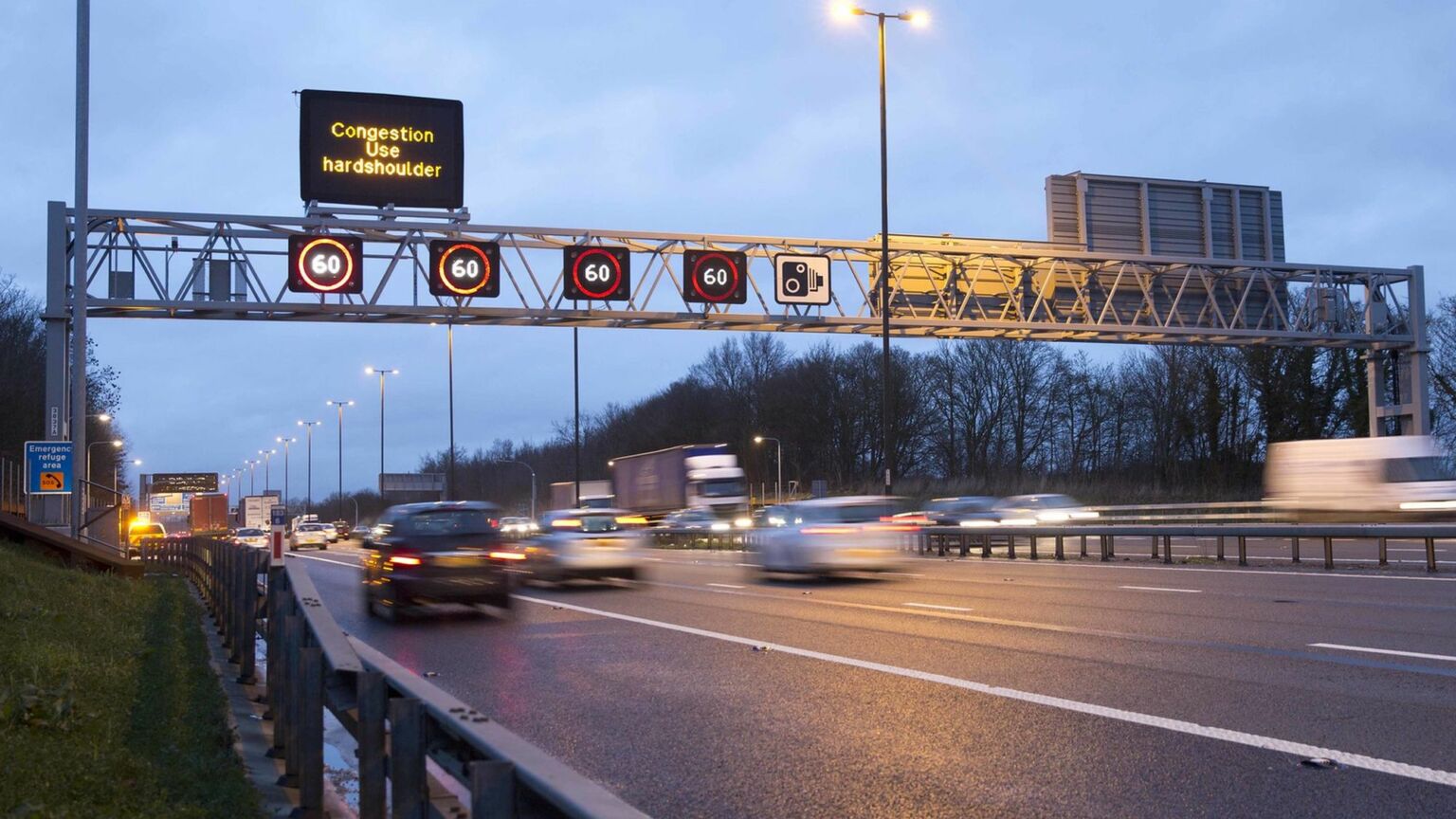 Often when you hear the prefix 'smart', you know you're about to encounter a phenomenally bad idea. Just think of 'smart meters' for electricity and water, which encourage us to ration and scrimp on these essentials. Still, few 'smart' schemes have been quite so dumb as the concept of the smart motorway. After years of controversy, deaths and complaints from drivers, the UK government finally announced this week that all new smart-motorway projects are to be axed.
Today, smart motorways make up around 10 per cent of England's motorway network. The first of them arrived in 2006. In most cases, they turn what was once the hard shoulder into an extra lane for active traffic. The left-hand lane can then be closed in case of an emergency. The aim of smart motorways is to increase average speed and to reduce congestion. In practice, they have proved confusing and dangerous. Both the AA and RAC have called for them to be scrapped.
The government cites 'safety concerns' as one reason for its change of heart. And with good reason.
As per government guidelines, motorists who need to stop on a smart motorway are advised to carry on driving to an emergency-refuge area. If they can't do this, they are supposed to pull into the left-hand lane and stop, then buckle-up and stay put.
The idea is that, if a vehicle is stopped in an active traffic lane, for whatever reason, this will be picked up by the Motorway Incident Detection and Automatic Signalling (MIDAS) system. Overhead gantry displays will then change to tell drivers not to enter that lane. In theory, the same system should also automatically reduce the speed limit in the surrounding lanes.
But the automatic-detection system often doesn't work – the Telegraph reported last year that up to 40 per cent of breakdowns on smart motorways go undetected. This means that lanes would often continue to stay open, even when a car is sitting there, stationary and vulnerable to oncoming traffic.
While drivers are advised to pull into emergency-refuge areas, this is far easier said than done. Initially, the smart-motorways pilot scheme intended to space out regular stops every few hundred metres. Currently, they are more than 1.5 miles apart. This forces motorists to stay put and hope that the unreliable MIDAS system is able to close their lane in time.
It's no wonder that smart motorways have gained a reputation for being death traps. It is estimated that they may have contributed to the deaths of more than 50 people.
In one tragic case in 2019, Jason Mercer and Alexandru Murgeanu died on the M1 near Sheffield, after they were hit by a lorry. They had stopped on the inside lane of a smart motorway after their vehicles were involved in a minor collision. A coroner found that the smart motorway had been largely responsible for their deaths.
Similarly, eight-year-old Dev Naran was killed on the M6 near Birmingham in 2018. He was sitting in a stationary car and a lorry ploughed into it. Again, the coroner raised concerns about the role smart motorways played in Naran's death. On the stretch of motorway where Naran died, there was a 2.5-mile gap in between emergency-refuge areas. And only 25 out of 400 miles of that motorway was actually being monitored by an automated vehicle-detection system. The rest relied on someone manually monitoring CCTV screens.
There have been many more cases of deaths on smart motorways, caused by technological failures, the lack of refuges or confusing signage and guidelines. In 2021, National Highways attempted to mitigate the risk by releasing a public-service announcement. This infantile ad told drivers to 'go left' in case of a breakdown on a smart motorway. This was conveyed through a parody of the Pet Shop Boys' 'Go West', sung by anthropomorphic insects. This advice was patronising and insulting – many of the drivers who have died in accidents on smart motorways had turned left in line with the guidance. The fault was primarily with the smart motorways themselves.
Campaigners such as Jason Mercer's wife and Dev Naran's mother have welcomed the government's decision to stop new smart-motorway projects. In many ways, though, this is not enough. Yes, the vast majority of upcoming and ongoing projects will be scrapped and no new smart motorways will be built. Yet the existing smart motorways are here to stay – albeit with the promise of a safety upgrade.
The question remains, however: why did such a poorly thought-out scheme ever manage to see the light of day? Public opinion has consistently been against it. The dangers of the smart motorway have long been obvious to ordinary drivers. Yet the mandarins at the Department of Transport and Highways England have long tried to brush these concerns aside. More ludicrous still, a risk assessment published in 2015 insisted that smart motorways could even be safer than conventional ones. It's as if no one thought to ask whether it's really such a good idea to tell drivers to sit in a stationary vehicle, in the middle of an active motorway.
The stupidity of the smart motorway cannot be overstated. This deadly project should never have gone ahead. Scrapping smart motorways would be a victory for common sense.
Lauren Smith is an editorial assistant at spiked.
To enquire about republishing spiked's content, a right to reply or to request a correction, please contact the managing editor, Viv Regan.