The bravery of Vladimir Kara-Murza
The Kremlin's crackdown on anti-war voices has reached a new authoritarian low.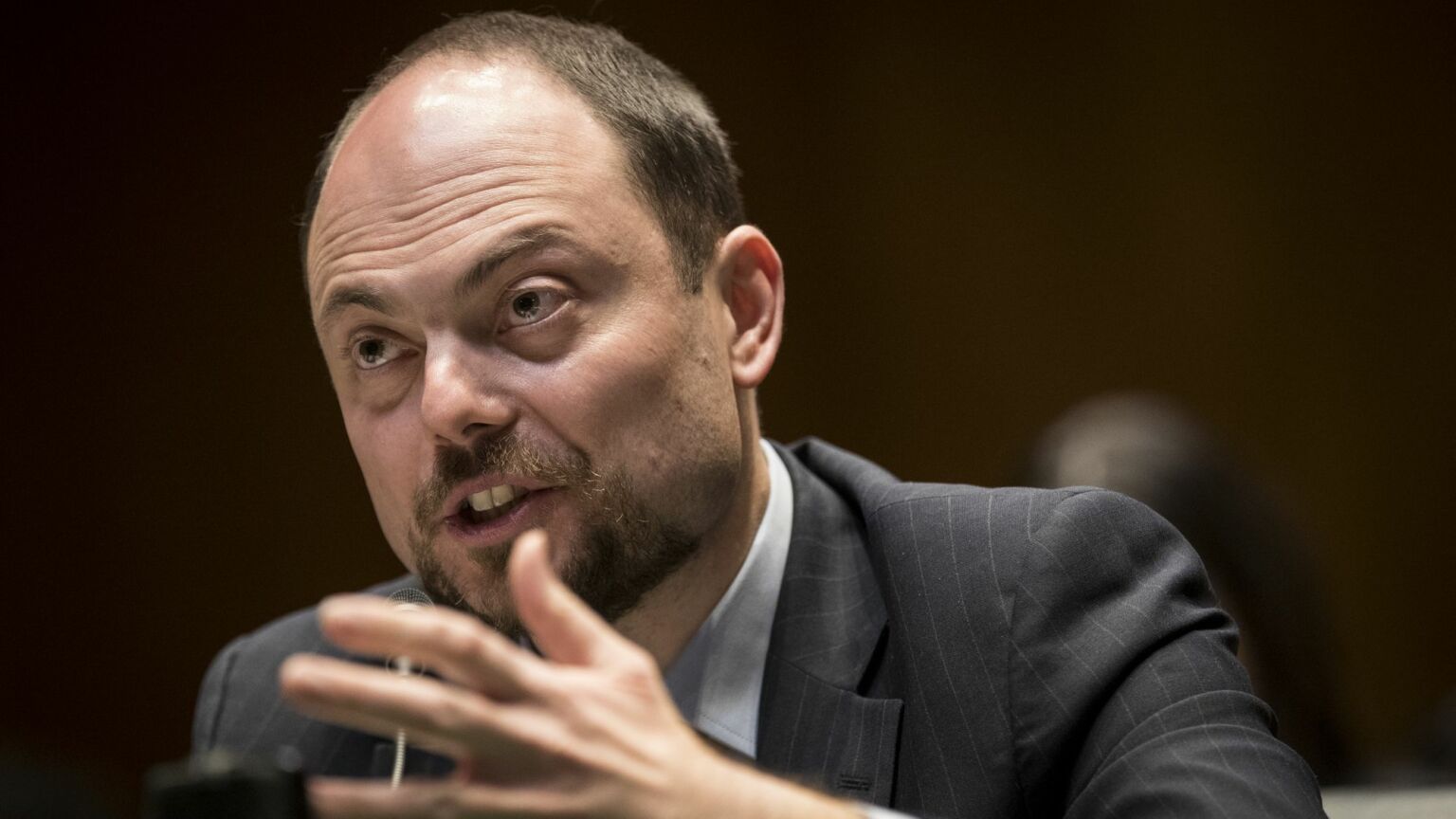 How many reminders of the bad old Soviet days will the rulers of today's Russia revive before their time is up? Not even a month has passed since the arrest of US reporter Evan Gershkovich for spying. Consider, too, the plight of anti-corruption activist Alexei Navalny. This week he was reported to be seriously ill – possibly poisoned – in the penal colony east of Moscow where he is being held. Now Vladimir Kara-Murza, a dual Russian-UK national, has been sentenced to the maximum of 25 years in prison for treason.
The Kremlin seems to be doing its utmost to threaten three channels of opposition. First, the foreign media. Second, the predominantly young civic activists who flocked to Navalny's anti-corruption cause. And now, thirdly, this week's sentencing of Kara-Murza represents a suppression of the more intellectual constituency that opposes Putin and his invasion of Ukraine.
In addition to the treason charge, Kara-Murza was also convicted of spreading 'false' information about the Russian military (one of the new crop of crimes introduced after the invasion of Ukraine) and of being affiliated with an 'undesirable organisation'. In case the man in the dock didn't already get the message, the judge went on to stipulate that he would serve his time in a strict-regime penal colony – the second-highest security classification for Russian prisons. The judge also imposed a fine of the rouble equivalent of $5,000.
Navalny and Kara-Murza are just the most prominent of those currently behind bars. Another long-term Kremlin critic, Ilya Yashin, was sentenced to eight-and-a-half years in December, also under the wartime-information laws. Tens of thousands of people have been detained for longer or shorter periods for voicing their opposition to the Ukraine war.
Of them all, though, Kara-Murza stands out as the figure who most closely resembles the dissidents of old. He comes from an intellectual family, his late father being a critic of the Soviet system back in Leonid Brezhnev's time. Vladimir Kara-Murza Sr then became a highly successful television producer and presenter in the media free-for-all of the 1990s, before falling foul of Putin in the early 2000s.
The younger Vladimir is a more cosmopolitan figure. He spent some of his teenage years with his mother in the UK, obtaining British citizenship. He has a history degree from Cambridge. He has lived and worked as a journalist, filmmaker and Russian opposition campaigner in the English-speaking world. He could have remained in relative safety in the West, where his wife and children now live. But he chose, like Navalny before him, to return to Russia to try to spearhead an opposition movement from there.
This was a brave, but considered decision. Kara-Murza has nothing of Navalny's recklessness. Having only just turned 40, Kara-Murza had a substantial career as a political activist behind him. In Russia, he was an aide to Boris Nemtsov, the opposition politician who emerged in the 1990s as the most plausible alternative leader for Russia. Nemtsov was assassinated in 2015. Abroad, Kara-Murza campaigned for the US and other governments to pass the Magnitsky Act, which hands out sanctions to those judged to be human-rights abusers.
More recently, he was a coordinator for Open Russia, the NGO founded by one-time energy magnate Mikhail Khodorkovsky. Khodorkovsky spent 10 years in prison for fraud before being released into exile by Putin, just before the 2014 Sochi Winter Olympics. He is part of a network of prominent foes of Vladimir Putin who are now living in exile, including chess grandmaster Garry Kasparov and former Russian prime minister Mikhail Kasyanov.
Kara-Murza had no illusions about the risks he was taking in going back to Russia after the invasion of Ukraine. He has spent the last year in prison. When his trial finally took place in a closed court, he managed to get out his closing statement, evincing much of the same dogged principle that characterised the Soviet dissidents of old: 'Not only do I not repent any of this', he told the court, 'I am proud of it'. Like those dissidents, he had many of the same hopes for Russia's future. 'I know that the day will come', he said, 'when the darkness engulfing our country will clear… Our society will open its eyes and shudder when it realises what crimes were committed in its name.'
Kara-Murza has already paid a high price for his opposition in the form of his health. He lost weight during his year in prison and has had two bouts of serious illness in the past five years. These may or may not have been attempts by the Kremlin to poison him. Either way, his life will undoubtedly be at risk in a strict-regime prison camp.
Some have suggested that the maximum sentence he received could be a prelude to an East-West prisoner exchange. This may well be the eventual outcome for the US journalist, Evan Gershkovich. Personally, I tend to think that Kara-Murza's 25-year sentence is a measure of the danger the Kremlin believes he represents, and of the extent to which his activities have angered those in the leadership.
It is doubtful that Kara-Murza's dual UK-Russian citizenship will be of any help. For the Kremlin, he is a Russian, residing in Russia and convicted under Russian law. And the UK authorities seem to have been particularly timid in their response to his case. Their silence during his detention and trial was deafening. It was only after Kara-Murza had been sentenced that foreign secretary James Cleverly issued a statement of condemnation and called in the Russian ambassador. Did the Foreign Office perhaps fear that any intervention could make Kara-Murza's situation worse? If so, that was a gross misjudgement.
In the event that he serves his whole term, he will not be a free man until he passes his 66th birthday. At best, he could one day be released to follow Khodorkovsky into Western exile. But that is unlikely until the Kremlin believes it has extracted its pound of flesh and / or has something to gain from his release. Either that or – and this is not impossible – power changes hands in Russia and opposition figures, such as Kara-Murza, become free to make their case. However, whether they can convince a majority of their compatriots even then is another matter entirely.
Mary Dejevsky is a writer and broadcaster. She was Moscow correspondent for The Times between 1988 and 1992. She has also been a correspondent from Paris, Washington and China.
To enquire about republishing spiked's content, a right to reply or to request a correction, please contact the managing editor, Viv Regan.