Language is not our master
The perpetually offended have endowed words with quasi-magical properties.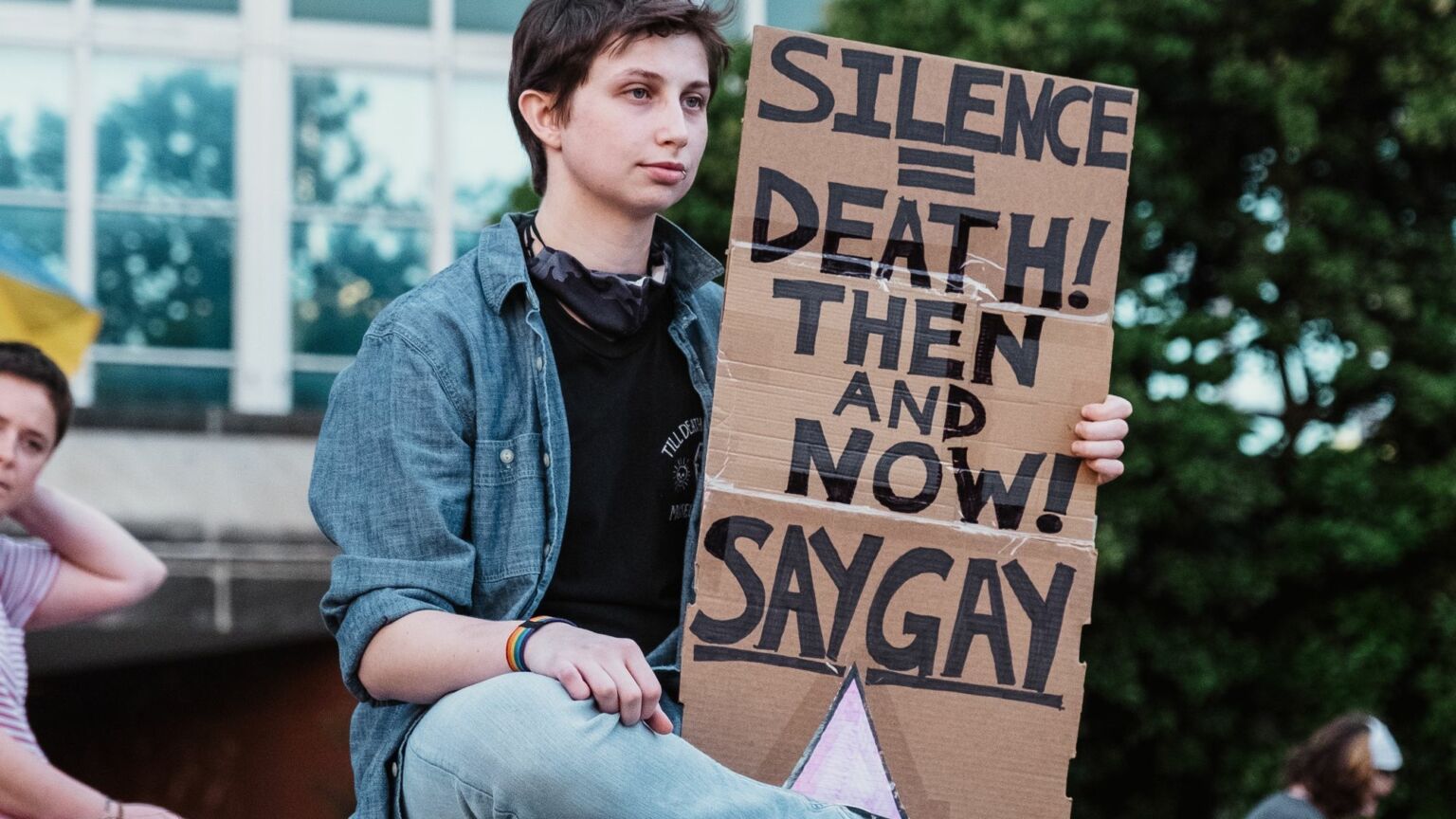 Today, many people suffer from the delusion that language creates reality and that, consequently, you can change reality by changing the language we use.
This has been most obvious recently when it comes to transgender politics. At its most extreme, trans ideology holds that you can change your gender, and even your actual sex, by mere say-so. Seemingly, you can 'self-identify' differently, simply by decreeing it. No surgical intervention is necessarily required. A performative utterance will now suffice.
We could see this mentality echoed earlier this month in the new 'inclusive language' guidelines released by Oxfam. The guidelines describe women as 'breastfeeding people' and 'people who menstruate', and refer to 'sex assigned at birth' instead of 'sex'. The phrase 'sex assigned at birth' is revealing. It is indicative of a philosophy that believes it is words and utterances, not biology, that create our sexed reality. The current belief in the magical power of words also explains why some people get so angry and upset at being 'misgendered'.
Even more striking is Oxfam's denunciation of the English language itself. 'We recognise that this guide has its origin in English, the language of a colonising nation. We acknowledge the Anglo-supremacy of the [aid] sector as part of its coloniality', it says. Thus, the very language in which these guidelines are written is deemed to be irredeemably embedded in a system of oppression. We are inescapably determined by language – that is the essence of today's thinking.
Not to be outdone, animal-rights group PETA this week released a list of animal-themed sporting terms that it wants to have banned. These include 'worm-burner' (golf), 'hot dog' (tennis), 'bullseye' (darts) and 'dead bird' (badminton), among others. As Elisa Allen from PETA explained: 'Words matter, and sporting terms that normalise violence or mock the misery of animals, even unconsciously, should get a modern overhaul.'
This belief in the magical power of words has been with us for decades. It's behind ideas like 'trigger warnings', 'hate speech' and 'microaggressions'. Indeed, it is a key driver behind our entire culture of offence-taking. We saw this development in gestation in the 1990s, when political correctness made certain words profoundly taboo. Which words are considered polite euphemisms, and which are deemed beyond the pale, is evolving all of the time. Witness how older white people who use the word 'coloured', believing it to be a more courteous word for 'black', are now upbraided for such a transgression.
If wokery has its origins in critical theory, and before it postmodernism, this belief in the magical power of words also has its origins in 20th-century academia and philosophy. At the beginning of the 20th century, academics became obsessed with language and the role it supposedly plays in creating knowledge and thought. Ferdinand de Saussure (1857-1913) inspired philosophers and sociologists to examine the deep structures and mechanics of language. His view of language was deterministic. And so he downgraded the role of the human subject in creating meaning and reality.
Figures such as Martin Heidegger were especially influential in bringing about this linguistic turn in academia. As philosophy professor Hubert Dreyfus explained in a 1987 television interview with Bryan Magee: 'Language has the crucial role of reflecting and focussing the current practices in any epoch… For Heidegger, a vocabulary, or the kind of metaphors one uses, can name things into being and change the sensibility of an age.' In the same television series, John Searle also explained to Magee: 'Language has become immensely problematic for us. It has moved to the centre of philosophy, and Wittgenstein is one of the great leaders in that movement.'
As well as focussing on language, 20th-century academics also started to view culture as key to understanding the human condition. Today, it is culture and language, not reason, that are still regarded as crucial to determining our perception of reality. This has been the consensus for decades.
Today, we ascribe words with supernatural, awesome powers. It's no wonder the woke are so determined to have our 'problematic' speech silenced. In doing so, they are seeking to alter reality itself.
The trouble with 'toxic masculinity'
A masculinity activist has argued that schools should share the blame for the popularity of Andrew Tate, the infamous influencer with a reputation for misogyny. Mark Brooks, a co-founder of the UK-based Men and Boys Coalition, made his comments earlier this week, just as a new survey found that almost a third of young men think society does not care about them. 'Boys don't feel that schools are listening to them or taking the problems they face seriously enough', Brooks said.
I suspect that things are even graver than that. For years now, boys have been warned about the dangers of 'toxic masculinity'. In general, toxic masculinity is presented less as an aberration than as the norm for men and boys. Masculinity and male behaviour are treated as problems in and of themselves – as if they are intrinsically pathological. No wonder boys resort to dysfunctional and disruptive behaviour, and are attracted to such vile types as Tate – those are the only types who sound like they are listening to them. Our fear of 'toxic masculinity' has become self-perpetuating.
Philosophy for the masses
I quote Bryan Magee not incidentally, as I have recently been watching both his 1987 series, The Great Philosophers, and his earlier 1978 outing, Men of Ideas, both of which were aired on the BBC. And what a marvel these programmes are. Magee spends 40 minutes or so, sitting on a sofa, speaking one-to-one with some of the greats of the 20th century: AJ Ayer, Isaiah Berlin, Noam Chomsky, Iris Murdoch, Herbert Marcuse, and so on.
There are no gimmicks, just straightforward dialogues in which host and guest aspire to explain the great Western philosophers, from Plato to Wittgenstein. And they are under no illusion as to the difficulty their ideas might pose to the average viewer. Would the woeful BBC make a TV programme like this today? Not a chance.
Patrick West is a spiked columnist. His latest book, Get Over Yourself: Nietzsche For Our Times, is published by Societas.
To enquire about republishing spiked's content, a right to reply or to request a correction, please contact the managing editor, Viv Regan.