The problem with Israel's protests
This movement is defending the power of an unaccountable judiciary.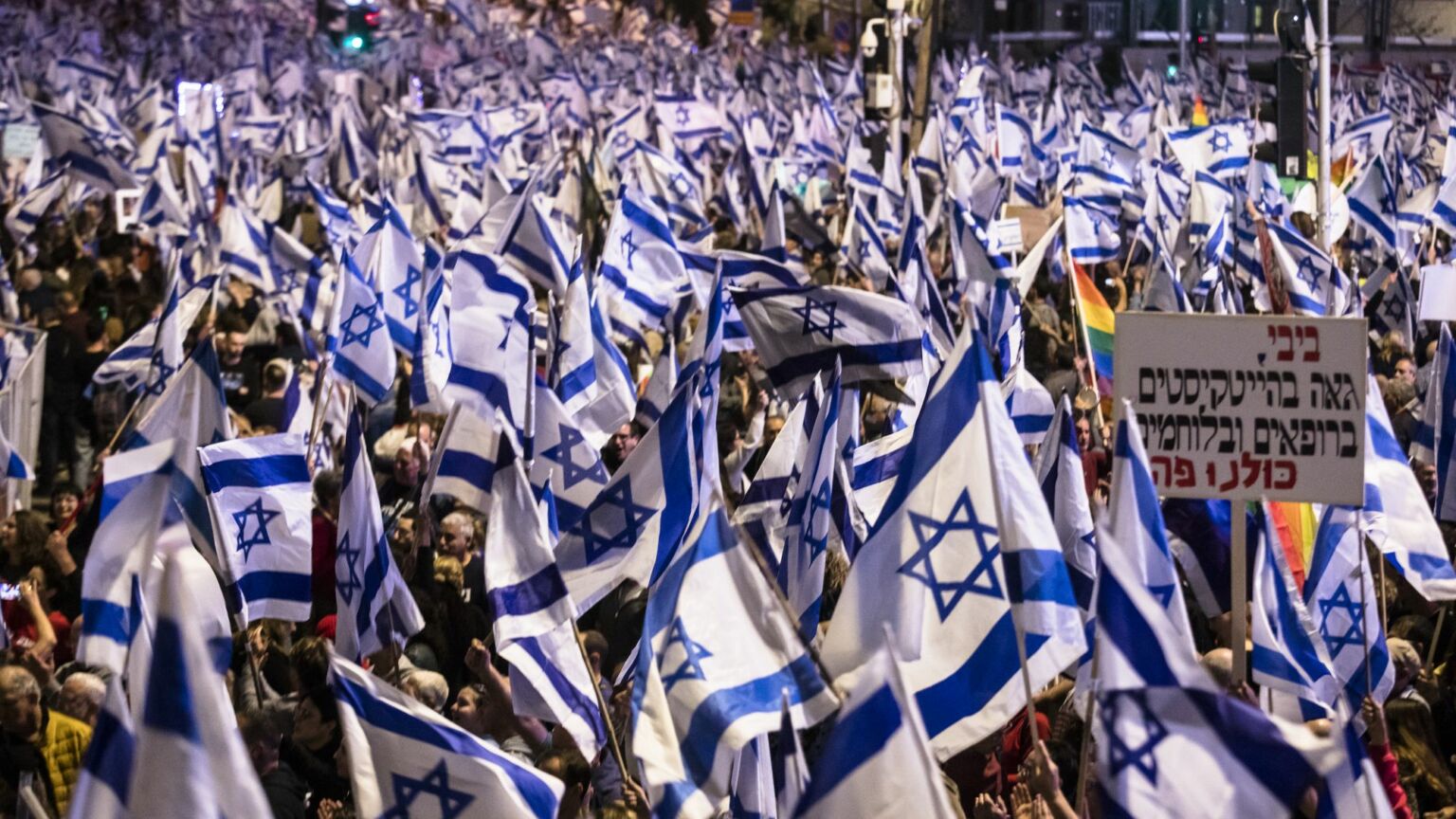 Many of those watching the footage of the massive angry protests that have been engulfing Israel since the start of the year are likely to feel inspired. It looks like a sizeable proportion of the Israeli public is demonstrating for democracy against a right-wing coalition government, which includes a significant far-right element.
These protests have developed in response to the government's judicial-reform package. This includes the controversial override clause, piskat hahitgabrut, which gives the elected Knesset the right to override the powerful Supreme Court's veto on legislation, with a simple parliamentary majority. Many opponents of the reforms accuse Israel's prime minister, Benjamin Netanyahu, of wanting to overhaul the judiciary for dubious, personal reasons. He is currently standing trial on corruption charges, which he denies.
On Monday, the protests spiralled into a general strike, affecting airports, hospitals, schools and universities. And now, under intense pressure, Netanyahu has announced that he is to pause the legislation until the summer, in order to prevent a 'rupture among our people'.
It might seem tempting to draw a parallel between the demonstrations in Israel and the recent protests in France against Emmanuel Macron's pensions-reform package. In both cases, it seems that the public is on the streets protesting against unpopular measures imposed by an authoritarian leader. But such an impression of Israel's protests would be misleading.
Aside from the obvious differences between Israel and France (no nearby militias or nations have pledged to destroy France, for one thing), the nature of both protest movements is very different. Above all, the protests in Israel are driven principally by the nation's elites. These include reserve military pilots and senior intelligence officers, who play a prominent role in Israeli society. It also involves the heads of high-tech firms – the richest section of Israeli society.
The protesters' cause has also had powerful external elite backing. International leaders have openly intervened in Israel's affairs by calling for a compromise between the government and the protesters. Indeed, US president Joe Biden was clearly siding with the protesters when he emphasised the importance of maintaining 'genuine checks and balances' on the power of government. European leaders, including British PM Rishi Sunak, France's Macron and German chancellor Olaf Scholz, have also expressed concerns about Netanyahu's judicial reforms.
Global financial institutions have joined the chorus of criticism heading Netanyahu's way, too. Credit-rating agencies, which determine how cheaply Israel can receive international credit, have warned about the dangers of the reforms. So have some powerful international financial institutions, such as HSBC and JP Morgan.
The fact that Israeli elites, as well as influential international forces, have expressed concern about the judicial reforms should raise red flags about the protests. On the face of it, they certainly look like pro-democracy protests. But, with Israeli and international elites driving them on, these protests are also marked by an anti-democratic aversion to popular sovereignty.
After all, the judicial-reform package could be said to enhance Israeli democracy. The override clause empowers the elected Knesset at the expense of the unelected Supreme Court. Other reforms include giving politicians more control over the appointment of senior judges. So, despite Netanyahu's undoubted personal failings, and significant problems with other parts of the proposed reforms, the package does have a definite democratic component. To describe an increase in the power of the elected parliament as a 'coup', as some have done, is a profound misrepresentation.
But then again, the reform package's opponents aren't especially bothered about democracy. On the contrary, they view the empowerment of elected politicians at the expense of the judiciary as a threat to their own power and influence.
To understand why this is the case, it's necessary to look back at the most recent election in November last year, which was won conclusively by Netanyahu and his coalition partners. One of these partners, the objectionable Religious Zionism (RZ) bloc, can genuinely be described as far right. It won 14 out of 120 Knesset seats, representing about 12 per cent of the popular vote. At the same time, Meretz, a left-wing party, was wiped out for the first time since it was founded in 1992. Although Meretz itself is relatively new, some of its forerunners go back to the founding of Israel in 1948.
Indeed, it should be remembered that leftist parties used to dominate Israeli politics. They took the lead in establishing the state of Israel in 1948 and dominated every government until 1977. From that point on, however, their influence began to ebb. The last government led by the once-dominant Labour Party left office in 2001. Even the previous government to this one, which held office from July to December 2022, could more accurately be described as centrist rather than left-wing.
The most recent electoral defeat was particularly crushing. It led large sections of the Israeli left to effectively give up on winning elections – and winning over the people of Israel. Much of the left now seems to accept that future governments will be made up of coalitions including right-wing, far-right, religious and ultra-orthodox elements.
This is the context shaping and driving the left's support for a strong Supreme Court. The left, which now represents the interests of Israel's technocratic elite, sees the court as a way to check the power of the elected but right-wing Knesset. Hence, it wants to vest power in judges to limit the power of elected politicians.
Analyses of the rightward shift in Israeli politics usually focus on demographics. They point out that religious and ultra-orthodox communities have higher birth rates than the secular, left-leaning sections of society. That is then used to explain the apparent right-wing trajectory of Israeli politics. But this is much too simplistic. This apparent rightward shift is not a straightforward result of conservatives having more babies.
For a start, Israel's leftish technocratic elite is increasingly influenced by globalist and 'woke' ideas – indeed, LGBT rights have enjoyed a high profile at the recent demonstrations, with rainbow Pride flags being waved alongside Israeli flags. This globalist, cosmopolitan left is increasingly distancing itself from Israel's national project – and much of the Israeli populace. This is most apparent in the military. Its elite units and officer ranks were traditionally populated by the left. Today, however, the national religious community is much more strongly represented.
The rise in support for the far-right Religious Zionism bloc also cannot be explained by demographic trends. RZ is a vile grouping that has overtly supported violence against the Palestinians and Israeli protesters. But those who voted for it often did so out of despair. For example, it is not widely known that there were 5,000 terror attacks of various sorts against Israelis last year, according to figures from the prime minister's office. Support for RZ stemmed partly from the government's perceived failure to tackle this problem of extreme violence.
Too many on Israel's left, aided and abetted by their international cheerleaders, ignore all of this. Instead, they have given up on the Israeli electorate. They continue to distance themselves from Israel's national project. And they ostentatiously wave rainbow flags at anti-government demonstrations. By doing so, they effectively position themselves against the supposedly backward nationalist majority.
Israel may be relatively small, but it is a complex society that faces unique challenges. There is a lot wrong with Netanyahu's coalition government to say the least. But to view its judicial reforms as a dictatorial threat to democracy misunderstands the dynamic at play here. For it is not the government that is trying to entrench power in an unaccountable, unelected body here. It is the protesters and their elite backers.
Daniel Ben-Ami is an author and journalist. He runs the website Radicalism of Fools, dedicated to rethinking anti-Semitism. Follow him on Twitter: @danielbenami
To enquire about republishing spiked's content, a right to reply or to request a correction, please contact the managing editor, Viv Regan.