'I thought I would be crushed to death'
Kellie-Jay Keen on her harrowing encounter with trans activists in New Zealand.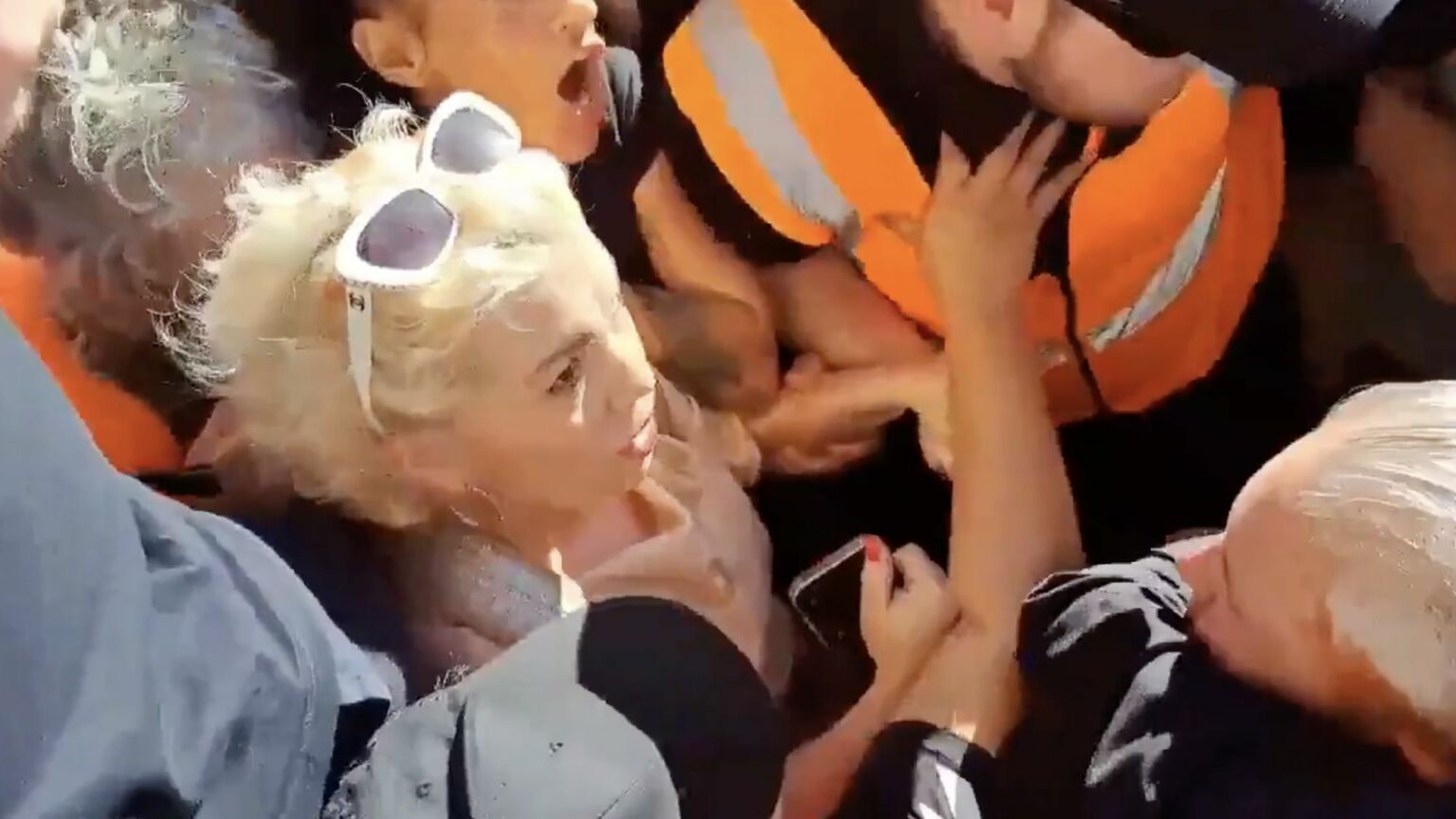 The distressing footage from women's rights campaigner Kelly-Jay Keen's violent encounter with trans activists in Auckland has made one thing clear beyond doubt: the trans movement has a serious misogyny problem. At the weekend, Keen was pelted with tomato juice, jeered at and hounded by a crushing mob of trans activists. In the run-up to the event, she was demonised in the Australian and New Zealand media, who portrayed her as a crypto-Nazi. Attempts were made to have her visa revoked and to shut down her Let Women Speak tour. All this, because Keen campaigns for women's rights, because she does not mince her words about the need for single-sex spaces, and because she lends a platform to ordinary women who share her concerns about trans-rights activism.
Keen joined Brendan O'Neill for the latest episode of The Brendan O'Neill Show to discuss her harrowing experience in Auckland. What follows is an edited extract from their conversation. You can listen to the full episode here.
Brendan O'Neill: What do you remember of what happened in Auckland?
Kellie-Jay Keen: I have some recollection of it, but I've watched the footage since and only now do I realise how terrifying it really was. I also look at the security and the other women around me protecting me, and I think they saved my life. I don't think they all got out unscathed by any stretch of the imagination. I'm reminded that, while I'm the person who everyone is talking about, there were a lot of women who were injured that day. It is an absolute blight on New Zealand and all other countries that are allowing this stuff to manifest.
When my security said the police weren't coming, it felt like something out of a zombie-apocalypse film. We had men directly behind us trying to push down a big metal fence. There were people climbing up into the bandstand, where we were. People were crawling up it. They were just getting closer. My security said they were going to lock arms around me and start taking me through the crowd. We hadn't been moving for long when the mob surged forward and pushed. There was a courageous woman called Tanya next to me who was pushed with me. When she tried to stand up, I could see this normal-looking man in his 50s pulling her back down again. It was crazy. I remember going down and everything slowed a little bit. I could almost hear individual voices as well as the mob.
I could hear a lot of expletives telling me to 'eff off'. A lot of 'Posie's a Nazi', 'get her', 'kill the Nazi'. It was those sorts of shouts and taunts. People were really rabidly trying to get hold of me. It was a frenzied mob. I don't know if you've ever been in a situation like that – I never had. The crowd takes on a life of its own. It becomes its own organism. People were feeding off each other's frenzy and hatred. It becomes something completely rabid.
It really is so frightening. I remember thinking that this was it. I was going to get crushed to death. They were going to surge forward and my life would be over.
O'Neill: How did it get to the point where you were so demonised in New Zealand and Australia that people were willing to physically assault you?
Keen: For starters, the media in Australia and New Zealand are lost. They will tell straight-up lies. I became this monster. Before I even got to Australia, the media reported on me as if I were some hugely influential figure. And actually, thanks to how the media behaved, by the time I left I really was having an influence. Hopefully I've changed some of the landscape for women in both New Zealand and Australia.
During a livestream, I was fiddling with the zip on my clothing and the New Zealand news channel, Newshub, blurred my hand out. It said I was actually giving a white-power signal.
The prime minister of New Zealand even got involved. There was a High Court hearing to try to stop me going into New Zealand. When I arrived at the airport, I was taken into a room and interrogated for two hours. Someone looked through all my suitcases. I got a note through my hotel door from someone saying that they knew what I was wearing, that they hated me and they could see me. All of that was before I even got to the event.
The Green senator for Tasmania, Nick McKim, said that TERFs should be known as 'trans-exclusionary right-wing dropkicks' or 'TERDs'. Well, 'dropkick' is short for 'dropkick and punt', which is Australian rhyming slang for the C-word. So that's what he called me in parliament.
The people who say these vile things about me are treated as heroes. And what was interesting was that very few media outlets even discussed what my issue was. They just said I was 'anti-trans'. There was nothing about the fact I campaign to protect women-only spaces. I was just monstered.
On the other hand, I've had so many letters from women that say they had never heard of me until everyone started saying that I was this terrible person. And they went to my website, and now they love what I do. I expect there will be a lot more of that in the coming weeks.
So what has happened in New Zealand is actually a spectacular win. Part of this activism has always been that I want John the scaffolder down the road to know that his daughter has likely been taught gender-ideology nonsense at school. I want normal, working people to understand what's going on. Because at the moment, this has been a top-down, manipulative, coercive movement. What we've done with that New Zealand flashpoint is we've basically said: 'Hey, everybody, look at this – this is what's really happening.'
Some people who see this won't care. Some of them will be part of the trans cult. Those people will still think that all the horrible things that happened to me were right, that I deserved it. However, there will be loads of people who decide to look into this a little bit more.
Those trans activists always do my work better than I ever could. They raise the issue and put a spotlight on exactly what's going on.
Kellie Jay-Keen was talking to Brendan O'Neill on the latest episode of The Brendan O'Neill Show. Listen to the full conversation here:
To enquire about republishing spiked's content, a right to reply or to request a correction, please contact the managing editor, Viv Regan.