Babies should be nowhere near gyrating drag queens
Events like 'Caba Baba Rave' show that today's woke parents have lost the moral plot.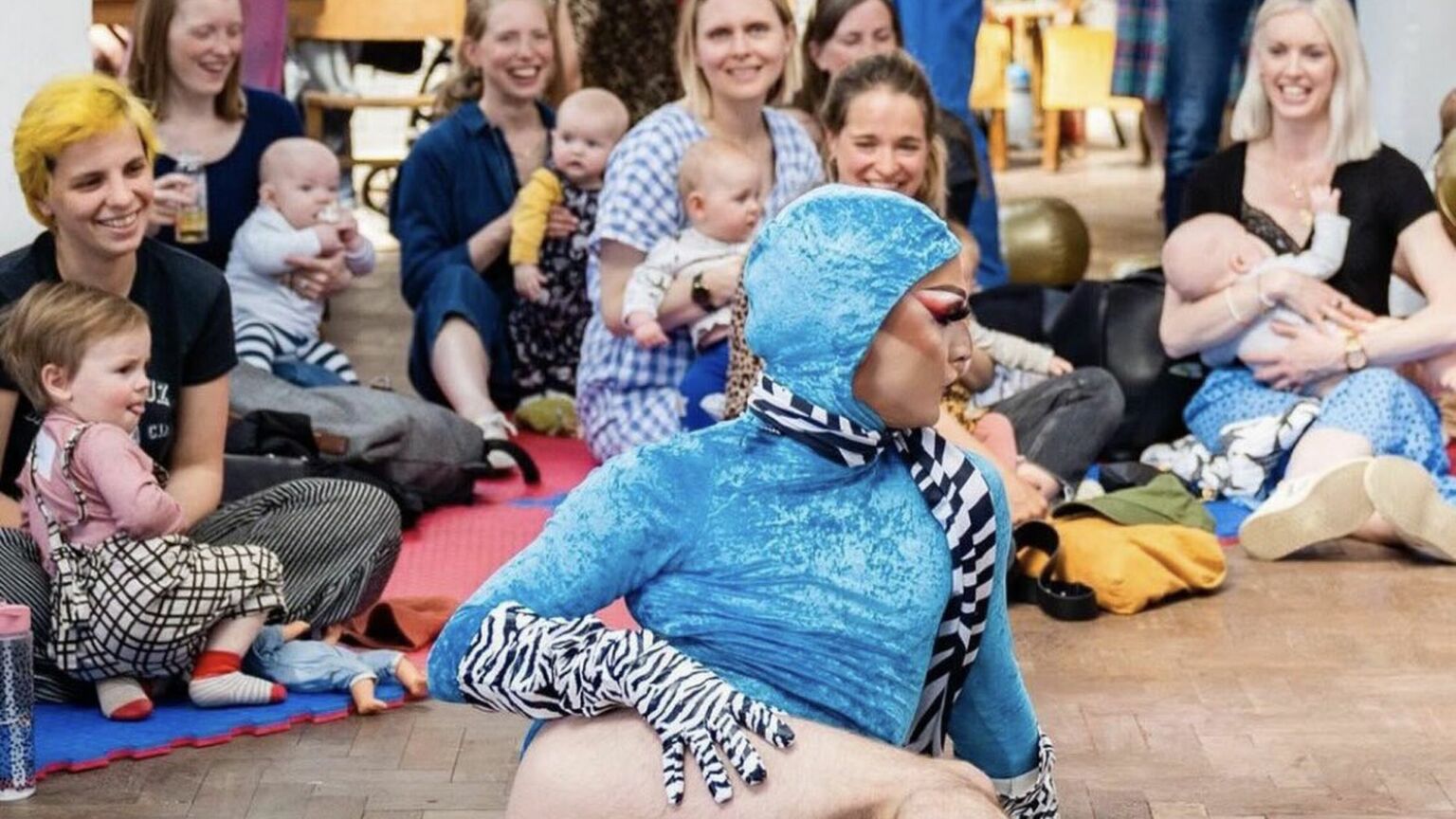 'Babies at raves' sounds like one of those segments from the surreal 1990s clip show, Eurotrash. But sadly, this is a phenomenon in the here and now in London. It seems today's man-bun wearing dads and kefir-quaffing mums are taking their infants to performances by Caba Baba Rave, a new company which specialises in providing 'sensory events' for newborns and infants. The performances, one of which is due to take place next weekend at a London comedy venue, are a combination of cabaret, drag and burlesque aimed at 'parents and their babies 0-2 years'.
Broadcaster Dominique Samuels was the first to alert the public to this grotesque spectacle, which is clearly aimed at woke-afflicted parents. In her YouTube video of the event, one can see wide-eyed babies crawling towards men in fetish gear and an acrobatic drag queen wearing nothing bar a leopard-print thong. One performer is shown suspended from black ropes, wearing thigh-high, spike-heel PVC boots, while a crowd of gasping mothers and their bemused tots look on.
Attempts to raise cabaret and burlesque from the heady gay days of Weimar Berlin never really work. Performers no doubt believe they are shimmying on the coat tails of Marlene Dietrich. But the reality largely consists of podgy dancing women oozing out of fishnets, and passive-aggressive male drag queens being predictably 'risqué'. Wokesters view this stuff as an acceptable middle-class variation on stripping – suggestive but not openly sexualised. In truth, it is about as edgy and sophisticated as Mrs Brown's Boys, with a sprinkle of rainbow glitter.
Sneering aside, I have some sympathy for chronically bored parents. It's easy to see why new mums might want a change of scenery, after months of tedium caring for babies or toddlers, where the height of excitement is feeding the ducks. But there's a reason there's an age limit for nightclubs, drag shows and strip bars – these are not appropriate for children.
It ought to be an adult's job to set boundaries, to teach youngsters about what is acceptable and what isn't. How will a child brought up having jockstraps waved in his or her face be able to recognise the inappropriate behaviour of a predator? When near-nudity has been normalised in this way, how is a child to understand the danger of flashers? It is in nobody's interest to destroy these fundamental, protective social rules.
When my friends started to do the pushing-babies-out-of-their-vaginas thing, I knew it wasn't for me. The only puke I ever intend to clean up is my own the morning after. I hope to avoid nappies until either myself or my partner is dribbling in a care home, at a suitably venerable age. I wish those perpetuating the human race well, but it's hardly unreasonable to ask that adults with children do their best to protect them. Part of this means that it is sometimes necessary for parents to put the needs of their offspring ahead of their own. That means not subjecting under-fives to drag shows or hyper-sexualised performances.
Yet today's self-styled progressives seem to be utterly in thrall to the pornification of society. They seem to actually think exposing their little ones to sexy theatre is a good thing. So those who dare to criticise drag shows or cabaret for children are routinely smeared as prudish and censorious, just like Mary Whitehouse.
Yet child safeguarding is hardly illiberal. We protect young children from adult sexual behaviour, no matter how theatrical, for very good reasons. For their kids' sake, right-on parents need to re-discover their moral compass.
Jo Bartosch is a journalist campaigning for the rights of women and girls.
Picture by: Twitter / Dominiquetaegon
To enquire about republishing spiked's content, a right to reply or to request a correction, please contact the managing editor, Viv Regan.