Ukraine: nationhood matters
Why Ukrainians' fight for freedom continues to inspire us.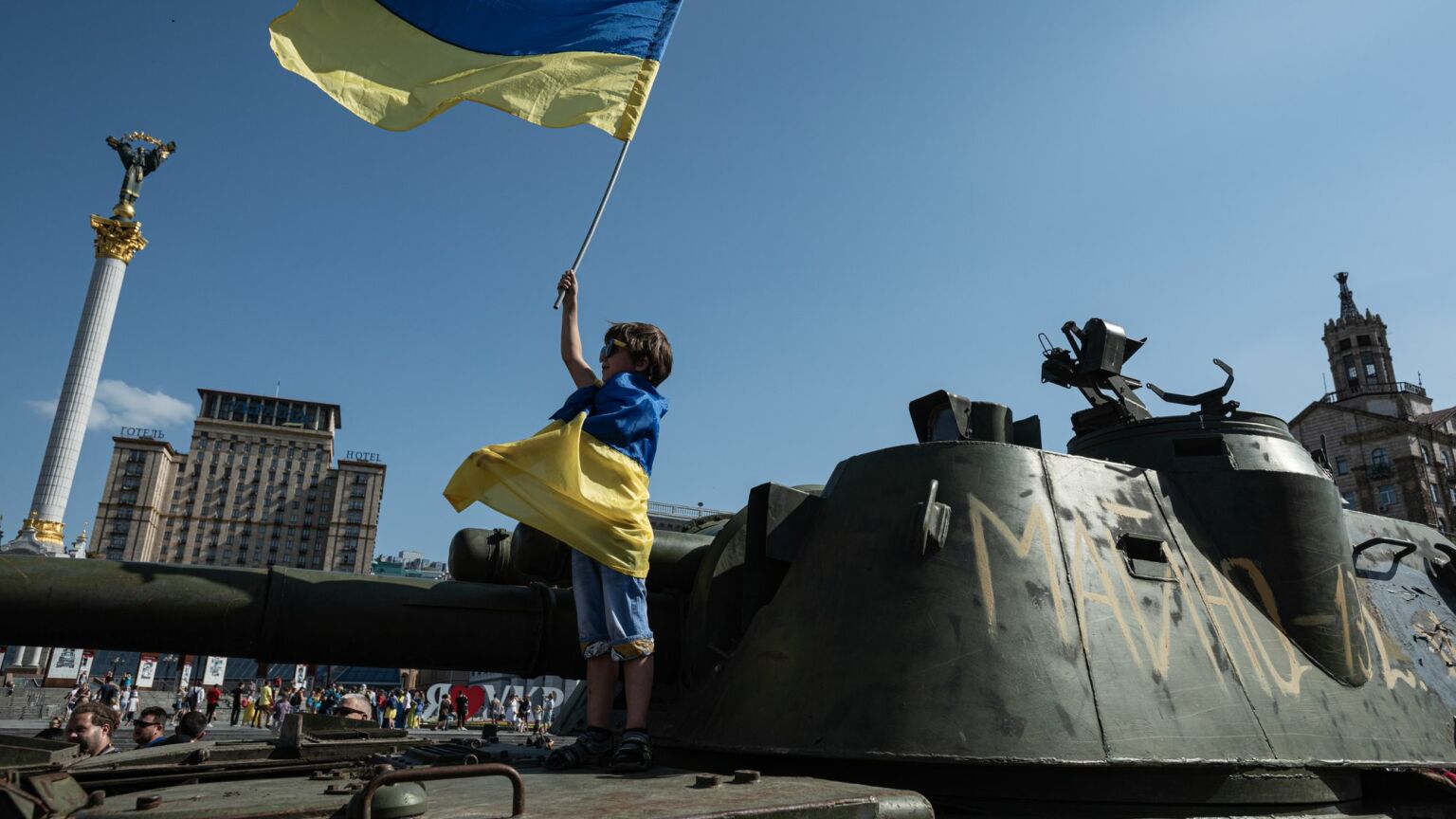 The Ukrainian flags hanging out of high-rise windows. The #StandWithUkraine hashtags in Twitter bios. It is all too easy to dismiss the public displays of solidarity with Ukraine in Britain, America and across Europe as virtue-signalling. As social-media drones rallying behind The Current Thing, from a safe distance, hundreds and thousands of miles away from the frontline. But that would be a mistake. The depth of feeling towards Ukraine since Russia launched its full-scale invasion is powerful – and enduring. Certainly in Britain, public support shows no signs of dimming as we mark a year since Vladimir Putin's tanks first rolled towards Kyiv.
Russia's brutal invasion of Ukraine and the Ukrainians' impossibly brave resistance to it have reminded us of so many things we seemed to have forgotten. It has certainly shaken some of our elites' more comforting delusions. They told us that history was over. That war and conflict were on the way out, or at the very least confined to far-flung places no one could find on a map. Most powerfully, the war has reminded us just how much nationhood matters; how violating and barbaric it is when borders are breached and another nation's armour cruises into your town. Nationhood matters to people not for sentimental or jingoistic reasons. But because nations are our communities, our way of life; they are the means through which we collectively shape our society and the world. All this and more is what the Ukrainians are fighting tooth and nail to defend.
This all might sound obvious, because it is. But then our elites have spent decades now deriding the nation state. They present it as a relic, a has-been. And they say national sovereignty should be pooled, diluted and given away to supranational bodies so that we can be ruled by distant experts. Our elites also seem to have convinced themselves that our freedoms are defended by international rights treaties and sharp-suited lawyers, rather than brave men and women willing to fight for them within their own nations, and brave men and women willing to fight to defend those nations against foreign conquest, interference and subjugation.
The invasion of Ukraine, we're told, is the conflict that America finally called correctly. US intelligence, you'll remember, insisted the invasion was imminent, even as the world struggled to believe it. But there was one thing the US got very, very wrong this time last year – namely, the capacity and willingness of Ukrainians to fight back. In the run-up, General Mark Milley, chair of the Joint Chiefs of Staff, was briefing US lawmakers that Kyiv could fall within 72 hours if Putin decided to invade. This is partly why Western powers were initially hesitant to back and supply Ukraine. They feared Ukraine was too divided – between east and west, between Ukrainian speakers and Russian speakers – to unify and fight. And yet here we are, 365 days later, with Kyiv still standing, and clearing up the bunting from Joe Biden's visit this week. First the invasion shocked the world, then the Ukrainian people did. They not only rebuffed Russia's designs on Kyiv, they also pulled off some stunning counter-offensives at the tail-end of last year.
We often call the Ukrainians brave – and rightly so. But that courage doesn't come from nowhere. It stems from the fact that they are fighting for something – their nation, the strength of which was utterly underestimated by Ukraine's Western backers and its Eastern foe alike. Just before the invasion, Putin essentially declared Ukraine a bullshit country that 'never had stable traditions of real statehood'. The Ukrainian authorities, he spat, built their 'statehood on the negation of everything that united' Russia and Ukraine. He later derided the Kyiv regime as 'drug addicts and neo-Nazis'. His vile smears and wild fantasies soon collided with reality. His soldiers were received as invaders, not liberators – pelted with molotov cocktails, even sassed by elderly women. One woman was filmed telling a Russian soldier: 'You should put sunflower seeds in your pockets so that they will grow on Ukrainian land after you die.' Ukraine has endured deep divides, as many nations have. But since Ukraine gained its independence in 1991, scholars have charted the emergence of a new Ukrainian national identity, increasingly understood along civic rather than ethnic lines. Now, on the battlefield and in the bomb shelters, that new Ukraine is being cast in conflict.
These particularities might have passed most of us by. Many of those flying the flag and throwing up the hashtags, many of those whose hearts broke this time last year as they stared at their TV screens, will never have been to Ukraine. They may never go. But their solidarity for Ukrainians flows from something universal: the human desire for freedom, self-determination and a home. Ukrainians have reminded a somewhat jaded West just how much the nation matters – and why it is worth risking everything to defend your own.
Tom Slater is editor of spiked. Follow him on Twitter: @Tom_Slater_
To enquire about republishing spiked's content, a right to reply or to request a correction, please contact the managing editor, Viv Regan.