The barbarism of Pakistan's blasphemy laws
The government is encouraging a lethal form of mob justice.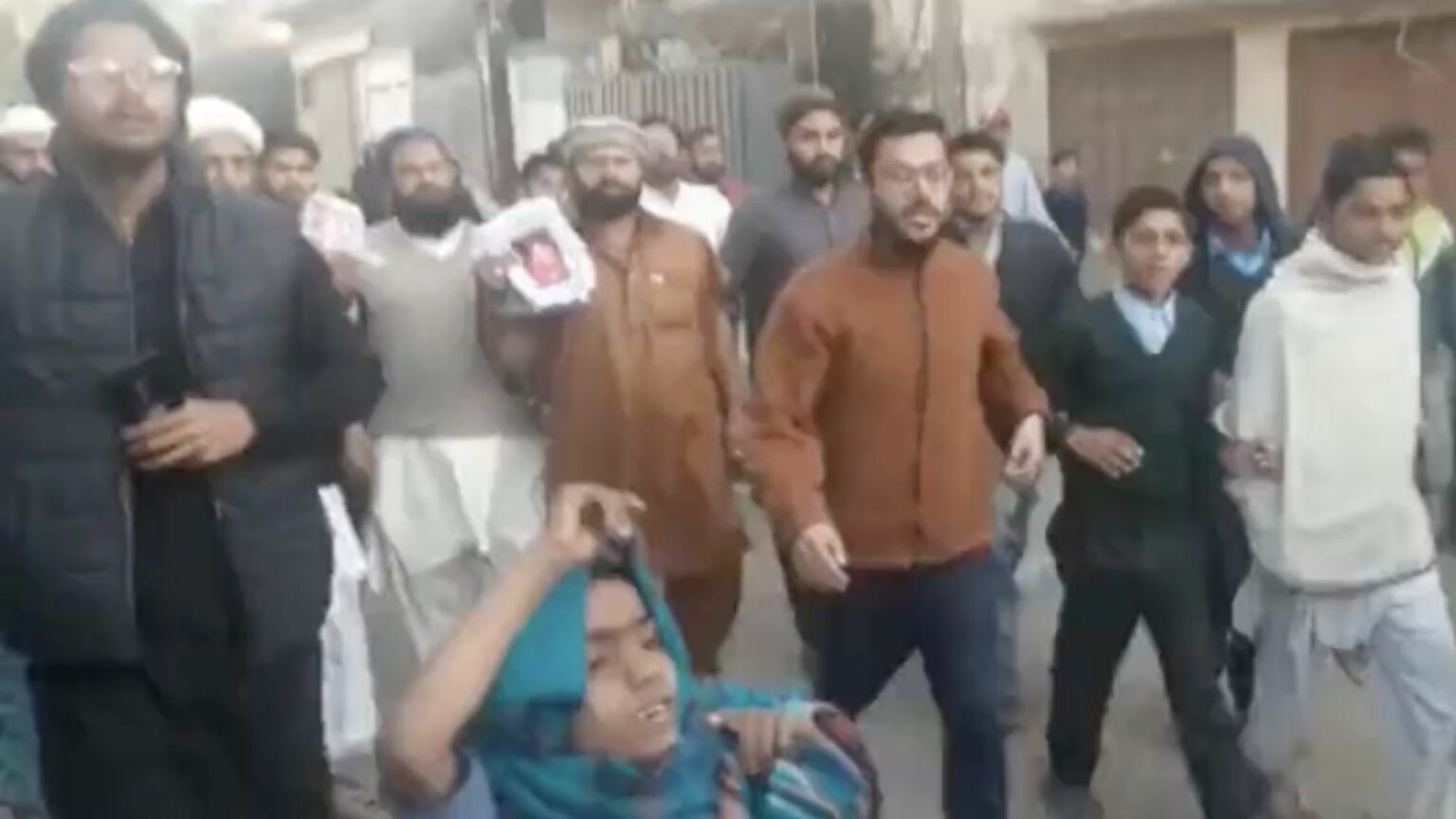 In Pakistan, blasphemy allegations often prove fatal. Earlier this month, an angry mob stormed a police station in the district of Punjab and beat a man to death. Not satisfied with that, the mob then dragged the man out on to the street and tried to burn his body.
The victim of the lynching was Muhammad Waris, who was believed to be in his mid-30s. Waris had allegedly desecrated pages of the Koran by pasting images on to them and throwing them on to the streets. When he was placed in police custody for the alleged crime, the police failed to protect him – and a baying mob saw an opportunity to mete out its own form of justice.
This is far from an isolated incident. All too often in Pakistan today, those accused of blasphemy face the wrath of either the state or, just as frequently, of intolerant mobs.
In October 2022, a disabled man was set ablaze in the Ghotki region after allegations of blasphemy had been made against him. The suspect, Hassan Kalwar, is reported to have carried out the attack because he believed the man, who had been living at a local shrine, had been worshipping in front of some graves (worshipping anyone or anything other than Allah is considered blasphemous). After he was set on fire, the victim managed to submerge himself in a nearby pond, before Kalwar allegedly proceeded to drown him.
It's the same tragic sequence of events time and again. An accusation of blasphemy is made against an individual who is then subjected to the often murderous extrajudicial judgement of mobs of Muslim men. But make no mistake, it is Pakistan's blasphemy laws that are the core problem here. With blasphemy punishable by death or a life sentence, these laws effectively enshrine and embolden religious intolerance.
That's not how the Pakistani government sees it. It claims that these laws are needed to placate the angry mobs. It sees them as a solution to mob justice. Indeed, earlier this year, parliament actually strengthened the existing blasphemy laws by expanding the list of individuals who could not be blasphemed against. Insulting Islam or the Prophet Muhammad already carried the death penalty in Pakistan. Now, anyone found guilty of disrespecting any individual connected to the prophet could face a fine of one million Rupees (around £10,000) and 10 years in prison, which can be extended to life.
These punitive laws discriminate against those who seek to challenge religious dogma. And they embolden others to settle personal scores. This is what appears to have happened to Aneeqa Ateeq. In January 2022, she was accused of making blasphemous comments and sharing caricatures of holy prophets. Ateeq maintained her innocence and claimed that her accuser was using the charge of blasphemy to settle a personal grudge against her. She was sentenced to 20 years in prison and ordered to be hanged.
Whether the Pakistani government admits it or not, its blasphemy laws are clearly fuelling rather than calming social and religious antagonisms. As Sarah L Gates, director of Hindu Human Rights Australasia, tells me: 'Pakistan's attempt to reduce vigilantism and extremism by increasing the penalty for blasphemy to a life sentence sends the wrong message, especially to young people.' When Muhammad Waris was killed, footage showed young children taking part in the lynching. 'Considering the age of some of the perpetrators', Gates says, it makes sense to 'decriminalise blasphemy and educate the community from an early age toward deradicalisation'.
The fact that children are now involved in the lynching and murder of individuals accused of blasphemy suggests that blasphemy laws are entrenching intolerance in Pakistani society – not ameliorating it. Children are being taught that killing someone for disrespecting the prophet – or anyone connected to him – is normal and legitimate.
The Pakistani government needs to face facts. Its ever-stronger blasphemy laws are not working. Mob justice is on the rise and strengthening blasphemy laws is only putting targets on the heads of the accused. Whether or not an individual is found guilty in court is now irrelevant. The mere accusation of blasphemy is all too often a death sentence.
The Pakistani government's blasphemy laws are turbocharging intolerance – and people are paying a deadly price.
Wasiq Wasiq is an academic specialising in law and terrorism. Follow him on Twitter: @WasiqUK
Picture by: Twitter / swati_gs
To enquire about republishing spiked's content, a right to reply or to request a correction, please contact the managing editor, Viv Regan.