Madonna is no rebel
Her quest for validation gets more tragic by the day.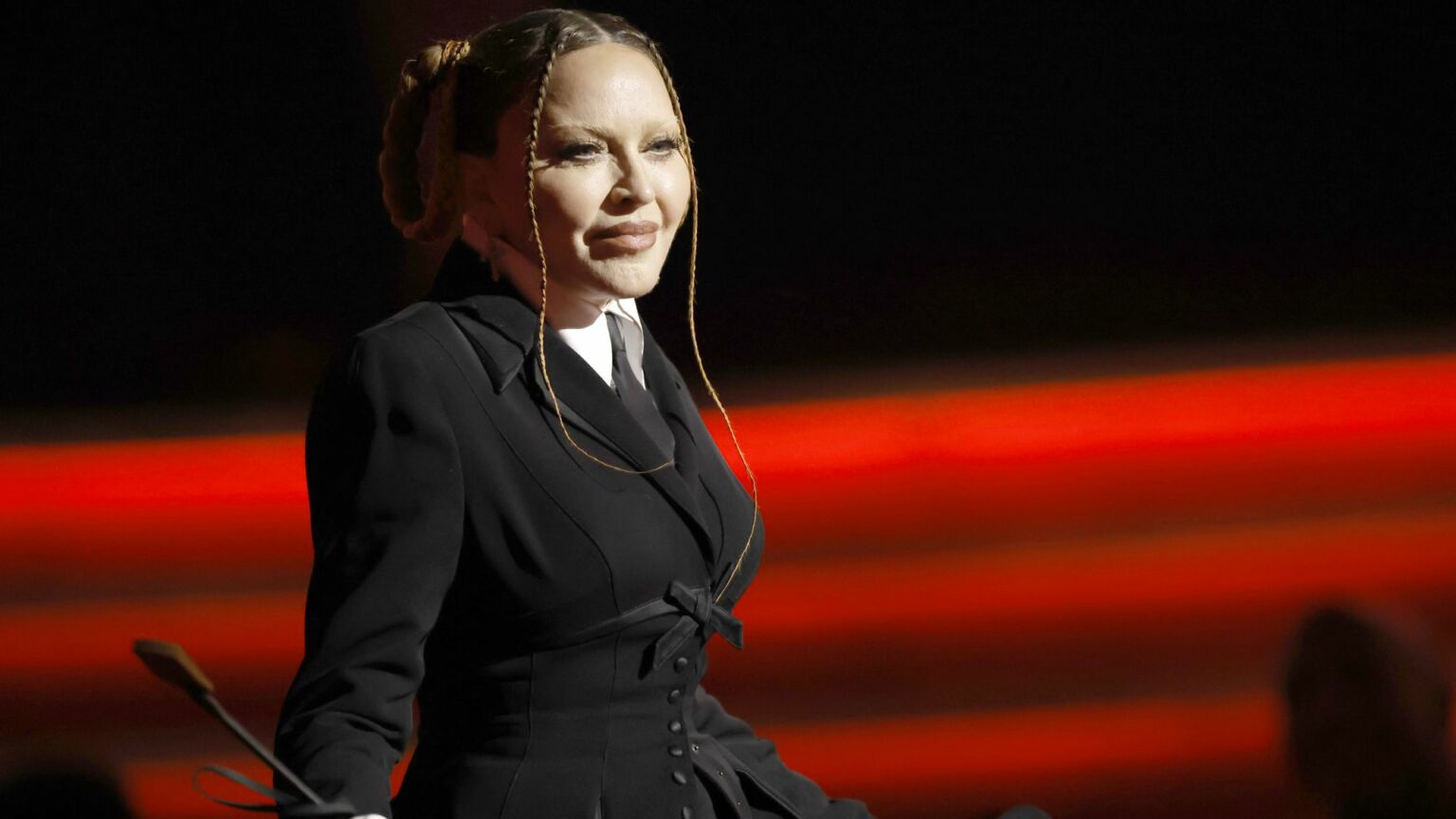 We've all spent an inordinate amount of time looking at Madonna. Hers, after all, is the face that launched a thousand dissertations. But now she is quite cross that we've seen a photograph of her at last weekend's Grammy Awards, probably the last place in the universe you'd want to be if you were in any way trying to avoid your appearance receiving robust critique.
Like Catchphrase contestants, we can only say what we see. And what we have seen is somebody who has very obviously had what is known as 'some work' done. This work, despite costing millions of dollars, always has the exact same unfortunate effect on anyone who stumps up for it – huge apple cheeks, cat's-behind eyes, elephant earlobes. It does not make people look young. It makes them look like – exactly like – the late Pete Burns.
Madonna's riposte to those who have pointed this out came on Instagram. 'Close-up photos of me Taken with a long lens camera By a press photographer that Would distort anyone's face!! [sic]', she wrote on Wednesday. Her post reminds me of those judgy stickers you used to find when you got your snaps back from Boots, back in the day. 'Subject too close to camera', 'Adjust background for better results', 'Use flash only when no natural light', etc. (I always wanted to print up bespoke ones and secretly stick them on to someone's photos – 'Who are these ghastly people?', 'Nasty blouse', 'That shirt with that tie, really?', etc. But I never got round to it before the process was discontinued.)
Elsewhere in her interestingly punctuated and freely capital-strewn statement, Madonna tells us that 'Once again I am caught in the glare of ageism and misogyny That permeates the world we live in'. She also says she is looking forward to carrying on 'Standing up to the patriarchy'.
So this is what she's been doing all these years, is it? I must admit, I've never quite understood that brand of fighting the patriarchy that involves getting your tits out for the lads. I think it's something to do with getting your tits out for the lads, on your own empowered terms. There has been much thought expounded on this doublethink, none of which I've found very convincing. The tits are still being got out for the lads, after all. Turns out it was worthy social work, apparently.
The idea of Madonna being a good thing for women has always struck me as laughable. I think back to my early adolescence in the late seventies and early eighties, and the incredible range of female musicians who were right in the mainstream then. Poly Styrene, Pauline Black, Annie Lennox, Hazel O'Connor, Siouxsie Sioux, Chrissie Hynde – watch the pop TV of that era now, and you'll be amazed at how, unlike before and sadly since, these women wear full sets of clothes and move about the stage enjoying themselves and their music, rather than grinding and gurning like choreographed sex robots. Yes, Debbie Harry and Kate Bush were directly sexy, but there was so much else going on with them, too. And the skirt-ripping of the Bucks Fizz women felt naff by the time it arrived in 1981, like something from a dead age.
My peers and I didn't really think of these female artists as special or different. We had little to compare them with, being young and thus without much of a sense of history. These brainy, fully personified pop women were just there. I assumed this was how it would always be.
And then came Madonna, who threw it all backwards. She was certainly no blank-eyed pliant sex kitten, but her adoption of the other cliché, the 'bad girl', was hardly revolutionary. The women of my golden era sang about culture, the economy, war, history, politics, identity. Madonna sang about Madonna. She made Kim Wilde look like Simone de Beauvoir.
I found Madonna fascinating because everyone was talking about her, a bit like a horrible fire is fascinating because everyone is talking about it. I always found some of the claims made about Madonna ridiculous. This was an artist who supposedly always had her finger on the pulse, but was dressing like a 1981 British goth in 1985, and voguing a good four years after it was a big thing and after even Malcolm McLaren was done with it. And aside from a few bangers, I've long found her actual music to have something of a hobnailed quality.
Her post-Grammys Instagram statement brings it all back. 'I have been degraded by the media since the beginning of my career but I understand that this is all a test and I am happy to do the trailblazing so that all the women behind me can have an easier time in the years to come', she says with her typical senses of humour and proportion. Is it really 'trailblazing' to transform your face into a bowl of wax fruit? Isn't that what every wealthy old narcissist has always done? Madonna is now getting dangerously close to Mae West as she appeared in her final film, 1978's Sextette, in which the 84-year-old West is the implausible lust object of Ringo Starr, Timothy Dalton, Tony Curtis and an entire junior athletics team. (I am not making this up.)
Madonna signs off on Insta by saying, cringe-inducingly, 'I look forward to many more years of subversive behavior – pushing boundaries'. In other words, she's just too fantastic to care what you think about her look. But she obviously really, really does care. All that cash and all that fame and all that success – it just hasn't worked. It hasn't taken that need for validation and approval away. This is something that, if we are honest, is quite amusing for the rest of us to see.
Subversive behaviour, pushing boundaries? Please. Madonna's Hollywood-style living self-embalming is just the latest clichéd thing on a very worn path.
Gareth Roberts is a screenwriter and novelist, best known for his work on Doctor Who.
To enquire about republishing spiked's content, a right to reply or to request a correction, please contact the managing editor, Viv Regan.