Supporting Ukraine isn't 'escalation'
The row over tanks suggests that some leaders have forgotten that Russia started this war.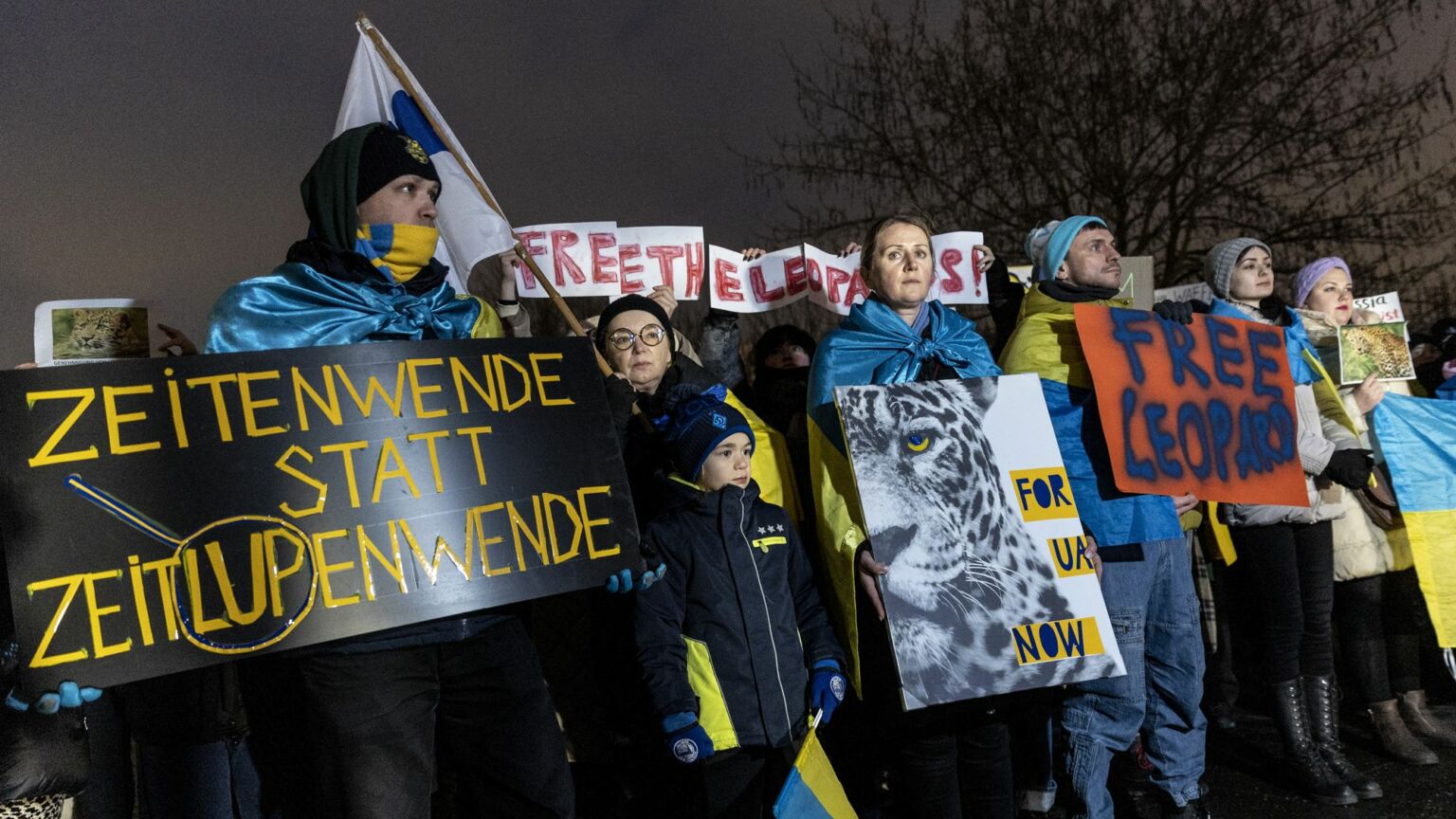 NATO allies emerged from their meeting on Friday at the US Ramstein airbase in Germany pledging further military support for Ukraine. There will now be hundreds of armoured vehicles, Humvees and munitions heading Kyiv's way. But what will not be arriving are the German-made Leopard 2 tanks Ukraine so desperately wants.
At least not yet. Germany is still to come to a decision on the tanks, said its new defence minister, Boris Pistorius. There was even uncertainty on Friday as to whether Germany, which owns the Leopard 2s' export licence, would allow other nations to supply them to Ukraine – although Germany's foreign minister, Annalena Baerbock, has since clarified that she 'would not stand in [their] way' if they wanted to do so.
The reason for the German government's hesitancy is not difficult to intuit. It fears that sending offensive weaponry to Ukraine could escalate the conflict. And this is a fear shared by the German public, too. According to a survey last year, 80 per cent of Germans are concerned that increased military support could lead to the spillover of the war from Ukraine into neighbouring NATO countries and 69 per cent fear a retaliatory Russian nuclear strike.
There are obvious historical reasons why Germany, in particular, is so cautious about ramping up military support for Ukraine. Not least the deep and self-destructive legacy of German militarism in the 20th century, especially in the territories of the old Soviet Union. As a result, postwar German political culture, especially in the old West Germany, has long been marked by an unease towards the military.
Moreover, many in Germany and beyond are clearly worried that Western military aid for Ukraine could cause the conflict to spin out of control. They fear that every step-change in Western support, from light arms to HIMARS missiles, heightens the chances of the conflict turning into a Europe-wide confrontation between Russia and NATO members – in other words, into a conflict between nuclear-armed powers.
Ukraine's Western allies must of course be careful to ensure events don't spin out of control – that support is designed to boost the Ukrainian resistance without drawing other powers directly into the conflict. But this fear of 'escalation' is directed at the wrong side. Because if the threat of things spiralling out of control is coming from anywhere, it is not coming from Ukraine, using Western weapons to defend its territory. It's coming from Moscow. It's coming from Russia. It's coming from the nation that, just under a year ago, invaded another nation. It doesn't get much more escalationary than that.
Yes, Germany's Leopard tanks are serious pieces of military hardware. They are quicker, more powerful and better armoured than Russia's tanks, which would give the Ukrainian army a potentially pivotal battlefield advantage (at the moment Ukraine is operating with several hundred Soviet-era tanks). And, unlike their American- or British-made equivalents, Leopard 2s are easily and quickly available, with European armies estimated to operate some 2,000 of them. Ukrainian president Volodymyr Zelensky claims that 300 or so could be enough to repel the Russian invasion.
But to present the potential provision of these tanks as an escalation of the war in Ukraine is wrong. They may technically be 'offensive' weapons. They may allow the Ukrainian armed forces to mount a significant assault on Russian lines. But their purpose is defensive. They wouldn't be used to push into Russian territory. They would be used to push Russia out of Ukrainian territory. They would be used to resist Russian aggression. To defend against the daily artillery, rocket and drone attacks. In short, they would be used to defy Russian attempts at further military escalation.
After all, how else should one describe Russia's actions over the past year if not as 'escalation'? Ever since it sent its army over the border with Ukraine in late February, Moscow has responded to Ukraine's fierce resistance by consistently upping the ante. So, after being pushed out of Kyiv in late March, it began subjecting towns in the east and south to a brutal artillery bombardment. Then, after being chased out of many of those towns in the east and south in the autumn during a rapid Ukrainian counter-offensive, Russia unilaterally 'annexed' vast swathes of eastern Ukraine and launched a partial mobilisation of the Russian populace. And over the winter, it has subjected Ukrainian vital infrastructure to a near daily barrage of drones and missiles, depriving people of electricity and water during the coldest months of the year.
Now, amid what looks like a stalemate, Moscow is reported to be planning a renewed offensive at some point in the next month or so. It certainly seems likely that a further escalation from Russia is coming. Putin has appointed another new military chief in the shape of General Valery Gerasimov and has allegedly tasked him with seizing control of the Donbas by March.
To deny Ukraine the military support it needs on the grounds it could escalate the war in Ukraine ignores which side is really escalating the conflict. The nation fighting for its life, with or without German tanks? Or the nation waging an ever-expanding war of quasi-imperial aggression?
Fear of escalation may be reasonable. But fear of Ukrainian escalation is not. It is to confuse an act of resistance with an act of aggression. The sooner that is recognised, the sooner Ukraine will receive the support it needs.
Tim Black is a spiked columnist.
To enquire about republishing spiked's content, a right to reply or to request a correction, please contact the managing editor, Viv Regan.