Have we learnt nothing from China's Zero Covid disaster?
Imposing new restrictions on Chinese travellers sets a worrying precedent.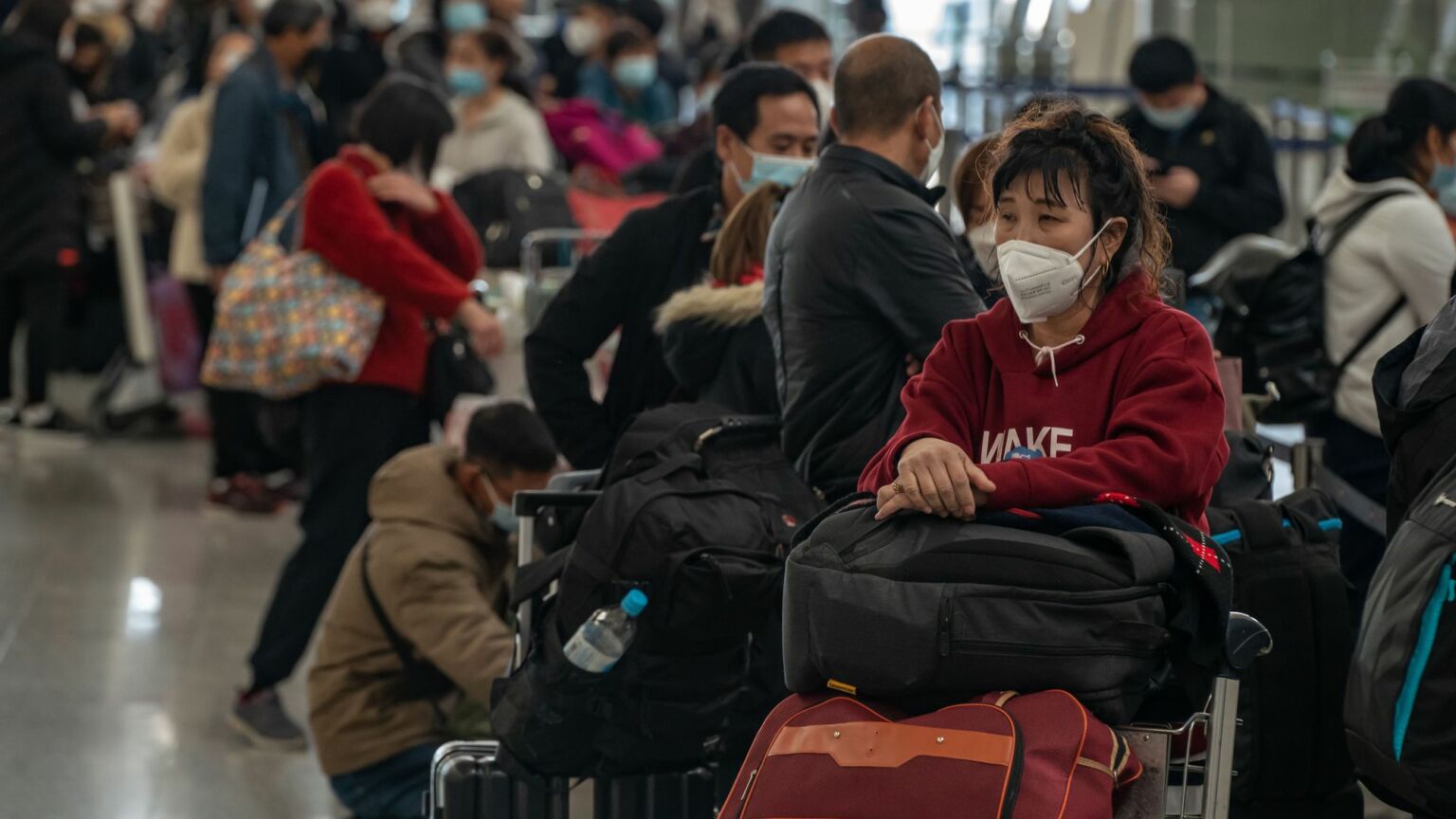 China's abandonment of its Zero Covid policy has been extraordinarily swift. Until November, Covid was a reason to enforce strict quarantine rules. Now it doesn't even justify a day off work, so long as your symptoms are mild.
Cases have mushroomed. Exact numbers are hazy because China has ceased reporting them, but data leaked from China's National Health Commission suggest that 250million people were infected in the first three weeks of December alone, amounting to around 18 per cent of China's population. In rural areas, the peak is yet to come. Such data are compatible with the observation that 50 per cent of passengers on two flights arriving in Italy from China were infected, and with reports of around 9,000 Covid deaths per day. Moreover, deaths lag cases by around three weeks, meaning they will likely rise further.
It should be clear by now that Zero Covid could never work. People grow weary, then angry and rebellious. Once restrictions are lifted, fast-transmitting variants, honed elsewhere, smash into a population that no longer even has the partial cross-immunity that comes from regular exposure to common-cold coronaviruses. This is one reason why the surge in China is on a scale far beyond the post-lockdown waves there have been elsewhere in Australasia or East Asia.
The failure of the Zero Covid approach should now be clear to public-health authorities around the world. But so far they still seem intent on repeating some of the CCP's authoritarian errors – just as they did at the start of the pandemic. Fundamentally, they still believe it is worth trying to control the spread of the virus.
A growing raft of countries – including the UK as well as the US, Canada, Australia, Japan, Malaysia, South Korea, India, Italy and Spain – are demanding that visitors from China demonstrate a negative Covid-19 test in the 48 hours before departure. The US extends this requirement to visitors from Hong Kong and Macau.
The rationale is that there is so much Covid circulating in China that this must increase the odds of new variants emerging. Yet this 'logic' and the resulting policies, seem predicated on a political need to be seen to be 'doing something' rather than on a reasonable expectation that anything useful will be achieved. Even England's chief medical officer, Sir Chris Whitty, has advised against testing travellers from China.
Experience should have taught us that efforts to exclude efficiently transmissible SARS-CoV-2 variants are forlorn. The Alpha, Delta and Omicron variants all spread globally between 2020 and 2022, when there were much greater travel restrictions. Omicron even seeped into New Zealand, then proliferated, despite its hermetically sealed borders. Requiring a test for direct travel from China won't exclude any new 'super variant'. If one does emerge, it will reach us and find its own level.
The trend is for new Covid variants to have a shorter incubation period, falling from around five days for the Wuhan type to as little as 33 hours (though more typically 72) for Omicron. This means it is possible for someone to test negative 48 hours before boarding their flight but to be infectious on arrival. The UK also plans some voluntary on-arrival testing, but voluntary means voluntary and the authorities won't quarantine anyone found positive, so it is hard to see the point. If the visitor carries a 'virulent new variant', it will begin to disseminate long before it is sequenced and found to be a virulent new variant.
Besides, it is not as if Covid has disappeared from the UK. We are enduring about 230,000 new domestic Covid infections daily. In the last pre-pandemic year (2019) there were 636,000 arrivals from China – fewer than 2,000 per day. Infections imported from China will be a drop in our own fermentation bucket.
Furthermore, it is flawed thinking to believe China is a particular incubator of variants. Variants gain traction when they have an advantage over the prevalent type, typically because they spread faster or better evade existing immunity. In China, the same Omicron variants already prevalent in the UK (notably BF.7) are hitting a population that has little immunity to prior infections and which lacks protection from vaccines – both due to low take-up and the low efficacy of China's vaccine model. Nevertheless, China's vaccines do induce antibodies to multiple virus proteins, making outright mutational escape unlikely. The West, by contrast, has used mRNA and adenovirus-vector vaccines that solely target the highly mutable spike protein of the virus. These seem much more likely to exert selection pressure for variants with an altered spike (as in Omicron) and therefore to promote mutational escape.
Above all, the reintroduction of Covid restrictions of any sort sets a bad precedent, encouraging those who pine for the societal restrictions of 2020-21. And if microbiological testing of travellers is to be adopted for SARS-CoV-2 from China, then why stop there? Why not demand STD tests for all students from a certain (publicly undisclosed) East Asian country, given that in 2021 several students from said country presented to UK clinics with highly antibiotic-resistant gonorrhoea?
Or what about travellers from India? If you visit India your gut is very likely to become colonised by extremely antibiotic-resistant Escherichia coli, which can seed subsequent urinary tract infections. Shall we demand a rectal swab from every returning politician who visits India seeking a trade deal? For what useful purpose?
Opposition to new restrictions on Chinese travellers should not be construed as sympathising with China's government. The CCP obstructed attempts to investigate the origins of the coronavirus. It first initiated the hugely damaging lockdown policies, promoted worldwide by WHO proxies. It treated its own citizens with a casual barbarism, welding them in their homes, separating children from parents and killing the household pets of those quarantined. It did a shabby job of protecting the old, using relatively ineffective vaccines. And it refused Western vaccines, despite real-world evidence from Hong Kong that these better protect the vulnerable elderly.
From its draconian Covid policies to its suppression of dissent in Hong Kong to its diplomatic thuggery in Manchester, the CCP is beyond any reasonable pale. But that is no good reason to punish ordinary Chinese people travelling abroad, by forcing them to take tests that will achieve nothing useful.
David Livermore is a retired professor of medical microbiology.
To enquire about republishing spiked's content, a right to reply or to request a correction, please contact the managing editor, Viv Regan.