Dominic Raab's 'bullying' is a fuss over nothing
Is it really a sackable offence to throw a tomato into a bag?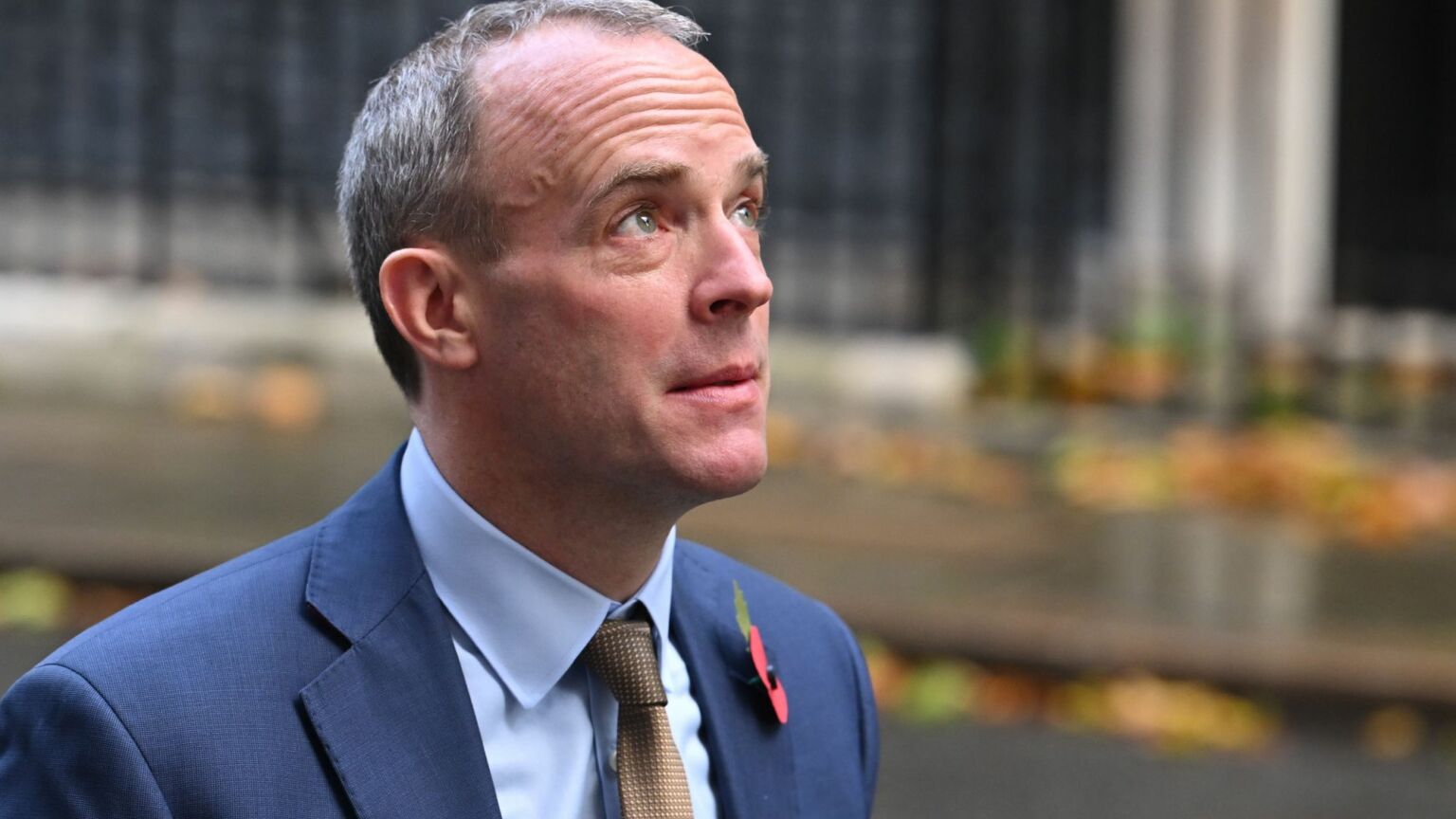 Another week, another government 'bullying' scandal. Fresh from the resignation of Cabinet Office minister Gavin Williamson last week, Rishi Sunak has now been pitched into a defence of re-appointed justice secretary Dominic Raab, who has been accused of bullying staff during his previous stint at the Ministry of Justice. Flying out to Bali yesterday for the G20 summit, Sunak told reporters that he didn't 'recognise' the behaviour described by Raab's anonymous accusers, and was unaware of 'any formal complaint about him'.
There is blood in the water around the Conservative Party, and the press is circling. With every fresh story, pressure grows on the government to do something to address the complaints about ministerial behaviour.
Whenever media pressure builds in this way, it's worth taking a brief pause for breath. If Sunak wishes to retain Raab, there is still room to do so. Despite the tone of the coverage, there is clear blue water between the alleged behaviour of Gavin Williamson and Dominic Raab. Williamson was at least facing formal accusations of wrongdoing from known individuals; Raab, so far, is not.
The only specific allegation against Raab we know about is that he once flinged some tomatoes from a Pret A Manger salad. Locked in a tense meeting in June, Raab allegedly 'began a tirade' before – in the words of the Metro's headline – he 'hurled three tomatoes across a room at staff' in a 'fit of rage'. Reading the article itself, however, things sound a little less severe. In this telling, Raab 'opened his Pret salad and threw three tomatoes out into a bag across the table making a loud noise'.
This lack of detail gives Sunak plenty of space to defend his minister. Much of what has come to light so far could all too easily be dismissed as the complaints of civil servants unhappy with a Conservative government. As Guido Fawkes has noted, while the material to date is 'all very interesting to a scalp-hungry lobby', it is also 'all very vague'.
It is not the purpose of this article to litigate the exact biomechanics of Raab's throwing technique, his potential to fill in for the England cricket side, or the precision of his aim. But it is an issue for Raab's critics that the strongest specific accusation levelled against him is that he picked some tomatoes out of a salad and tossed them into a waste bag.
The Guardian, which broke the Raab-bullying story last week, has also been unable to come with any specific, damning details of the alleged bullying. It reports that some staff who had previously worked with Raab were offered 'respite or a route out' when told that he would be returning to the Ministry of Justice. The Guardian also claims Raab created a 'culture of fear', although quite what that consisted of remains unclear. So until someone comes forward with a formal complaint, there are no real grounds for Sunak to dispense with Raab.
Dave Penman, the head of the civil servants' union, has argued that such a complaint may never happen, in part because there is a lack of an effective system for dealing with them. After all, civil servants can't sack ministers and they certainly can't force the prime minister to move them along (although they might, by underperforming, be able to get a minister sacked).
Perhaps that is why disaffected staffers are talking to the press. However, this itself creates a problem of trust. When the civil service is seen to be briefing against ministers, and the exact behaviour of those ministers is never quite spelt out, it does look as if the Blob is simply objecting to the government as a whole, rather than the specific individuals within it.
The most striking thing said by Penman was that he sees this government as no worse than its predecessors. Poor behaviour from ministers is 'essentially a constant', he said. 'It's not just about this government, it's every government.'
Perhaps the conclusion to be drawn from all this is that Westminster is not an easygoing workplace. After all, politics does not exactly call out for sensitive, conflict-averse souls. And there is often too much at stake to simply let things go for the sake of a more harmonious work environment. Instead, politics tends to be full of control freaks and big egos. Some may throw slices of tomato into waste bags from time to time. This is sadly the quality of MPs we've ended up with.
Sam Ashworth-Hayes is a freelance journalist.
To enquire about republishing spiked's content, a right to reply or to request a correction, please contact the managing editor, Viv Regan.