Loyalty is a two-way street
We shouldn't be surprised that RAF pilots are hawking their skills to China.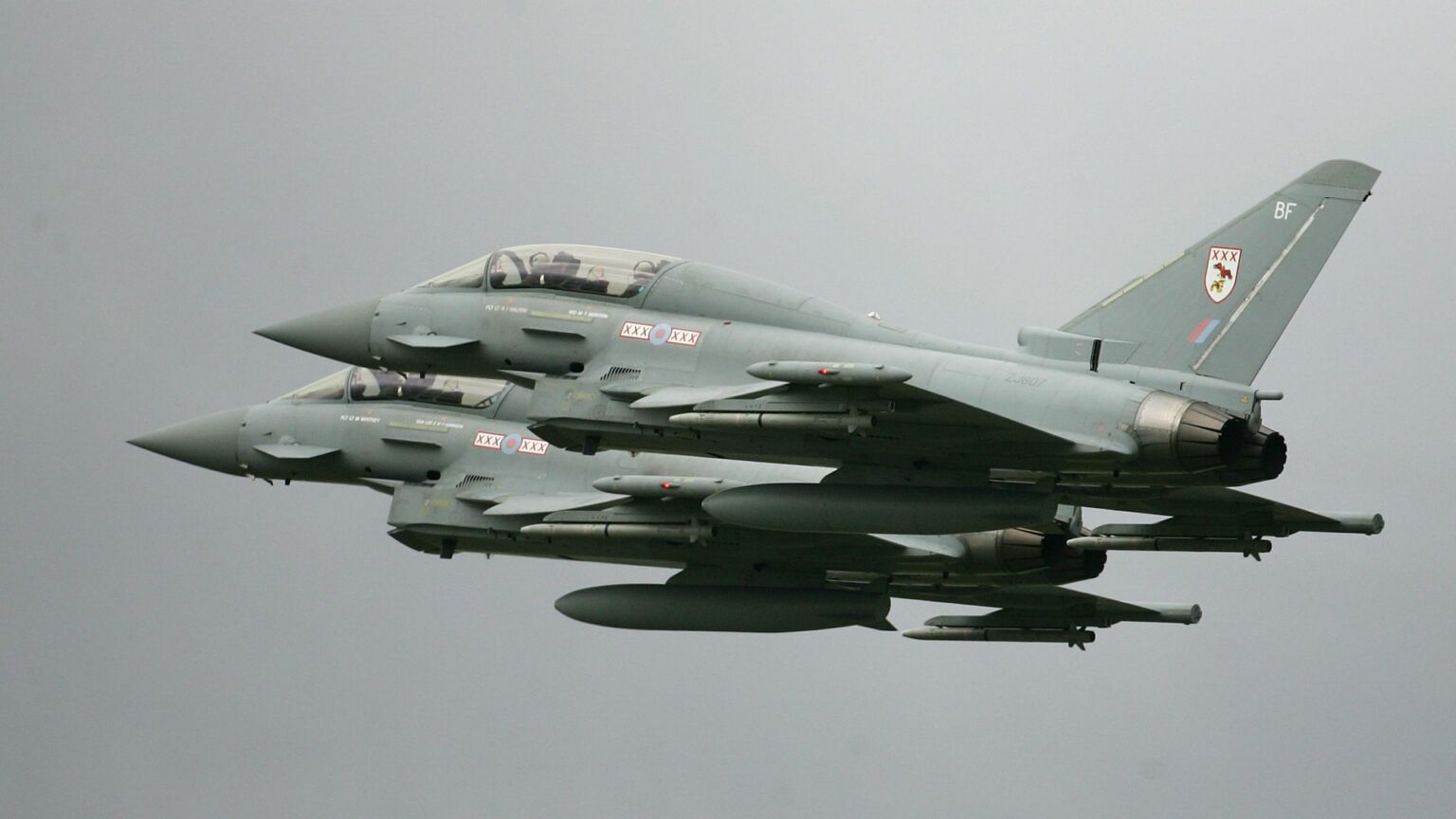 News broke this week that China has recruited dozens of former British military pilots 'to teach the Chinese armed forces how to defeat Western warplanes and helicopters'. According to Sky News' Deborah Haynes: 'Some 30 pilots – many ex-fast jet, but also some helicopter pilots, lured by annual salaries of around £240,000 – are currently in China training pilots in the People's Liberation Army, in what a defence analyst described as a stunning breach of security.'
The immediate and overwhelming consensus has been one of almost comical indignation, bordering on horror and disbelief. After all, it would be hard to imagine a more overtly treacherous act than taking money to school our adversaries in our weaknesses and limitations, and in how to neutralise our strengths.
And not just any adversary. China! We may be involved in a proxy war with Russia right now, but no one doubts the potential for China to be our biggest nightmare in the coming decades of struggle. It is, after all, the world's fastest growing challenge to Western, NATO and US-led military supremacy, under which umbrella our own air power has long sheltered.
Yet, amid the near-universal outrage have lurked a few renegade voices pointing out that this isn't happening in a vacuum. Nor is it happening in a culture where respect for those who serve, once earned, is forever honoured. RAF pilots are highly qualified, no doubt. But so too, it seems, is our appreciation of their service.
RAF pilots were once celebrated for their courage – for an almost cavalier disdain for risk that had made them, as Churchill reminded us in August 1940, deserving of an historically unprecedented debt of per capita gratitude. Yet they have more recently come to be seen as yet another example of 'toxic white masculinity'. And those drawn from the traditional stock of 'The Few' – the archetype that still informs the British public's imagination and no doubt that of eager Chinese recruiters – have been made to feel about as welcome as a fart in a sealed, high-velocity cockpit.
'RAF "pauses job offers for white men" to meet "impossible" diversity targets' ran a headline only a couple of months ago, in a story broken by the same Deborah Haynes (Sky News now beginning to sound like a literal descriptor of her beat). 'The alleged move', she wrote, 'has prompted the head of recruitment for the Royal Air Force – herself a senior female officer – to resign in recent days in protest'.
Throw in the well-established tradition of letting veterans decline as long and hard as their individual story arc demands and it is not too hard to imagine a glimmer of 'Very well then – fuck you!' bubbling up under such circumstances.
The elevation and prevalence of 'DEI' – that is, diversity, equity and inclusion – as a priority in human-resource management, attracts a lot of lazy scorn. It is perhaps too tempting to resent well-intentioned efforts to attract a wider range of acceptable candidates, to draw from a deeper well. The UK no longer looks like it did when the Battle of Britain was being fought. Wouldn't it be great if its defenders looked like the people they were defending? No doubt even in the armed forces, there are some occupations in which, long-term, hitting DEI targets could be more important than recruiting 'the best' in the immediate present.
But maybe there are other cases when criteria other than DEI targets should take precedence. And maybe these include those in which candidates themselves are facing the very real prospect of becoming actual targets – locked on to by some hostile digital crosshairs. When they are expected to embrace the fact that, if they or their colleagues make one single error, they might very easily, actually die.
Comedians often talk of 'dying' on stage, but my enjoyment of performing stand-up comes largely from playing with a sense of danger, without actually being exposed to any. I have no idea what kind of mental or moral resilience is required to function when real danger is in play.
Books such as Fortitude by Bruce Daisley and Sebastian Junger's Tribe suggest that it is largely a matter of interdependence, of mutual trust and reliability within a regiment, patrol or team, as much as individual excellence. Clearly, this is a two-way street.
So, imagine finding out that some on your team have been selected by criteria other than their chances of keeping you alive. Imagine then realising that your presence is publicly regretted – that you are seen by your bosses as some sort of unwelcome beneficiary of white privilege, hogging all the best kills. Is this not likely to grate, somewhat? Meanwhile, there is only so long you can ignore the sheer marketability of your personal skill stack.
In Douglas Adams' Hitchhiker's Guide series, there is a passage that I remember rang true even when I was 18. Ford Prefect, stranded on a primitive planet (ours), without recourse to technology such as Deliveroo to get himself fed, relies on certain Zen-like hunting techniques – specifically 'Pheromone Control', a technique he learned from 'some ex-Pralite monks running a Mind-Surfing resort'.
Who are these monks? 'The galaxy is littered with ex-Pralite monks', Adams tells us, 'all on the make, because the mental-control techniques the Order have evolved as a form of devotional discipline are, frankly, sensational – and extraordinary numbers of monks leave the Order just after they have finished their devotional training and just before they take their final vows to stay locked in small metal boxes for the rest of their lives'.
Sound familiar?
In his equally essential Dirk Gently books, Douglas Adams introduced us to another kind of fictional monk – the electric monk, who 'believed things for you, thus saving you what was becoming an increasingly onerous task, that of believing all the things the world expected you to believe'.
The market for such an appliance has surely multiplied beyond, well, belief, since those books were written over 30 years ago. No doubt the tech has been updated accordingly. But believing you can treat people like shit – let alone treat a genuine elite like shit – while expecting them to remain loyal? That would be a stretch even for the latest model, I think.
Simon Evans is a spiked columnist and stand-up comedian. He is currently on tour with his show, Work of the Devil. You can buy tickets here.
To enquire about republishing spiked's content, a right to reply or to request a correction, please contact the managing editor, Viv Regan.