Putin's most dangerous escalation yet
Annexing parts of Ukraine raises the stakes of this war to near existential levels.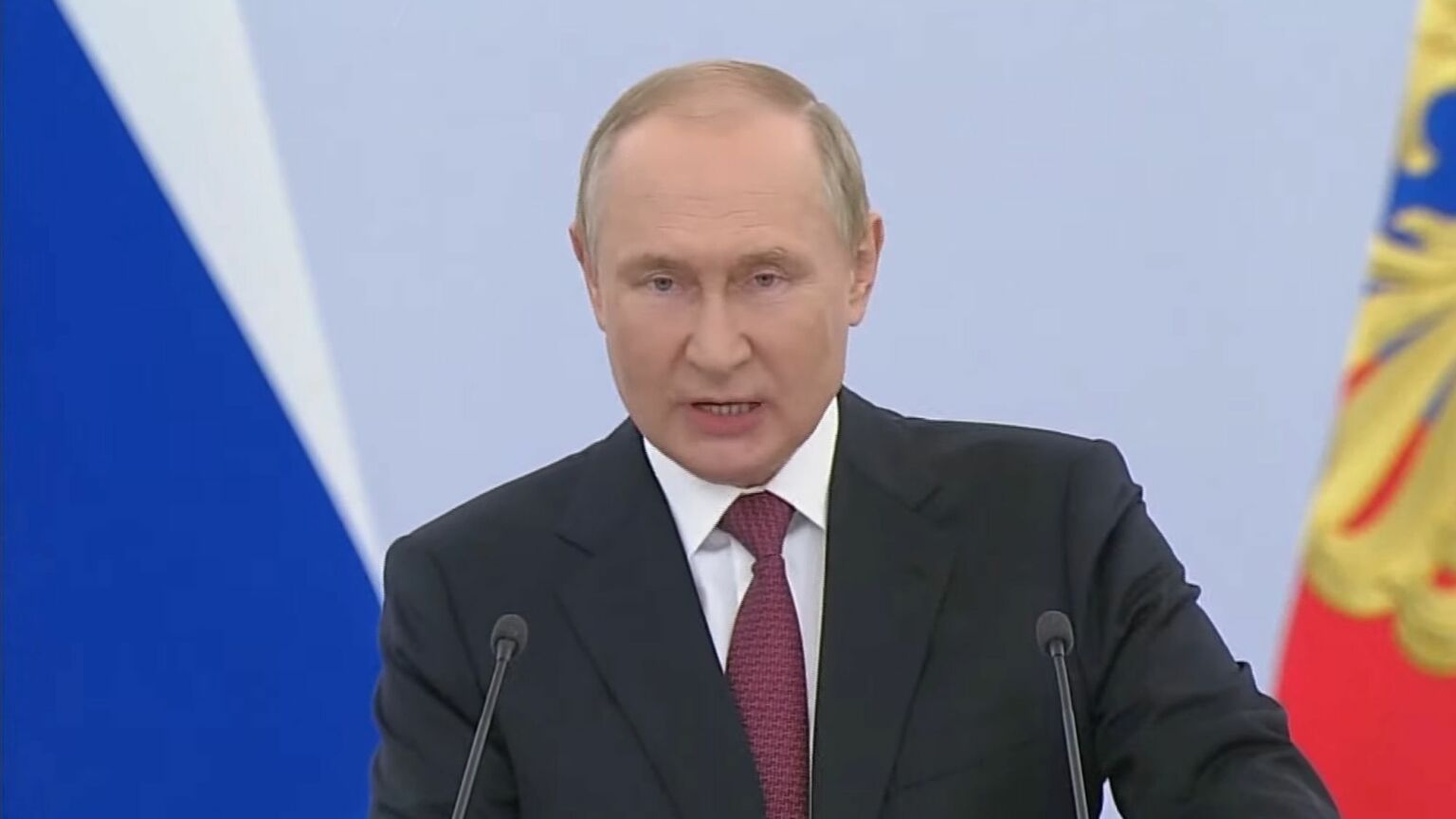 The Kremlin hall made for a suitably grand setting for Russian president Vladimir Putin's big annexation announcement on Friday. After all, this was supposed to be a historic moment. Four regions in eastern Ukraine were to become part of Russia, clear proof that the conquest of Ukraine was finally going to plan.
Putin certainly sounded confident addressing the assembled politicians and other notables, smiling and clapping on cue. 'People living in Luhansk and Donetsk, Kherson and Zaporizhzhia are becoming our citizens', he said firmly, before adding: 'Forever.' After the signing ceremony, the heads of Russia's new territories clasped hands with Putin and chanted 'Russia! Russia!'
But reality has once again intruded upon Putin's fantasy. Almost at the very moment he was presenting Luhansk, Donetsk, Kherson and Zaporizhzhia as parts of Russia, Ukrainian forces were enjoying further success in their efforts to retake them – Lyman, a town in Donetsk, was about to fall to Ukraine.
That Lyman has now been fully re-taken by the Ukrainian army is hardly a surprise. Over the past month, Kyiv has made rapid gains in hitherto Russian-occupied territory in eastern Ukraine, retaking almost the entirety of the Kharkiv region and even pushing Russian forces back to the Russian border. It is also now making gains in Luhansk, Donetsk and Zaporizhzhia. And it is being reported today that Ukrainian forces have liberated the small Arkhanhelske and Myrolyubivka settlements in Kherson.
This means that Russia does not have full control of any of the regions it now claims as its own. It lends Friday's formal annexation ceremony an air of absurd unreality. Putin was claiming Ukrainian territory as Russia's own at the very moment his forces were being driven out of it.
But then Moscow's decision to annex the four regions was never driven by the reality of the war in Ukraine. It wasn't a response to Russian success, a chance to consolidate on firm territorial gains. If it was, the Kremlin might have carried out the annexation sooner, when it really did look as if Russia had tightened its hold on Donetsk and Luhansk. Indeed, earlier this summer, the Kremlin had planned to stage pseudo-referenda in the regions before formally annexing them at the beginning of September. But it decided against this after the FSB, Russia's security force, told Moscow that the situation was too volatile. It is fair to say that conditions are even less conducive to annexation right now.
No, Moscow's decision to incorporate the four regions, with the Ukrainian counteroffensive gaining ground, was driven not by battlefield reality. It was driven by internal pressure from within Russian political circles. After the military failures of the past month or so, hawkish Russian nationalists, and even some softer state-media talking heads, have become increasingly and openly critical of the Russian war effort. The announcement of a partial mobilisation two weeks ago and now these annexations were, in part, an attempt to appease the Kremlin's critics.
It is unlikely to work. Putin's critics don't want gestures and ceremonial spectacles. They want a clear military triumph. So as news of Lyman's fall came through over the weekend, Russian nationalist bloggers continued to criticise the prosecution of 'the special military operation'. Putin ally and Chechnyan president Ramzan Kadyrov even suggested the time was right to deploy a low-yield nuclear bomb in response to Ukraine's advances.
The annexation of Ukrainian territory may be absurd, but it has real and dangerous implications. Almost overnight, Ukrainian forces liberating Ukraine have been recast as invaders of Russia. This, in Moscow's legalistic terms, permits it to use 'all means' in defence of what it now sees as formally Russian territory. And that includes nuclear weapons. So far, the Kremlin has refrained from going that far in defence of its putative territory, even after Ukraine staged high-profile attacks during the summer in Crimea, which Russia annexed in 2014. But such is the desperation of Putin, fighting a war that he cannot afford to lose, that anything could happen.
That is why the annexation, as cruelly ridiculous as it is, is so dangerous. It is Putin's most brazen act of escalation yet, raising the stakes of a conflict to near enough existential levels. For Ukraine to win its national freedom, Russia now has to lose part of its territory. Thanks to the absurdity of this annexation, the conflict has been turned into a zero-sum game. While it was difficult to see a way in which Putin could come to the negotiating table before the annexation, it is nigh-on impossible now. Ukrainian president Volodymyr Zelensky admitted as much early last week, when he said that annexation would sever any chance of diplomatic negotiations with Putin.
Ukraine's battlefield advances should be celebrated by anyone who supports national sovereignty. But we should be in no doubt just how entrenched this war now is. Putin has backed Russia into a corner. According to the Moscow Times, the Kremlin is now preparing for a protracted conflict lasting years. 'We are transitioning into a wartime economy. Everything related to development – infrastructure, education, health – is taking a back seat', explained a source in Russia's finance ministry.
A wartime economy, partial mobilisation and now absurd annexations. All this may hearten Putin's hardline nationalist critics. But it is turning a war he cannot win into one he must not lose.
Tim Black is a spiked columnist.
To enquire about republishing spiked's content, a right to reply or to request a correction, please contact the managing editor, Viv Regan.