Trans: a fetishised view of womanhood
What that Canadian teacher with giant breasts reveals about trans identity.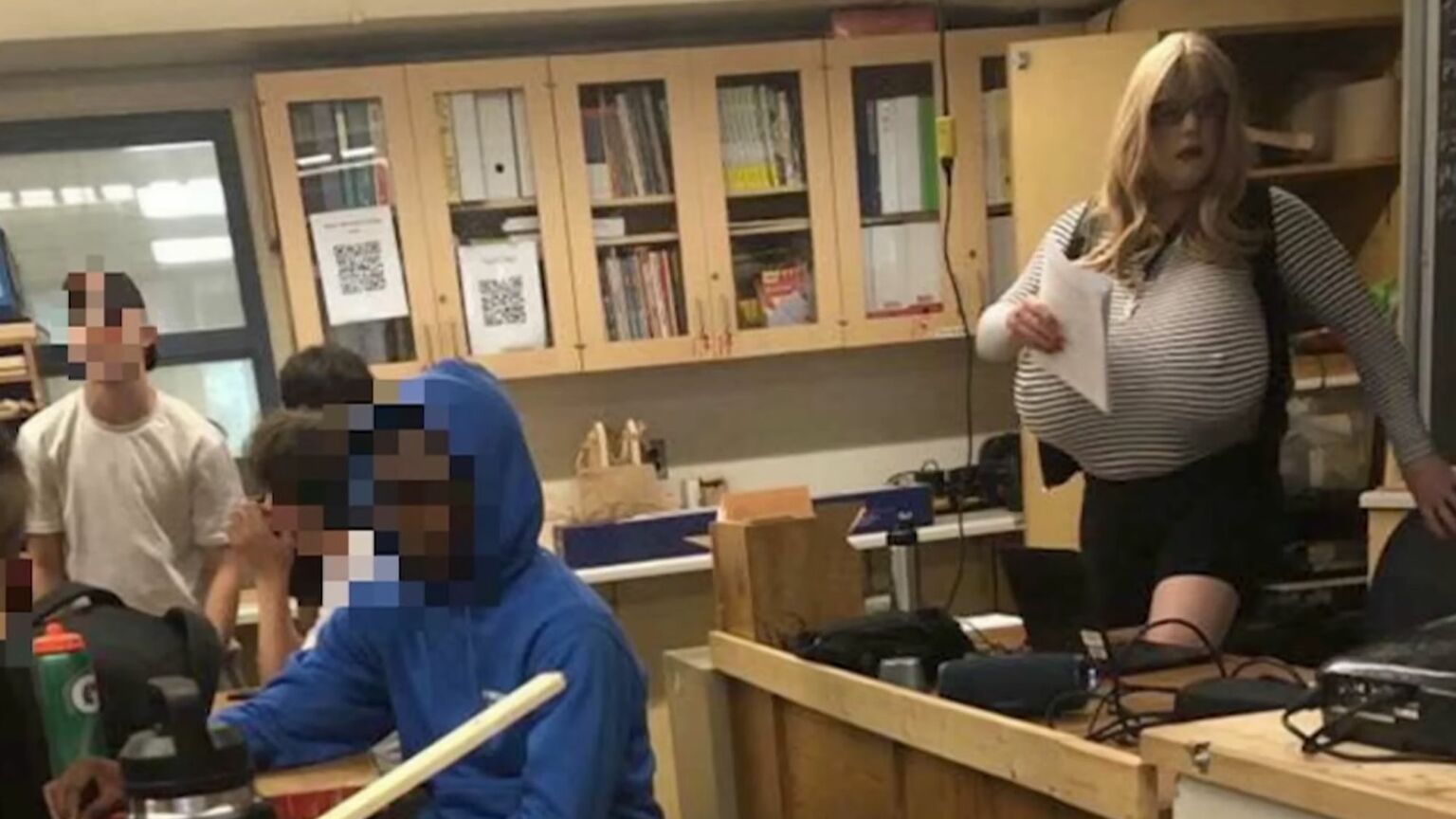 There are some occasions when it is perfectly acceptable for men to don dodgy wigs and strap on comically large plastic boobs – think stag dos and drag nights. But it is generally agreed that such antics ought to be kept out of schools and away from children. As such, when the first photos and videos surfaced of a Canadian school teacher wearing a gargantuan set of fake breasts with protruding nipples, most people assumed it must have been a hoax. It was not.
Feminist magazine Reduxx was first to report last week that the man in the now viral photos uses the name Kayla Lemieux and teaches at Oakville Trafalgar High School in Ontario. The middle-aged woodwork instructor allegedly began 'identifying as a woman' last year. To complete the look, he also dons a blonde wig, which looks like it is from a joke shop, and a wincingly snug pair of cycling shorts. In the photos, Lemieux does at least wear sensible flat shoes – presumably mindful of the school's health-and-safety policy when in the wood workshop.
'The kids here most definitely don't think it's normal… but realistically we can't say anything', says one Oakville student in Reduxx's report. 'Last year, the teacher was a man. I don't think the school can fire him.'
Is it appropriate for a male teacher to wear what essentially amounts to fetish gear in the classroom? When the local school board was asked this question, it simply reiterated its commitment to maintaining 'a safe, caring, inclusive, equitable and welcoming learning and working environment for all members of the school community'. And ultimately, because the school is in Canada, where simply refusing to use an individual's preferred pronouns can be considered a hate crime, the board has no other option but to keep quiet. The teacher identifies as trans and so his 'gender identity', however he chooses to express it, has to be respected.
The situation is both darkly funny and tragic. A man appears to be brazenly defying all social norms of appropriate dress. And yet anyone who questions his right to do so could face legal consequences and the smear of transphobia. Some will no doubt sneer at those who worry about how this behaviour might impact on students. But it should be remembered that one of the key things that separates children from adults is that youngsters are still learning to understand social boundaries. By allowing a teacher to behave in this way, the school is effectively signalling to students that a man can become a woman by changing clothes and that sexualised performances are acceptable not just in public, but also in essentially any context.
We know the teacher's display is not normal. And we know that if he did not identify as trans, people would have no qualms about calling it out. For instance, earlier this year, pop singer Christina Aguilera appeared on stage at LA Pride with a foot-long bejewelled schlong dangling from her nether regions. She was widely criticised for the stunt. Arguably, this was a reasonable response. Parading with a sex toy in front of an audience at a Pride event that was marketed as 'family friendly' is, at the very least, in bad taste.
Nevertheless, it is now normal for men to be applauded as brave when they perform 'womanhood' in a similarly sexualised way. When Bruce Jenner said 'Call me Caitlyn' in 2015, Vanity Fair magazine featured him posing coyly in women's underwear. He would later be named Glamour magazine's 'Woman of the Year'.
Today, men who might once have been understood to be transvestites or cross-dressers are now regarded as brave transgender pioneers. They are hailed for breaking down the boundaries of gender norms and stereotypes. Yet, despite the rebranding, what motivates many people who identify as trans is as apparent as the fake nipples on Lemieux's chest.
For the 2013 book, Men Trapped in Men's Bodies, US psychologist Anne Lawrence, a self-described transsexual, interviewed numerous men who get aroused by the thought of being perceived as female. One interviewee recalls, with surprising candour, that he has 'fantasies of being dominated, feminised, dressed by women'. 'I love to dress outrageously and go out in public for the shock value', he adds.
Ultimately, it doesn't matter if a man stuffs a bra with a modest handful of tissues or hefts around a massive pair of silicon mammaries, the idea that such a costume is a sincere expression of womanly 'gender identity' is beyond insulting to women. Prosthetics such as those worn by the Oakville teacher make clear that many men who pretend to be women have drawn their beliefs about what makes a woman from pornography. It is notable that such men seldom seek to express their 'gender identity' by doing the myriad of mundane chores that still, in many households, fall to women. It is as if being on hand to pick the kids up from school when they are sick or remembering family birthdays don't validate one's sense of womanhood in quite the same way.
Ultimately, transgenderism is largely a male fetish that wears the clothes of a civil-rights campaign. Viral stories like that of the Canadian teacher are to be welcomed. They expose the mantra of 'transwomen are women' for the dangerous fantasy that it is.
Jo Bartosch is a journalist campaigning for the rights of women and girls.
To enquire about republishing spiked's content, a right to reply or to request a correction, please contact the managing editor, Viv Regan.