The limits of Ron DeSantis' migrant stunt
Exposing liberal hypocrisy is easier than finding real solutions to the immigration mess.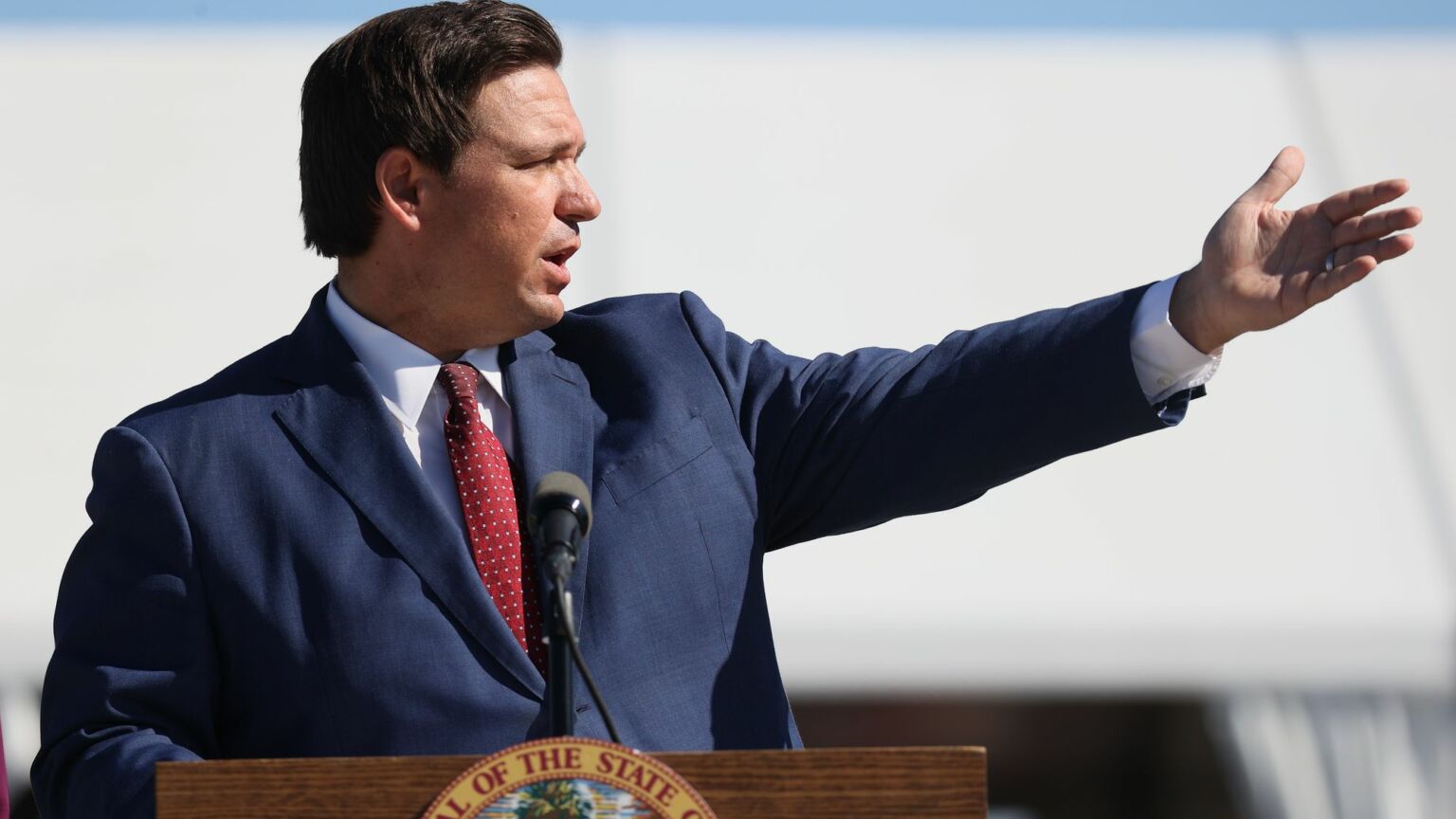 Ron DeSantis likes to go on the political offensive. The Republican governor of Florida did so again last week, when he arranged for 50 migrants, mostly Venezuelans, to be transported to Martha's Vineyard.
This island off the coast of Massachusetts was selected by DeSantis for a reason: it is home to wealthy Democrats with multimillion-dollar mansions, including Barack Obama, who owns a $11.75million vacation home there. The people of this woker-than-thou enclave parade their liberal pieties. Posters around Martha's Vineyard declare 'All are welcome here' and 'We stand with immigrants'.
DeSantis' gambit exposed these sentiments as bullshit. To say the citizens of Martha's Vineyard freaked out would be an understatement. They called the National Guard, declared the arrival of 50 people a 'humanitarian crisis' and within 24 hours had the migrants shipped out to a military base 32 miles away.
It is a 'cruel, premeditated political stunt', said White House press secretary Karine Jean-Pierre. Yes, DeSantis' ploy was a stunt, but that doesn't mean it was not effective politics. One point of the stunt was to incite the liberal elite to overreact and draw attention to the issue of immigration. That certainly worked: CNN, which like most media has had a virtual blackout on coverage of the border, rushed to Martha's Vineyard, treating it like a national emergency.
Beyond that, many will have picked up on the liberal hypocrisy that DeSantis sought to highlight. Liberals in Martha's Vineyard and elsewhere went 'berserk' (in DeSantis' words) after just 50 people disrupted their comfortable lives for a day. Yet they and the Biden White House have ignored the far-worse situations in towns along the border with Mexico, which have been taking in thousands every day for years. It is easy to virtue-signal and declare your compassion for immigrants when the consequences of an unchecked border are thousands of miles away. DeSantis was giving them a small taste of the reality of border-town life, and within 24 hours they had had enough.
'The border is secure', says vice-president Kamala Harris, who is supposed to be overseeing immigration policy for Joe Biden. She's gaslighting Americans. US Customs and Border Protection is experiencing 200,000 encounters on the border each month. More than two million encounters are expected for fiscal year 2022, which ends later this month – a big increase from fewer than 500,000 in 2020, the last year of Trump's term in office, and one million in 2019.
The Biden administration's approach to the US-Mexico border has been one of wilful neglect. In his first week in office, Biden revoked Trump's Remain in Mexico policy, which temporarily removed migrants from the US. This past April he ended a policy known as Title 42, a Covid-emergency power that also allowed more expulsions – although this has been stayed by the court system for now. Biden's loose policy is a sop to his progressive Democrat base, which wants de facto open borders.
Currently, around 35 to 40 per cent of migrants entering illegally are allowed in to America, and that is likely to increase if and when Title 42 ends. Once in, there are significant immigration-court backlogs of up to three years, according to an analysis by Syracuse University. Moreover, some 80 per cent of illegal immigrants released into the US between 2014 and 2020 did not report to their immigration proceedings.​​
Democratic Party policy and practice is an affront to laws passed via the democratic process. Mayors declare their cities to be 'sanctuaries' for immigrants, defying federal immigration law. Did anyone vote for open borders? No, and certainly not the people of McAllen, Texas and other border towns. But open borders are what Biden and his allies are introducing by the backdoor. The chaos on the border is not only overwhelming the resources of these towns, putting enormous stress on health and education services. It is also not good for the migrants themselves, who are encouraged to make dangerous trips. This year alone approximately 750 have died at the border, from drowning or other causes. You cannot blame the people for wanting to come to the US for a better life, but this is not the way to do it.
DeSantis' Martha's Vineyard stunt followed similar efforts by Texas governor Greg Abbott, who in recent months has sent thousands of asylum-seeking migrants on buses to Washington, DC, New York and most recently Chicago. 'Republicans are playing politics with human beings, using them as props', said Biden. Muriel Bowser, the mayor of Washington, DC, accused Abbott of using 'desperate people to score political points'.
DeSantis and Abbott can be fairly accused of using migrants as pawns, but so can Biden and the Democrat mayors. For months the White House has transported thousands of migrants around the country, often late at night to avoid publicity, and with no notice to local officials. Even the Department of Homeland Security, which has increased the number of migrants shipped to northern cities, jokingly refers to their approach as the 'Abbott plan'.
As for charges that DeSantis and Abbott are 'cruel' and 'inhumane', it is hard to see why sending migrants to wealthy enclaves like Martha's Vineyard, or to big cities, deserves such an overblown description. The migrants are certainly in a safer place than they were along their journey. An MSNBC reporter discovered that the migrants transported to Martha's Vineyard 'are not angry at Ron DeSantis, they are actually thanking him for having brought them to Martha's Vineyard'.
And these northern locations certainly have more social services than the towns along the southern border. Mayor Bowser insists that Washington DC 'is not a border town', but why shouldn't all parts of the US bear the burden of immigration – especially in a city that says it is a 'sanctuary' for immigrants? The truth is that leading Democrats want to spout platitudes about immigration without facing the consequences.
Neither major political party comes out smelling good after this latest episode. It's an embarrassment that both parties are bussing and flying migrants around the US, as if that is normal. In justifying his Martha's Vineyard gambit, DeSantis called on Biden 'do his damn job and secure the border'. Yes, a more secure border is obviously needed. But the US also needs to devote more resources to the asylum system, and create clearer pathways for immigrants to enter legally and in a more orderly fashion.
It seems pretty clear that DeSantis is trying to establish himself as a future presidential candidate for the Republicans. His combativeness is a plus for the Republican base. But if he wants to be taken seriously as a statesman and leader for the entire country, he can't settle for exposing Democrat hypocrisy and scoring small propaganda points. He will need to couple his denunciations of the current immigration mess with real solutions. Until he or others step up, American politics will remain more performative than substantive.
To enquire about republishing spiked's content, a right to reply or to request a correction, please contact the managing editor, Viv Regan.