Why was Alexander Dugin's daughter assassinated?
Everything surrounding the Russian philosopher, occultist and unofficial diplomat is shrouded in mystery.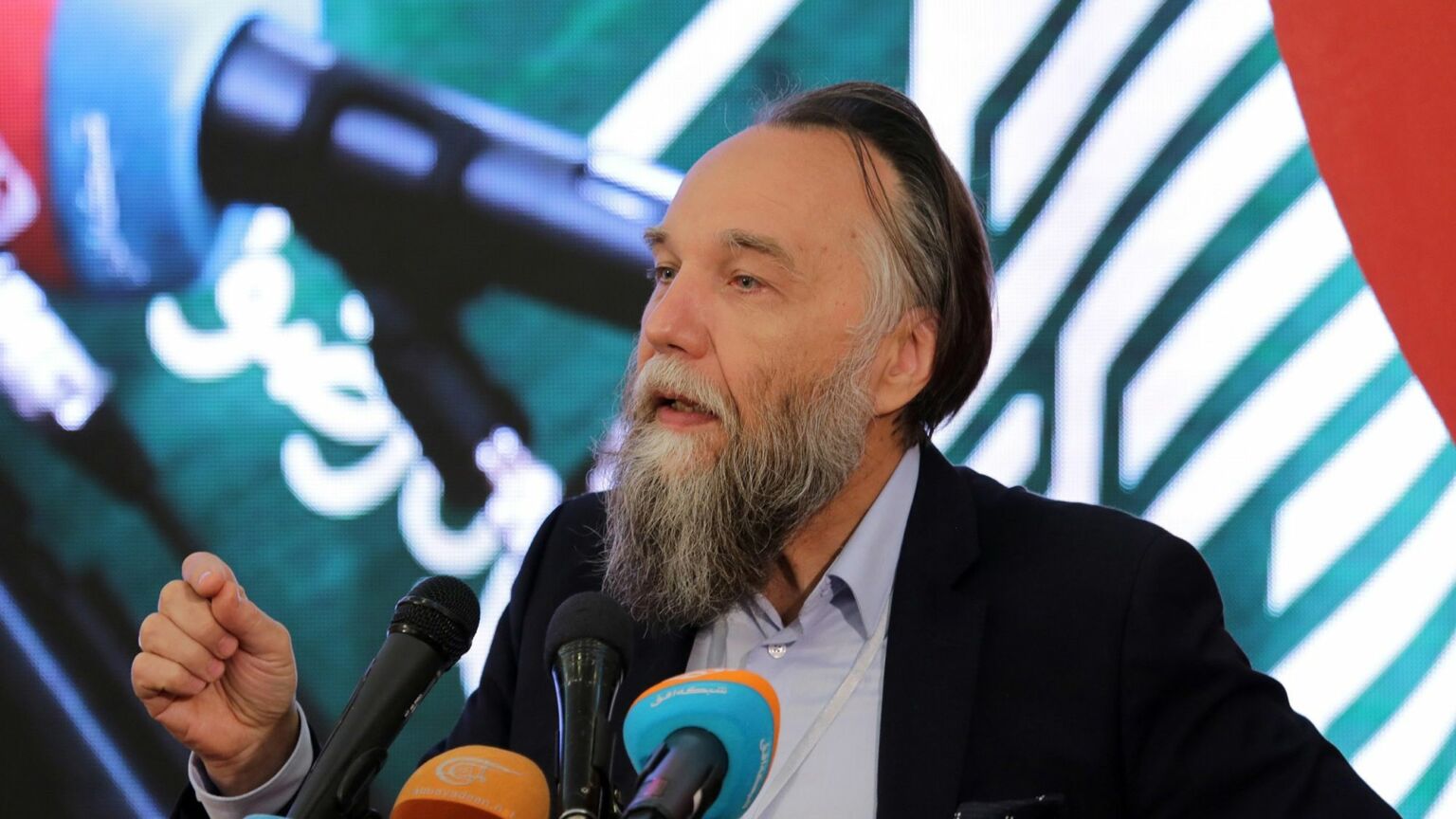 The images from Moscow from Saturday night will be hard to forget. Notorious philosopher and political operative Alexander Dugin was filmed standing by a busy road strewn with smouldering shrapnel, his hands pressed to his temples as he gasps for air. Across from him, fire engulfs a Toyota Land Cruiser containing his daughter's burning corpse. A car bomb, it seems. The assailants may have assumed he would be riding in the vehicle, too.
I have met and interviewed Alexander Dugin many times, and I still struggle to explain who he is. We could call him a writer, a former professor, a media figure, an occultist or a pseudo-diplomat. He espouses a radical anti-liberal, anti-modern political theory – plain fascism in the eyes of some – which he uses to condemn the West as inherently belligerent and decadent. Through his commentary and his international networks, he pushes political actors and states to align with Russia. Domestically, he campaigns for his homeland to reassert dominance in the former Soviet territories.
Dugin's daughter, Daria Dugina, doubled as his protégée, especially in the media. She shared his penchant for recasting conflicts in grand metaphysical terms – the war in Ukraine, for instance, pits 'life' against Satanism, black magic, and death, Dugina said recently. And just weeks before her murder, she traveled to the Azovstal metal plant in Mariupol, where Ukrainian Azov soldiers made a last stand before surrendering to Russian invaders. Daria was there to film and take celebratory selfies in the wreckage.
Understanding the context and significance of the assassination will be every bit as challenging as understanding the targets. You can easily find commentary calling Dugin Vladimir Putin's 'brain' or his 'Rasputin', framing Dugin as a mastermind sitting in the Kremlin. Those are false accounts – Dugin has never had substantial contact with Putin.
And in response to such hyperbole, there are just as many journalists and scholars eager to present themselves as more sensible and knowledgeable, who proclaim the opposite extreme: that Dugin is meaningless and we have all just been fooled by his propaganda campaign to inflate himself and his importance. Those takes have aged especially poorly.
When trying to understand Dugin's intellectual and cultural influence, one problem we have is that it is essentially untraceable. Dugin's books, like Foundations of Geopolitics, were taught to a generation of Russian military leaders after the fall of the Soviet Union. The book itself doesn't circulate like it once did. But that says nothing of the ideas it contained.
Some, like author Charles Clover, have highlighted instances when Putin's public rhetoric seemed to mimic Dugin's – especially during the 2008 Russo-Georgian War. Even casual observers may have heard about Dugin's networking with political leaders throughout the world – among Europe's far right, in Iran and Pakistan, or with former Trump adviser Steve Bannon.
Leaked US intelligence reports suggest that Putin sent Dugin on diplomatic missions to Turkey during the early 2000s. Turkey's former head of military intelligence has claimed Dugin played a role in defusing tensions between Russia, Turkey and Syria in 2015-16, after Turkey shot down a Russian fighter jet.
Granted, throughout all of these instances, the Kremlin has shown no interest in associating itself with Dugin. Nor has it ever intervened on his behalf in his private affairs. For instance, Dugin was successfully ousted from a professorship at Moscow State University after allegedly calling for a genocide of Ukrainians during the 2014 Russian invasion. A true partner of the Kremlin would have kept his seat.
So, what level of influence or political significance does all of this amount to? It is impossible to say with any confidence. He has all the outward markers of a phoney – with his tireless efforts to build a mythos around himself. And he is arguably more a darling of the international far right than of the Kremlin. But in today's world, a kooky far-right philosopher is not necessarily a nobody.
The lack of formal ties between Dugin and Putin says nothing of his ability to represent and lobby on behalf of Russia internationally, nor of his ability to function as a figurehead for the Russian military and for Russia's expansionary aims. Indeed, as Mark Galeotti recently said of Dugin: 'If people think him important, then to a degree he becomes important.'
That point, if nothing else, seems to have been resoundingly affirmed in the aftermath of his daughter's killing in Moscow. There is now an international scramble to assign blame and make political use of the attack.
Though the Ukrainian government has denied involvement, it is possible that the government or a fringe Ukrainian force could have targeted Dugin. This hardly seems necessary at a time when its military has momentum. But Ukraine could still theoretically benefit from linking Russia with someone as ideologically unpalatable to the West as Dugin.
Alternatively, the killing can be framed by Ukraine as an example of the dysfunction of the Russian state. Indeed, shortly after the attack, a pro-Ukrainian former Russian MP claimed that a domestic Russian partisan group had carried out the car bombing. The inference being that Putin faces increasingly serious challenges to his power internally. Certainly, that is the line currently being taken in the Ukrainian media domestically.
It is indeed possible that the attack came from some extension of the Russian state. The motivations could include retaliation for Dugin's public criticisms of Putin (Dugin says Putin hasn't been nearly hawkish enough). Or it may be an attempt to make Dugin's daughter a martyr – to blame Ukraine for the killing, which can then be held up as an example of the alleged callousness of the Ukrainians.
The Russian security service – working with newfound efficiency – quickly claimed to have discovered a specific culprit: Natalia Vovk. Vovk is a member of Ukraine's infamous Azov Regiment – much discussed in the Russian media due to its far-right origins. Russia alleges that Vovk entered the country, planted and detonated the bomb, and escaped to Estonia – all in a Mini Cooper with her young daughter in tow.
Perhaps the story is altogether more banal. Dugin has had many professional relationships, with everyone from intellectual collaborators to benefactors and investors, that have turned sour and hostile. He has many enemies. Perhaps it has nothing to do with any state actor. And opportunistic states are simply framing the murder in ways that suit their interests.
Dugin issued a statement following the attack, calling not for vengeance or retribution, but for 'victory', in apparent reference to war in Ukraine. 'We wanted to raise her to be smart and a hero', Dugin said of his daughter. 'Let it inspire the sons of our fatherland to face the challenge even now.'
Putin also released a statement of condolence, saying of Daria that 'she honestly served the people, the fatherland [and] proved by deed what it means to be a patriot of Russia'. Nothing in Putin's statement hints at a special relationship between himself and Daria's father. If Putin felt in any way indebted to or aligned with Dugin, he is no more interested in saying so now than he has been in the past.
And yet Putin may no longer have a say in the matter. As both the Ukrainian and Russian attempts to spin the attack show, Dugin is serving as a symbol for Putin's Russia. We are told that political forces, whether from within or outside Russia, are expressing hostility toward the president by targeting the philosopher. What this means for Putin, to be even more deeply associated with a figure so radical and so eccentric, remains to be seen.
Benjamin Teitelbaum is the author of War for Eternity: The Return of Traditionalism and the Rise of the Populist Right.
To enquire about republishing spiked's content, a right to reply or to request a correction, please contact the managing editor, Viv Regan.