The tragedy of Mick Lynch
The trade-union leader risks being co-opted by the middle-class left.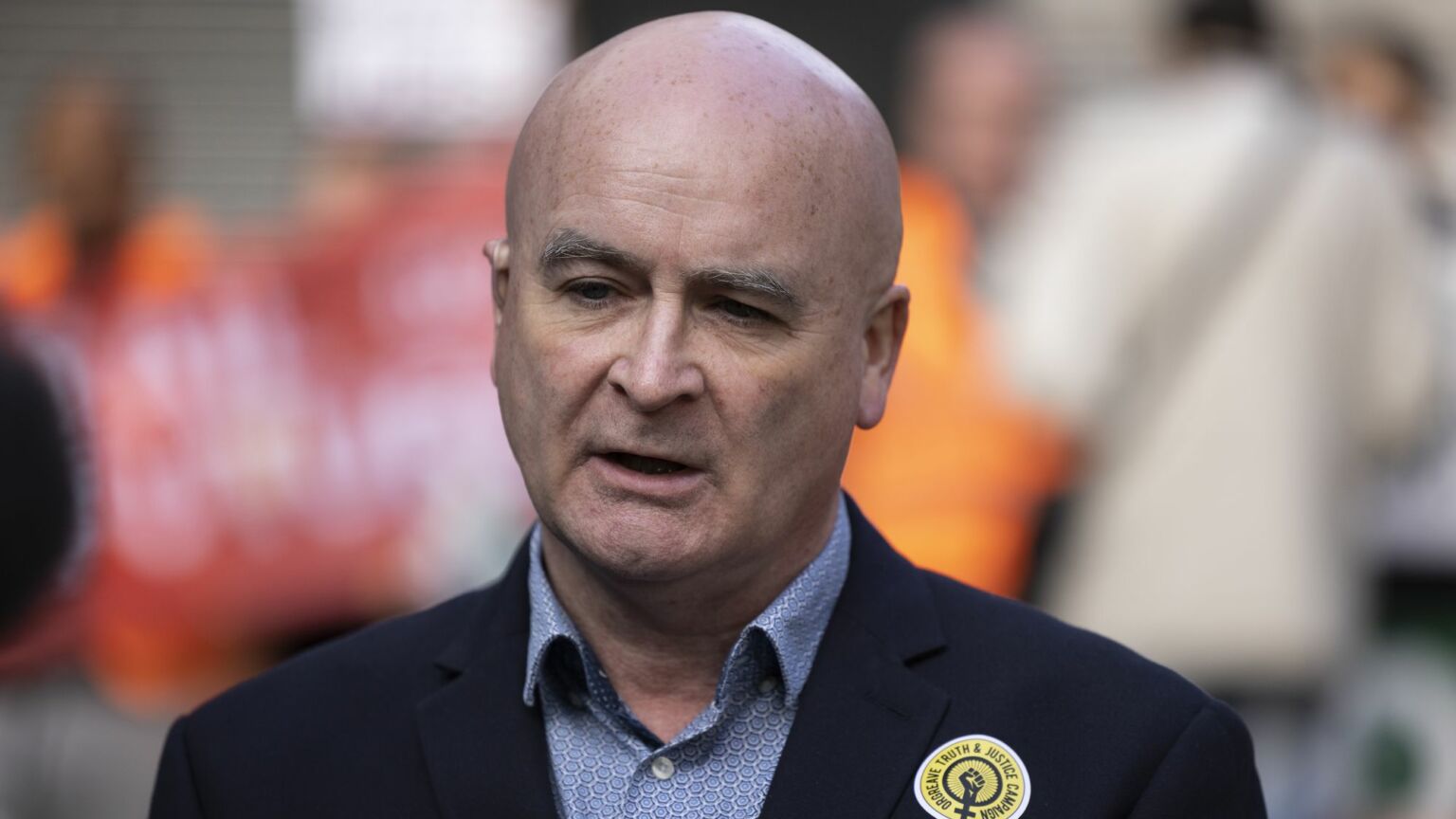 It didn't take long for the Corbynista crowd to appoint Mick Lynch, secretary-general of the RMT union, as their new messiah. For a moment, I had hoped he might politely decline the offer to sit at that insufferable table.
Sadly not. Lynch has now taken a starring role in the Enough is Enough campaign, which was launched officially this week in Clapham, south London. It is billed as a campaign against the cost-of-living crisis.
Aside from Lynch, the campaign features a mixture of trade unionists and Corbynista leftists. The middle-class, hipster London left seems to be its primary audience, with the new media set from Novara Media and Joe.co.uk giving the campaign their enthusiastic backing.
Corbyn himself could not have fronted the campaign, of course. Despite all the wholesome tales we were told of Jezza making homemade jam in his humble, million-pound abode, the former Labour leader never quite managed to win the public's affection. It may have had something to do with Jews in his party being harassed and discriminated against under his leadership. Or perhaps it was because he called murderous groups like Hamas and Hezbollah 'friends'. I suppose we'll never know. Either way, Corbyn is old news and his brand is (to use one of the woke left's favourite expressions) toxic.
Lynch, on the other hand, is an impressive man. He is astute, knowledgeable, forthright, straight-talking and principled. He is also both authentic and likeable – rare qualities on the contemporary left.
The problem for much of the left is not so much the policies – on the economy, at least. When articulated well enough, policies promising greater redistribution and fairness will usually get a sympathetic hearing from the public.
The problem for modern 'socialism' is that the people spouting it today are often posh and intolerant. Working-class people (leftists' supposed target audience) can spot this a mile away and are quickly put off. And, as we saw frequently during the Brexit years, whenever working-class people reject what is said to be good for them, the bourgeois social-justice warriors turn on those they claim to care about, calling them fascists and / or stupid. Being both out-of-touch and condescending is not exactly a winning strategy – but, bless them, the bourgeois leftists persist with it.
Mick Lynch, however, seemed different. He burst into the public's consciousness back in June, propelled by the first wave of rail strikes. As an old-school union representative, he seemed to get what matters to the average person. And he delighted TV viewers by taking the establishment media to task, time and again, in a calm, frank and intelligent manner. He displayed a star quality in an otherwise dull political landscape. Even those on the right would probably like to have a pint with him.
Lynch had a real chance to do something different. To start a genuine, organic conversation about bread-and-butter issues around the economy and low pay. So it is a shame that he is now being held up as the figurehead for Momentum 2.0.
And much like the old Momentum, Enough is Enough is very much a Corbynista vehicle. The campaign's director is Ronan Burtenshaw, editor of Tribune magazine – house journal of the Labour left. The sole shareholder is Chloe Koffman, a writer who also contributes to Tribune.
The rest of the campaign's listed supporters are made up of trade unions, community organisations and two Corbynista Labour MPs: Zarah Sultana and Ian Byrne. (Sultana seems especially ill-suited to front a cost-of-living campaign, having once spent over £700 of taxpayers' money on an 'influencer toolkit'.)
Early on in the strikes, Lynch seemed to understand that the left needed to engage with people on their level rather than indulge in student politics. He addressed people's economic concerns. He was calm and measured about the challenges facing his members. This approach won over supporters and showed up his opponents. That middle-class Corbynistas, who helped to sink the Labour Party among working-class voters, are now trying to piggyback off of his success is tragic.
Those involved in the campaign are already getting far too ahead of themselves. At the Enough is Enough launch rally, Guardian journalist Aditya Chakrabortty gushed that the venue was packed and there were 'queues around the block'. He quoted a 25-year old attendee who compared the excitement surrounding Enough is Enough with the early days of Corbyn. Judging from photos of the crowd, it's an apt comparison – the campaign seems to be attracting a similarly bourgeois demographic. Surely, if Corbyn's Glastonbury appearance taught us anything it's that a large crowd of hipsters at a gig is no measure of broader public appeal.
One speaker at the Enough is Enough rally gave the game away as to what might really be motoring this campaign. CWU general secretary Dave Ward said on stage that the campaign 'goes on with or without Labour'. This was a not-too-subtle hint that the 'purged' left is back and resurrected from the ashes. And so the cost-of-living crisis is turned into yet another stage for an indulgent, factional squabble in and around the Labour Party.
The Mick Lynch phenomenon had a lot of promise. It would be a real shame if all it ended up achieving was the temporary revival of the bourgeois Corbynista movement. A moment for real change would have been squandered.
Jordan Tyldesley is a writer. Follow her on Twitter: @pippybing.
To enquire about republishing spiked's content, a right to reply or to request a correction, please contact the managing editor, Viv Regan.