Joan of Arc was not 'nonbinary'
History's most powerful women are being 'reimagined' as trans.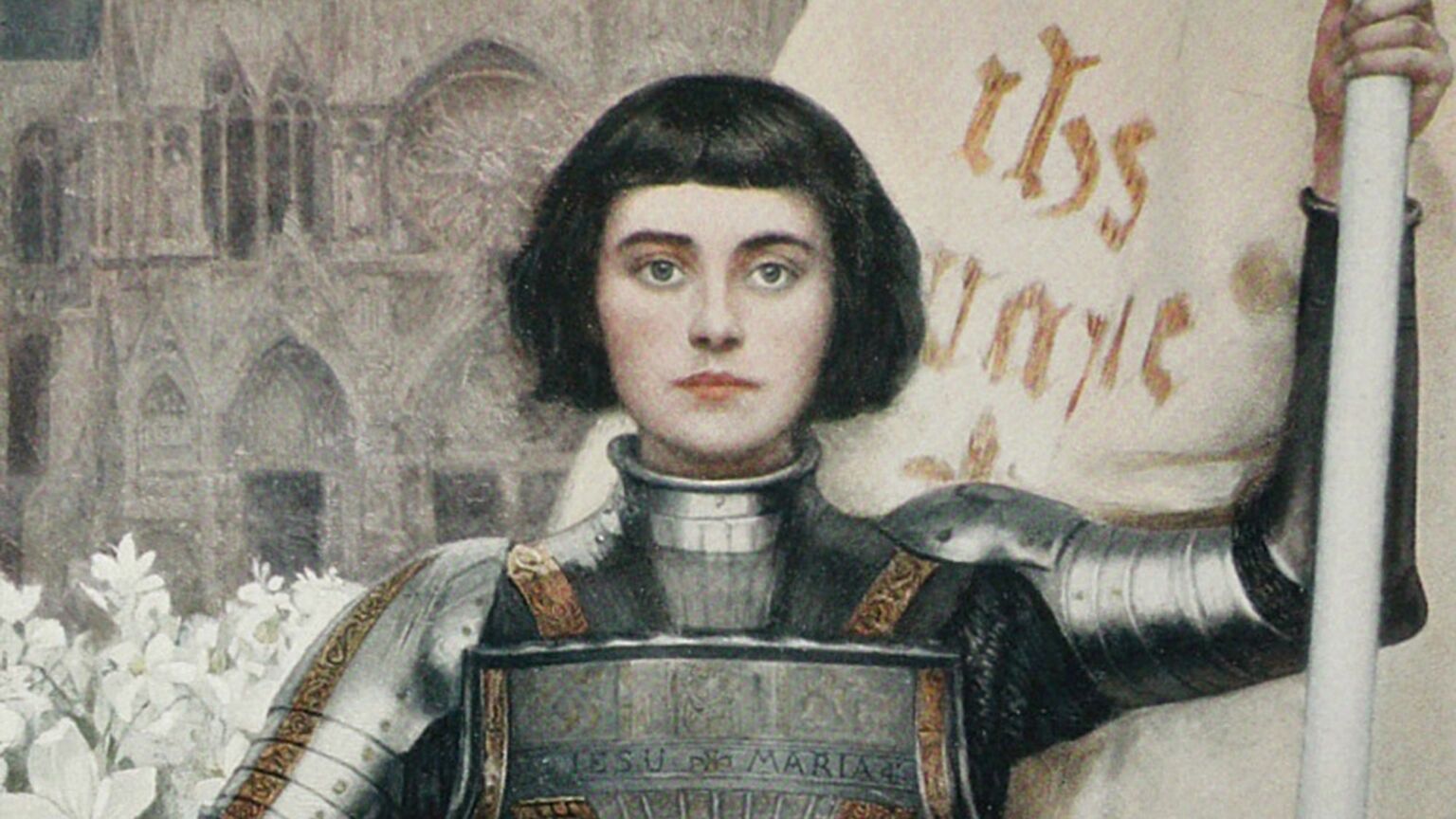 We have seen some nonsense in our time, but the recent fad for declaring historical figures to be 'nonbinary' might very well be the daftest of the lot. The latest instance comes from Shakespeare's Globe, whose upcoming production of I, Joan, a new play by Charlie Josephine, 'reimagines' the great Joan of Arc as an 'enby', or a nonbinary person.
In an essay accompanying the play, academic Dr Kit Heyam – who self-describes as a 'trans awareness trainer and heritage practitioner' (nice work if you can get it) – writes that the widely accepted story of the Maid of Orléans, of a woman leading an army dressed in men's clothes, denies the 'historical existence of trans experience'. Heyam goes on to suggest that Queen Elizabeth I could have been nonbinary, too. Apparently, wearing armour may have had a 'profound impact on their [sic] sense of self'. To which one is tempted to reply that it may well have chafed like buggery.
Throwing silly 21st-century fads back into history to justify them in the present is the height of fatuousness. One might as well claim that Elizabeth I ate Morrisons' Cheestrings while watching ITV2 and twerking along to Dua Lipa.
It is, of course, notoriously difficult to define 'nonbinary'. Like its siblings 'trans' and 'queer', it has an uncanny power to mean whatever the person using it fancies saying at the time. But so far as I can make out, it seems to boil down to not behaving stereotypically 'like a man' or stereotypically 'like a woman', but as a bit of both.
This is a newly discovered and exciting characteristic shared by 100 per cent of the human race. Declaring yourself 'nonbinary' is like demanding to be recognised as unusual because you've got a bumhole.
Perhaps sometimes you do 'men's things' – like gulping down a Lion bar in two big chomps, putting up some shelves and watching Top Gear. And then sometimes you do 'women's things' – like taking a dainty nibble from a Cadbury's Flake, lengthening some curtains and tuning in to Lorraine every weekday at 9am. Congratulations, you're nonbinary!
Gender ideology claims to be dismantling our culture's view of sex roles while, in fact, avidly enforcing them. It promotes the silliest stereotypes imaginable.
Here's an example. If you were an alien who arrived on Earth and saw only men, including men who were supposedly 'feminine', what would you imagine women were like? It would be quite a shock when you encountered actual women and they weren't camp, catty caricatures. Yet genderism relies on such stereotypes.
The obvious preposterousness of the nonbinary 'identity' is, I think, why its adherents are so brittle. They are constantly repeating the mantras that they 'exist' and that they are 'valid', because they know full well that they are on a sticky wicket. These strange terms speak volumes. Being 'not valid' is their ultimate nightmare, a fate previously reserved for expired parking tickets and debit cards. Meanwhile, someone calling out your nonbinary bobbins is imagined to be an existential threat. 'Existence', tellingly, is the framework we use when discussing nebulous concepts, such as ghosts, Nessie and the Bermuda Triangle.
Throwing this junk back into history has become a key tactic for establishing its 'validity' and 'existence' in the here and now. Theatre is a good place to do this.
One of the reasons for Shakespeare's longevity is his plays' endless capacity for being reimagined. You could set The Taming of the Shrew anywhere, at any time, from prehistory to a distant Earth colony in the 39th century, and it would work. (You can't say that about Noel Coward, though I'd like to see someone make the attempt.)
What makes I, Joan different is that the grim, rictus-grinning cult aesthetic of 21st-century Western genderism it is trying to promote is just something that is obviously stupid and destructive and bad. The play's premise equates a woman, in a very specific Medieval Christian culture, being called by a religious vision to fight 'like a man', with the self-harm of breast-binding, experimental drugs and elective mutilation that comes with the 'trans experience'. It is an astonishing leap.
Defenders of I, Joan will point to the many Shakespeare plays that play around with gender. But this has nothing to do with modern ideas about trans or nonbinary identities. You will notice it is only in the comedies that the girl characters disguise themselves as boys (the only male who ever crossdresses is Falstaff, who becomes 'the fat woman of Brentford' in The Merry Wives of Windsor, which is played for even broader laughs, rather like Jack Duckworth's 2004 turn as 'Ida Fagg' in Coronation Street). I see this as being like the 1960s Batman TV series – how funny it is that Commissioner Gordon and Chief O'Hara spend so much time with both Batman and Robin and with Bruce Wayne and Dick Grayson, but they never once twig they are the same people, even though it is screamingly obvious. It's a humorous conceit that works in Shakespeare because it is based on the strict demarcation of sexed roles in Elizabethan society. To pretend that this skylarking somehow represents the 'historical existence of trans experience' is ludicrous.
Unlike the attempts to project trans and nonbinary identities back into the past, feminist interpretations of Shakespeare can actually be enlightening, because they are at least dealing with the reality of women's lives. So Portia, in the The Merchant of Venice, turns out to be a great lawyer, but she can only do the job by pretending to be a bloke. This still has resonance, because it reflects well-documented historical truth. To ascribe the nonsense of 'nonbinary' to the reality of historical women adopting male disguise to gain unusual positions of power is insulting, sexist nonsense.
Worse still, displaying breast-binders in a fetishised way, as in the publicity image for I, Joan, adds homophobia into the mix. Binders, for the uninitiated, are tight cloth wrappers used by young women, often young lesbians, to compress their breast tissue – to 'help affirm their gender identity' as either male or nonbinary. I'm honestly not making that up. Hey at least you're not a yucky lesbian, Joan – you're a man, somehow.
Recycling positively ancient sexist and homophobic tropes as 'progressive' and 'interesting' – reviving horrible lies as liberating truths – is what this historical retconning is really all about.
Spare us this codswallop. At the Globe, and in the rest of the world.
Gareth Roberts is a screenwriter and novelist, best known for his work on Doctor Who.
Picture by: Albert Lynch, published under a creative-commons licence.
To enquire about republishing spiked's content, a right to reply or to request a correction, please contact the managing editor, Viv Regan.