There's no such thing as a nonbinary skeleton
Trans activists are trying to rewrite ancient history.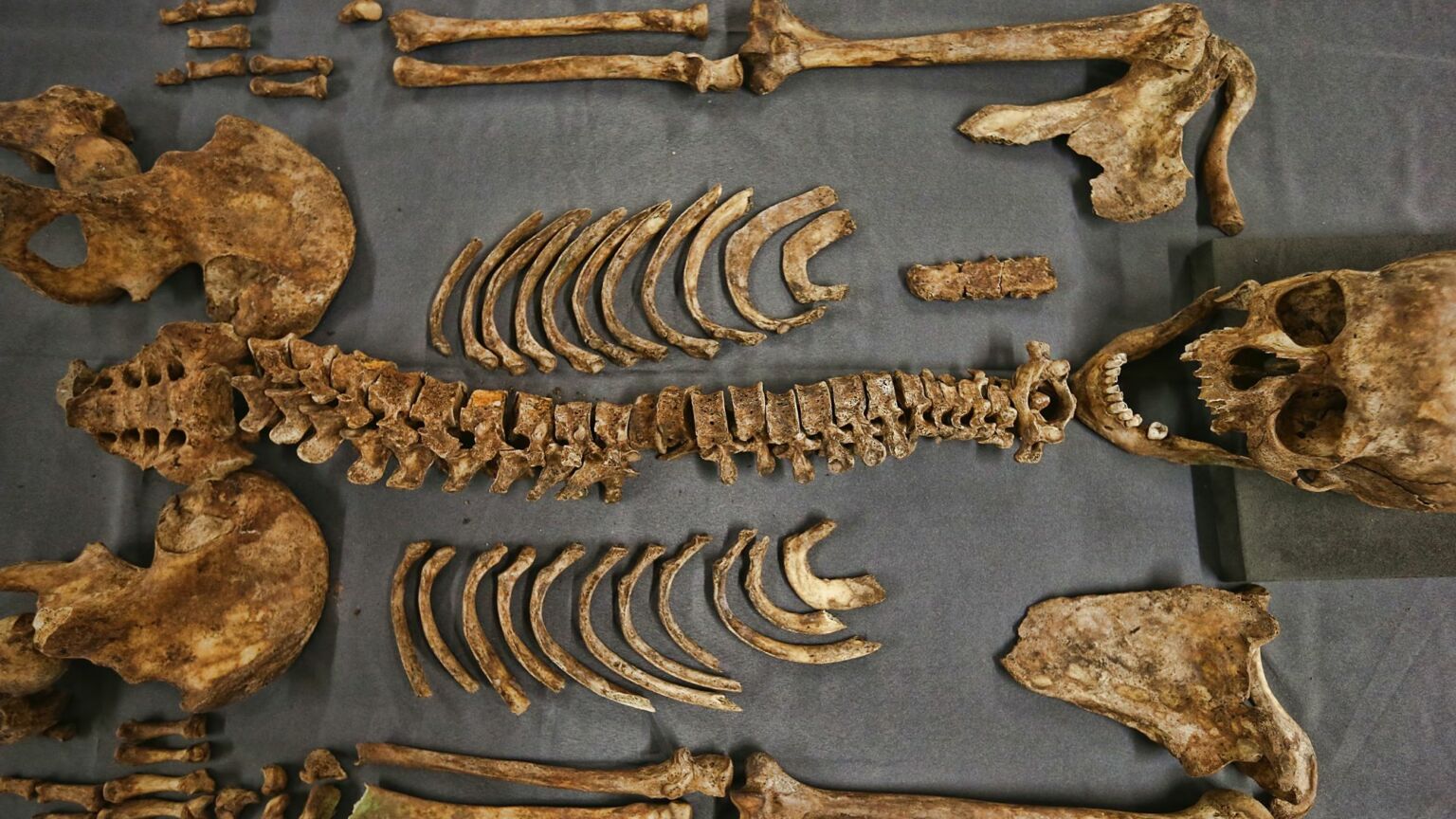 According to woke archaeologists and anthropologists, ancient human remains should no longer be classified as either male or female. Apparently, this is because we do not know how these people would have identified themselves.
Last month, for instance, the Black Trowel Collective, a group of American archaeologists, said we should be 'wary of projecting our modern sex and gender identity categories on to past individuals'. Some academics have even started to explicitly label ancient human skeletons as 'nonbinary' or 'gender neutral'.
This attempt to stop the sex identification of skeletal remains, dating hundreds or even thousands of years old, probably sounds like a slightly absurd academic squabble – of concern only to archaeologists and anthropologists. But it has far-reaching implications.
There are always exceptions to the norm, but most individuals can be classified, according to biological characteristics, as either male or female. Trans activists in the archaeological community are now rejecting this mode of classification. And they are doing so for a reason: they are trying to erase the reality of biological sex in the present by erasing it in the past. They want to make it look as if the natural human condition is nonbinary.
Anthropologists, such as Chelsea Blackmore at the University of California, Santa Cruz, have admitted as much. Blackmore argues that 'queer archaeology' ideas are 'powerful tools for changing the past and the present'. This is reminiscent of the party slogan in George Orwell's Nineteen Eighty-Four: 'Who controls the past controls the future. Who controls the present controls the past.'
This is a very new development within archaeology and anthropology. As recently as 2019, a female Viking warrior was discovered, which the media heralded as evidence that male and female roles vary from one culture to another. Some outlets even claimed it raised questions about how Vikings understood their 'gender identity'. But Neil Price, an archaeology professor at the University of Uppsala, urged caution. He argued that we should refrain from thinking of skeletal remains in terms of gender identity. 'This is a modern, politicised, intellectual and Western term', he wrote, 'and, as such, it is problematic (some would say impossible) to apply to people of the more remote past'.
Less than three years later, academic caution has been cast to the wind. In Origin: A Genetic History of the Americas, published this year, University of Kansas anthropologist Jennifer Raff claims that anthropologists have no idea whether a biologically female hunter, whose remains were discovered at a 9,000-year-old Peruvian site in 2020, would have considered herself female, or belonging to some other gender category.
In the same book, Raff also claims that binary sex division is a 'duality imposed by Christian colonisers'. This touches on one of the most important aspects of the trans agenda in archaeology. This movement to retroactively de-sex skeletons is in fact part of a larger attack, within anthropology, on Western civilisation. For instance, James Aimers, a professor of anthropology at State University of New York, wrote in 2016 that: 'Our tendency to impose unexamined Euro-American ideas about sex and sexuality on the past has the potential to represent ancient people in normative ways that may not be reflective of their experiences.'
But the sex identification of skeletal remains is made on the basis of biological reality, not 'Euro-American ideas about sex and sexuality'. And it has been conducted successfully for over a hundred years. Yes, early anthropologists sometimes mistook robust females for males, such as in Eskimo collections. However, by studying remains, anthropologists learned of cross-cultural, universal traits – especially regarding the pelvis – that can help identify the difference between a biological male and a biological female. These pelvic differences enable women to give birth – something that men have never been able to do.
It is important that anthropologists stand up to the demands of trans activists. The practice of categorising human remains in terms of sex is hugely important, including outside of academia. For instance, forensic anthropologists who help identify crime victims are often trained by archaeologists. Many forensic anthropologists get their first hands-on experience in sex identification in archaeology classes and field schools. By abandoning skeletal sex identification, we potentially do crime victims and their families a disservice.
The presence of the trans agenda in anthropology and archaeology is part of the broader anti-Westernism pervasive in academia today. This academic anti-Westernism may present itself as 'progressive', elevating the values and worldviews of other societies and peoples above those of the West. But it has also led to widespread sex discrimination in archaeological facilities around the world.
For instance, anthropologists are willing to bar females from handling warrior remains if an 'indigenous' tribe requests it. And in field schools run by anthropologists at 'progressive' places, such as the University of Washington, collaboration with Native American tribes has led to rules that include excluding menstruating women, who are viewed as unclean by some Native Americans. At San José State University, where I work, protocols were put into place by archaeologists, after consultations with Native American tribes, barring 'menstruating personnel' from handling skeletal remains. This rule was removed when my lawyers and I pointed out that this is clearly sex discrimination.
This is why fighting the nonbinary / trans narrative in archaeology is so important – because it is a part of a battle against the regressive anti-Westernism so prevalent in academia today.
The prevalence of trans ideology and anti-Westernism in archaeology and anthropology does not just affect a small number of undergraduates. Archaeology and anthropology classes are taken by almost all American students. This shows the potential reach of this insidious woke ideology, and the influence it could be having.
Woke ideologues seem intent on realising a brave new world, based on a nonbinary past that never existed. They need to be challenged.
Elizabeth Weiss is a professor of anthropology at San José State University and is author of Repatriation and Erasing the Past.
To enquire about republishing spiked's content, a right to reply or to request a correction, please contact the managing editor, Viv Regan.