Rishi Sunak wants to be censor-in-chief
Railing against Britain is not a sign of 'extremism'.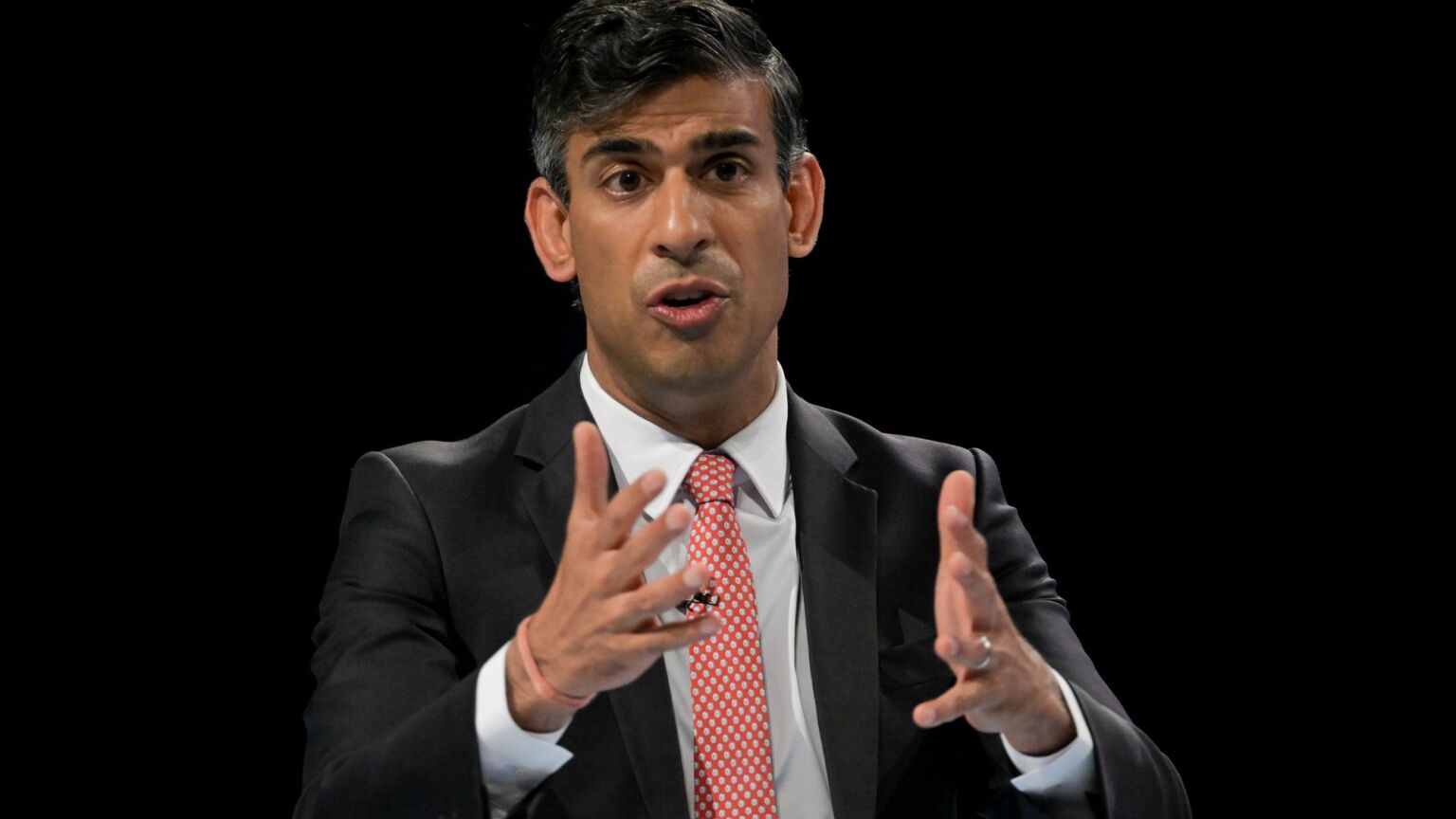 In a desperate attempt to reinvigorate a flagging campaign, Tory leadership candidate Rishi Sunak is now trying to sound tough on extremism, with disastrous results.
Under proposals put forward by Sunak this week, the definition of extremism could be broadened to include those who have an 'extreme hatred of Britain'. And as the Telegraph reports, those who 'vilify' Britain could then be referred to the UK government's Prevent programme, the deradicalisation scheme usually reserved for suspected violent extremists and terrorists.
The proposal has, quite rightly, provoked a swift and fierce backlash. Expanding the definition of extremism in this way would inevitably lead the state to target law-abiding citizens who are simply highly critical of modern Britain, even if they have no violent intentions.
Ironically, Sunak's plans to defend Britain from vilification would themselves represent an assault on fundamental British values – particularly freedom of expression and the right to political dissent. It would empower the state to decide which 'anti-British' views count as extreme, and therefore warrant a spell of state re-education.
Broadening the definition of extremism sets us down a slippery slope. Although Team Rishi insists otherwise, it could end up granting the state the authority to suppress direct criticisms of the government and its policies. Such a situation is not difficult to imagine. British police forces, for instance, are now notorious for arresting and harassing people for holding the 'wrong' views. Can the authorities really be trusted with more power over what we say and think?
The framing proposed by Sunak ignores that it is possible to be highly critical of British society and its institutions while neither 'hating' Britain per se, nor posing a violent threat. Even those who consider themselves patriotic could be caught up in this.
Take, for example, someone patriotic and traditional who has lost respect for British democracy. Perhaps he or she thinks our MPs are all self-serving and feckless, that our society is on the road to moral decay, and that British capitalism is a predatory system that exploits the poor. What if he or she also happens to view state-sponsored multiculturalism as a disaster for social cohesion? What if he or she is opposed to Britain's military ventures abroad or thinks British soldiers have behaved badly on duty?
All of these views could be presented as anti-British. In combination they could even sound like a near-total rejection of the state and our institutions. But are they really deserving of a referral to the government's anti-extremism Prevent programme? Does such a person really pose a threat?
Sunak's plan is more than just a misstep. It speaks to a worrying turn in the Conservative Party against free speech and civil liberties (a trend epitomised by the wildly censorious Online Safety Bill, which is due to return to parliament in September). Many establishment figures in Tory politics have developed a worrying taste for thoughtpolicing.
There are, of course, many common-sense positions on counter-extremism that Sunak might have put forward. Human-rights reform, separating Islamist extremists from the general prison population, and making it easier to deport foreign nationals convicted of terrorism offences should be high-order priorities. And much more needs to be done to tackle the social segregation that creates fertile ground for extremists, especially in our larger cities.
Sunak's proposals for Prevent, however, show he is far more interested in censoring Britons than in keeping us safe.
Rakib Ehsan is the author of the forthcoming book, Beyond Grievance, which is available to pre-order on Amazon.
To enquire about republishing spiked's content, a right to reply or to request a correction, please contact the managing editor, Viv Regan.