Team Sunak should stop playing the race card
Blaming his campaign struggles on racism is desperate and wrong.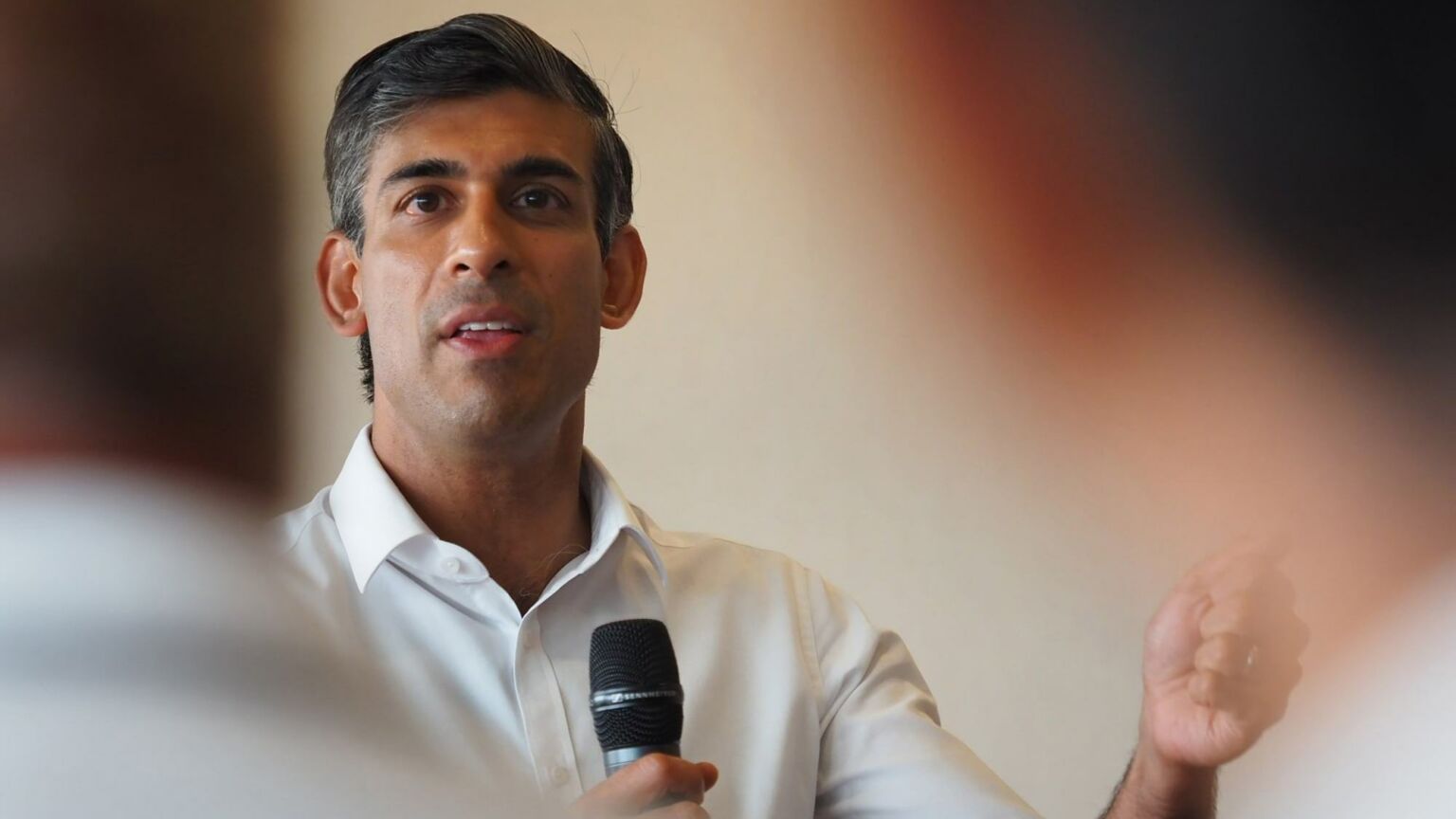 With foreign secretary Liz Truss now red-hot favourite to replace Boris Johnson as leader of the Conservative Party and UK prime minister, fellow leadership candidate and former chancellor Rishi Sunak's campaign is in panic mode.
He recently announced plans to protect the Green Belt, trying to pander to older NIMBYist homeowners. And he has also performed something of a u-turn on tax cuts. Sunak – who usually tries to project an image of being calm and steadfast – is looking rather flustered and out-of-sorts.
Now, some of Sunak's supporters are peddling racial identity politics in a desperate attempt to provide his flagging campaign with a much-needed boost.
Lord Ranger, a leading Tory donor, has said that Britain would be seen as 'racist' if Sunak loses the Tory leadership election to Truss. Speaking with Indian news network Bharat Tak, Ranger has 'warned' that, if the Tory rank-and-file 'reject' Sunak, 'it will be a bad name for the party and the country because this will be perceived as racist'. In a video posted to Twitter last week, Ranger urged Conservative members to ensure a 'watershed moment' in British politics by making Sunak the UK's first Asian-origin prime minister.
This is nonsense on a number of grounds. For all the Conservative Party's flaws, ethnic-minority politicians have reached positions of great power and influence within it. Along with Sunak, other Indian-origin MPs who have risen through the ranks include current home secretary Priti Patel, attorney general Suella Braverman and Cabinet Office minister Alok Sharma (who presided over the COP26 climate-change conference). Pakistani-heritage Sajid Javid, the MP for Bromsgrove, has previously served as chancellor, home secretary and most recently as secretary of state for health and social care. Iraqi-born Nadhim Zahawi, currently chancellor, previously held the role of education secretary.
The reality of the matter is that the Conservatives are now one of the most inclusive centre-right political parties in the Western world. The party is, on the whole, accepting of Britain's demographic diversity and supportive of the progress made by non-white politicians within its ranks.
Lord Ranger's efforts to guilt trip Tory members into voting for Sunak also ignores the fact that the impressive Kemi Badenoch, born in London to Nigerian parents, has established herself through this leadership contest as quite the grassroots favourite. Indeed, one could say that the no-nonsense, anti-woke trailblazer is the new darling of the British political right. YouGov polling suggests that, had Conservative MPs put Badenoch into the final two, she would not only have defeated Sunak among Tory members, but would also have defeated Truss or trade minister Penny Mordaunt (both of whom are white women). There is much evidence to suggest that the Conservative Party membership would be perfectly comfortable with catapulting Badenoch – who has never held a cabinet role – to the top job in British politics.
Tory members are not frothing-at-the mouth bigots. The idea that they will reject Sunak on the grounds of his race is all the more ridiculous when one considers how popular he has been with the party in the recent past.
There are a variety of plausible reasons why Sunak's popularity with the grassroots has declined over time. His tax hikes have become increasingly unpopular given the cost-of-living crisis. This has added to the perception that he is out of touch. As have the controversies surrounding his wife, Akshata Murthy's, tax arrangements.
There is also a perception among Tory members, who are overwhelmingly pro-Leave, that Sunak betrayed outgoing PM Boris Johnson. His resignation as chancellor helped spark a tsunami of resignations. Truss, meanwhile, never resigned at all. It is also fair to say that Sunak's ideas for the UK's post-Brexit foreign policy are somewhat underdeveloped. This places him at a serious disadvantage, as he is competing against a politician in Truss who, through her roles as international trade secretary and foreign secretary, has styled herself as one of the champions of post-Brexit 'Global Britain'.
So, there are many reasons why Liz Truss is tipped to become the next Tory leader. And none of them has anything to do with Rishi Sunak's skin colour. Elements of the pro-Sunak brigade would do well to refrain from peddling their desperate racial identity politics.
If Sunak loses the Tory leadership race and fails to become the UK's next prime minister, it will be because of reasons rooted in policy and character – not his race.
Rakib Ehsan is the author of the forthcoming book, Beyond Grievance, which is available to pre-order on Amazon.
To enquire about republishing spiked's content, a right to reply or to request a correction, please contact the managing editor, Viv Regan.