No, Nadine Dorries is not inciting violence
Calling Rishi Sunak a 'backstabber' is a statement of fact.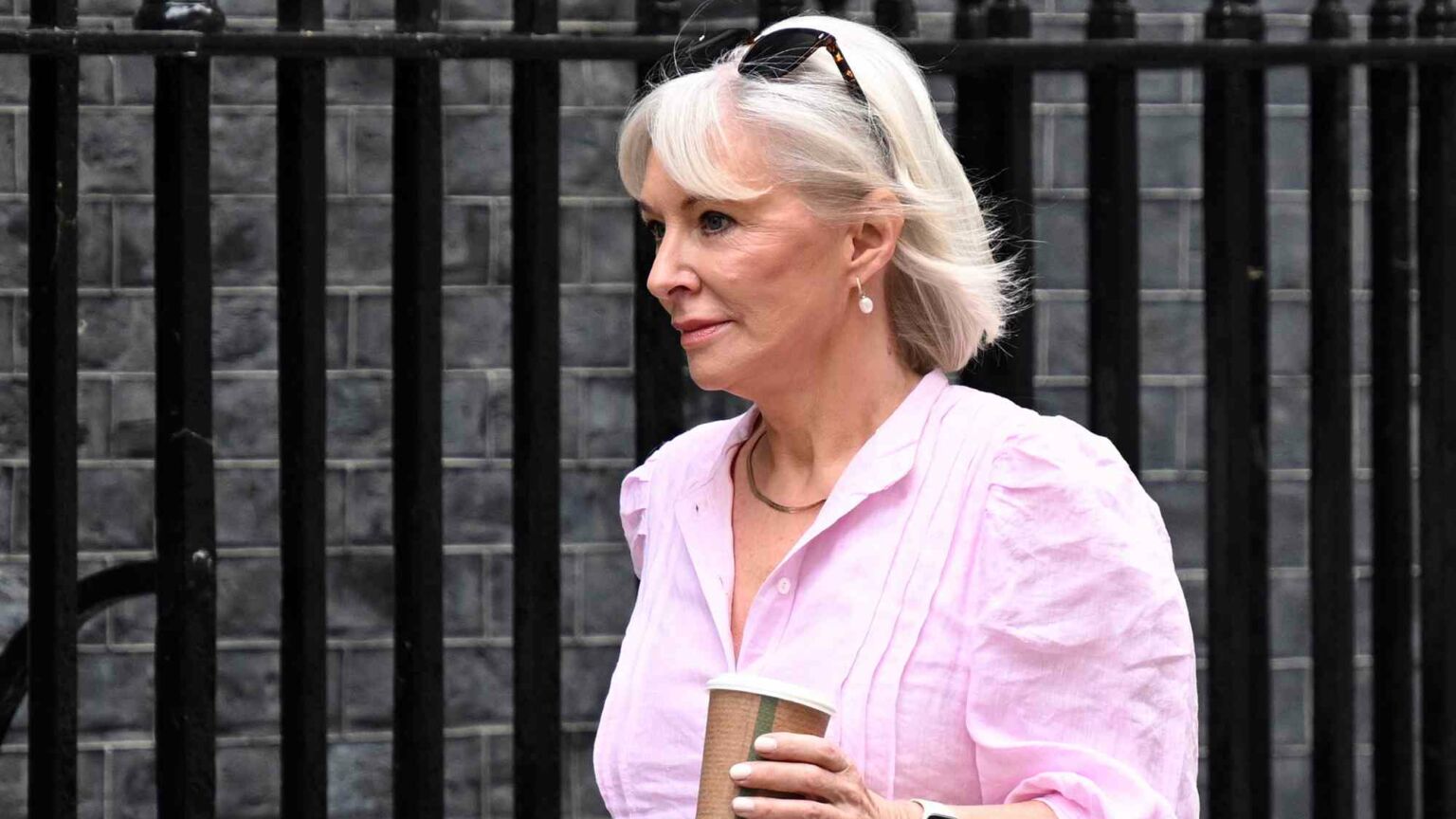 Another day, another absurd case of performative outrage in the modern-day amphitheatre known as Twitter. Over the weekend, culture secretary Nadine Dorries received the dreaded thumbs down (yet again), this time for retweeting a photoshopped picture from the 1953 film, Julius Caesar.
The tweet in question, which has been slammed as 'dangerous' and 'disturbing' by Dorries' po-faced critics, uses the notorious backstabbing scene to depict the recent ousting of PM Boris Johnson. Johnson is depicted as Caesar and former chancellor (and now leadership candidate) Rishi Sunak is Brutus. An account tweeted this image on Friday alongside the words: 'He is running to become PM. His name is Rishi Sunak.' Dorries retweeted it without comment, and then all hell broke loose.
Dorries has amassed an army of online haters who never fail to seize on her mistakes, from harmless spelling errors to other unserious offences. But nothing beats painting someone out to be a risk to society – a pastime that has become as addictive as a Class A drug to the great and good. And so all the usual suspects, plus many of Dorries' opponents in the Tory Party, piled in.
'I find it, less than a year after the stabbing of our colleague David Amess, in very, very poor taste, even verging on dangerous', said Tory MP Greg Hands. I'm sure his comments are completely unrelated to the fact he is supporting Rishi Sunak to be PM. Well, I happen to think it is in very, very poor taste to use the horrific murder of Amess to score a cheap political point.
What I assume most bothers Sunak's supporters about the image is that it hits the nail on the head. Sunak may claim to have resigned from the cabinet, essentially triggering Johnson's downfall, over 'standards' in public life, but records show his campaign website was created back in December.
Not to be outdone by over-the-top Tory MPs, the mainstream media have jumped on the Dorries-bashing bandwagon once again. One New Statesman journalist similarly said that talk about political backstabbing was 'completely inappropriate' following the killings of Amess and Labour MP Jo Cox.
What exactly is so dangerous about this image – other than to Sunak's ever-diminishing leadership prospects? Surely, we aren't suggesting that using classical political metaphors is a grotesque offence that can incite real-world violence? We risk trivialising the murders of Amess and Cox when we use them as a way of bashing our political opponents.
Perhaps Dorries' critics really do think her retweet was appalling and dangerous. But that begs the question: why weren't they as outraged when Labour MP Jess Phillips said she'd happily 'knife [Jeremy Corbyn] in the front'. When Phillips made those comments, a few years ago in an interview with Owen Jones, everyone (bar a few cranks with Kes avatars) understood that she wasn't seriously threatening to kill the then Labour leader. Dare I say it, maybe political bias is a factor here.
Yes, it is probably a bit unprofessional and unserious for our culture secretary to share an image depicting Sunak as Brutus. But it is not going to drive up knife crime. If anything, the shrill reaction to it could prove much more damaging by chilling political debate, something Dorries knows a thing or two about.
Indeed, the only truly shocking element of this whole debacle is that Dorries' retweet might not be permissible if her woeful Online Safety Bill, which has been put on hold until a new PM is selected, were ever to come to fruition. The bill seeks to curb 'legal but harmful' speech and many fear it will incentivise social-media firms to censor even inoffensive material.
We can only hope that this latest Twitterstorm will serve as a lesson to Dorries, and others, about the dangers of allowing someone's hurt feelings to dictate what can and can't be said.
Jordan Tyldesley is a writer. Follow her on Twitter: @pippybing.
To enquire about republishing spiked's content, a right to reply or to request a correction, please contact the managing editor, Viv Regan.