The night Rishi Sunak unravelled
The pundit class loves sensible, centrist Rishi. The public not so much.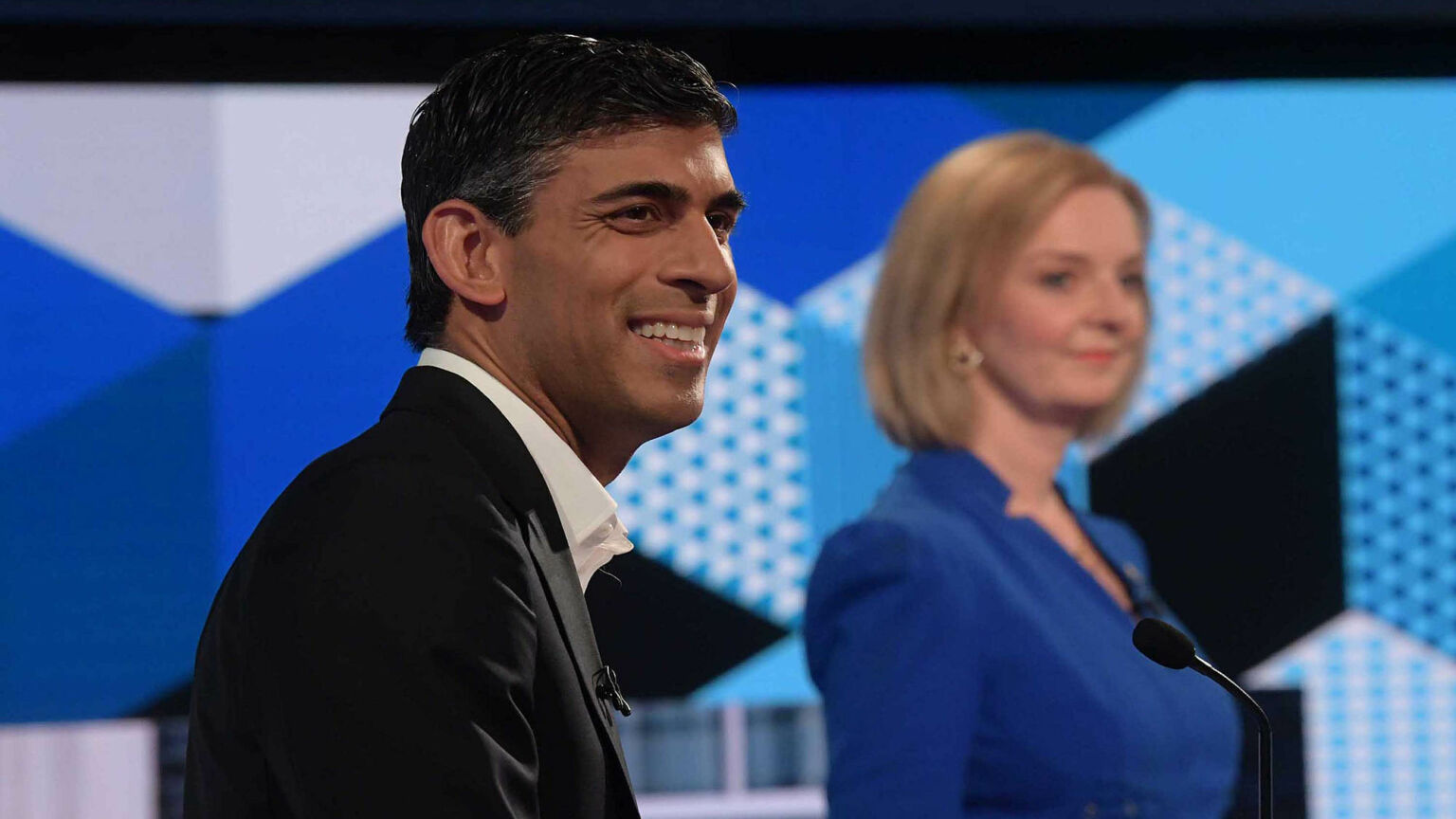 The Conservative leadership contest is highly unlikely to herald the rebirth of conservatism as an intellectually coherent force in British society. That hope left the room – for the time being at least – when Kemi Badenoch was eliminated last week.
But of the two remaining candidates, it comes as no surprise to see smart-set pundits enamoured with the worst of them.
Clever and presentable Rishi Sunak is certainly the darling of The Times leader writers' conference and of media Blairites, such as John Rentoul and Jane Merrick. But the idea that Britain is crying out for its own version of Emmanuel Macron or Justin Trudeau was surely tested to destruction by Chuka Umunna and Rory Stewart not so long ago.
Instead, it is the awkward Liz Truss who is on course to become prime minister in September. Indeed, it would come as no surprise to me were she to win the Conservative members' vote by the same two-to-one ratio by which Boris Johnson defeated Jeremy Hunt three years ago.
Her political prospectus will, in due course, be found inadequate. It places way too much emphasis on reheated 1980s Thatcherism and not enough on rebuilding Britain's lost sense of social solidarity. Nevertheless, those pundits who are sure she can't beat Keir Starmer may well be in for a further surprise come 2024.
Truss did more than enough in last night's televised debate against Sunak to lay to rest any genuine concern that she is 'Maybot 2.0'. She is not as poor a communicator as Theresa May.
For a start, Truss actually showed up. In the Tory leadership contest of 2016, there were no televised debates at all, nor indeed any hustings in front of grassroots Conservative members. Then, in the 2017 General Election, May didn't turn up to the main televised debate, instead sending Amber Rudd in her place, despite the fact that Rudd's father had died just a couple of days earlier.
Later in the campaign, we found out why, when Mrs May's 'dementia tax' policy came apart at the seams. She was left robotically claiming that 'nothing has changed… Nothing. Has. Changed' during an excruciating press conference.
By contrast, Truss is putting herself up to an exhaustive level of scrutiny and generally doing okay. While it is true that she performed notably badly in the very first televised debate, on Channel 4, she put in an improved showing on ITV just 48 hours later. A similar level of resilience was on display in the calm way she handled Sunak's hectoring and petulant display in last night's BBC debate.
Post-debate polling by Opinium last night showed that Truss led Sunak by 47 per cent to 38 per cent among Tory voters on the question of who had performed best. That gap is likely to be far bigger among the true-blue Conservative grassroots membership, which holds Sunak responsible for bringing down Boris Johnson.
And she was within one percentage point of Sunak when the same question was put by Opinium to a representative sample of the overall electorate. This destroyed her opponent's smug claim that only he stands a chance of defeating Labour.
A lot depends on whether the 'do-er' Truss can fare better than Johnson at implementing the core Tory priorities – making visible progress on 'Levelling Up' infrastructure schemes; protecting living standards via tax cuts, including suspending the green-energy levy; getting the Rwanda removals policy off the ground; and forcing improvements to the Northern Ireland Protocol. If she does, then she has a chance of holding the 2019 Conservative electoral coalition together and winning an unprecedented fifth term in government for her party.
She could even go into the next election pledging to pull the UK out of the jurisdiction of the European Court of Human Rights, and promising to restore full national control over Britain's borders – which is something she has at least mooted among MPs. If this turns out to be the case, the pundit class will no doubt have a collective fit of the vapours. We can expect to read that 'even Boris Johnson' had never been prepared to go that far.
But there is certainly a growing appetite for an assertion of national sovereignty. That is why Truss might just surprise the commentariat. If pundits were more in touch with opinion outside metropolitan areas and rarefied university cities, they might realise this. They would certainly know that the zenith of Richie Rish has already come and gone.
Patrick O'Flynn is a former MEP.
To enquire about republishing spiked's content, a right to reply or to request a correction, please contact the managing editor, Viv Regan.