Britain's abortion laws still turn women into criminals
No, it is not a 'settled' issue here. Abortion must be decriminalised once and for all.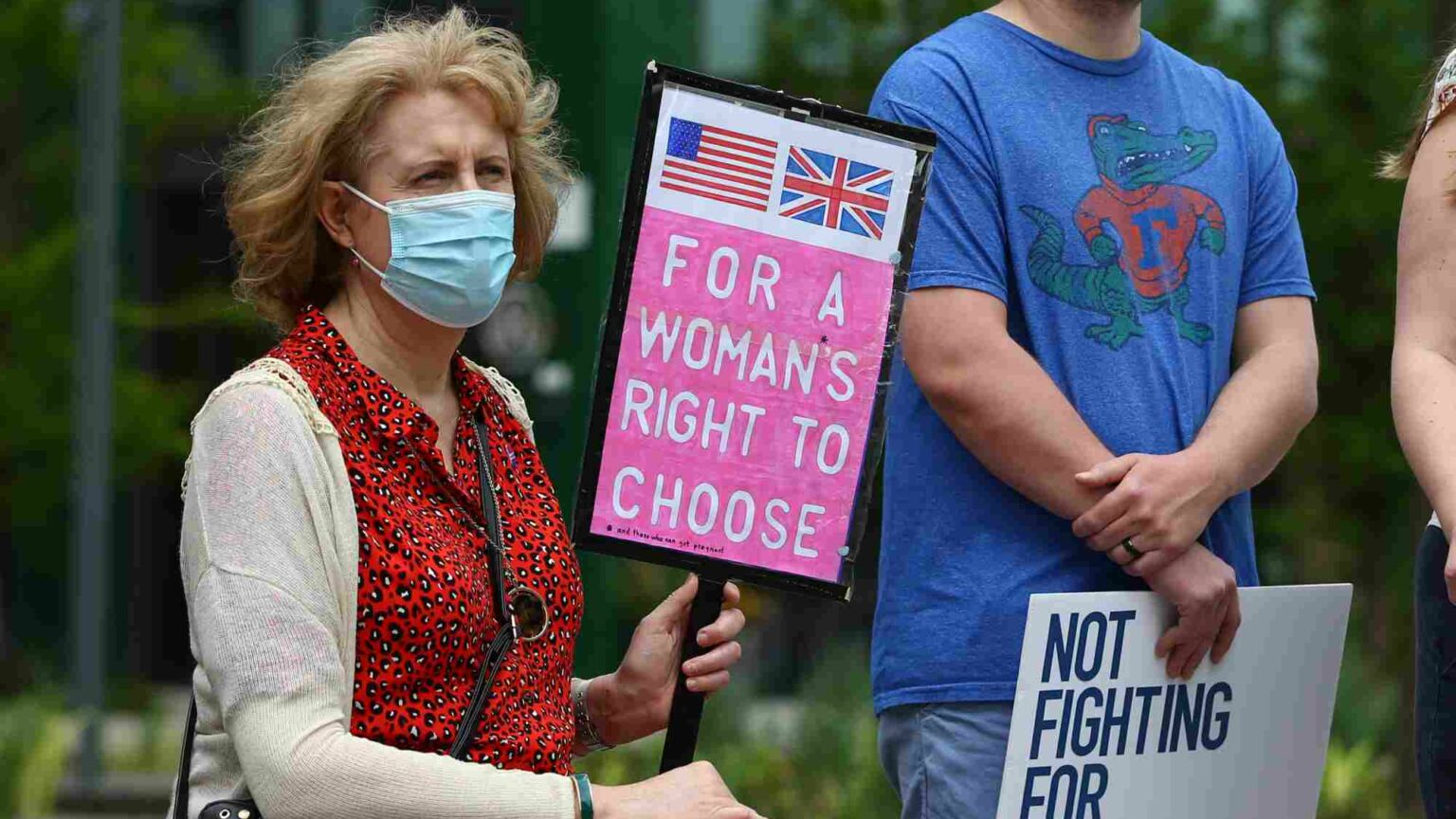 Since the news broke last month that Roe v Wade had been overturned in the US, abortion rights have been in the spotlight all over the world. Many in Britain have looked on at America in horror, seemingly grateful that abortion rights are secure here. Too few seem to realise that our own abortion laws still leave the door wide open to criminalising women.
In parliament, attempts to add a right to abortion to the UK government's upcoming Bill of Rights have been brushed off. Dominic Raab, deputy prime minister and justice secretary, has insisted that abortion is 'settled in UK law' and that there is no 'case for change' and strengthening the right to choose.
Raab was, of course, referring to the UK's 1967 Abortion Act, which in practice makes it possible for women to access abortion services for the first 24 weeks of pregnancy.
Raab is only half-right, though. Unlike the US, where abortion rights had until recently been protected by the 1973 Roe ruling, the UK does have access to abortion written into law. But the question is far from settled and a woman's right to choose is far from secure.
We are now used to hearing horror stories from the US of women being pursued by the law for having miscarriages or stillbirths in states with strict abortion laws. But this is still happening – albeit on a far smaller scale – in Britain, too.
Only last year, a 15-year-old girl was subjected to a year-long criminal investigation – including an invasive 'digital strip search' of her phone and internet history – after staff at a hospital alerted the authorities to a stillbirth she suffered after 28 weeks of pregnancy. The case was only dropped after a coroner found that the pregnancy had 'ended because of natural causes'.
At least two women are currently being prosecuted in Britain for ending their own pregnancies. One of these women procured abortion pills legally, but she then went on to pass a fetus at 28 weeks. If convicted, she faces life imprisonment.
And this week, the British Pregnancy Advisory Service (BPAS) revealed that at least 52 women have been reported to police since 2015 for seeking to end their pregnancies.
In other words, women in the UK are being hassled by the authorities for seeking to exercise their conscience and bodily autonomy.
Abortion law in the UK is complex. And there is very little public understanding of how it actually works. Few realise that abortion is technically illegal, despite its availability in practice.
The 1967 Abortion Act creates some exceptions to the 1861 Offences Against the Person Act, which states that any woman who intends to 'procure her own miscarriage' shall be considered 'guilty of felony and being convicted thereof shall be liable… to be kept in penal servitude for life'.
The 1967 Act effectively acts as a workaround. It means that abortion is still illegal unless certain criteria are met – namely, that the woman is under 24 weeks pregnant, can convince two separate doctors of her need to have the procedure, and that the grounds for her request are based on the prospect of 'grave permanent injury' to her 'physical or mental health'.
No other safe medical procedure requires this level of grovelling and debasement. No other operation requires you to convince two doctors that you will go mad or die without their help.
Of course, British women are still much more fortunate than many of our sisters across the Atlantic, 33million of whom have just lost access to abortion services in their home states. But the fact that a significant number of women in Britain are effectively being threatened with jail time for terminating their pregnancies should act as a wake-up call to pro-choicers in the UK.
We cannot be complacent about the status quo. The criminal law should have no place in regulating our access to abortion. Dominic Raab is wrong – the 'case for change' to our archaic law is clear.
Certainly, there are important moral debates over what constitutes an 'unborn life'. But for an unhappily pregnant woman at three weeks, 13 weeks or 33 weeks, whether she has a right to terminate that pregnancy is not an abstract question. Either she is free to make her own decision, or she will be forced to give birth to a child she doesn't want.
If we believe in the importance of freedom we must support a woman's freedom to choose what happens to her body. It is time to decriminalise abortion in the UK, once and for all.
Ella Whelan is a spiked columnist and the author of What Women Want: Fun, Freedom and an End to Feminism.
To enquire about republishing spiked's content, a right to reply or to request a correction, please contact the managing editor, Viv Regan.