Heatwaves and the climate of fear
No, a spell of hot weather is not a 'national emergency'.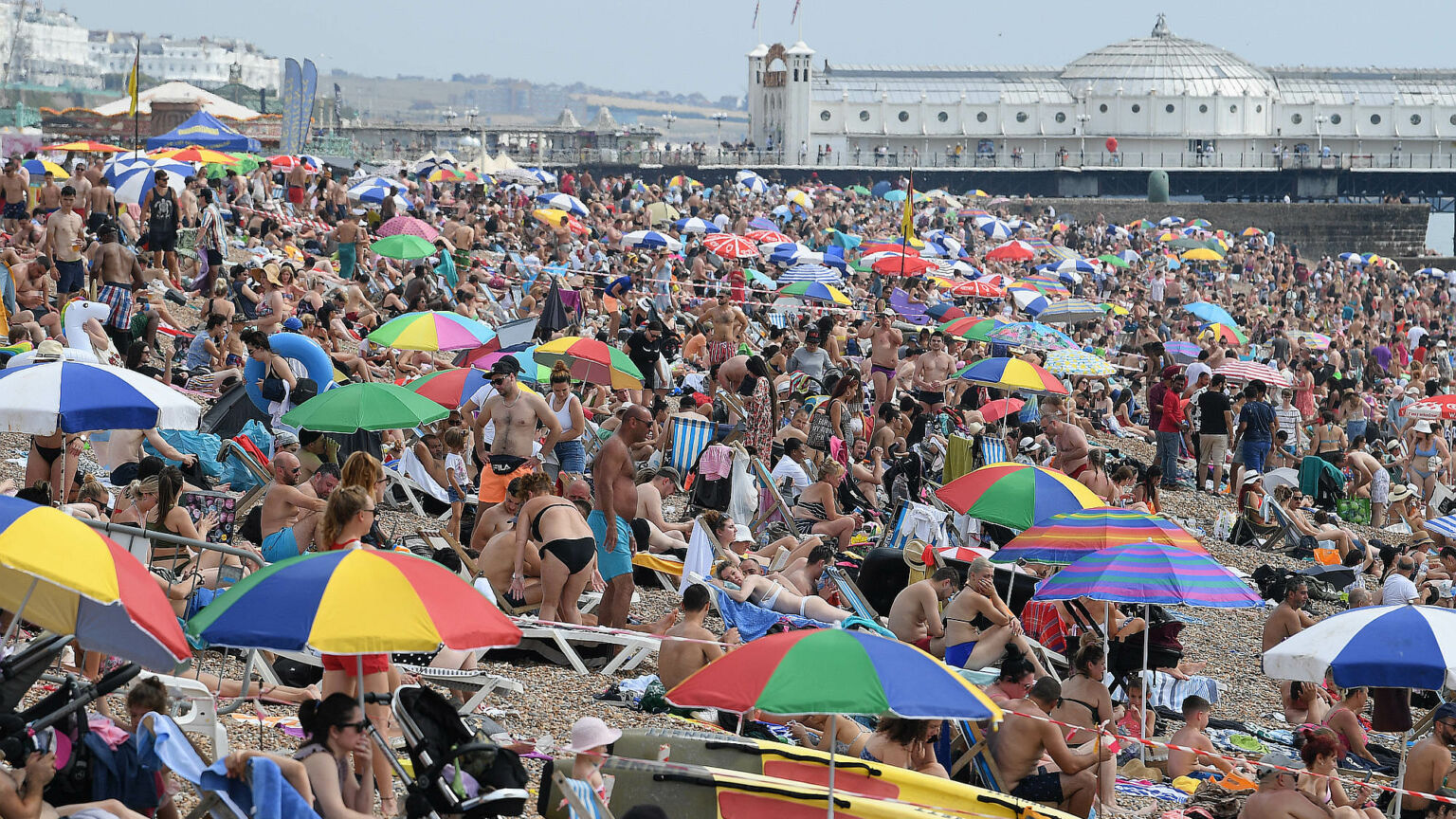 Many of us will have been enjoying the good weather over the past few weeks. But few have been enjoying it as much as Britain's bureaucracy of fear. The UK Health Security Agency, the Met Office and assorted worrywart policymakers have been basking in the possibility of the really hot temperatures which are predicted to arrive next week.
It's their chance finally to shine, to fulfill their purpose. Which is to protect us. Keep us safe. As a result, we've been subject over the past few days to a stream of 'helpful' tips to keep cool and hyperbolic headlines warning us of the scorching horror to come. A spot of hot weather has been effectively turned into an impending national disaster.
It's certainly being reported like a major disaster. 'Britain braced for national heatwave emergency', intones the BBC. 'Red heat warning issued in UK for first time ever', screams ITV. Yes, the weather will be unusually hot on Monday and Tuesday next week, with temperatures expected to push 40 degrees Celsius in some parts of England. But an 'emergency'?
The truth is that the classification of the heatwave as an 'emergency', deserving of a 'red heat warning', is entirely the doing of the bureaucrats at the Health Security Agency (formerly known as Public Health England) and the Met Office. They have wilfully constructed and framed the heatwave as something terrifying.
Take the 'red heat warning', which is applied only to weather of such force that it causes 'serious illness or danger to life'. Scary stuff, right? You would certainly think that for this warning to have been issued ahead of next week 'for the first time ever' means we must be in for some serious hellfire. But there is another reason, unrelated to next week's weather, why it has never been issued before. And that is because it didn't exist as a category before last June, which was when the Met Office launched its so-called Extreme Heat National Severe Weather Warning System. Before then, the Met Office, operating with its two decades-old Heat Health Watch system, would have been content with simply forecasting hot weather next week, with a standard warning issued because temperatures will exceed 30 degrees Celsius. Which they frequently do at some point during a British summer.
The same goes for the UK Health Security Agency's 'national heatwave emergency'. On Friday, it issued a so-called Level Four heat-health alert, covering the whole of England for both Monday and Tuesday. This came with the portentous line: 'Illness and death may occur among the fit and healthy, and not just in high-risk groups.' Again, it sounds unprecedented and scary. But the system of heat-related health alerts has been in existence for less than two decades.
The hot weather itself is far from unprecedented, of course, even on this notoriously rainy island. In 1911, for instance, the sun blazed for two months, with temperatures reaching nearly 37 degrees Celsius in early August. Then, of course, there was the summer of 1976, when temperatures exceeded 32 degrees Celsius for over two weeks, something that has not happened since. And more recently there was the August heatwave of 2003, during which a reading of 38.5 degree Celsius was recorded in Brogdale in Kent on 10 August – a record high which was only surpassed in 2019, when 38.7 degree Celsius was recorded at Cambridge Botanic Garden on 25 July, 2019.
Maybe that record will be broken next week. Maybe it won't. The point is that next week's hot spell is far from without precedent. This has happened plenty of times before, even in living memory. What is novel and unprecedented is the response of the UK's science and health bureaucracy. Their systems of categorisation, informed by the broader culture and politics of fear, have effectively turned an unusual spell of weather into something exceptional and terrifying.
The response of the government has not helped, either. Instead of telling the public to keep cool and carry on, the government has held a series of emergency COBRA meetings, reportedly to put in place contingency plans should everything go south. Perhaps that's sensible. But one can't help but feel that such meetings, eagerly reported on by the press, are designed to make it look as if the government is doing something, anything – which only contributes to the sense of approaching disaster.
What's more, if the hot spell really was such a massive threat to life, you would expect the messaging to match up to that. But that's not the case. The Health Security Agency and the Met Office warn of some terrifying inferno, in which 'illness and death may occur among the fit and healthy'. Yet their advice on how to cope with this near Biblical punishment is as trivial as it is patronising. The Health Security Agency tells us to 'avoid being out in the sun during the hottest part of the day'. And if we must risk venturing outside, it says to 'take everything you will need with you, such as a bottle of water, sun cream and a hat'. That's how we'll deal with a 'national heat emergency'? With sun cream and a hat? That sounds more like a holiday than hell.
Much of the advice is in a similar vein. It tells care-home staff to help their aged and vulnerable residents cope with the heat apocalypse by 'gently spray[ing] cold water on them'. Which makes old people sound more like potted plants than actual human beings. And primary schools, clearly under instruction from the bureaucracy of fear, have been emailing parents to tell them not to put their little ones in coats and jumpers on Monday. This is something which no parent with a functioning central nervous system needs to be told.
This combination of fearful hyperbole with banal, infantilising advice is telling. It's the product of a bureaucracy built on an ideology of safetyism. It sees threats everywhere, including, it seems, from a bout of Mediterranean-style weather. At the same time, it assumes that we're not capable of looking after ourselves. It seems to believe that unless we're told to drink water on a hot day, we'll be standing, dehydrated, at death's door by the end of it.
It's not true, of course. Next week's hot weather is not really a national emergency. And we will cope with it, just as we've done countless times in the past. The only people who seem to be melting down are those in our safety-obsessed bureaucracy.
Tim Black is a spiked columnist.
To enquire about republishing spiked's content, a right to reply or to request a correction, please contact the managing editor, Viv Regan.