Boris Johnson: Net Zero zealot
His embrace of eco-austerity will be his most wretched legacy.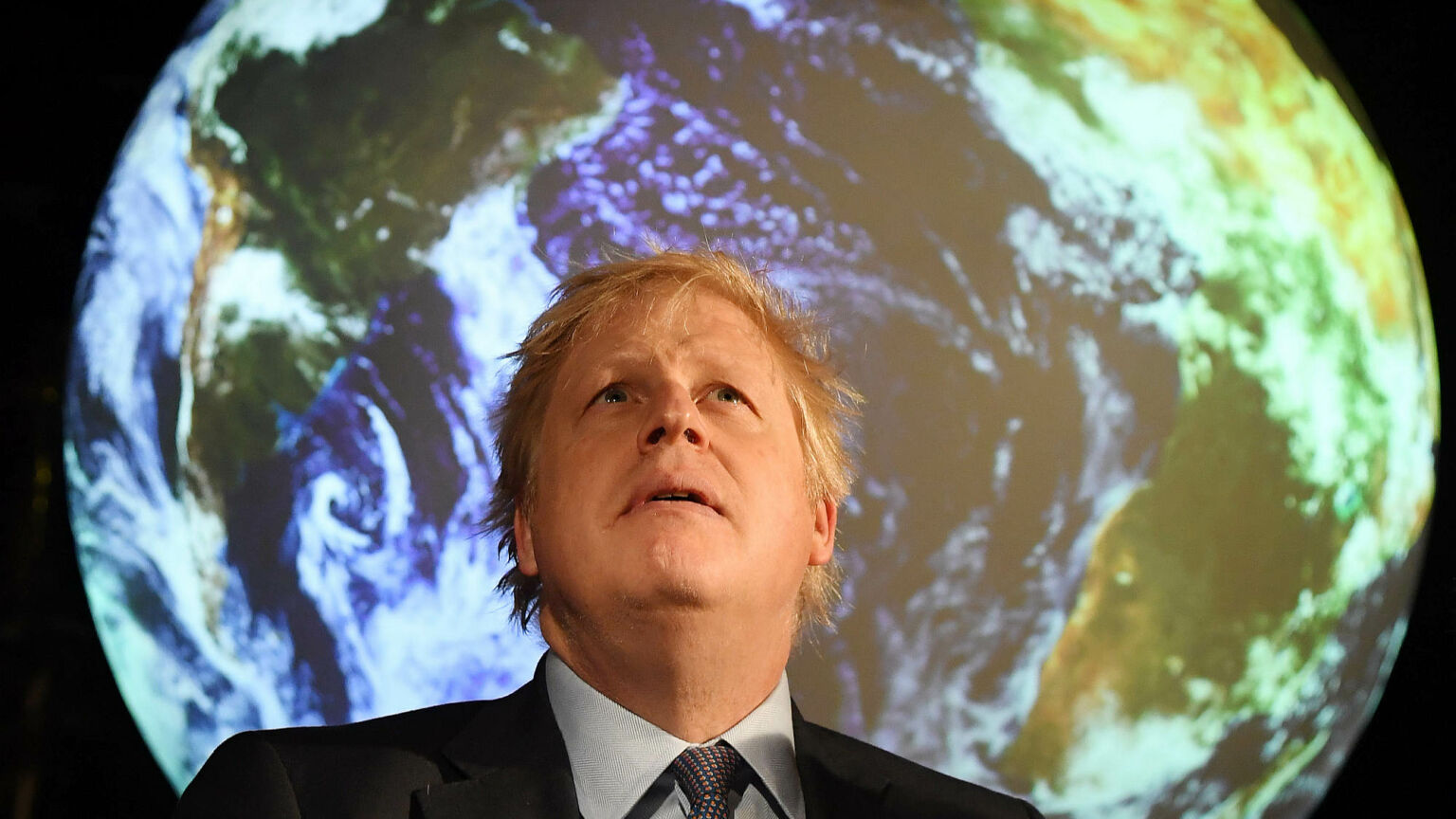 Could Boris Johnson be the first prime minister since Margaret Thatcher who believes in free will? So some of us dared hope, privately, three years ago.
Over his writing career, Johnson had given every impression that while he may hold no strong political convictions or original ideas, then at least he valued personal freedom. Perhaps he even valued it a lot. A few optimists even imagined he would preside as a kind of Lord of Mischief, an anarchic antidote to the grim behaviourism that so many political leaders sign up to today. As a prime minister with the largest majority in 14 years, Boris Johnson had the chance to prove this hypothesis. He also had as his chief adviser one of the few genuine radicals in government, Dominic Cummings, who had many ideas for reforming the administrative state.
But Johnson flunked every opportunity he had.
After catching Covid in March 2020, Johnson doubled down on nanny-state food regulation. And later, he only lifted Covid restrictions gingerly and slowly. But his greatest failure was entirely unforced – namely, his capitulation to apocalyptic environmentalism, the pagan religion of our age.
It is hard to believe now that Johnson had once praised the weather forecasts of conspiracy theorist and climate sceptic Piers Corbyn, scorned the poor performance of wind energy (which 'couldn't pull the skin off a rice pudding') and praised fracking. Once in office this rebelliousness was forgotten.
In June 2019, as one of her last acts, his predecessor, Theresa May, had amended the 2008 Climate Change Act to enshrine Net Zero emissions targets in law – 'the UK will eradicate its net contribution to climate change by 2050', ran the press release. Johnson could have quietly buried this footnote to May's reign, but instead he elevated Net Zero to a headline pledge in the Conservative manifesto for the 2019 General Election.
The only concrete measure to achieve Net Zero was 'a £640million new Nature for Climate fund', with 'an additional 75,000 acres of trees a year by the end of the next parliament'. That sounded harmless enough – everyone likes trees. Yet almost immediately, under Johnson's premiership, the environmental rules came thick and fast, and they were not just about new trees.
Petrol and diesel cars would be banned by 2030 – even though electric cars are more expensive and their production emits far more CO2 than petrol-car production. The government commissioned cookery writer Henry Dimbleby to tell us to eat less meat to reduce greenhouse gases. Businesses of all sizes have to report their CO2 emissions in great detail. And in three years time, no newly built residential property will be allowed to have a gas boiler. Soon it will become impossible to buy or sell a property unless it conforms to the minutiae of the new regulations.
Arguably Johnson's most wretched exhibition was reserved for the UK-hosted climate summit, COP26, held in November last year. Johnson had been London mayor for the 2012 Olympics, and appeared to have mistaken the climate junket for another competitive event, with the world watching and judging our 'performance' in setting green targets. All the stops were pulled out.
Johnson gave a speech at COP26 in which he said that the industrial revolution – which gave rise to the most rapid advance in living standards the world has ever seen – had come at a terrible cost. 'We were the first to send the great puffs of acrid smoke to the heavens on a scale to derange the natural order', he said, confusing sulphur with carbon dioxide. And to curry favour with schoolchildren, Johnson even echoed the rhetoric of environmental campaigner Greta Thunberg, suggesting that adults had 'stolen' children's future.
In retrospect, his posturing at COP26 looks increasingly unwise. Before the junket had even ended, its main stated goal of eliminating coal power had already been ruled out by the two growing economies of India and China, both of which need the cheap energy it produces. And today, with domestic heating bills trebling, fuel poverty going through the roof and swathes of UK industry facing the prospect of closing for good, the obsession with reducing carbon emissions looks ever more foolish. It is a folly other nations, aside from India and China, are now wising up to. Indeed, only recently Germany effectively dissolved its own equivalent Net Zero pledge by extending the life of its coal plants.
Should we be surprised that Boris went full Greta, and threw his lot in with people who glue their faces to electric trains? Perhaps not. To argue that climate change can be addressed through adaptation rather than mitigation – by building bigger sea defences, for example, rather than radical lifestyle changes – requires courage. It requires challenging the bureaucracy, the academy and the broadcast media. There are only a handful of critics who even attempt that today, such as Tory MP Steve Baker and Labour MP Graham Stringer, both of whom are backbenchers. If Johnson ever had private qualms about how environmentalism inserts regulation into every corner of our lives, he didn't let on in public.
In his resignation speech, Johnson said he hoped his successor would continue 'cutting burdens on businesses and families'. Which is more than a little ironic. After his surrender to green ideology, no government has ever imposed so many burdens on so many as that of Boris Johnson.
Andrew Orlowski is a weekly columnist at the Daily Telegraph. Follow him on Twitter: @AndrewOrlowski.
To enquire about republishing spiked's content, a right to reply or to request a correction, please contact the managing editor, Viv Regan.