Poetry will soon be lost for good
The culture wars have severed our connection to the great poets of the past.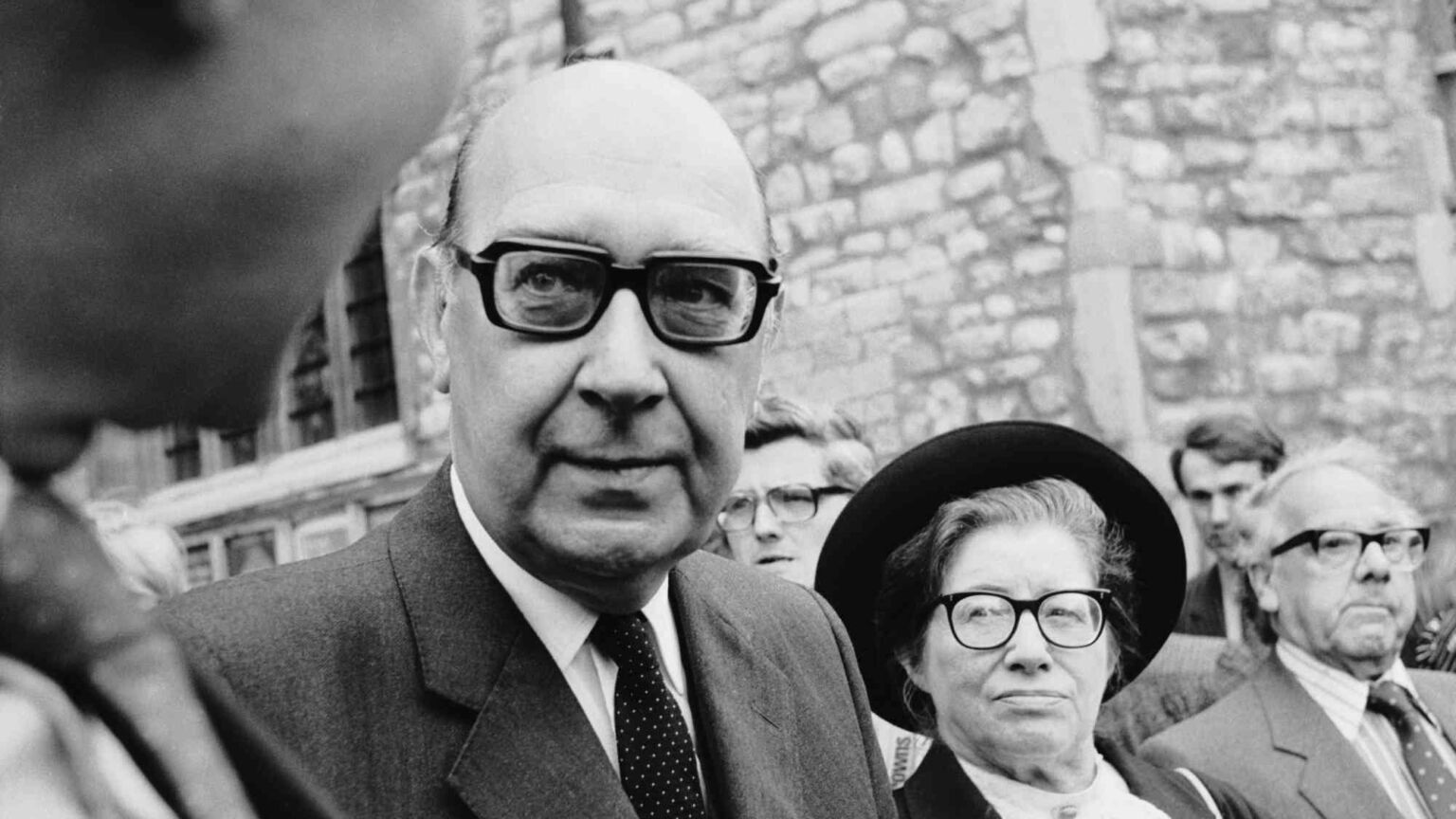 What passing bells, for these now deemed old hat?
Wilfred Owen's 'Anthem for Doomed Youth' has been struck from the prescribed GCSE anthology, Conflict. No Owen, no Sassoon, no Brooke. Elsewhere, Philip Larkin's 'An Arundel Tomb' has also been exhumed and walled up. One cannot help but feel it is the kids that have been robbed.
Education minister Nadhim Zahawi has denounced the decision by the OCR exam board as 'cultural vandalism'. But the board remains unapologetic. It heralds the 14 'poets of colour' it has brought in to replace the previous, presumably transparent (or simply washed-out?) incumbents. 'Our anthology… will feature many poets that have never been on a GCSE syllabus before… Six are black women, one is of South Asian heritage. Our new poets also include disabled and LGBTQ+ voices.'
Don't panic, though, the board adds. No one is being banned. No books are being burned. These long-dead, over-privileged mediocrities are not being cancelled. True, Larkin himself is now best handled with gloves – ideally big rubber ones that project inwards from the wall of a sealed glass chamber. And compared to that shiny new full-spectrum LGBTQ+ cohort, Wilfred O's muted khaki G-ness appears to be regarded as moot. But you and your children are still perfectly entitled to read them in your spare time. Should you wish.
The point, the OCR patiently explains, is to rotate the squad, get some fresh blood on to the bayonets. Let's please – please! – not escalate this into yet another front in the culture war.
This plea always comes, it seems, from those who have just captured some disputed territory in that ongoing great game of our time. 'Now calm down', as Vladimir Putin no doubt sighed, in 2014. 'There have been a few superficial changes in the management structure of the Crimea. But there is no "slippery slope". No one is being "occupied". The new arrangements simply better reflect the changing demographic realities of the province. Let's please not allow this to develop into some sort of international, dangerously weaponised version of a culture war.'
And really, what good does it serve? To confess oneself a Colonel Blimp, blusteringly indignant, out-manoeuvred before the war has officially begun? Just let it go. 'Nothing of consequence is changing, and anyway, if it is, such changes are inevitable – and good, actually. Anyway, it's too late now.'
And repeat.
Anyway, Owen and Co are outdated, hopelessly so. Kali Yuga manifests less like Bruegel's 'Triumph of Death' – scenes familiar to the poets of the Great War – and more like the suffocating warmth of inclusivity and fairness that oozes from a modern HR department. An endless cycle of infantilising, knee-kissing and reassurance as our muscles atrophy and our bellies distend.
Future outrages are in the pipeline, no doubt.
First, in the course of improving 'access' to that venerable old Arundel tomb, a few feet (and perhaps an ear and a nose) are chipped off the great stone sepulchre, and the medieval atmosphere somewhat compromised by the large hi-vis signs warning you to 'mind' the uneven surface underfoot. It is the signs I mind, but no matter – who could complain about that? Only people who want the elderly to be excluded, or have accidents, surely?
Second, thousands of musty old prayer books and hymnals, with their tiny print and greasy, disease-vector covers, are to be thrown out and replaced by convenient QR codes that you can scan with your phone and then follow the lyrics on your screen. The new digitised anthologies have lost a few hoary old favourites, it's true, says the Church, notions of Christian soldiers now being regarded as somewhat problematic, and rising flood waters somewhat triggering to those anxious about the climate crisis. Let alone mentions of the actual 'cruci-fiction', as it has been controversially rechristened. But on the plus side, they now contain over a dozen new lyrics, reflecting our diverse young fantasy congregation rather than the confused, grumbling old pensioners we are still actually stuck with.
Third, engagement with Shakespeare in the 'original text' (ie, an essentially foreign language) is to be replaced with a series of modules excising his more arcane imagery and resituating his main preoccupations and themes – viz, sexism, racism and transphobia – in the modern world. Plus, sensitively but firmly directed discussions about why Othello must be played by a black actor (albeit of either, sorry, any gender), but Macbeth is up for grabs…
Look, I get it. We live in the ruins of a once-great civilisation and emphasising the superiority of its literary output over our own is dispiriting and very possibly counterproductive. It's no fun living in a boneyard. Poetry as taught has been largely a tour of a charnel house.
And 30 years ago I would passionately have argued that Dylan's 'Visions of Johanna' – 'Inside the museums / Infinity goes up on trial / Voices echo this is what salvation must be like after a while' – deserved a place on the syllabus alongside Browning and Keats. A view with which the Nobel panel have of course since caught up.
So, if the OCR has discerned that…
'What passing-bells for these who die as cattle?
— Only the monstrous anger of the guns.
Only the stuttering rifles' rapid rattle
Can patter out their hasty orisons'
…is less likely to touch with fire the hearts and minds of the young, than Ilya Kaminsky's 'We Lived Happily During the War'…
'When they bombed other people's houses, we
protested
but not enough, we opposed them but not
enough'
…then who am I to demur?
Besides, the old stuff is not just too white, it is also just too damned difficult. How many adults, let alone adolescents, know what passing bells even are? It was a thankless task to teach poetry to the drowsy, nodding heads of 14-year-olds when they still lived in a typographical world. In our post-literate, nigh-on post-televisual metaverse, it must be like teaching Sumerian cuneiform.
But more to the point, why bother? To what end? To try to float their imagination free of the classroom, to get in among Owen's words? To climb down under the rudimentary props and beams, the dripping timbers and into the crowded gloom, the dug-out and the trench, to actually see these doomed youths? To hear them breathing, like heavy horses, as they stand by their ladders, trying to control their fear, waiting for the whistle to commence the match? To smell their clammy sweat, their last grateful ration of tobacco, and their coarse, itchy uniforms, and sense their connection to one another and the Earth they stand on, for now, and might soon sink into for good… why? It happened years ago. Why struggle with a challenge like that when there is the verse equivalent of the Fourth Plinth to fuck around with instead?
Larkin at least seems to have foreseen his fate. Considerably more ambivalent about our prospects for survival than the endlessly quoted last line suggests, 'An Arundel Tomb' imagines the still procession of the recumbent stone figures through time, hand clutching hand, but no longer reaching out, instead losing tension, traction with those who come to stare.
This stanza in particular achieves effects many GCSE scholars will be more familiar with from watching Doctor Who:
'They would not guess how early in
Their supine stationary voyage
The air would change to soundless damage,
Turn the old tenantry away;
How soon succeeding eyes begin
To look, not read.'
So yes, to repeat, I get it. It's just that the new stuff seems, to my tired old eyes, so utterly, utterly devoid of poetry. And when they took away the poetry we loved, we protested. But not enough. Not enough.
In a letter written in 1801 to a friend, Coleridge expressed regret about the extinction of his poetic gifts. He did so in perhaps the most heartbreakingly poetic language I have ever encountered:
'The poet is dead in me. My imagination… lies like a cold snuff on the circular rim of a brass candlestick, without even a stink of tallow to remind you that it was once clothed and mitred with flame… I was once a volume of gold leaf, rising and riding on every breath of fancy, but I have beaten myself back into weight and density, and now I sink in quicksilver, yea, remain squat and square on the earth, amid the hurricane that makes oaks and straws join in one dance, 50 yards high in the element.'
I read this now as an epitaph for our entire, disenchanted world. The poetic is a madness, a demented choir, distrusted now, minimised and made safe. A dimension is being lost, eradicated, for good. And our almost-instinct, almost true – what will survive of us, is l'oeuf.
Simon Evans is a spiked columnist and stand-up comedian. He is currently on tour with his show, Work of the Devil. You can buy tickets here.
To enquire about republishing spiked's content, a right to reply or to request a correction, please contact the managing editor, Viv Regan.