The war has entered a dangerous new phase
Ukraine is now caught between the recklessness of Russia and the weariness of the West.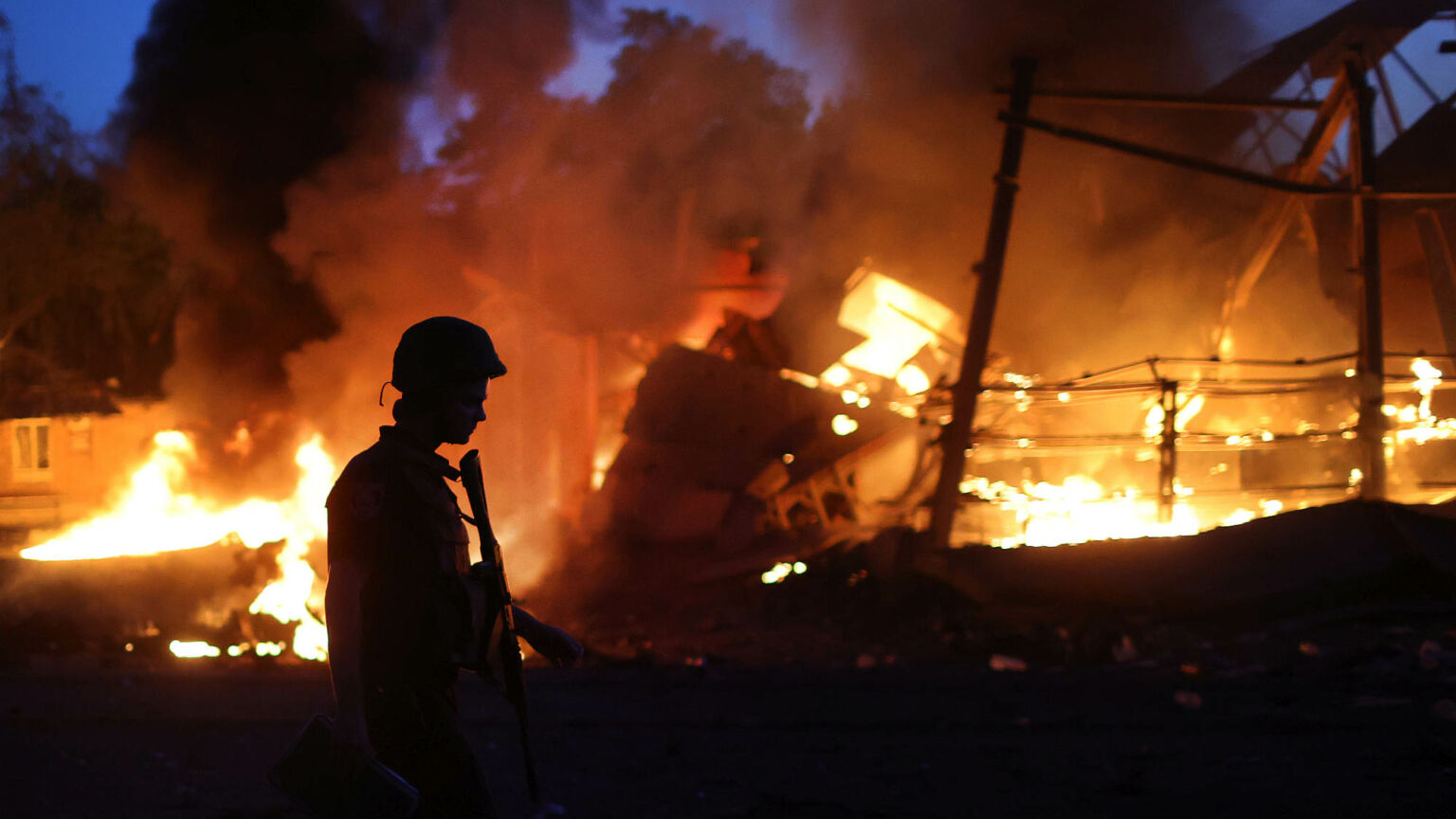 The Russian missile attack on a shopping centre in Kremenchuk, a city in central Ukraine, was remarkable for its callousness. This was a mall – not an army barracks. Until the air-raid siren sounded on Monday afternoon, it was full of shoppers trying to go about their lives as normally as possible. Many did manage to get out before the structure was engulfed in flames, but at least 15 have already been reported dead, and that number is expected to rise substantially in the coming days.
The attack said so much about Russia's war effort. About its indifference to a people the Kremlin claims to be liberating. About its brazen refusal to accept any responsibility. And above all, about its growing recklessness. This, after all, was an action – mistake or otherwise – that could have all sorts of unintended consequences. So why do it? Why fire missiles into a city in the middle of Ukraine, far away from Russia's current frontline?
Analysts suggest that it was an attempt to demoralise Ukrainians, a barbarising reminder sent whizzing into the nation's heartland that says there is no return to normality until Russia says so. No wonder Ukrainian president Volodymyr Zelensky called it the 'calculated' action of 'scumbag terrorists'.
And perhaps it was. But it is also difficult to avoid the conclusion that Russian military decision-makers just don't care that much about the ramifications or consequences of their actions right now. They certainly don't fear them. And so they act barbarically – as shown by the brutal, grinding conquest of the Donbas region. And they act recklessly – as this tragically pointless assault on civilians painfully demonstrates.
And while Russia's recklessness is growing, the fatigue of Ukraine's Western backers is deepening.
Not that you would think that based on US and European leaders' public statements this week. The shopping-centre attack, which happened during the G7 summit in Germany, certainly prompted a lot of combative bluster. Those gathered issued a collective statement calling this 'indiscriminate attack on innocent civilians' a 'war crime'. Even French president Emmanuel Macron, who has struck a consistently conciliatory stance towards Russian president Vladimir Putin, said that 'Russia cannot and must not win'. These bold statements were backed up by familiar pledges of more financial and military aid for the Ukrainian cause.
But, as ever, there was precious little in the way of detail to Western leaders' pledges of support. This was not an oversight or a desire to keep things secret. It was because the statements and pledges were more than a little hollow, a veneer of righteous bombast designed to obscure a growing war weariness among Western powers. And it's a war weariness that is intensifying the West's disunity.
It's not difficult to understand the causes of this weariness. The initial emotional shock of Russia's invasion, which helped rally Western publics to Ukraine's side, has long since disappeared. In the eyes of Western onlookers, the war has lost much of its political urgency and, more importantly, meaning. What appeared as a battle for national survival and self-determination has now acquired the aspect of a natural disaster – the tragic effects of which it would be good to ameliorate as soon as possible.
Moreover, the consequences of the West's sanctions-heavy response are now biting hard, in the shape of fast rising inflation and, for Europe in particular, rocketing gas and oil prices. Add to this the growing global food crisis, exacerbated by this conflict in the world's so-called bread basket, and it is no wonder support for Ukraine's war effort is waning.
Polling now suggests that in both Germany and France, about 40 per cent of people just want the war to end as soon as possible, as opposed to 20 per cent wanting to see Ukraine win, even if that means a longer war. In Italy, there is even more support for peace at whatever cost to Ukraine. And in America, too, polling suggests there has been a shift in attitudes towards the war over the past couple of months, with the majority of Americans now saying that the top priority of the Biden administration should be protecting the economy, not imposing sanctions on Russia.
While the G7 leaders have been prepared to talk tough this week, their actions have long been telling a different story. Italy came up with a peace proposal for Ukraine a few weeks ago, only for it to be summarily dismissed by Zelensky. Macron has also been known to be seeking to 'build a way out [of the war] via diplomatic paths', as he put it, which would likely come at the cost of Ukraine ceding territory to Russia – a proposal again summarily dismissed by Zelensky.
What's more, Russia, having been initially driven back by the Ukrainian resistance, is now making significant progress in Ukraine's east. Last week, Ukrainian forces finally retreated from Severodonetsk – which was the largest remaining part of the Luhansk region still under Kyiv's control. This means that, as it stands, Russian forces now occupy nearly a quarter of Ukraine.
Decisions, such as sending more arms to Ukraine and imposing further sanctions on Russia, seemed far easier for Western leaders to make a few months ago. Now they are hard, potentially unpopular decisions, with serious consequences. And as a result they are exposing the lack of will and unity among Western powers.
So this is where we're at right now. Ukrainians still want to fight. Their desire for national survival is as potent as ever. But they need Western arms and finance to do so, and there is no guarantee either of these are coming down the line. And so Ukraine finds itself caught – between the recklessness of Russia and the weariness of the West.
Tim Black is a spiked columnist.
To enquire about republishing spiked's content, a right to reply or to request a correction, please contact the managing editor, Viv Regan.