The EU is no friend of Ukraine
The pledge to make Ukraine an EU member is nothing more than a virtue-signal.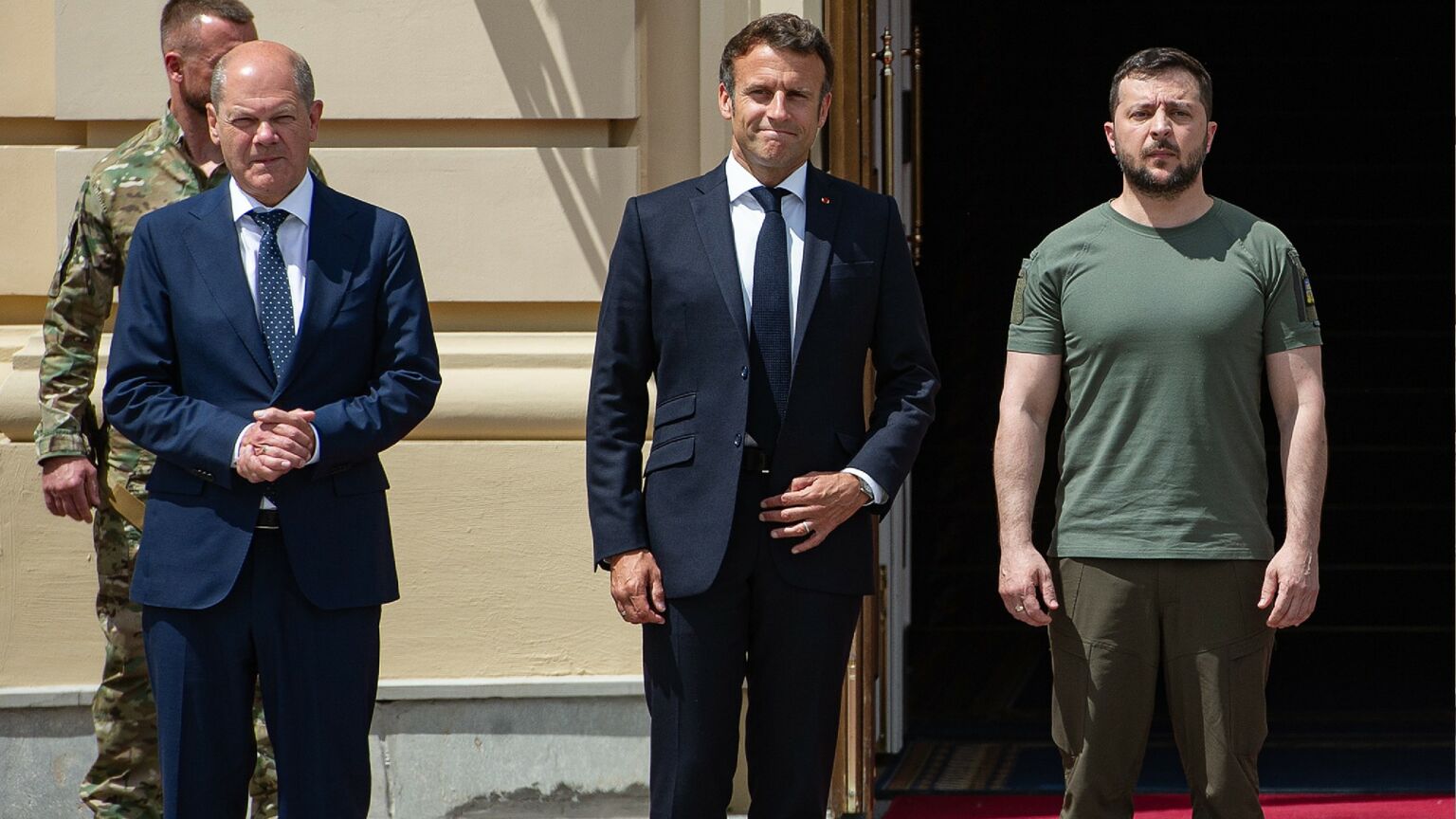 It's been quite the performance from the European Union. Just over a week ago, the leaders of the EU's dominant nations – Germany, France and Italy – enjoyed a day out in Kyiv, posing alongside Ukrainian president Volodymyr Zelensky and pledging to support his nation's quest to join what German chancellor Olaf Scholz called 'the European family'. This little Ukrainian jaunt, it turned out, was a mere prelude for the EU's big announcement on Thursday evening. That was when the 27-nation bloc announced that it had finally decided to accept Ukraine's most recent application for EU membership, made at the start of the war, and grant it 'candidate' status. European Commission president Ursula von der Leyen, dressed in the Ukrainian colours, called Ukraine's candidature 'a good day for Europe'. Moldova has also been granted candidate status, but that now seems like a mere afterthought.
After all, this whole week-long performance was all about Ukraine and the EU. It was about showing that the EU has not just been toying with Ukraine for all these years. It has not just been dangling the carrot of membership before it for nearly two decades, and stoking tensions with Russia as a result, while never really being serious about following through. No, this announcement was meant to draw a line under all that and say one thing above all – that the EU really does stand in solidarity with Ukraine.
Yet it's hard not to be sceptical about how deep the EU's solidarity with Ukraine really goes. Making it a candidate is easy. A nice little PR exercise. But there's little to suggest the announcement this week was much more than that.
Already it's clear that the EU has placed plenty of obstacles in Ukraine's path to membership. As with all prospective members, it has stipulated that Ukraine must be able to align its economy with the EU's (no easy task), and carry out far-reaching political and legal reforms. More importantly, it has insisted that its membership will depend on an end to what looks like a years-long conflict with Russia.
The difficult-to-meet conditions set on Ukraine's application may explain why member states thought to be cold on the prospect of Kyiv's accession – such as Portugal, the Netherlands and Belgium – have suddenly warmed to the idea. Precisely because it's likely to remain just that – an idea – for the foreseeable future. As French president Emmanuel Macron admitted last month: 'We all know perfectly well that the process permitting the admission [of Ukraine] would take several years, and in fact no doubt several decades.'
Several decades? That sounds closer to purgatory than an application process. Little wonder then that Albanian prime minister Edi Rama responded to the news of Ukraine's candidature by likening EU membership procedures to 'waiting for Godot'. Albania and North Macedonia have been queuing for membership for several years now, a process which Rama called a 'crooked charade'.
He's not wrong. The EU has even written what looks like an escape clause into its candidature agreements with Ukraine and Moldova. It states that not only does progress towards EU membership 'depend on [each nation's] own merit', but also on 'the EU's capacity to absorb new members' – which could mean just about anything, from the EU's unwillingness to shoulder the huge financial burden of rebuilding Ukraine to concerns over how to incorporate a 40million-strong nation into the bloc without further diluting the power of the EU's dominant states.
Either way, it effectively allows the EU to postpone Ukraine's membership indefinitely. Which tells us a lot about the superficiality of the EU's commitment to this beleaguered nation. For all the press conferences and rhetorical expressions of solidarity with Ukraine, the EU and its dominant duopoly of France and Germany have been noticeably unwilling to show too much solidarity in practice. They have been overtly reluctant to supply Ukraine with the arms it has requested, and at points have seemed keener on bringing about a quick, negotiated end to the conflict at whatever cost to Ukraine.
Partly, of course, this is due to the national interests of the EU's leading members. France and especially Germany, for example, are still heavily reliant on Russian gas and oil supplies. They will impose sanctions on Russia, but only so far.
But the lack of real solidarity has deeper roots. Put simply, the EU is incapable of recognising its interests in the struggle of the Ukrainians. Theirs is a struggle against Russian aggression, of course. But it's also a struggle of a people for the freedom to govern themselves within a given territory. It's a struggle for nationhood and sovereignty. It's a struggle, in short, for the very ideals that the EU is institutionally opposed to. It's no coincidence that the greatest support for Ukraine's membership application is coming from the EU's very own awkward squad of Poland and Hungary – the two member states that have most frequently asserted their right to govern themselves in defiance of EU diktat.
So the EU is happy to virtue-signal its solidarity with Ukraine. It's even happy to allow it entry into its Kafkaesque membership process. But, make no mistake, the EU has no real commitment to the cause of Ukraine and its struggle for nationhood.
Tim Black is a spiked columnist.
To enquire about republishing spiked's content, a right to reply or to request a correction, please contact the managing editor, Viv Regan.