Who's afraid of Hooters?
The campaign against the US chain is deeply patronising to the women who work there.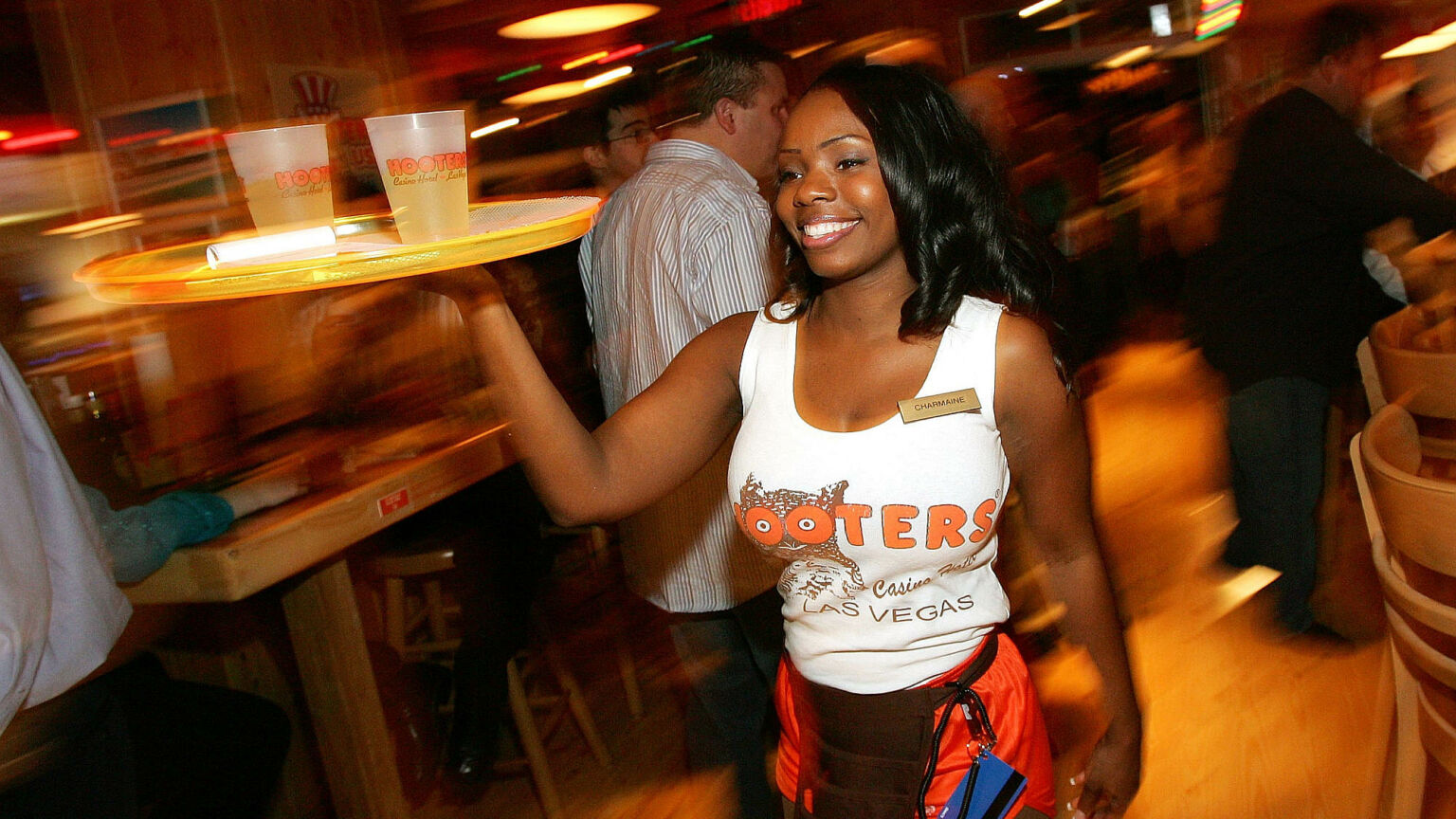 What's people's problem with the US sports bar and grill chain, Hooters? I've found myself pondering this question recently after reading some of the objections to a new Hooters restaurant, which is set to open in Salford in Greater Manchester. This will eventually take the number of Hooters in the UK to three, with one in Nottingham and another in Liverpool, which was given the go-ahead in February.
Hooters has been slammed as 'regressive' and 'misogynist' by lefty politicians and feminists alike. Yet, beneath the righteous rhetoric, it seems their gripe essentially boils down to the fact that Hooters waitresses wear shorts and low-cut tops.
Opponents to the Salford Hooters' licensing application – which was granted by the local council this week – included Salford mayor Paul Dennett and Greater Manchester mayor Andy Burnham. Dennett said that 'the nature of the business jars with the Greater Manchester Combined Authority's gender-based violence strategy, reinforcing archaic and unwelcome attitudes towards women'. This is difficult to take seriously given local authorities' silence over an incident in Manchester city centre last month, when male trans activists in balaclavas stopped women from giving feminist speeches in front of a statue of Emmeline Pankhurst. The local authorities didn't seem to care about 'unwelcome attitudes towards women' then did they?
Then there was the response of local Labour MP Barbara Keeley. She tweeted that the new Hooters will 'negate the good work being done in [Greater Manchester] on ending misogyny'. The accusation of misogyny is so casually thrown around these days that it's important to remember what the word actually means. It is defined as a dislike of, contempt for, or ingrained prejudice against women. Forgive me, but where is Keeley's evidence that Hooters will encourage contempt for women? It's a bar-and-grill chain that shows football, not a local branch of the Taliban.
It seems Hooters opponents are really only worked up about one thing – the clothes worn by its female staff. The anti-Hooters crusade is fuelled by a prudish desire to shame and admonish women for showing a bit of flesh.
This is more than a little illiberal and, dare I say it, sexist. Women should have the right to work wherever they choose. And if they want to serve up chicken wings while wearing a vest and shorts they should be allowed to do so. Those with conservative, pearl-clutching sensibilities should leave them and Hooters alone.
Similarly, Hooters' customers shouldn't be branded as moral deviants. Yes, they most likely have a questionable taste palate but appreciating the female form is not a crime.
This army of concerned feminist academics, politicians and commentators acts as if they are saving Hooters waitresses from oppression. But has anyone ever cared to ask these women what they want? Limiting women's freedom can hardly be for the greater good of feminism. What these would-be saviours want is a world which is sexless and devoid of fun.
Anyone would think Hooters forces its employees to give hungry customers a lap dance between courses the way its critics go on. I took to Instagram and perused the hashtag #hootersnottingham – the Nottingham branch has been open for two decades – and all I could find were countless photos of happy faces and deep-fried, highly calorific food. The waitresses' uniform isn't much different to what you might see women wearing walking down the street. Should we ban all women from wearing vest tops and shorts, too? The female body is not offensive or dirty and it's alarming for anyone to insinuate that it is.
Thankfully, the prudish bores didn't get their way this time. But it's still troubling to see how hard they fought to block a harmless restaurant from being built. I want to wish Hooters in Salford every success. Here's to women with big tips.
Jordan Tyldesley is a writer. Follow her on Twitter: @pippybing.
To enquire about republishing spiked's content, a right to reply or to request a correction, please contact the managing editor, Viv Regan.