Partygate obsessives need to get a life
The Boris snaps might excite the centrist dads, but this stuff is boring the rest of us to tears.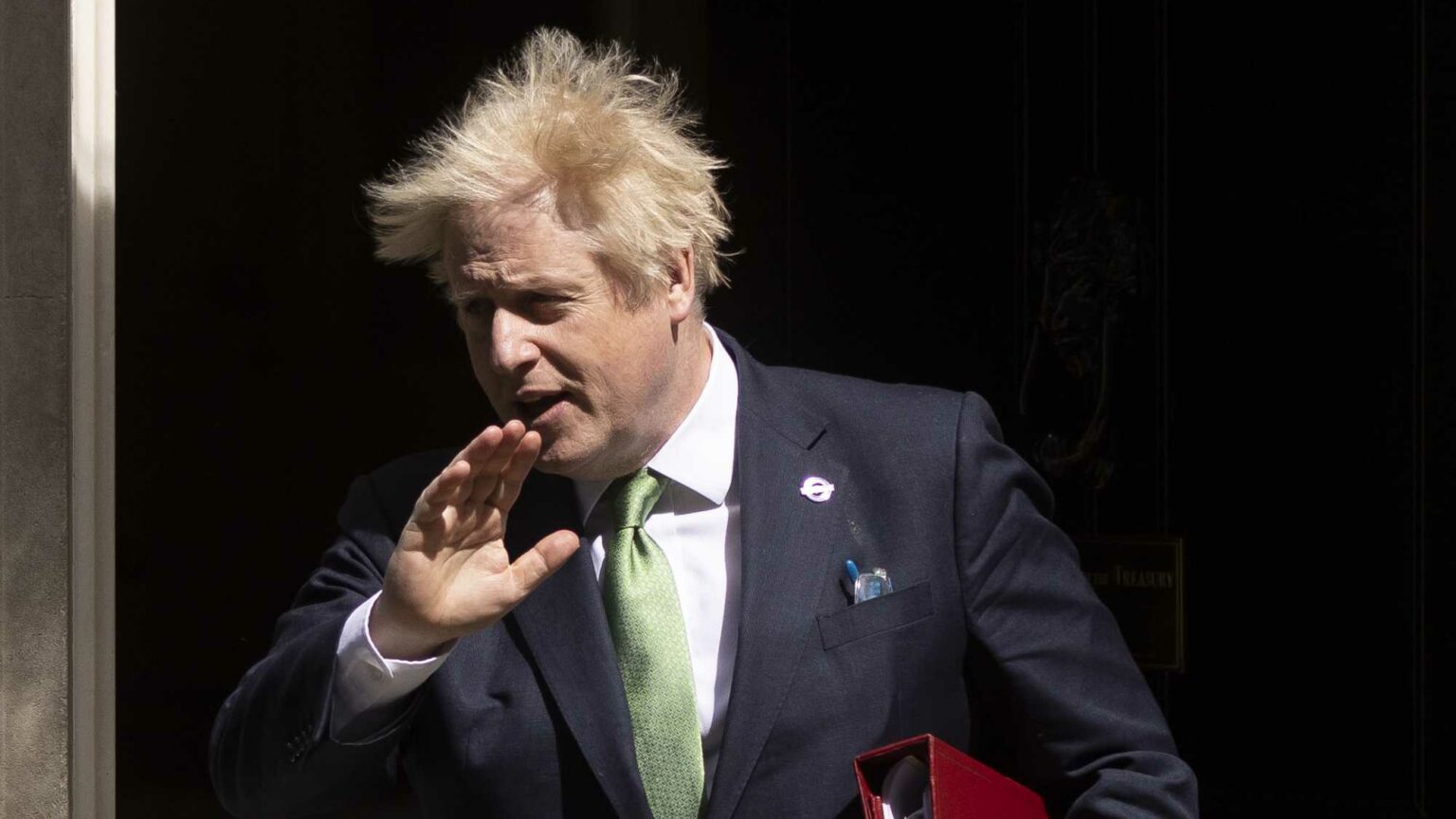 The Partygate row has dominated British politics – or at least media coverage of British politics – for almost half a year now.
On numerous occasions it has supposedly taken Boris Johnson to the brink of defenestration at the hands of backbench MPs spooked by public fury about the prime minister's lax approach to his own lockdown laws. Yet somehow those mutinous MPs have never quite obtained sufficient momentum to ouvre la fenêtre pour expulser le grand chien, as Johnson might put it in one of his jocular sorties into Franglais.
Now, less than a week after a Metropolitan Police inquiry closed, leaving Johnson with just a single fixed penalty notice for an infringement of lockdown rules involving nine minutes with a birthday cake, Partygate has flared up yet again with the impending publication of the final report into the affair by senior mandarin Sue Gray.
And with exquisite timing, photographs have emerged of Johnson toasting his departing director of communications, Lee Cain, at an impromptu leaving do on 13 November 2020 – during one of the strictest phases of lockdown.
While the prime minister's red box, containing government documents, is visible in the shots – implying official business has been taking place – so are various wine bottles on a table, implying that what Keir Starmer might regard as 'industrial scale partying' is going on. Nobody is saying for sure who took the photos and then leaked them this week as an improvised explosive device, but anyone who can make a man's name out of the anagram 'Cominic Dummings' could be on the right lines.
Excited hacks have been highlighting an answer Johnson gave in the Commons to the following question from a seemingly well-briefed Labour MP: 'Can the prime minister tell the house whether there was a party in Downing Street on 13 November?' Johnson answered: 'No, but I am sure that whatever happened, the guidance and the rules were followed at all times.' If Johnson is found to have deliberately misled parliament then by convention he must resign.
But did he mean, no, he couldn't say whether there was a party, rather than, no, there wasn't a party? And given that the Met apparently had access to the photos in question and yet did not see fit to fine Johnson for the event then doesn't that mean it must have been deemed an essential work gathering anyway, at least in regard to the prime minister's involvement?
If you are part of the liberal-left media or establishment elite, these are gripping political questions that must be obsessively further probed. If you are a normal person, they probably aren't. Indeed, you probably decided what you think about Partygate many moons ago. It isn't a complicated story: a lifelong maverick proves predictably incapable of sticking to the letter – or maybe even the spirit – of the complex set of rules he imposed under duress on the rest of us.
But does that mean he should be chased out of office by nit-picking lawyers and hostile officials without recourse to an electorate which gave him a commanding mandate in December 2019? Hardly. The proportionate response is to weigh Johnson's behaviour in the balance as part of a wider judgement that also considers his political virtues and the nature of any likely alternative premier. In democracies we tend to embark on just such an exercise during General Election campaigns.
But our political, media, legal and academic networks of centrist dads and anti-Brexit irreconcilables don't see it like that. Despite having had their spiritual leader Keir Starmer declare a police investigation into Johnson the key test of his fitness for office, they will not let his emergence from that almost unscathed get in the way of their grand pursuit. As New Labour spinner Alastair Campbell tweeted on Monday: 'Lying bastard. Get out of the building and the office you debase.'
So suddenly, it's now Sue Gray's report that is to deliver the definitive verdict on Johnson, rather than the original police investigation – just as a second referendum was meant to serve as a definitive verdict in respect of Brexit after the first one produced the 'wrong' result.
Just as they did in the great prorogation row of autumn 2019, when Johnson suspended parliament during the Brexit impasse, these elite networks are attempting to use legal or quasi-legal processes to remove the UK prime minister. They don't want the court of public opinion to decide this matter, probably because the court of public opinion so often disappoints them whenever they count up the votes.
Yes, through their obsessive efforts these past six months, our media and political elites have shown that Johnson is rackety, a corner-cutter and something of a chancer, although most of us already knew that. But until they focus on much more uncomfortable questions about what it is in their own approach that ensures he keeps beating them in elections, they are destined simply to grow angrier and more deranged. For all our sakes, it is time for them to take their heads out of the Partygate rabbit holes and take a look around. There is a whole world out there that doesn't revolve around illicit cakes and leaving dos.
Patrick O'Flynn is a former MEP.
To enquire about republishing spiked's content, a right to reply or to request a correction, please contact the managing editor, Viv Regan.