Never apologise to an SJW
This and other lessons from my own brush with cancel culture.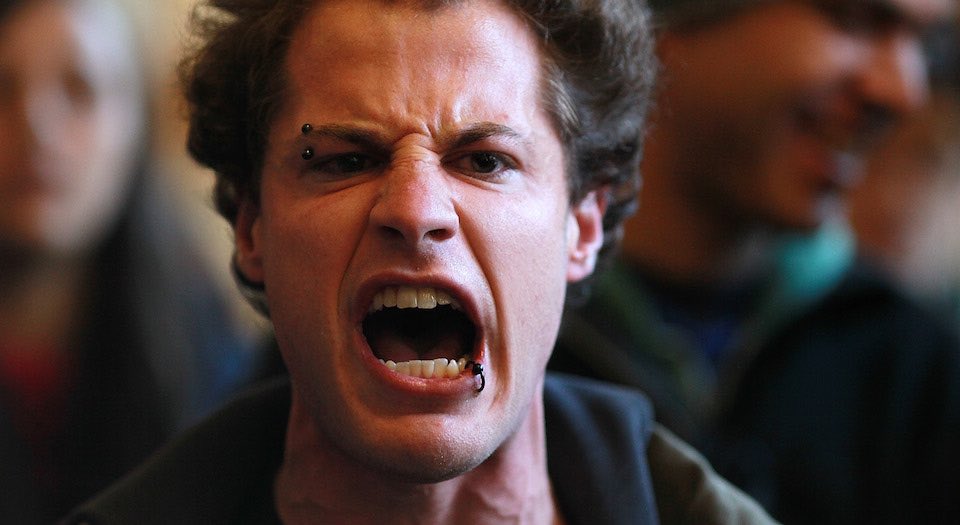 So, I finally ran into a cancellation attempt – ironically, at an event where I was one of the least controversial speakers. What happened there provides a useful microcosm of the genre.
Roughly two weeks back, I participated in an academic conference, entitled 'Politics, Policy and Panic: Governing in a Time of Crisis', held at St Vincent College in the pleasant metropolis of Latrobe, Pennsylvania. The event included as speakers, among several others, health-policy adviser Scott Atlas, the Brownstone Institute's Jeffrey Tucker and the University of Tulsa's Jacob Howland. It focused on, to quote Howland's piece about the conference, 'the atmosphere of crisis and panic that has driven the policies of government and private organisations and transformed educational and cultural institutions since March 2020', and how these developments have 'damaged constitutional government, the rule of law, and the wellbeing of the American people'.
The presentation topics were wide-ranging, including: Scott's discussion of how poor-quality and misused data led to the US government's disastrous Covid-19 lockdowns (an issue I tackled for spiked back in April 2020); Tucker talking the audience through the surprisingly entertaining history of similar panics, dating back to the Parrot Flu of the 1920s; and my own take on how frank manipulation of data and facts has contributed to many stupid recent decisions by American and UK leaders. And then there was Dave. Hillsdale College's David Azerrad presented a talk entitled 'Black Privilege and Racial Hysteria in Contemporary America'. You can, and should, watch it here.
While all of the speakers took a few whacks at our society's current sacred cows, Azerrad did perhaps the most thorough job of butchering one of them and serving it up for dinner. His arguments included: that affirmative action is a measurable form of 'black privilege'; that the much more vaunted 'white privilege' hardly exists at all for residents of poor, Caucasian-majority states like West Virginia; that prominent figures, from Kamala Harris to George Washington Carver, would be far less known today had they been born with less of a natural tan; and that Western culture currently seems bizarrely obsessed with securing proportional black representation in every imaginable field, from ornithology to rocket science.
Following Azerrad's speech, a few (mostly black) students disagreed, mostly intelligently, and then everyone went to dinner. Then, however, a student activist apparently 'leaked' a video recording online, and the faeces hit the fan. By 10 April, as Howland's article on the whole affair notes, 'a letter of apology to the campus community was put out [by St Vincent]'. The letter stated that Azerrad's lecture could, at the very least, 'be interpreted as a form of invidious discrimination which inherently degrades the sanctity of human life'.
St Vincent went even further over the following days. It criticised and sanctioned the Centre for Political and Economic Thought (CPET), which sponsored the event. And then it announced that St Vincent president Paul Taylor and his 'university cabinet' would from now on vet campus speakers for the entire college. Inside Higher Ed, the College Fix and a prominent local newspaper all wrote lengthy articles discussing the case, and the Foundation for Individual Rights in Education called it 'the most extreme example of guest-speaker censorship that FIRE has seen in its more-than-20-year history'. Several speakers – including myself – drew nasty comments on social media or questions about whether we planned to apologise for participating in the event.
This whole situation provides a valuable case study, in the academic sense, of how cancellation works. It showcases the all-too-common patterns of taboo truths, censorious minorities (in population terms) and claims that constant hall-monitoring of adult discourse is necessary for our 'safety'. The first of these trends was particularly prominent in this case. At no point did any critic, with the exception of one or two witty St Vincent students, address the actual veracity of what Azerrad said or attempt to debunk it.
Affirmative action arguably is a form of black privilege. Multiple serious analyses have shown that, while all of these kids are well-enough qualified, black applicants to top-tier American universities regularly score around 100 SAT points below white or Asian competitors. This undisputed fact reflects broader national scoring patterns on the standardised exam, where blacks typically score about a 950, Hispanics 970-980, whites well over 1,000 and Asians close to 1,200. Similarly, while Azerrad and I will have to disagree on the eminent Carver, President Joe Biden has openly said that he picked Kamala Harris as vice-president in part because of her race and sex.
The airing of these hard truths was not seen to be dangerous because they are false, but rather because they are true, and thus capable of damaging the feelings of innocents who might learn of them.
At St Vincent, we also witnessed the tyranny of the tiny minority. Visibly and audibly, most of the students and community members who showed up for the 'Politics, Policy and Panic' event enjoyed the talks. My own ended with an ovation, albeit a relaxed, sitting one. Smart citizens tend to like bantering with controversial people. While multiple college men and women most certainly disagreed with Azerrad, they demonstrated this by arguing with him. No one took down his core arguments, but several students shot quite witty or moving barbs in his direction.
The controversy arose entirely because one or two activists released a 12-minute video, broadcasting part of the Azerrad lecture to a sympathetic internet audience. Dozens of people who had not bothered to attend the event – many of whom were not affiliated with St Vincent at all – were thus able to raise their voices and drown out the consensus position of the actual students in the room.
And what did those who were outraged by it want? The total control of all future debate by people like them. Hence virtually every press release from St Vincent included remarkably similar language about the solemn duty of professional-managerial elites to regulate speech. St Vincent's initial mea culpa stated that 'faculty and students are encouraged to explore, discuss and responsibly debate topics', while the president's letter explicitly noted that executive review of all speakers was necessary in order to ensure 'a diversity of responsible opinion' (my emphasis).
Reading through these documents, I was reminded of the social-media hysteria which followed billionaire Elon Musk's mundane statement that he intends to allow free speech on Twitter, once he has officially bought it. It seems that a shocking number of lower-elite people believe normal citizens will become barbarians if they are allowed to learn about certain facts – from the existence of affirmative action to small current differences in tested-group IQ scores. And many of them are therefore desperate to prevent any public conversations about these topics.
More positively, however, the St Vincent incident illustrated how best to respond to cancel culture. Despite the initial hysteria, not one speaker apologised for the content of her or his lecture. In a courageous move, CPET bossman Brad Watson uploaded all videos from the conference online – as had been planned from the beginning – to allow viewers to make up their own minds. Furthermore, multiple speakers went on the offensive, reaching out to free-speech organisations like FIRE, which wrote to St Vincent on 22 April, objecting to its response to the Azerrad speech and noting that the new vetting policy could jeopardise the accreditation of the college.
Other organisations, from the Foundation Against Intolerance and Racism to 1776 Unites, also came out in support of those who had taken part in the conference. Quite probably as a result of this coherent, immediate response, none of the speakers has been censured by his or her institution, or faced other professional consequences.
The only way this could have been handled better, in my opinion, would have been for St Vincent itself to do nothing at all and wait for the affair to blow over. Censorious social-justice warriors represent only a small and angry minority. We shouldn't indulge them. And we should never, ever apologise to them.
Wilfred Reilly is a spiked columnist and the author of Taboo: 10 Facts You Can't Talk About, published by Regnery. Follow him on Twitter: @wil_da_beast630
Picture by: Getty Images.
To enquire about republishing spiked's content, a right to reply or to request a correction, please contact the managing editor, Viv Regan.