Parents have had enough of trans ideology in schools
Republicans like Ron DeSantis are picking up support from parents across the political spectrum.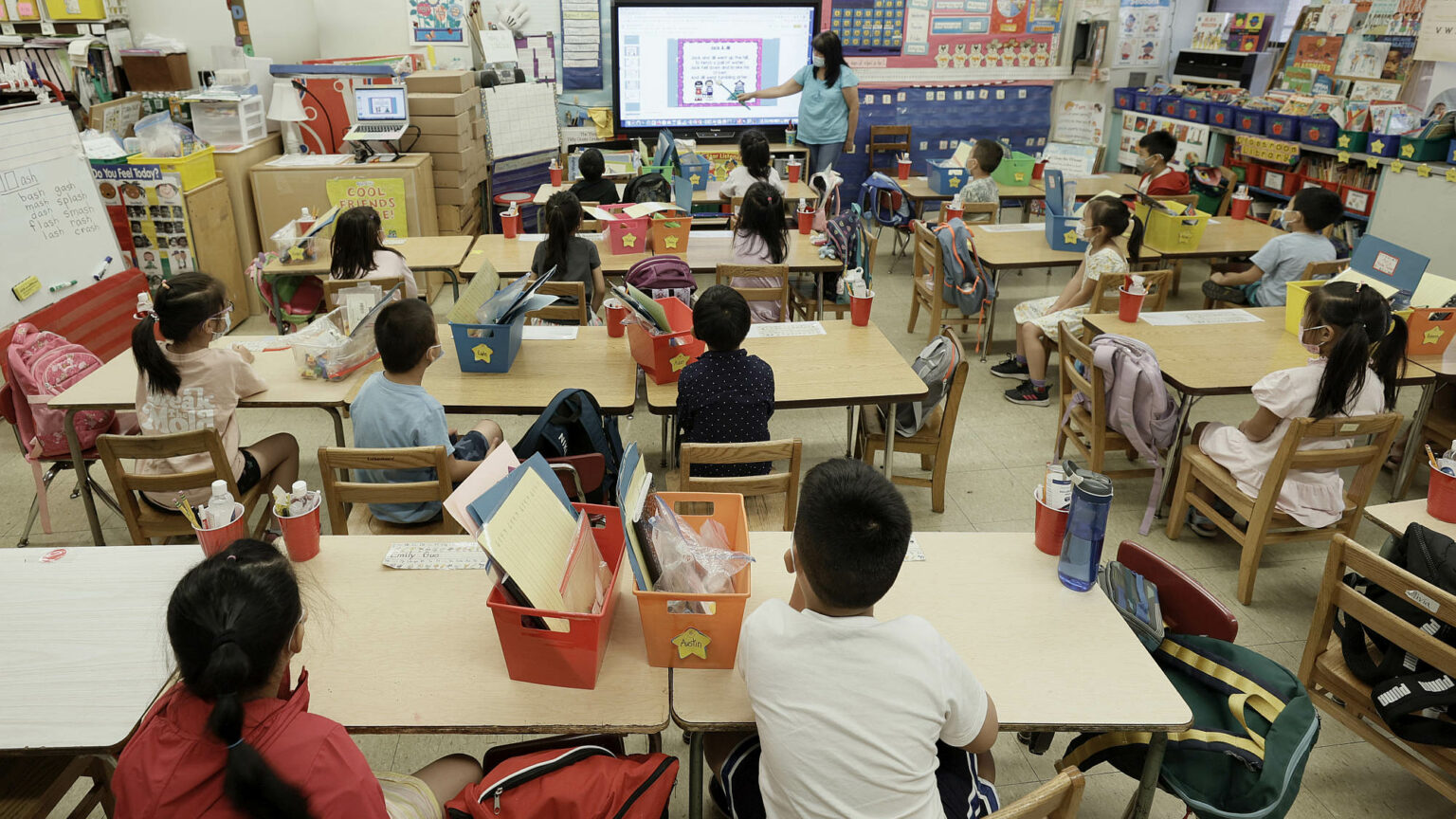 The governor of Florida, Ron DeSantis, signed a bill stripping Disney of its special tax status last month. This revoked an agreement that allowed Disney to effectively self-govern the land occupied by its theme parks and resorts. The move came after Disney's chief executive issued a statement calling Florida's new Parents Rights in Education Bill 'a challenge to basic human rights'. Disney vowed to devote its resources to overturning the law and opposing similar bills in other states.
Parents may have mixed emotions about DeSantis himself – he has political ambitions and they won't agree with him on everything. But he is one of several politicians pushing back against the gender-identity ideology being peddled in schools, and many parents appreciate it. Besides, it's good to see Disney get a kick in the teeth. This is a company that brags that it has stopped using words like 'boys and girls' and 'ladies and gentlemen' in its theme-park shows and aspires to be at the forefront of 'queering' children's entertainment. It has taken woke sanctimony to another level.
Parents across the country are deeply concerned about the presence of transgender ideas in schools. What initially seemed like an innocent attempt to encourage kids to cast off old-fashioned ideas about femininity and masculinity, and to be more tolerant of their gender-nonconforming peers, has now morphed into an ideology in which biological sex is not real and gender is everything.
The new gender ideology comes in a rainbow wrapper. For example, the Evanston-Skokie School District 65, just outside Chicago, holds an annual LGBTQ+ Equity Week, during which three-year-olds learn that 'children who feel like a girl and a boy, or like neither a boy nor a girl', ostensibly based on their preferences for toys and colours, are therefore transgender. Kindergarteners make and display their very first rainbow flags and first-graders learn about chosen pronouns. If they are confused because 'the pronoun doesn't match with what they had assumed [someone was] based on somebody's [gender] presentation', the lesson plan instructs teachers to introduce them to the idea of 'bias'.
Transgender ideology is everywhere in the upper grades, too. It even makes its way into maths classes. As one teacher guidebook reveals, students are encouraged to analyse data from an LGBT+ Pride survey to answer questions like: 'Can we determine the total percentage (without disaggregation) of folx [sic] that identify as Lesbian? Gay? Bisexual? Pansexual? Asexual? Transgender / Non-binary / Gender non-conforming / Genderfluid?' Elsewhere, tenth-graders practice taking notes by watching TED talks by trans activists. Rainbow flags sometimes fly alongside (or replace) the American flag in classrooms.
Seeing what's being taught in schools helps to explain why unprecedented numbers of teens are declaring themselves to be trans. It seems that, far from encouraging children to feel comfortable and confident in gender nonconformity, schools' embrace of gender-identity theory has encouraged them to alter their bodies and behaviours to suit gender stereotypes. The lighthearted playfulness of childhood and intense highs and lows of adolescence are no longer considered part of the natural course of an individual's development; they're now sources of a gender identity that must be affirmed.
Some parents have gone with the flow, and supported their child's transition to their 'authentic selves', but many others are not so sure. They are wary of the medicalisation of gender identity, especially in young children and teens who lack the capacity to understand the life-altering effects of medically assisted transition. Gay and straight parents alike have questioned the wisdom of the doctors assisting the transition of young, gender non-conforming children, who would most likely mature into gay adults. Others worry about the many young adults de-transitioning in their twenties, after regretting the way they radically altered their bodies.
Parents who question this new ideology are met with incomprehension by the woke establishment. Sex was never real, these people say, and it's only now that we are enlightened that we can see the truth about gender. There is no gender ideology in schools, they insist – just honesty about the way things really are. Parents just need to get with the programme. If you question the narrative, you have just fallen prey to a moral panic whipped up by right-wing evangelicals and QAnon supporters.
This is gaslighting on steroids. In the blink of an eye, schools and other institutions have rushed to celebrate this new transgendered normal by opening single-sex spaces and sports to trans-identifying students without so much as a nod to families. In fact, it is becoming clear that when teens do struggle with gender issues, schools are taking it upon themselves to decide that affirmation is the best course of action. In turn, they hide what they are doing from parents.
This is why it is so galling to hear Democrats and the mainstream media complaining about a Republican-led culture war. They focus, in particular, on conservatives' use of the word 'grooming' to describe the use of gender ideology in the classroom. This came to the fore after DeSantis' press secretary, Christina Pushaw, described the Parents Rights in Education Bill as the 'Anti-Grooming Bill', and tweeted that if someone didn't support the bill, he or she was 'probably a groomer'.
Calling advocates of gender ideology 'groomers' is not particularly edifying. But conservatives are not the main actors here. No, it is our right-on media and political elites that have been waging a culture war against parents for years, and they are making a big mistake if they assume that those same parents won't take sides. As one mother, writing anonymously on a Substack page for parents of teens lost to gender ideology, put it:
'I have been a liberal Democrat all of my adult life, but I haven't felt aligned with the party since my liberal arts-educated daughter was indoctrinated in radical gender ideology in college and pronounced herself nonbinary. With this issue, "the enemy of my enemy is my friend", and if my new friends are the governor of Florida and [Fox News host] Tucker Carlson, so be it.'
New battle lines are indeed being drawn in the culture wars. And the stakes have rarely been higher.
Nancy McDermott is a writer based in New York. Her new book, The Problem with Parenting: How Raising Children Is Changing Across America, is published by Praeger. (Buy this book from Amazon(UK).)
To enquire about republishing spiked's content, a right to reply or to request a correction, please contact the managing editor, Viv Regan.