The Grenfell effigy and the fall of liberal Britain
In 21st-century Britain, offensive jokes can land you in prison.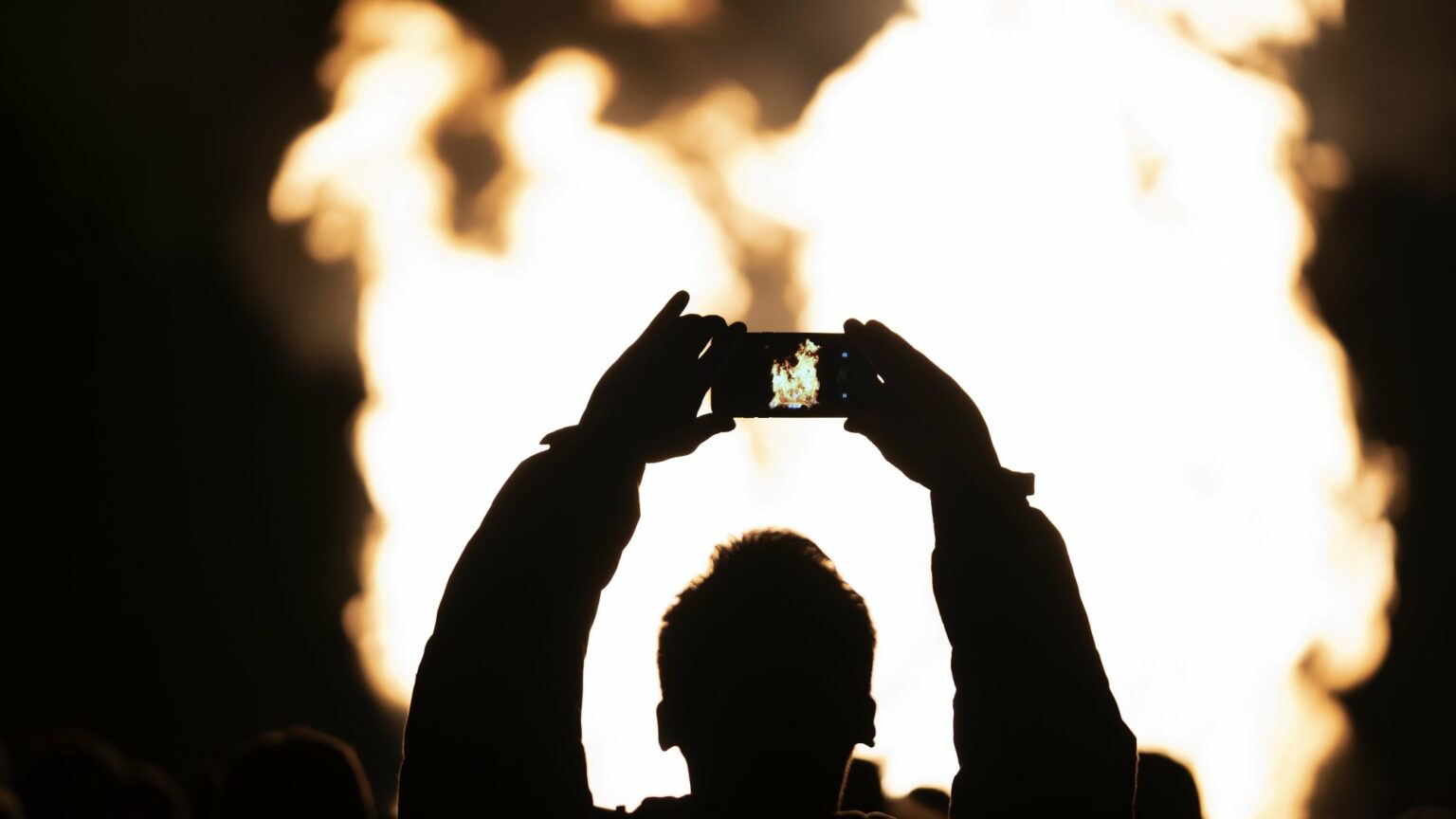 It is hard to summon up much sympathy for Paul Bussetti. In November 2018, the millionaire property tycoon was at a Bonfire Night party in south-east London. His friends produced a cardboard effigy of Grenfell Tower – the Kensington tower block which went up in flames the year before, with the blaze claiming 72 lives, many of them ethnic minorities. Bussetti filmed on his phone as the effigy was put on the bonfire. He then sent the video to two WhatsApp groups. A video of the burning effigy – it is unclear whether it was Bussetti's video or not – later ended up on YouTube and went viral. In the viral clip, you can see little black and brown figures in the effigy tower's windows. In the background, another man can be heard referring to two of the figures as 'a ninja' and 'a Paki'. For his part, Bussetti made siren noises. After the video went viral, he handed himself in to the police. This week he was handed a 10-week suspended prison sentence for distributing a 'grossly offensive' video.
But while this case might not spark much sympathy for the defendant, it should alarm us as a matter of principle. Beyond all the legal niceties, a man has narrowly escaped prison for making an offensive joke. Scratch that. He has narrowly escaped prison for distributing an offensive joke, in private. Bussetti says he had no hand in making the effigy and he sent the video to private groups. It is unclear how it ended up on YouTube. Still, he was arrested and later found to have breached Section 127 of the Communications Act, which criminalises the distribution 'by means of a public electronic communications network a message or other matter that is grossly offensive'. In 21st-century Britain, being offensive – sorry, grossly offensive – is an offence.
And yet Bussetti's case has come and gone with little comment. Some of the news headlines seemed almost disappointed he wasn't actually locked up. 'Man who made "abhorrent" video of Grenfell Tower effigy on bonfire spared jail', said the Independent, which once upon a time was Britain's liberal newspaper, before it became an ad-crippled, clickbaity blog. We have become numb to cases like this. Last year, two men were actually jailed over a racist video, a rant about Priti Patel. The man who made it and sent it to some friends in a private Snapchat group got 10 weeks. His dopey mate who sent it on to another closed group got six weeks. Then there's the Scot who narrowly escaped jail earlier this year for celebrating the death of Captain Tom Moore. These are just a few examples of the estimated nine people arrested in Britain each day under Section 127. That's thousands every year.
All of these men sound like prize dickheads. But it shouldn't be a crime to be a prize dickhead. And there are plenty of people who have been caught in the net of British state censorship in recent years for statements that were far less outrageous, or were just puerile jokes. Take the case of Count Dankula, the Scottish YouTuber fined for making a skit about his pug turning Nazi. In 2014, a 20-year-old builder from Lincolnshire was fined £400 for taking a photo of a police officer and drawing two penises on top of him in a Snapchat post. And that's just the Communications Act. Britain has many more legal restrictions on what really should be considered protected speech. Broadcaster Darren Grimes was investigated by the police in 2020 for a possible offence under the Public Order Act, all because of comments made by historian David Starkey on Grimes' YouTube show. Then there's the more than 120,000 Brits who have had so-called 'non-crime hate incidents' recorded against their names in recent years – an Orwellian police practice only recently struck down by the Court of Appeal as an unlawful interference in free speech.
This all amounts to an extensive regime of state censorship. And yet it goes on and on and on in supposedly liberal Britain. It is presented to us as benign censorship, as caring censorship, as censorship aimed at the hateful or offensive, rather than the dissident or blasphemous. But there is no simple distinction between these things. One man's hate preacher is another man's dissident. And while we no longer arrest those who defame Christ, we happily arrest those who 'misgender' trans activists. A truly liberal society would not trust the state to decide what is true or false or right or wrong in this way. But that is no longer the case here in Britain. State censorship has become a crazed form of virtue-signalling, and a symbol of our warped priorities. We prosecute a man for mocking a tragedy like Grenfell, while those responsible for helping bring that tragedy about continue to walk free.
Freedom of speech has been a hot topic in Britain of late, as it has been in many Western countries. Tory ministers like to pose as warriors for freedom and reason against creeping 'wokery'. And yet no one is talking about rolling back our censorious laws. If anything, things are headed in the opposite direction. The Online Safety Bill, which whizzed through the House of Commons on second reading this week, will (if passed) repeal much of Section 127. But it will simply be replaced by a new 'harmful communications offence', criminalising those who send a message that is intended and likely to cause 'serious distress' – even if no one was actually harmed. Meanwhile, the bill will usher in yet more Orwellian measures, including a duty on social-media firms to curb 'legal but harmful' speech. The Labour Party, naturally, thinks the bill doesn't go far enough.
We need to pull back from this. Britain is fast becoming a warning to the Western world. If you allow state censorship to take root, even with the supposed best of intentions, then even nominally liberal nations will do deeply authoritarian things – like locking people up for telling offensive jokes. Left unprotected, free speech can so swiftly go up in flames.
Tom Slater is editor of spiked. Follow him on Twitter: @Tom_Slater_
To enquire about republishing spiked's content, a right to reply or to request a correction, please contact the managing editor, Viv Regan.